OSTRAVA (June 28) – Mondo Duplantis, the Swedish pole vaulter, broke the meeting record and set a new world lead at the Ostrava Golden Spike 2023 – World Athletic Continental Tour Gold meeting on Tuesday (June 27). Duplantis cleared an impressive height of 6.12 meters, surpassing the previous record of 5.93 meters set by Sam Kendricks of the United States in 2019.
How did Duplantis win at Ostrava Golden Spike 2023?
Duplantis demonstrated his prowess by effortlessly clearing 5.60m and 5.80m on his first attempts. After two tries, he successfully scaled the height of 5.90m. The Olympic champion continued his remarkable performance by clearing 6.00m on his first try before achieving his winning height of 6.12m.
Although he fell short of breaking the world record with three unsuccessful attempts at 6.17m, Duplantis expressed satisfaction with his performance. – Read more: Full 2023 Golden Spike results; Mondo, Crouser secure wins
"It was a good jump for the day. It's always a nice feeling when you don't feel like you leave too many bars out there and I don't think I did. 6.12m was pretty much the most I could have done today," said Duplantis.
The 23-year-old reigning world champion holds the all-time world record at 6.22m, set in February. Despite the pressure to deliver historic moments every time he competes, Duplantis remains focused on giving his best.
"You learn to not worry about it that much. I genuinely just want to do the best that I possibly can and I'm going to try to get the highest bar that I possibly can. I can't really do any more than that," he explained.
Duplantis also acknowledged the expectations surrounding him and how he deals with them.
"I'm going to go in there and have confidence that I am going to jump high, and I am going to jump over six meters and at least try and put the meeting record up there a little higher than it is. I can't really control everybody else's expectations.
"If I didn't want people to have high expectations, I would have jumped lower in the past two years. That just comes with the territory."
In the men's pole vault event, Australia's Kurtis Marschall finished second with a new personal best of 5.90m, tying Ernest John Obiena from the Philippines, the world bronze medalist.
In the women's competition, Tina Sutej, the World Indoor and European Outdoor bronze medalist, emerged victorious after a countback against 2018 world U20 champion Amalie Svabikova, as both athletes cleared 4.54m. Margot Chevrier from France secured third place with the same height.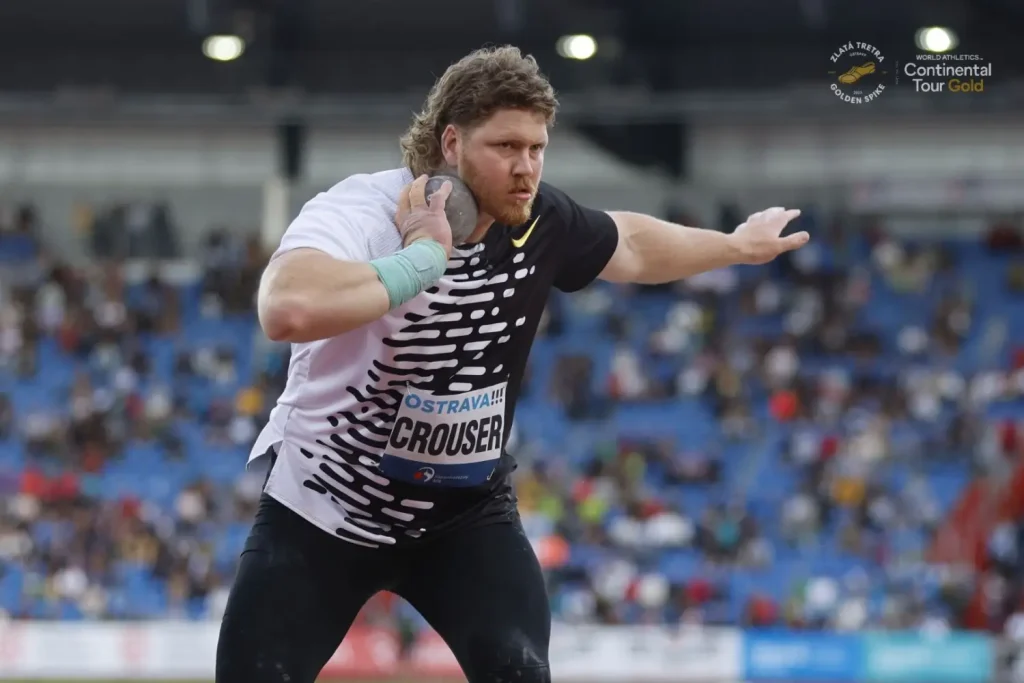 Impressive Ostrava Golden Spike 2023 results in the field
The Ostrava Golden Spike 2023 also witnessed exceptional performances in other disciplines. Ryan Crouser, the Olympic and world champion, dominated the men's Shot Put with a throw of 22.63m, setting a new meeting record and surpassing his own record of 22.43m from 2020.
Tom Walsh from New Zealand displayed his top form by achieving 22.15m in the fourth round, securing second place. Tomas Stanek, the home favorite, matched his season's best with a throw of 21.71m, finishing in third.
In the men's discus throw, Slovenia's Kristjan Ceh claimed victory with a distance of 68.55m, surpassing the previous meeting record set by Cuba's Luis Delís in 1983. Croatia's Martin Markovic took second place with 64.00m, followed by Poland's Robert Urbanek with a throw of 63.36m.
Very strong track performances too…
On the track, Jasmine Camacho-Quinn from Puerto Rico maintained her unbeaten streak this season by clocking a season-best time of 12.42 seconds in the women's 100m hurdles, securing first place.
"I'll take it. A win is a win," said Camacho-Quinn, who secured her seventh consecutive victory of the season. "It was cold out here. I have a lot of things to clean up. If we had the weather we had yesterday it might have been faster.
In-form American Tia Jones equaled her season-best time of 12.44 seconds, finishing second, while Nigeria's world record holder and world champion Tobi Amusan claimed third place with a season-best time of 12.47 seconds.
"I have trained and raced against Tia a lot, so I know how she is, once she gets going. At that point, I was just trying to keep it together before I crossed the line," added Camacho-Quinn.
In the women's 1500m, Diribe Welteji, the 2018 world U20 800m champion, set a remarkable meeting record time of 3:57.38. She outpaced her Ethiopian compatriots Hirut Meshesha, who finished in second place with a time of 3:57.87, and Tigist Girma, who achieved a personal best of 3:59.33 to secure third place.
In the men's 1500m race, Lamecha Girma posted a personal best time of 3:33.15, clinching victory. Mafori Ryan Mphahlele from South Africa finished closely behind in second place with a time of 3:33.38, while George Mills of Great Britain secured third place, crossing the finish line in 3:33.85.
Other notable results from the Ostrava Golden Spike 2023 include Muzala Samukonga from Zambia, the Commonwealth Games champion, winning the men's 400m title with a time of 45.05 seconds.
Natalia Kaczmarek of Poland, who recently finished second at the European Athletics Team Championships, emerged victorious in the women's 400m race, clocking a time of 50.88 seconds.
On the men's side, Akani Simbine from South Africa showcased his speed by winning the men's 100m in a time of 9.98 seconds. Luxolo Adams, also from South Africa and a world finalist, dominated the 200m with a season's best time of 20.22 seconds. Saul Ordonez from Spain, the 2018 world indoor bronze medalist, triumphed in the men's 800m with a season's best time of 1:44.85.