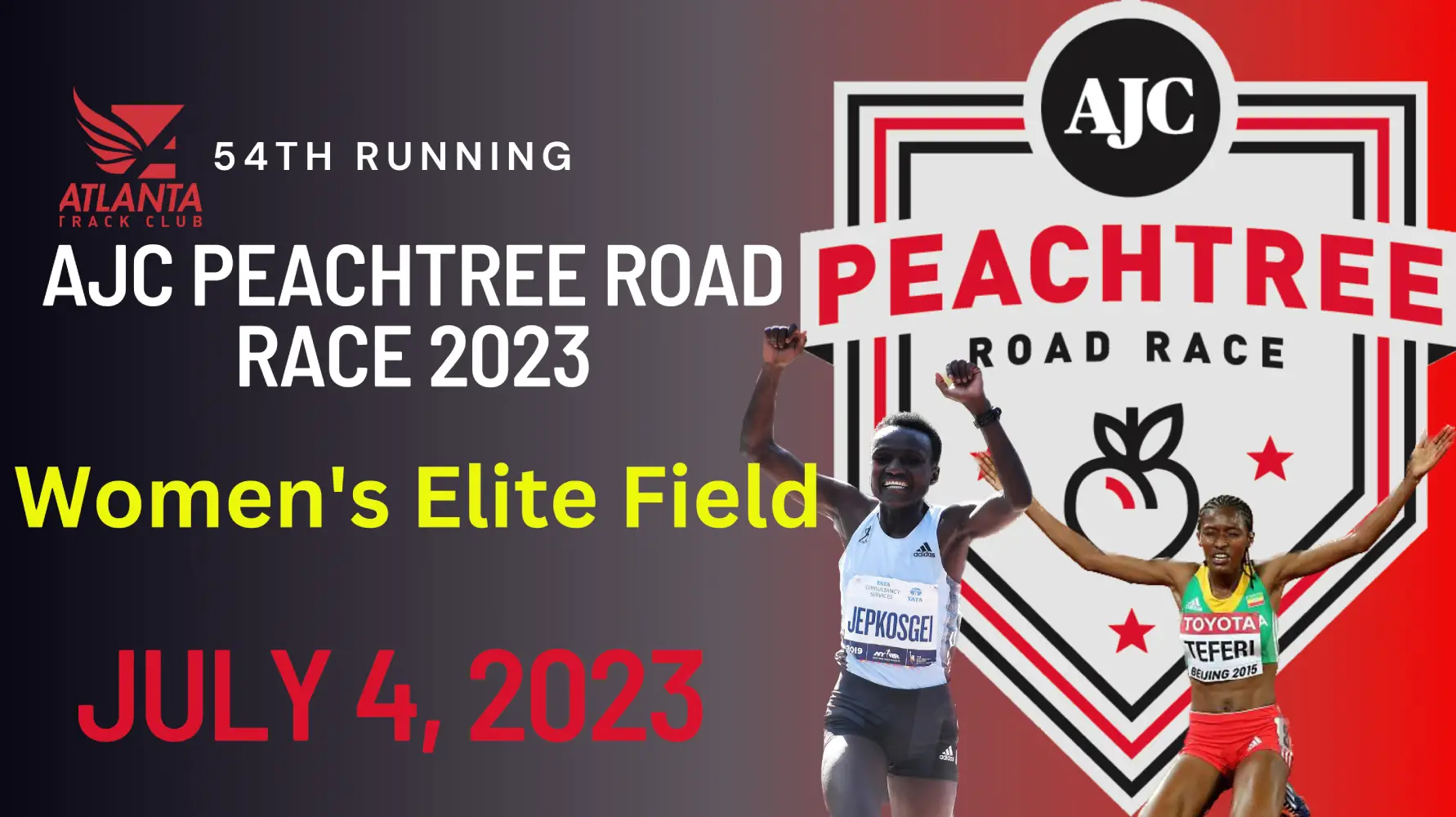 ATLANTA – June 30, 2023 – The upcoming 54th edition of the Atlanta Journal-Constitution Peachtree Road Race 2023 is set to witness a remarkable gathering of top-notch female athletes, constituting the most competitive field in the race's illustrious history.
With an impressive lineup of contenders, including several runners with personal bests faster than the current course record, this year's 10K race promises to be an exhilarating spectacle. Read more: The 2023 AJC Peachtree Road Race schedule
Among the participants, five remarkable women boast personal best times quicker than the existing course record of 30:22, one of the fastest ever recorded on American soil. Returning to defend her title is Senbere Teferi, the reigning champion, who aims to become the first back-to-back Peachtree champion since 2010.
Teferi faces fierce competition from Joyciline Jepkosgei, a former winner of both the TCS London Marathon and TCS NYC Marathon, and the third-fastest 10K runner in history. Also vying for the top spot is Sheila Chepkirui, the fourth-fastest woman over 10K in history, who remains a strong contender in the pre-race favorites' circle.
Adding to the field's strength is Jesca Chelangat of Kenya, currently ranked 11th all-time after recording an impressive 30:01 in Valencia this past winter. At just 25 years old, Chelangat is the youngest top competitor and will be making her debut appearance at the Peachtree Road Race 2023.
Another featured Kenyan athlete to look for in the Peachtree Road Race 2023 is Vicoty Chepngeno, a two-time champion of both the Houston and Philadelphia Half Marathons, who holds a remarkable 10K personal best of 30:14. The 29-year-old will be aiming to showcase her presence will be felt in the race.
Track Legend Tirunesh Dibaba Set For Peachtree Road Race 2023
The race will also mark the return of three-time Olympic gold medalist Tirunesh Dibaba to the 10K distance. The legendary 38-year-old Ethiopian, who took a hiatus from competition for five years to give birth to her two youngest children, last competed over this distance in 2018. Dibaba's participation adds another layer of excitement to an already electrifying field.
Unfortunately, Sharon Lokedi, previously announced as a contender, has withdrawn from the race due to an injury. However, the American contingent still boasts strong representatives, including Annie Frisbie, who returns to defend her title as the top American finisher.
Emily Durgin, the runner-up in the 2021 Peachtree Road Race and the winner at the 2023 BOLDERBoulder in May, plus local athlete Emma Grace Hurley from Roswell, Georgia, are also anticipated to contend for top honors among the American competitors.
The field also includes Kenya's Purity Komen, who was added to the list of starters on Thursday.
Susannah Scaroni Leads Peachtree Road Race 2023 Shepherd Center Wheelchair Division
In the Shepherd Center Wheelchair Division, the women's field will witness the participation of course record-holder Susannah Scaroni.
Scaroni, a dominant force in marathons, having triumphed in the most recent Chicago, New York, and Boston marathons, will aim to surpass her own course record time of 21:14, set in 2022.
"I am really looking forward to competing at Peachtree this year," said Scaroni, according to a RepAtlanta Track Club report. "I am always pushed to have a fun and fast race and plan to give this year's everything I have."
She will face tough competition from Jenna Fesemyer, who clinched victory at Grandma's Marathon in Minnesota, as well as Paralympian Yen Hoang.
Information Provided by Jay Holder [jholder@atlantatrackclub.org]
Peachtree Road Race 2023 Women's Field
Women's Elite Division
Joyciline Jepkosgei 29:43 KEN
Sheila Chepkirui 29:46 KEN
Jesca Chelangat 30:01 KEN
Senbere Teferi 30:12 ETH
Vicoty Chepngeno 30:14 KEN
Hailyu Fotyen Tesfay 30:26 ETH
Tirunesh Dibaba 30:30 ETH
Dorcas Jepchirchir Tuitoek 30:44 KEN
Viola Cheptoo 30:55 KEN
Viola Chepngeno 31:19 KEN
Tadu Teshome 31:28 ETH
Stacey Chepkemboi Ndiwa 31:35 KEN
Emily Durgin 31:35 USA
Cynthia Jerotich Limo 31:27 KEN
Selam Fente Gebre 32:17 ETH
Veronicah Wanjiru 31:55 KEY
Annie Frisbie 31:55 USA
Dom Scott 31:59 RSA
Ftaw Zeray 32:07 ETH
Emma Grace Hurley 32:32 USA
Tristan Van Ord 32:34 USA
Olivia Pratt 32:38 USA
Yeshi Kalayu Chekole 32:47 ETH
Anne Marie Blaney 32:57 USA
Susanna Sullivan 33:01 USA
Vibian Chepkurui 33:56 KEN
Sophia King 34:35 USA
Bridget Lyons-Belyeu 34:16 USA
Joanna Stephens 36:21 USA
Women's Shepherd Center Wheelchair Division
Susannah Scaroni 21:14 USA
Jenna Fesemyer 24:50 USA
Yen Hoang 24:53 USA
Hannah Dedrick 25:30 USA
Ivonne Reyes 20:12 MEX
Michelle Wheeler 26:12 USA
Chelsea Stein 24:32 USA
Hannah Babaloa 24:55 USA
Aerelle Jones 30:55 USA
Emelia Perry 28:18 USA
Camryn Ledford