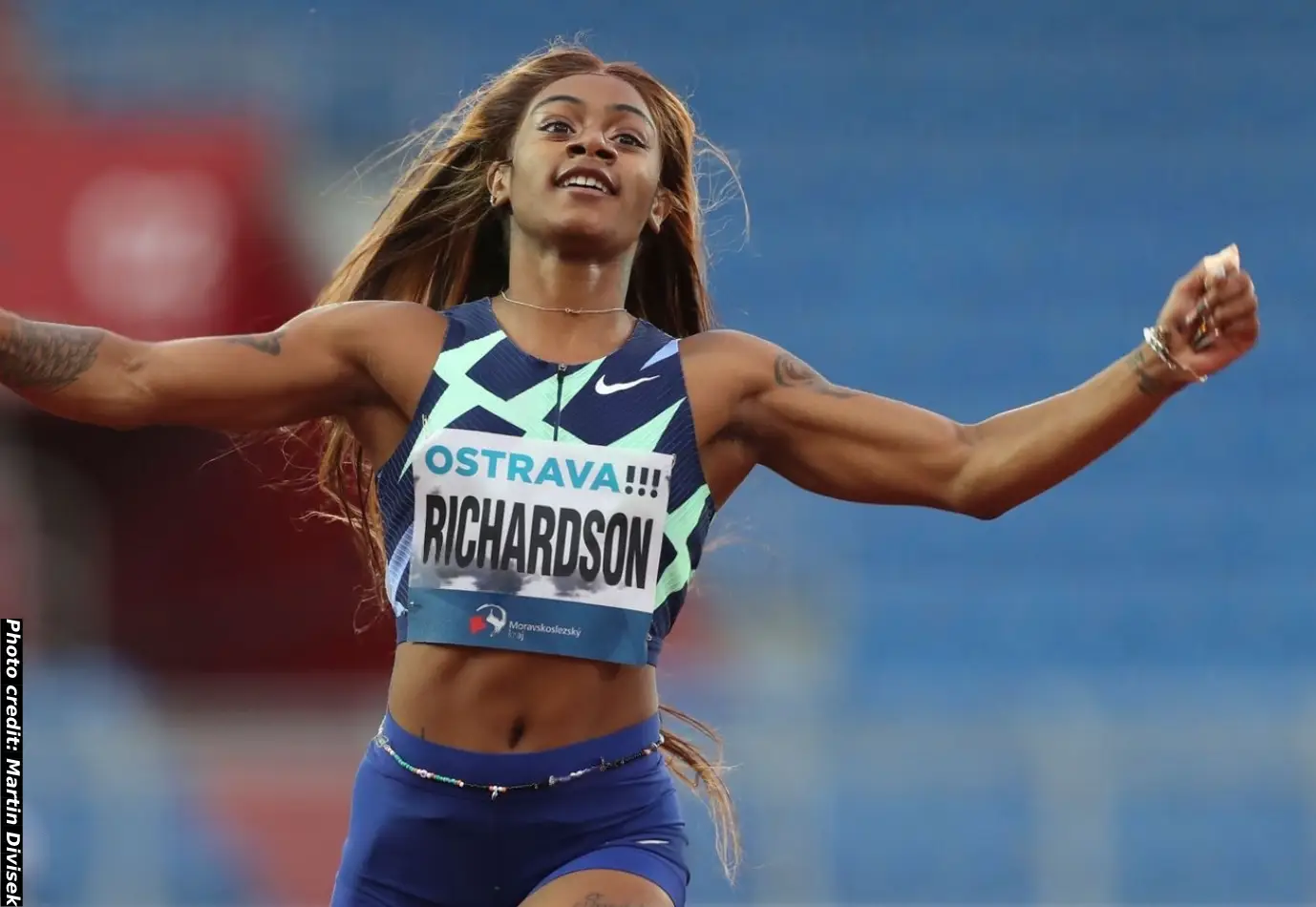 The leading results from the 2023 Star Athletics Sprint Series at the Montverde Academy in Florida on Saturday, June 10. Among the standout performers were Issam Asinga and Sha'Carri Richardson, who captured the men's and women's 100m titles.
After running a personal best of 10.02 seconds (+1.2 m/s) in the heats, Asinga returned to clock a wind-assisted 9.83 seconds (+2.6 m/s) to win the men's final, defeating world championships relay gold medalist Aaron Brown of Canada, at 9.91secs and Kyree King of USA (9.97).
Asinga completed the sprint double by winning the 200m dash with a time of 20.20secs, defeating Panama's 2009 world silver medalist Alonso Edward, who ran season best time of 20.54secs.
Read more: Sha'Carri Richardson w10.73secs dominates 100m at Star Athletics Sprint Series
Sha'Carri Richardson, meanwhile captured the women's 100m with a wind-assisted time of 10.73secs (+2.6 m/s), beating compatriots Brittany Brown (10.80), and Twanisha "TeeTee" Terry (10.82).
In the women's 100m hurdles, Tonea Marshall of USA ran 12.47secs (+1.1 m/s) to win the title after clocking 12.48secs (+1.6 m/s) in the heats.
Men's Results – Star Athletics Sprint Series
Race A Wind: 2.6
1 Issam Asinga ZAM 9.83w
2 Aaron Brown CAN 9.91w
3 Kyree King USA 9.97w
4 Tyler Azcano USA 10.07w
5 Michael Gizzi USA 10.19w
6 Chris Royster USA 10.21w
Race B Wind: 2.3
1 Miles Lewis PUR 10.04w
2 J.T. Smith USA 10.13w
3 Samson Colebrooke BAH 10.20w
4 Norris Spike CAN 10.27w
5 Dakari Carter USA 10.33w
6 Charles Okeze NGR 10.34w
7 Jaylan Mitchell USA 10.41w
Race C Wind: 2.0
1 Tony Woods USA 10.27 PB
2 Fuseini Ibrahim GHA 10.33 PB
3 Lionnel Muteba COD 10.34 PB
4 Raheem Chambers JAM 10.36 SB
5 Fabian Hewitt JAM 10.36 SB
6 Jae'Len Means USA 10.36
7 Valentino Rudolph USA 10.47 PB
8 Jerod Elcock TTO 10.51
Heat 1 Wind: 1.2
1 Issam Asinga ZAM 10.02 NR AU20R PB
2 Jaylan Mitchell USA 10.39
3 Jordan McKenzie CAN 10.58
Heat 2 Wind: -0.3
1 Aaron Brown CAN 10.07 SB
2 Samson Colebrooke BAH 10.36
3 Jon Okoye NGR 10.70
4 Dakari Hill USA 11.05
Heat 3 Wind: 0.4
1 Kyree King USA 10.15 SB
2 Shannon Patterson USA 10.55 SB
3 Akeem Sirleaf LBR 10.57 SB
4 Kevin Snead USA 10.58 SB
5 Gary Finegan AUS 10.96
Heat 4 Wind: 0.8
1 Shamar Horatio GUY 10.58 SB
2 Shawn Rowe JAM 10.59 PB
3 Rabbi Bositampen CAN 10.76
Heat 5 Wind: 0.6
1 J.T. Smith USA 10.24
2 Miles Lewis PUR 10.27 PB
3 Fabian Hewitt JAM 10.51
4 Ramiro Alvarez USA 10.89 SB
5 Jalen Law USA 11.06
Heat 6 Wind: 0.5
1 Jerod Elcock TTO 10.53
2 Brandon Jones USA 10.57 PB
3 Kyle Greaux TTO 10.64
Heat 7 Wind: 1.5
1 Tyler Azcano USA 10.22 PB
2 Delan Edwin LCA 10.36 SB
3 Charles Okeze NGR 10.39
4 Lionnel Muteba COD 10.51
5 Jovanni Parkinson USA 10.59 PB
6 Robert King DOM 10.71 SB
Heat 8 Wind: 0.3
1 Tony Woods USA 10.40 SB
2 Fuseini Ibrahim GHA 10.47 PB
3 Jae'Len Means USA 10.49
4 Amare Williams USA 10.68
Heat 9 Wind: 2.7
1 Rikkoi Brathwaite IVB 9.93w
2 Michael Gizzi USA 10.13w
3 Chris Royster USA 10.22w
4 Dakari Carter USA 10.34w
5 Valentino Rudolph USA 10.46w
6 Kai Evans USA 10.66w
7 Youssef-Mehdi Maazami CAN 10.87w
Heat 10 Wind: 1.8
1 Alonso Edward PAN 10.22 =SB
2 Norris Spike CAN 10.34 PB
3 Raheem Chambers JAM 10.44 SB
4 Owen Kaye USA 10.88
Men's 200m race
Race A: Wind: 1.9
1 Issam Asinga ZAM 20.20 AU20R
2 Alonso Edward PAN 20.54 SB
3 Delan Edwin LCA 20.82
Race B Wind: 1.2
1 Samson Colebrooke BAH 20.83 SB
2 Tinotenda Matiyenga ZIM 20.93
3 Chidi Okezie NGR 20.99
4 Charles Okeze NGR 21.06
5 Kevin Snead USA 21.10 SB
Race C Wind: 1.7
1 Valentino Rudolph USA 20.93 PB
2 Kai Evans USA 21.08 PB
3 Marvens Merisier USA 22.22
4 George Alexandris USA 22.24 SB
Men's 400m Hurdles:
Race A
1 Shawn Rowe JAM 49.08 SB
2 Jaheel Hyde JAM 49.70
3 Quivell Jordan-Bacot USA 49.99
4 TJ Holmes USA 51.99 SB
Race B
1 Marvin Williams JAM 50.23 SB
2 Sean Kalawan USA 50.51 PB
3 Isaiah chapman USA 52.04 PB
4 Juander Santos DOM 52.97
Women's Results – Star Athletics Sprint Series
Women 100m
Race B Wind: 2.6
1 Sha'Carri Richardson USA 10.73w
2 Brittany Brown USA 10.80w
3 TeeTee Terry USA 10.82w
4 Candace Hill USA 10.96w
5 Kortnei Johnson USA 10.98w
6 Murielle Ahouré-Demps CIV 11.03w
7 Adaejah Hodge IVB 11.08w
8 Ashley Henderson USA 11.14w
Race B Wind: 1.5
1 Javianne Oliver USA 11.17 SB
2 Jasmine Abrams GUY 11.21 SB
3 Sanaa Frederick TTO 11.33 PB
4 Symone Mason USA 11.36
5 Sole Frederick TTO 11.60 =PB
Women's 100m Hurdles
Final: Wind: 1.1
1 Tonea Marshall USA 12.47 SB
2 Cindy Sember GBR 12.88 SB
3 Gabbi Cunningham USA 12.94 SB
4 Milan Young USA 13.24
5 Simone Ballard USA 13.59 SB
6 Sasha Wells BAH 13.83
Heat 1 Wind: 1.6
1 Tonea Marshall USA 12.48 SB
2 Gabbi Cunningham USA 13.03
3 Cindy Sember GBR 13.09 SB
4 Milan Young USA 13.31
5 Latasha Dodson USA 14.56
6 Alayezia Williams USA 14.73
Heat 2 Wind: 0.6
1 Simone Ballard USA 13.66 SB
2 Sasha Wells BAH 13.97
3 Shaneylix Davila PUR 14.43
Women's 400m Hurdles
1 Andrenette Knight JAM 53.84 SB
2 Anna Cockrell USA 54.20 SB
3 Gianna Woodruff PAN 56.29
4 Evelyn Del Carmen DOM 59.86 SB
Women's 400m:
Race A
1 Victoria Ohuruogu GBR 50.36 PB
2 Nicole Yeargin GBR 51.94 SB
3 Junelle Bromfield JAM 52.10
4 Kaylin Whitney USA 52.35 SB
Race B
1 Stephanie Davis USA 51.86 SB
2 Kendall Baisden USA 53.99 SB
3 Ashley Spencer USA 54.57 SB
4 Raykiyat Olukoju USA 55.26 PB
Women's 200m
Race B: Wind: 0.6
1 Adaejah Hodge IVB 22.60 NR NU20R PB
2 Candace Hill USA 22.68
3 Ashley Henderson USA 23.01
4 Kyra Jefferson USA 23.16
5 Alexis Holmes USA 23.52 SB
Race B Wind: 1.6
1 Victoria Ohuruogu GBR 22.96 PB
2 Asha Philip GBR 23.52 SB
3 Malaysia Johnson USA 23.62 PB
4 Kendall Baisden USA 24.11 SB
Race C Wind: 2.9
1 Sanaa Frederick TTO 23.12w
2 Rachael Uvieghara USA 23.13w
3 Raykiyat Olukoju USA 23.72w
4 Sole Frederick TTO 23.91w