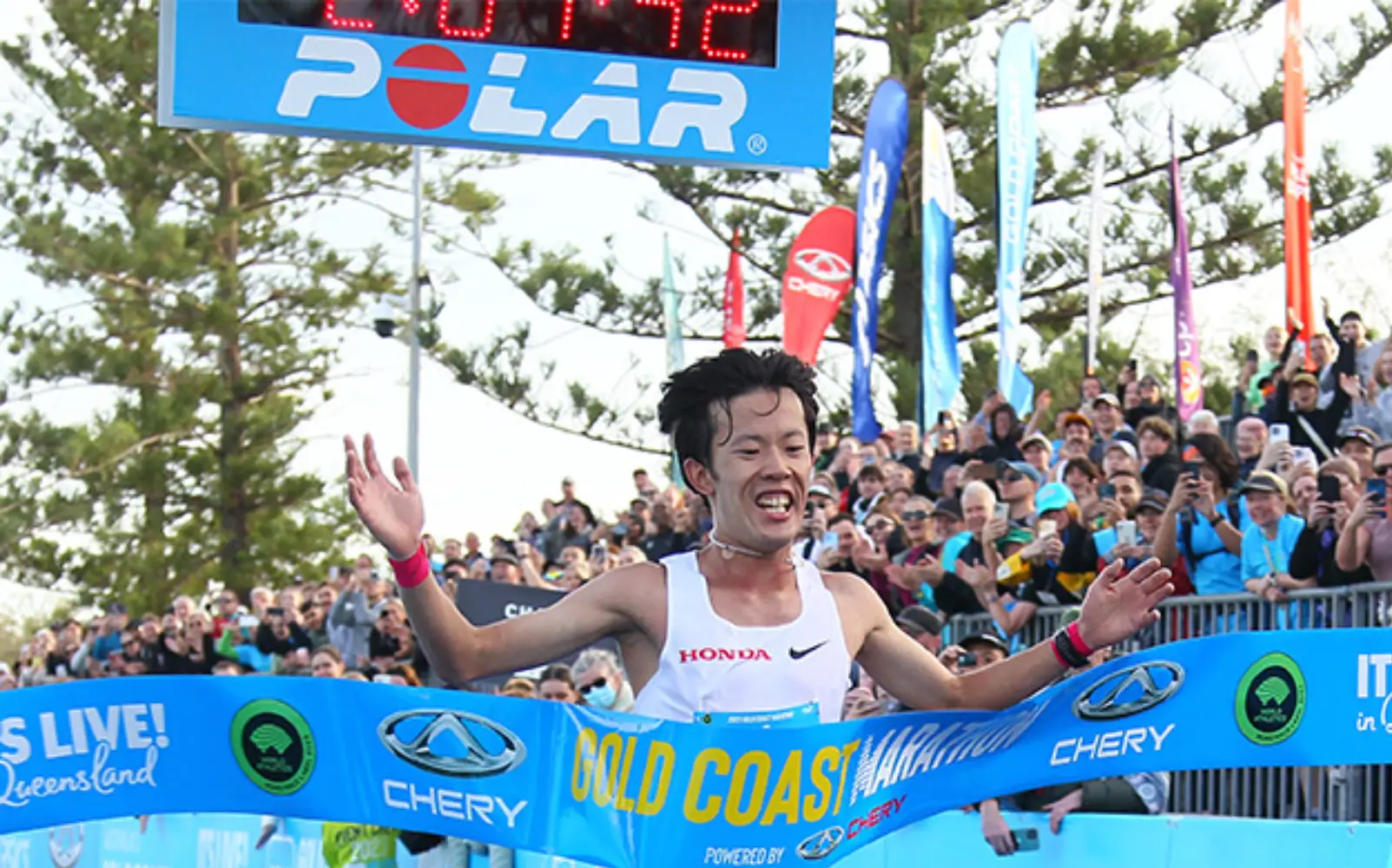 The 2023 Gold Coast Marathon results on Sunday, 2 July saw Japan's Naoki Koyama and Rodah Jepkorir racing away with the men's and women's respective titles at the World Athletics Label Road Race event, which also served as an Area Marathon Championships.
Naoki Koyama defeated a strong and set a Gold Coast Marathon new course record when he broke away from a pack late to cross the finish line at 2:07:40, surpassing the 2:07:50 previous race record set in 2019 by compatriot Yuta Shitara. – Read more: Results: Asics Half Marathon in Gold Coast; Keira D'Amato sets 1:06:39 US record
Kenya's Ezekiel Omullo finished second with a time of 2:08:26, while Australia's Liam Adams took third place to complete the podium after running the fastest marathon ever by an Australian on Australian soil in 2:08:39.
In the women's 2023 Gold Coast Marathon results, Rodah Tanui clocked a time of 2:27:10 and Ruth Chebitok finished at 2:28:17 to lead a Kenyan one-two finish in Queensland. Making her marathon debut on Sunday, Olympian Genevieve Gregson ran a 2:28:33 for third place and finish as the top Australian on the day.
Read Also: 2023 Paris Marathon top 20 results; Abeje Ayana and Helah Kiprop win titles
For a full race review, please click here
2023 Gold Coast Marathon results
 Men's Marathon Final results:
Naoki Koyama (JPN) – 2:07:40
Ezekiel Kemboi Omullo (KEN) – 2:08:26
Liam Adams (AUS) – 2:08:39
Wilfred Kimitei (KEN) – 2:09:47
Josh Izewski (USA) – 2:11:26
Jacob Thomson (USA) – 2:11:40
Yuki Kawauchi (JPN) – 2:12:35
Edward Goddard (AUS) – 2:12:52
Caden Shields (NZL) – 2:14:53
Akihiro Kaneko (JPN) – 2:15:04
Koki Yoshioka (JPN) – 2:15:39
Yuki Takamiya (JPN) – 2:16:44
Riley C o c ks (AUS) – 2:17:08
Tim Vincent (AUS) – 2:17:17
Dean Menzies (AUS) – 2:18:05
Yudai Fukuda (JPN) – 2:18:15
Taiyo Akiyama (JPN) – 2:18:41
Jordan McLennan (AUS) – 2:19:41
John Dutton (AUS) – 2:19:49
Craig Appleby (AUS) – 2:20:24
Brady Threlfall (AUS) – 2:20:38
Charlie Boyle (AUS) – 2:20:40
Shunpei Oda (JPN) – 2:22:05
Kieren Perkins (AUS) – 2:23:03
Matt Baxter (NZL) – 2:23:28
Nathan Tse (NZL) – 2:24:40
Callum Drake (AUS) – 2:24:50
Nicholas Sward (AUS) – 2:24:51
Takemaru Yamasaki (JPN) – 2:25:00
Agus Prayogo (INA) – 2:25:06
Lachlan Bryant (AUS) – 2:25:13
Jo Fukuda (JPN) – 2:25:31
Tim Hewitt (AUS) – 2:25:36
Shinya Dobashi (JPN) – 2:25:48
Hiroki Kai (JPN) – 2:26:04
Max Stevens (AUS) – 2:26:23
Hiroki Nakajima (JPN) – 2:26:27
Luke Babic (AUS) – 2:26:33
David Ridley (NZL) – 2:28:17
Anthony Morgan (AUS) – 2:28:25
Damien Troquenet (PYF) – 2:28:30
Scott Westcott (AUS) – 2:28:34
Dion Finocchiaro (AUS) – 2:28:35
Toby Medlin (AUS) – 2:28:46
Matt Gore (AUS) – 2:28:51
Ryan Haylock (AUS) – 2:29:12
Tim Van Berkel (AUS) – 2:29:52
Corey Milner (AUS) – 2:29:55
Forest Robinson (AUS) – 2:29:57
Lachie Edwards (AUS) – 2:30:34
Tom Brimelow (AUS) – 2:30:47
Joel Cooper (AUS) – 2:31:05
Lachlan Kerin (AUS) – 2:31:06
Timothy Pryor (AUS) – 2:31:11
Will Newton (AUS) – 2:31:17
Rory Darkins (AUS) – 2:31:38
Tim Reed (AUS) – 2:31:42
Josh Tighe (GBR) – 2:31:49
Clive Gross (AUS) – 2:31:50
Thomas Richards (NZL) – 2:32:49
Kyle Weise (AUS) – 2:32:51
Sebastian Travela (AUS) – 2:33:15
Michael Tosin (AUS) – 2:34:04
Scott Krakouer (AUS) – 2:34:15
Michael Boyd (AUS) – 2:34:28
Mick O'Shea (AUS) – 2:34:36
Daniel Williams (AUS) – 2:34:36
Zac Rosser (AUS) – 2:35:05
Sean Bowes (AUS) – 2:35:26
Ryan Fisher (AUS) – 2:35:50
Scott Walker (AUS) – 2:35:51
Chris Trent (NZL) – 2:35:56
Ben Cain (AUS) – 2:36:13
Matthew Taylor (AUS) – 2:36:23
Jared Kahlefeldt (AUS) – 2:36:32
Women's Marathon Final results:
Rodah Jepkorir (KEN) – 2:27:10
Ruth Chebitok (KEN) – 2:28:17
Genevieve Gregson (AUS) – 2:28:33
Eloise Wellings (AUS) – 2:31:38
Marnie Ponton (AUS) – 2:34:28
Florence Kiplagat (KEN) – 2:36:29
Ella McCartney (AUS) – 2:38:43
Ella Higgins (AUS) – 2:39:41
Haruka Yamaguchi (JPN) – 2:39:55
Kathryn Parkinson (AUS) – 2:40:52
Lesley West (AUS) – 2:43:40
Kelly Parlane (NZL) – 2:44:10
Lauren French (AUS) – 2:44:47
Tomomi Nakajima (JPN) – 2:45:57
Leah Fitzgerald (AUS) – 2:48:00
Rochelle Sceats-Basil (NZL) – 2:49:18
Astrid Roberts (AUS) – 2:49:33
Rachel See Boon Lay (SGP) – 2:51:00
Melissah Gibson (AUS) – 2:51:12
Aimee Davenport (AUS) – 2:52:20
Jules Bennett (AUS) – 2:52:43
Katie Mahoney (USA) – 2:53:21
Siobhan Sefton (AUS) – 2:53:50
Tessa Marks (AUS) – 2:54:10
Eleanor Goldrick (AUS) – 2:55:15
Elena Stephenson (AUS) – 2:56:07
Helena Hayes (IRL) – 2:56:07
Melanie Panayiotou (AUS) – 2:56:17
Alexandra Barnes (AUS) – 2:56:28
Estelle Berton (AUS) – 2:56:31
Kimberly Pinkus (AUS) – 2:56:43
Elise Beacom (AUS) – 2:57:12
Joasia Zakrzewski (GBR) – 2:57:13
Emilie Tan (AUS) – 2:57:23
Katherine Gambell (AUS) – 2:57:33
Alana Hewish (AUS) – 2:58:23
Greer Wilson (AUS) – 2:58:49
Laura Peill (AUS) – 2:58:49
Imy Briscoe (AUS) – 2:59:06
Claire Rickards (AUS) – 2:59:06
Rhiannon Snipe (AUS) – 2:59:09
Arata Ochiai (JPN) – 2:59:29
Shara Jones (GBR) – 2:59:38
Alexandra McNaughton (AUS) – 3:00:02
Ruth Wilson (AUS) – 3:00:16
Leshay Wells (AUS) – 3:00:36
Kyoko Miura (JPN) – 3:01:24
Tegan Gore (RSA) – 3:02:12
Julia McKenny (AUS) – 3:02:30
Yvette Edward (AUS) – 3:03:37
Nicola Bowker (AUS) – 3:03:43
Cheryl Greenway (GBR) – 3:04:59