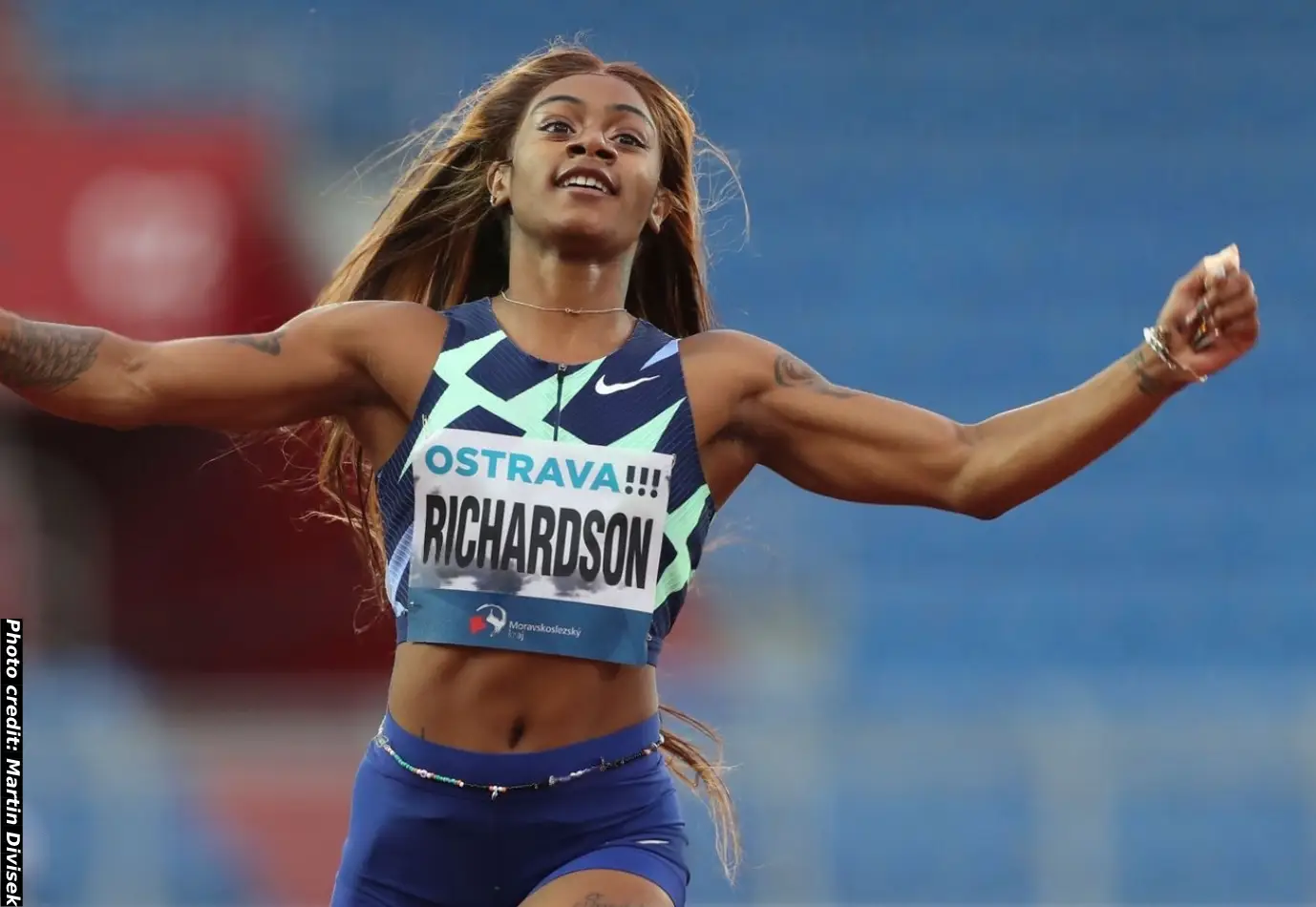 Eugene, Oregon – The 2023 USATF Outdoor Championships is set to showcase the best senior and junior athletes in the country, and the start list for the highly anticipated women's 100m event has been unveiled. The championships is scheduled to take place from July 6-9 at Oregon's Hayward Field, with the opening round of the women's 100m taking place on the first day of competition.
Among the top contenders listed for the heats are Sha'Carri Richardson, Aleia Hobbs, Twanisha 'TeeTee' Terry, and rising juniors Shawnti Jackson and Mia Brahe-Pedersen. These athletes have proven their exceptional talent and are expected to deliver thrilling performances.
Mia Brahe-Pedersen to face Sha'Carri Richardson
In heat one, fans will witness an intense battle between Sha'Carri Richardson, currently the second-fastest woman in the world this season, and a field filled with promising talents. The 23-year-old, who has beaten some of the top athletes already this year, has a season-best of 10.76 seconds and has also posted a wind-aided 10.57 (w+4.1 m/s).
Notably, high school sensation Mia Brahe-Pedersen, who owns a personal best of 11.00 seconds, will also be competing in this heat, setting the stage for an exciting contest for the 17-year-old junior to cherries for years to come.
Joining them in heat one are Jenna Prandini, Brittany Brown, Kayla White, Candace Hill, and Teahna Daniels, all eager to make their mark.
– Read more: When is the 2023 USATF Outdoor Championships and how to watch live?
Heat two promises another thrilling matchup as defending national champion Melissa Jefferson begins her title defense against Aleia Hobbs, the second-fastest American this year.
Jefferson, although yet to break the 11-second barrier this season, brings her world championships finalist experience and a personal best of 10.82 seconds to the competition. Hobbs, on the other hand, has already clocked an impressive 10.86 seconds this year and boasts six sub-11-second performances thus far.
Other notable starters in heat two also include Mikiah Brisco, Ezinne Abba of Texas, Jadyn Mays of Oregon, and Maia McCoy, all aiming to leave their mark on the championships.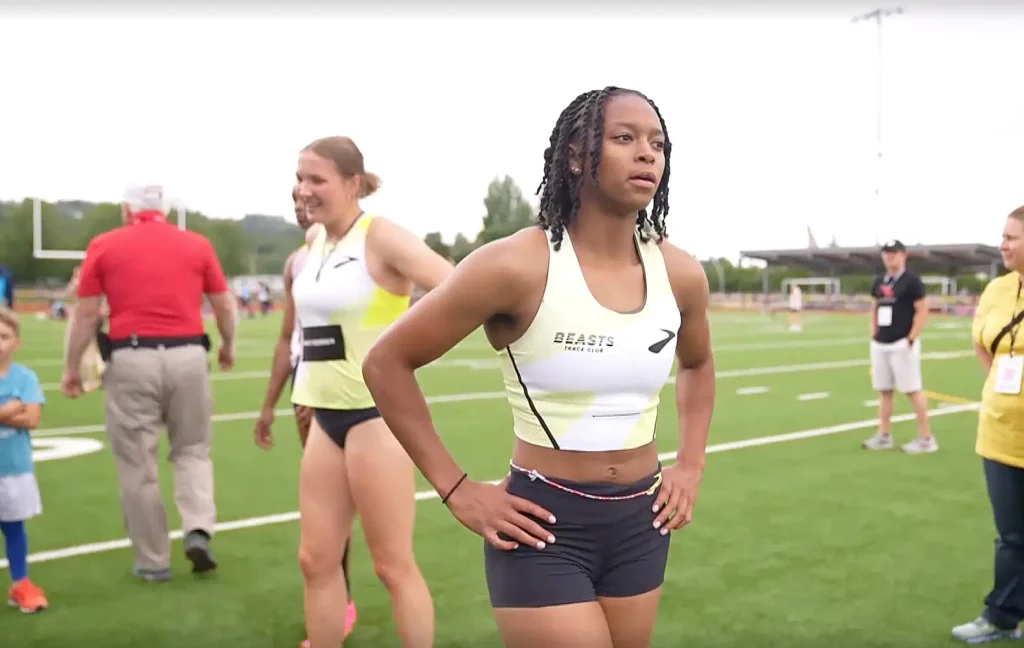 Shawnti Jackson Hunts Senior Place
In section four, keep an eye on the talented young sprinter Shawnti Jackson, who is expected to make a strong impression. Jackson, the World U20 bronze medalist, enters the U.S. Trials with a personal best of 10.89 seconds, ranking joint sixth-fastest in the world this season.
Going head-to-head with Morolake Akinosun, Kennedy Blackmon of Oklahoma, and Cambrea Sturgis, Jackson is determined to secure her spot in the semifinals.
Read Also: Owens-Delerme sets CAC Games Decathlon record with 8281pts
The third heat will feature Twanisha 'TeeTee' Terry, the anchor of the United States' gold medal-winning 4x100m relay team at last summer's World Championships. Terry will face a challenging opponent in Tamari Davis, who has already recorded a swift time of 10.89 seconds this year.
Additionally, keep a close watch on Jacious Sears of Tennessee, the SEC Outdoor sprint champion and third-place finisher at the NCAA Championships last month, as she aims to make her mark on the competition.
Stay tuned for more start lists and previews ahead of the 2023 USATF Outdoor Championships.
2023 USATF Outdoor Championships Women's 100m Start List:
Heat 1 Start List:
Brittany Brown – adidas
Amira Young – Minnesota
Caisja Chandler – USC
Teahna Daniels – NIKE
Mia Brahe-Pedersen – Unattached
Jenna Prandini – PUMA
Sha'Carri Richardson – NIKE
Kayla White – NIKE
Candace Hill – ASICS
Heat 2 Start List:
Melissa Jefferson – NIKE
Mikiah Brisco – adidas
Ezinne Abba – Texas
Jadyn Mays – Oregon
Javianne Oliver – Unattached
Marybeth Sant Price – Unattached
Maia McCoy – Unattached
Aleia Hobbs – adidas
Heat 3 Start List:
Taylor Anderson – Tracksmith/Garden St TC
Destiny Smith-Barnett – Double Pillar Athletics
Tamari Davis – adidas
Jacious Sears – Tennessee
Twanisha 'TeeTee' Terry – NIKE
Celera Barnes – adidas
Semira Killebrew – Texas A&M
Tamara Clark – adidas / The Buford Bailey TC
Heat 4 Start List:
Shawnti Jackson – Run U Xpress
Kennedy Blackmon – Oklahoma
Dajaz Defrand – Florida State
Jada Baylark – Unattached
English Gardner – NIKE
Morolake Akinosun – adidas
Shannon Ray – adidas
Cambrea Sturgis – adidas
For full results, click here