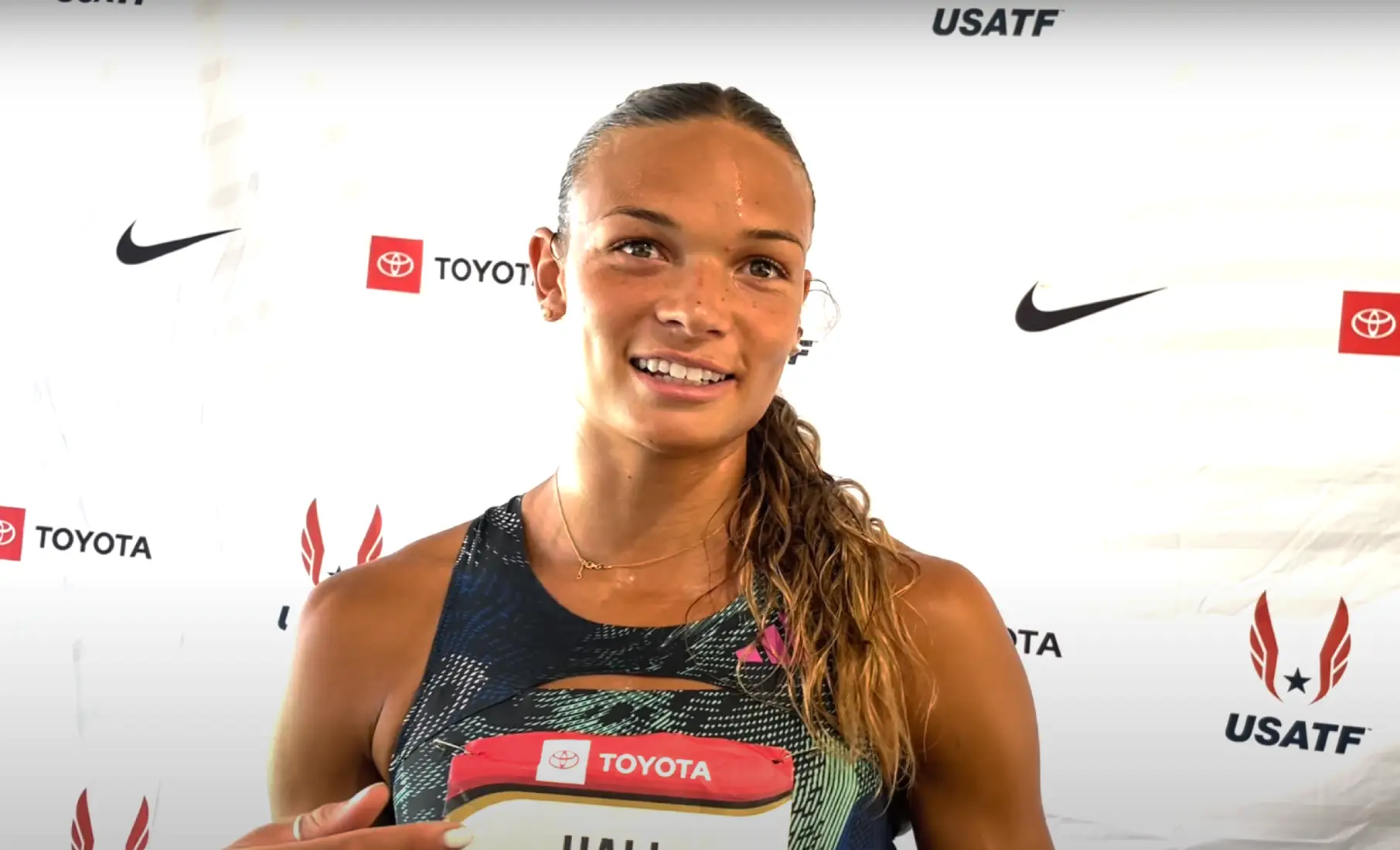 EUGENE, Ore. (July 6) — Defending national champion Anna Hall, the world bronze medalist, is the leader in the women's Heptathlon standings on Day 1 of the 2023 USA Track and Field Outdoor Championships held at Hayward Field in Eugene on Thursday (6).
After completing four events, Hall amassed a total of 4,009 points, securing a 119-point lead over her nearest competitor. She claimed victory in two of the scoring disciplines.
Taliyah Brooks finished the day in second place with 3,890 points, followed by Chari Hawkins with 3,831 points, Annie Kunz with 3,776 points, and Erin Marsh with 3,638 points.
Anna Hall revealed that she is still training through this meet, so her goal to tally a score that would be good enough to repeat as the national champion.
"I am just trying to put up a good score," she said, before adding her aim is to, "get a decent enough score to win the meet."
Brooks began the day by winning the hurdles event with a time of 12.98 seconds to set the tone. – Read Also: Sha'Carri Richardson runs WL 10.71secs at USA Championships
However, Anna Hall claimed the top spot in the high jump with a clearance of 1.87 meters and then finished the day strong with a time of 23.45 seconds in the 200m, securing another first-place finish to build on her lead heading into bedtime.
Annie Kunz also won an event on Day 1, dominating the shot put with a throw of 14.72 meters.
2023 USA Track and Field Outdoor Championships Heptathlon Standings – Day 1
| Place | Athlete | Total | 100MH | HJ | SP | 200M |
| --- | --- | --- | --- | --- | --- | --- |
| 1 | Anna Hall | 4009 | 13.08 (2) | 1.87 (1) | 1112 (2) -15 | 23.45 (1) |
| 2 | Taliyah Brooks | 3890 | 12.98 (1) | 1.84 (3) | 1127 (1) | 23.67 (3) |
| 3 | Chari Hawkins | 3831 | 13.10 (3) | 1.81 (4) | 1109 (3) -18 | 24.05 (6) |
| 4 | Annie Kunz | 3776 | 13.32 (6) | 1.75 (6) | 1077 (6) -50 | 24.42 (9) |
| 5 | Erin Marsh | 3638 | 13.19 (5) | 1.69 (12) | 1096 (5) -31 | 23.98 (4) |
| 6 | Cheyenne Williamson | 3618 | 13.52 (8) | 1.78 (5) | 1047 (8) -80 | 24.22 (7) |
| 7 | Jadin O'Brien | 3562 | 13.72 (11) | 1.69 (9) | 1018 (11) -109 | 24.80 (11) |
| 8 | Allie Jones | 3554 | 13.18 (4) | 1.63 (16) | 1097 (4) -30 | 23.54 (2) |
| 9 | Shaina Burns | 3524 | 13.77 (12) | 1.69 (9) | 1011 (12) -116 | 25.12 (13) |
| 10 | Jordan Gray | 3496 | 14.15 (15) | 1.72 (8) | 957 (15) -170 | 24.95 (12) |
| 11 | Hope Bender | 3465 | 13.69 (10) | 1.69 (12) | 1023 (10) -104 | 24.39 (8) |
| 12 | Lexie Keller | 3434 | 14.22 (16) | 1.72 (7) | 947 (16) -180 | 25.31 (14) |
| 13 | Melanie Winters | 3394 | 14.15 (14) | 1.69 (9) | 957 (14) -170 | 24.03 (5) |
| 14 | Avery McMullen | 3252 | 14.01 (13) | 1.66 (15) | 977 (13) -150 | 24.66 (10) |
| 15 | Michelle Atherley | 2589 | 13.46 (7) | 1.66 (14) | 1056 (7) -71 | N/A |
| DNF | Erica Bougard | -224 | 13.67 (9) | 1.84 (2) | 1026 (9) -101 | 12.52 (11) |
For more information and live results, please click here