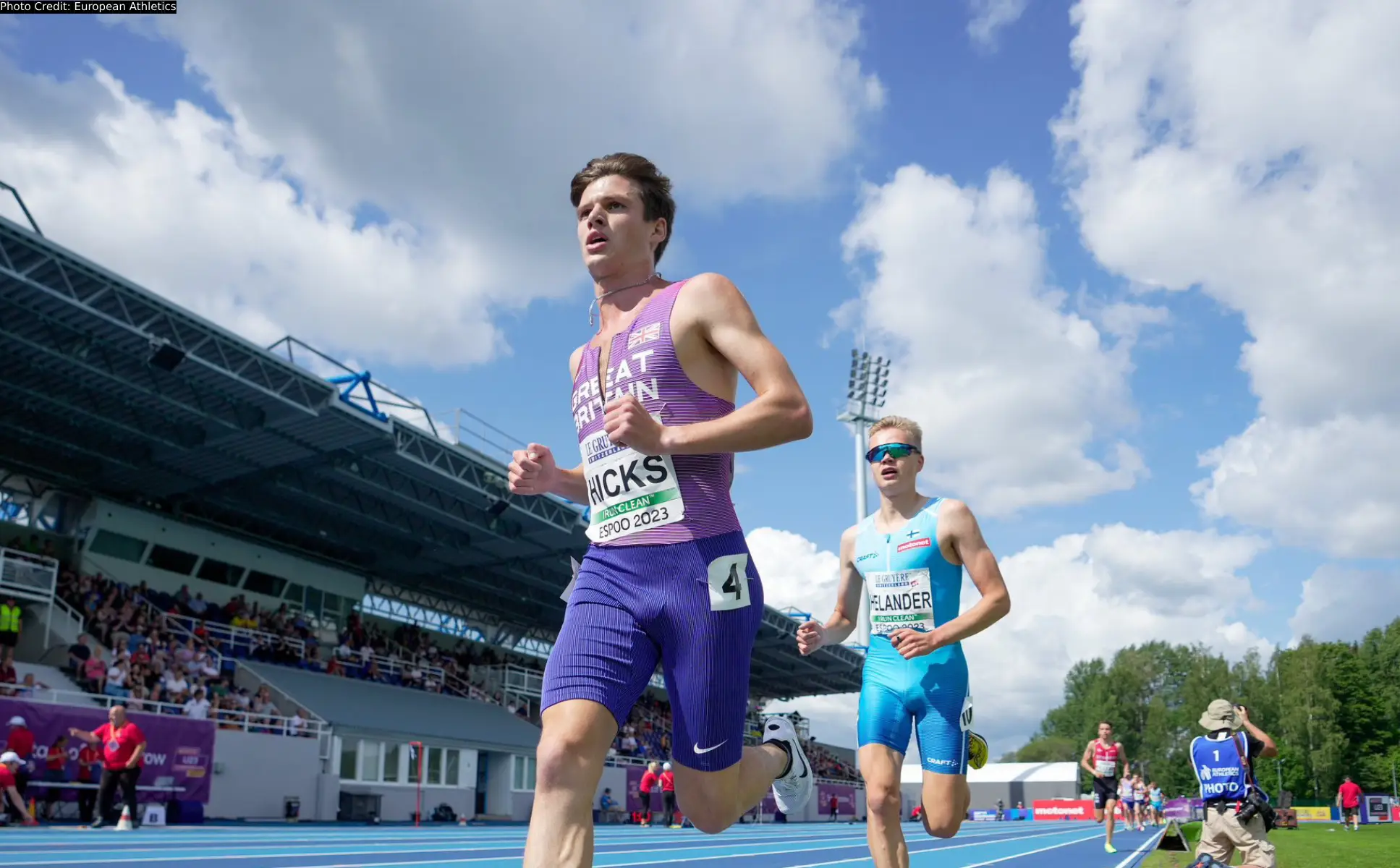 ESPOO, Finland (July 14) — In the latest track and field news from Espoo 2023, Charles Hicks of Great Britain confidently led from gun to tape en route to winning the men's 5000m final at the European U23 Athletics Championships, clocking a time of 13:35.07 to secure the gold medal on Day 3 on Friday.
Hicks, who won the NCAA Cross Country title for Stanford last November and was the U23 28th SPAR European Cross Country Championships last December, added another feather to his cap with this win at Espoo 2023.
Read more: Day 2: How to watch European U23 Athletics Championships? – live schedule
The 21-year-old Briton and home favorite Eemil Helander of Finland broke away from a group of four runners after 2000m, building a lead of almost 100m over the field with a series of mid 60 seconds lap tempo.
Charles Hick Pushed Unstoppable Pace
Hicks kept pushing the pace thereafter before injecting another surge with about 500m left in the race to break away from Helander finally. The Finnish runner, who was starting to tire, could not keep up anymore, but hand enough of cushion ahead of the trailing pack to hold on to his position.
"It was a great race. The U23 has always had a great spirit. I would have liked it a bit faster today, but I was kind of hit by the wind on the home stretch," said Hicks. "I just tried as much as I could. It was a very unique and exciting race and I was ready to run from the gun. I am glad I managed to take this great opportunity."
Helander was rewarded with the silver medal with a personal best time of 13:40.15.
"In earlier junior championships, I have been very close to the podium, being fourth or fifth, so now it feels extra good to get the silver medal," Helander said.
Read Also: Charles Hicks targets European Athletics U23 Championships 5000m
"The winner, Hicks started very fast from the first beginning, and it raised some thoughts in my head about if I had started too fast, but actually it did not feel that bad and I just decided to follow him."
Exciting Battle For Bronze Medal
The fight for the bronze medal was exciting, with a group of five runners battling it out before Will Barnicoat of Great Britain finished strongly to overtake Derebe Ayele of Israel and secure third place, handing Great Britain a 1-3 finish. Barnicoat finished with a personal best time of 13:45.24, while Ayele ran 13:47.92 in fourth place.
Other notable performances included Loic Scomparin of France, who finished fifth with a time of 13:49.60, and Adam Maijo of Spain, who ran 13:50.77.
The European U23 Athletics Championships and more track and field news from Finland will continue today in Espoo, Finland, with the afternoon session featuring several finals, including the women's and men's 400m and 100m races.
The five-day event runs from July 12-16.
Click here for the complete results and race analysis
For more track and field news and results, please visit out homepage.