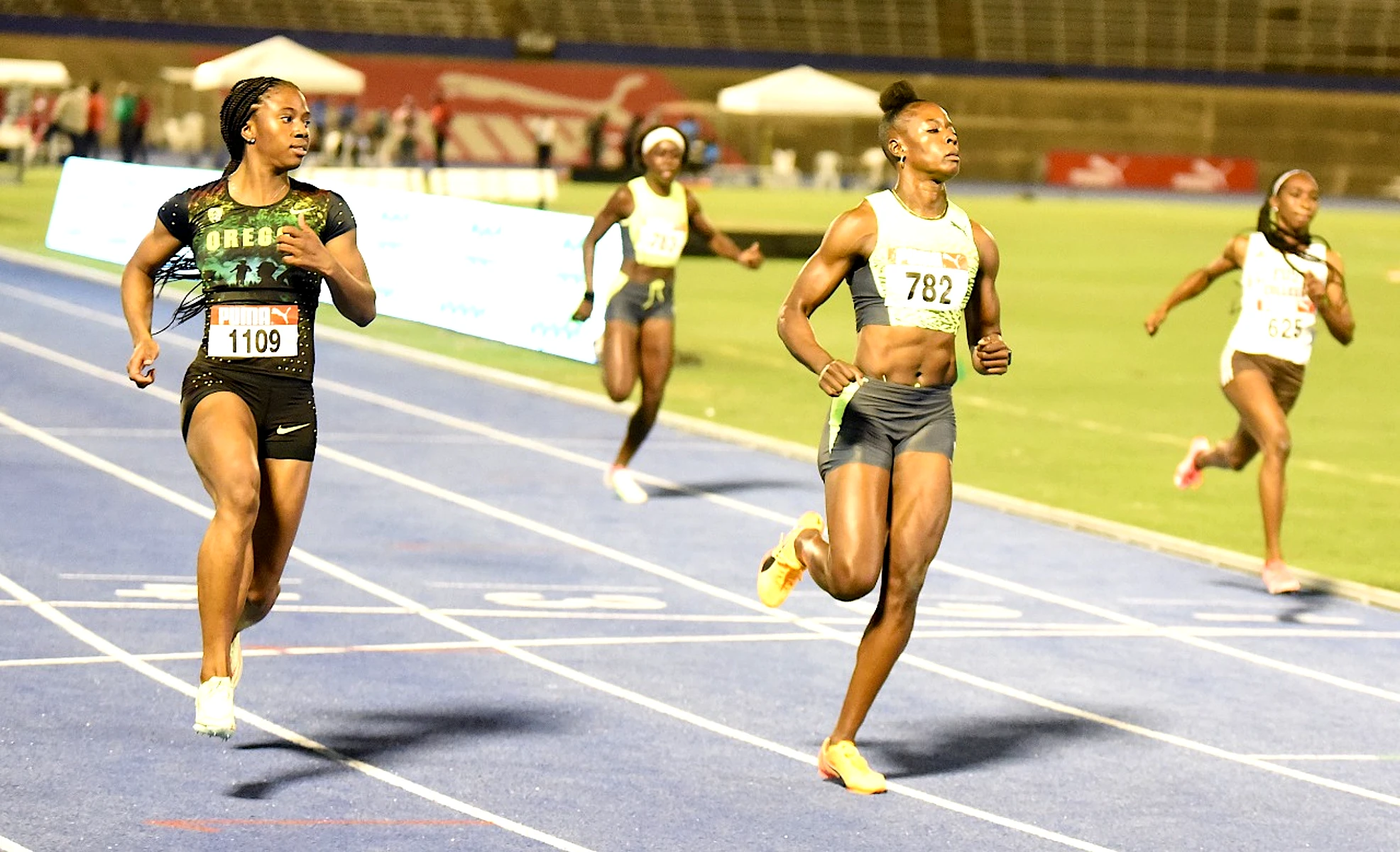 The Jamaica Track and Field Championships results on Day 1 at the National Stadium in Kingston, on Thursday. Shericka Jackson, Elaine Thompson-Herah, and three surprising sub-10 seconds performances were among the highlights on the first day.
World silver medalist Shericka Jackson was a comfortable winner in her heat of the women's 100m, clocking 10.99 seconds, while two-time Olympic sprint double champion Elaine Thompson-Herah also advanced after winning her heat in a season-best 11.12secs.
There were some surprises on the men's side, with newbies Kishane Thompson, Kadrian Goldson, and Rohan Watson, all breaking 10-seconds for the first time. – Read more: Shericka Jackson, Elaine Thompson-Herah lead 100m qualifiers at Jamaica Trials
Thompson clocked 9.91secs to lead the way, while Goldson went 9.94 and Watson finished at 9.98.
Notably, 2011 world champion and defending national champion Yohan Blake failed to advance after false-starting in his heat.
Jamaica Track and Field Championships Results on Day 1
Men's 100m
Heat 1, Wind: +0.6
PLACE NAME NAT. MARK
1 Kishane THOMPSON JAM 9.91 PB
2 Ackeem BLAKE JAM 10.00
3 Ryiem FORDE JAM 10.01
4 Jelani WALKER JAM 10.09
5 Robin BLACK JAM 10.28
6 Jazeel MURPHY JAM 10.40
7 Michali EVERETT JAM 10.41
8 Fabian HEWITT JAM 10.43
Heat 2, Wind: +0.3
PLACE NAME NAT. MARK
1 Oblique SEVILLE JAM 10.00
2 Ramone BARNSWELL JAM 10.13
3 Tyquendo TRACEY JAM 10.22
4 Deandre DALEY JAM 10.24
4 Oshane BAILEY JAM 10.24
6 Travis WILLIAMS JAM 10.26
7 Michael SHARP JAM 10.40
8 Michael STEPHENS JAM 11.28
Heat 3, Wind: +0.7
PLACE NAME NAT. MARK
1 Kadrian GOLDSON JAM 9.94
2 Rohan WATSON JAM 9.98
3 Julian FORTE JAM 10.1
4 Sandrey DAVISON JAM 10.19
5 Odaine MCPHERSON JAM 10.21
6 Yohan BLAKE JAM 10.31
7 Jehlani GORDON JAM 10.34
8 Rasheed FOSTER JAM 11.04
Heat 4, Wind: +0.6
PLACE NAME NAT. MARK
1 Nigel ELLIS JAM 10.07
2 Michael CAMPBELL JAM 10.1
3 Bouwahjgie NKRUMIE JAM 10.21
4 Conroy JONES JAM 10.22
5 Shakur WILLIAMS JAM 10.32
5 Nishion EBANKS JAM 10.32
7 Adrian KERR JAM 10.33
7 Bryan LEVELL JAM 10.33
Men's 5000m
Final
PLACE NAME NAT. MARK
1 Dewayne GRAHAM JAM 16:30.52
2 Noel ELLIS JAM 17:15.78
Men's 400m Hurdles
Heat 1
PLACE NAME NAT. MARK
1 Roshawn CLARKE JAM 48.91
2 Jaheel HYDE JAM 49.4
3 Robin BLACK JAM 50.24
4 Devontie ARCHER JAM 52.43
5 Rodree ROBINSON JAM 55.31
Malik JAMES-KING JAM DQ
Heat 2
PLACE NAME NAT. MARK
1 Assinie WILSON JAM 49.7
2 Shawn ROWE JAM 50.38
3 Roxroy CATO JAM 50.65
4 Marvin WILLIAMS JAM 51.21
5 Sean KALAWAN JAM 51.54
6 Zachary CHAMBERLAIN JAM 59.44
Women's 100m
Heat 1, Wind: 0.0
PLACE NAME NAT. MARK
1 Shericka JACKSON JAM 10.99
2 Jonielle SMITH JAM 11.19
2 Briana WILLIAMS JAM 11.19
4 Kasheika CAMERON JAM 11.53
Heat 2, Wind: -0.6
PLACE NAME NAT. MARK
1 Alana REID JAM 11.14
2 Remona BURCHELL JAM 11.2
3 Kiara GRANT JAM 11.31
4 Tia CLAYTON JAM 11.4
5 Grizell SCARLETT JAM 11.62
Krystal SLOLEY JAM DNF
OC Lanae-Tava THOMAS USA 11.24X
Heat 3, Wind: -0.4
PLACE NAME NAT. MARK
1 Natasha MORRISON JAM 11.00
2 Shashalee FORBES JAM 11.09
3 Kevona DAVIS JAM 11.12
4 Serena COLE JAM 11.19
5 Jodean WILLIAMS JAM 11.33
6 Shenike MALCOLM JAM 12.23
Heat 4, Wind: +0.3
PLACE NAME NAT. MARK
1 Elaine THOMPSON-HERAH JAM 11.12
2 Ashanti MOORE JAM 11.15
3 Shockoria WALLACE JAM 11.19
3 Kemba NELSON JAM 11.19
3 Tina CLAYTON JAM 11.19
6 Niesha BURGHER JAM 11.53
7 Mickaell MOODIE JAM 11.54
8 Shurria Amoy HENRY JAM 11.73
Women's 400m Hurdles
Heat 1
PLACE NAME NAT. MARK
1 Shiann SALMON JAM 55.35
2 Rushell CLAYTON JAM 55.73
3 Terrice STEEN JAM 58.09
4 Kimisha CHAMBERS JAM 58.1
Ronda WHYTE JAM DNF
OC Gontse Martha MORAKE RSA 57.98
Heat 2
PLACE NAME NAT. MARK
1 Andrenette KNIGHT JAM 54.41
2 Janieve RUSSELL JAM 55.13
3 Lashanna GRAHAM JAM 56.79
4 Sanique WALKER JAM 57.75
5 Garriel WHITE JAM 58.15
Women's High Jump
Final
PLACE NAME NAT. MARK
1 Lamara DISTIN JAM 1.91 meters
2 Kimberly WILLIAMSON JAM 1.85
Women's Long Jump
Final
PLACE NAME NAT. MARK WIND
1 Tissanna HICKLING JAM 6.85 meters 1.5
2 Chanice PORTER JAM 6.72 3.5
3 Ackelia SMITH JAM 6.66 5.9
4 Velecia WILLIAMS JAM 6.34 3.5
5 Nia ROBINSON JAM 6.32 1.9
6 Jodian STEWART JAM 6.18 2.3
7 Machaeda LINTON JAM 5.92 4.7
8 Mellisa WALKER JAM 5.53 2.0
9 Sashell WALTERS JAM 5.20 2.2
Qualifier Prelims – B
Men's 100m
Heat 1, Wind: -5.1
PLACE NAME NAT. MARK
1 Mazinho BARRETT JAM 10.96
2 Tyreke WILSON JAM 11.07
3 Zeneal FEARON JAM 11.28
4 Rimando THOMAS JAM 11.44
5 Javanne WHITE JAM 11.56
OC Judah TAYLOR TTO 11.22
OC Emmanuel RWOTOMIYA UGA 11.45
Heat 2, Wind: +0.7
PLACE NAME NAT. MARK
1 Odaine MCPHERSON JAM 10.37
1 Shakur WILLIAMS JAM 10.37
3 Nishion EBANKS JAM 10.39
4 Daniel AUSTIN JAM 11.04
5 Romal SEWELL JAM 11.18
Heat 3, Wind: -4.1
PLACE NAME NAT. MARK
1 Xavier NAIRNE JAM 10.87
2 Edward CLARKE JAM 10.94
3 Jhevaughn MATHERSON JAM 11.05
OC Chaquille SAM JAM 11.29
OC Mc Kish COMPTON VIN 10.92
Heat 4, Wind: -1.9
PLACE NAME NAT. MARK
1 Ramone BARNSWELL JAM 10.35
2 Michael SHARP JAM 10.63
3 Ashauni SEGREE JAM 10.82
OC Earl SIMMONDS VIN 10.53
Heat 5, Wind: -6.5
PLACE NAME NAT. MARK
1 Ashanie Romine SMITH JAM 11.05
2 Jullane WALKER JAM 11.19
3 Ricquan GRAHAM JAM 11.4
OC Sage PRIMUS VIN 11.08
OC Davede BUCKHAM JAM 11.47
Heat 6, Wind: -5.0
PLACE NAME NAT. MARK
1 Fabian HEWITT JAM 10.63
2 Rasheed FOSTER JAM 10.75
3 Andre DACRES JAM 10.79
4 Mario WILLIAMS JAM 11.03
5 Clinton SIMMONDS JAM 12.09
More results can be found here