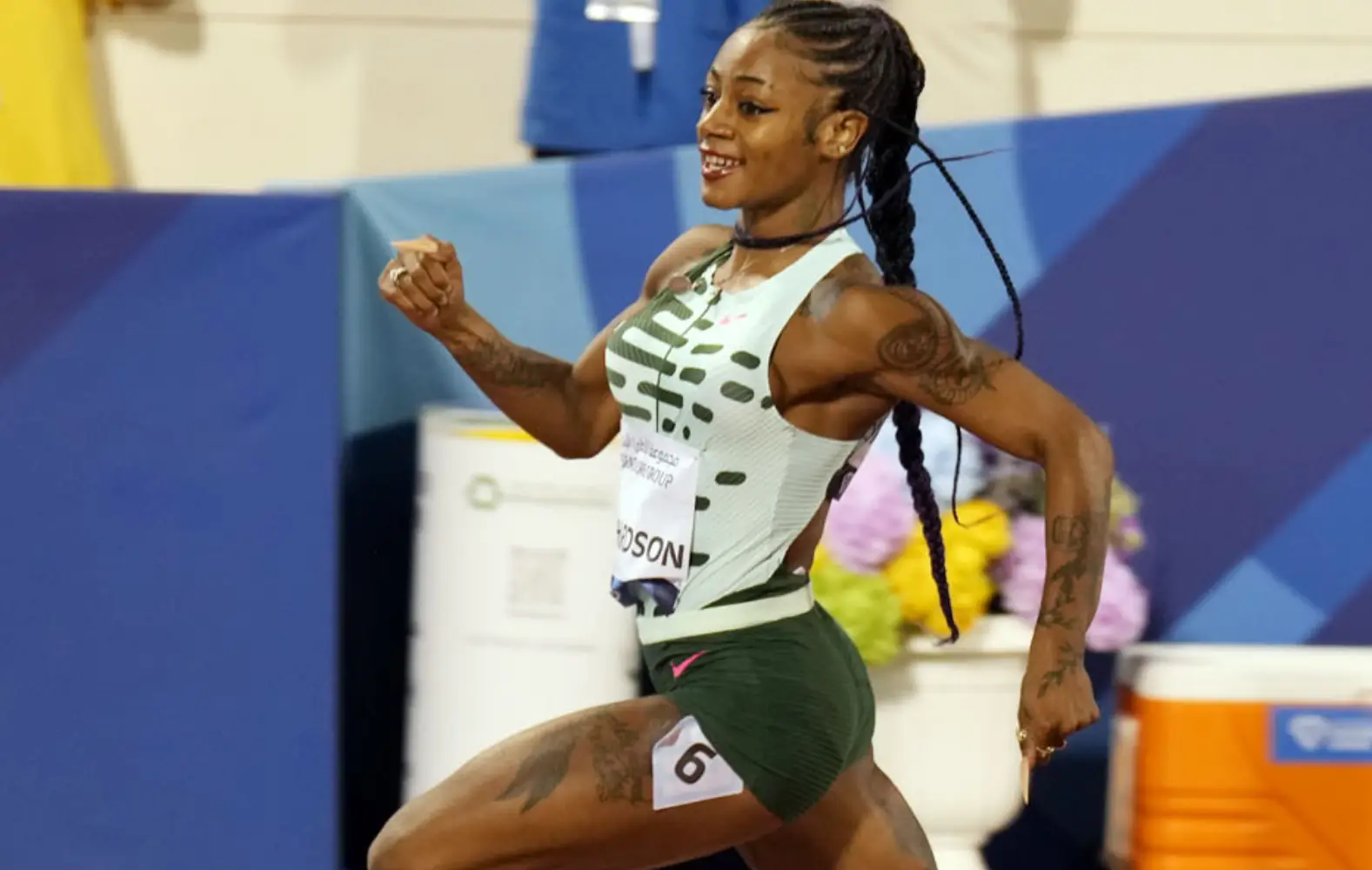 Here are the USA Track and Field results on Day One after an exciting day of competition at Hayward Field in Oregon. Sha'Carri Richardson ran a world-leading time of 10.71 seconds to lead all the qualifiers in the women's 100m, while Elise Cranny and Woody Kincaid won the 10,000m titles.
Sha'Carri Richardson showed that her early season form was no fluke after she clocked a very fast, yet controlling personal best time to win her heat and head into the women's 100m semifinals as the fastest woman in 2023.
READ MORE: Day 1: Anna Hall leads USATF Championships Heptathlon standings
Elsewhere, Elise Cranny and Woody Kincaid won the women's and men's 10,000m crowns with respective times of 32:12.30 and 28:23.01, while other finals on the first day at the USA Track and Field Championships 2023 saw Tori Franklin jumping 14.44m to win the women's triple jump, Nebraska's Maddie Harris won the women's Javelin Throw with a personal best mark of 60.73m.
USA Track and Field results on Day 1
Men's 100m
Heat 1, Wind: +0.2
PLACE NAME NAT. MARK
1 J.T SMITH USA 10.02
2 Trayvon BROMELL USA 10.05
3 Micah WILLIAMS USA 10.11
4 Kyree KING USA 10.15
5 Courtney LINDSEY USA 10.17
6 Cravon GILLESPIE USA 10.2
7 Brandon HICKLIN USA 10.25
8 Michael NORMAN USA 10.31
9 Rodney HEATH USA 10.42
Heat 2, Wind: +0.3
PLACE NAME NAT. MARK
1 Pjai AUSTIN USA 10.17
2 Da'marcus FLEMING USA 10.2
3 Sterling WARNER-SAVAGE USA 10.22
4 Taylor BANKS USA 10.25
5 Austin KRESLEY USA 10.26
6 Ronnie BAKER USA 10.28
7 Sam BLASKOWSKI USA 10.31
8 Marqueze WASHINGTON USA 10.32
Heat 3, Wind: +0.6
PLACE NAME NAT. MARK
1 Cravont CHARLESTON USA 10.01
2 Noah LYLES USA 10.05
3 Brandon CARNES USA 10.14
4 Amir WILLIS USA 10.17
5 Dondra SWINT USA 10.22
6 Lawrence JOHNSON USA 10.30
7 Illas GARCIA USA 10.37
8 Victor SMITH USA 10.37
Heat 4, Wind: +0.5
PLACE NAME NAT. MARK
1 Christian COLEMAN USA 9.95
2 Kendal WILLIAMS USA 10.02
3 Terrance LAIRD USA 10.07
4 Chris ROYSTER USA 10.13
5 Coby HILTON USA 10.28
6 Cameron ROSE USA 10.29
7 Cooper BIBBS USA 10.29
8 Marvin BRACY-WILLIAMS USA 11.14
Men's 400m
Heat 1
PLACE NAME NAT. MARK
1 Ryan WILLIE USA 45.48
2 Khaleb MCRAE USA 45.53
3 Richard JOHNSON USA 45.73
4 Noah WILLIAMS USA 45.85
5 Tavon UNDERWOOD USA 46.06
6 Jovahn WILLIAMSON USA 47.55
James BENSON USA DNF
Heat 2
PLACE NAME NAT. MARK
1 Christopher BAILEY USA 45.04
2 Vernon NORWOOD USA 45.06
3 Bryce DEADMON USA 45.12
4 Willington WRIGHT USA 45.44
5 Evan MILLER USA 45.5
6 James MILHOLEN USA 46.68
7 Auhmad ROBINSON USA 46.98
Heat 3
PLACE NAME NAT. MARK
1 Justin ROBINSON USA 45.22
2 Trevor STEWART USA 45.28
3 Brian FAUST USA 45.41
4 William JONES USA 45.73
5 Matthew MOORER USA 46.35
6 Paul DEDEWO USA 46.55
7 Evan MAFILAS USA 46.94
8 Jake ULRICH USA 47.73
Heat 4
PLACE NAME NAT. MARK
1 Quincy HALL USA 45.21
2 Matthew BOLING USA 45.53
3 Jacory PATTERSON USA 45.98
4 Brian HERRON USA 46.37
5 Zarik BROWN USA 46.76
6 Wilbert LONDON USA 48.73
Men's 800m
Heat 1
PLACE NAME NAT. MARK
1 Will SUMNER USA 1:46.49
2 Luciano FIORE USA 1:46.62
3 Wes FERGUSON USA 1:46.65
4 Devin DIXON USA 1:46.92
5 Sean DOLAN USA 1:46.95
6 Baylor FRANKLIN USA 1:47.48
7 Ben NAGEL USA 1:47.82
8 Christian HARRISON USA 1:47.84
Heat 2
PLACE NAME NAT. MARK
1 Bryce HOPPEL USA 1:47.87
2 Isaiah HARRIS USA 1:48.13
3 AJ GREEN USA 1:48.52
4 Camden MARSHALL USA 1:48.70
5 Drew PIAZZA USA 1:48.80
6 Joe HOOTS USA 1:49.15
7 Aman THORNTON USA 1:49.41
8 Samuel AUSTIN USA 1:50.29
Heat 3
PLACE NAME NAT. MARK
1 Clayton MURPHY USA 1:46.36
2 Aidan MCCARTHY USA 1:46.60
3 Derek HOLDSWORTH USA 1:46.74
4 Abraham ALVARADO USA 1:46.96
5 Brandon MILLER USA 1:47.06
6 Mehdi YANOURI USA 1:47.65
7 Hazem MIAWAD USA 1:47.66
8 Clayborn PENDER USA 1:48.30
Heat 4
PLACE NAME NAT. MARK
1 Isaiah JEWETT USA 1:46.55
2 Kameron JONES USA 1:47.13
3 CJ JONES USA 1:47.63
4 Crayton CARROZZA USA 1:47.84
5 John LEWIS USA 1:48.44
6 Bobby POYNTER USA 1:49.70
7 Mike JASA USA 1:50.95
8 Robert DOWNS USA 1:55.77
Men's 1500m
Heat 1
PLACE NAME NAT. MARK
1 Yared NUGUSE USA 3:35.37
2 Joe WASKOM USA 3:36.31
3 John GREGOREK USA 3:36.95
4 Joshua THOMPSON USA 3:37.01
5 Nathan GREEN USA 3:37.03
6 Matthew CENTROWITZ USA 3:37.36
7 Brett MEYER USA 3:37.86
8 Elliott COOK USA 3:39.09
9 Daniel SCHAFFER USA 3:41.62
10 Kasey KNEVELBAARD USA 3:43.85
11 Sean PETERSON USA 3:50.28
Heat 2
PLACE NAME NAT. MARK
1 Samuel PRAKEL USA 3:42.78
2 Hobbs KESSLER USA 3:42.95
3 Eric HOLT USA 3:42.99
4 Craig ENGELS USA 3:43.14
5 Rheinhardt HARRISON USA 3:43.75
6 Simeon BIRNBAUM USA 3:44.14
7 Evan DORENKAMP USA 3:44.31
8 Casey COMBER USA 3:44.36
9 Benjamin ALLEN USA 3:44.60
10 Christian NOBLE USA 3:45.99
11 Davis BOVE USA 3:47.90
12 Isaac BASTEN USA 3:50.31
Heat 3
PLACE NAME NAT. MARK
1 Cole HOCKER USA 3:39.23
2 Andrew HUNTER USA 3:39.34
3 Henry WYNNE USA 3:39.34
4 Cooper TEARE USA 3:39.38
5 Nick FOSTER USA 3:40.85
6 Vincent CIATTEI USA 3:40.89
7 Matt WISNER USA 3:42.49
8 Sam ELLIS USA 3:42.87
9 Austen DALQUIST USA 3:44.08
10 Matt STRANGIO USA 3:48.64
11 AJ ERNST USA 3:48.69
12 Jack YEARIAN USA 3:51.99
Men's 10,000m
Final
PLACE NAME NAT. MARK
1 William KINCAID USA 28:23.01
2 Joe KLECKER USA 28:24.50
3 Sean MCGORTY USA 28:24.96
4 Grant FISHER USA 28:25.61
5 Paul CHELIMO USA 28:29.34
6 Conner MANTZ USA 28:29.36
7 Isai RODRIGUEZ USA 28:32.79
8 Cole SPROUT USA 28:39.54
9 Samuel CHELANGA USA 28:52.01
10 Ben EIDENSCHINK USA 28:59.36
11 Tai DINGER USA 29:03.00
12 Brian SHRADER USA 29:03.79
13 Blaise FERRO USA 29:05.51
14 Ryan JOHNSON USA 29:07.25
15 Ryan FORD USA 29:28.13
16 Matthew PEREIRA USA 29:32.68
17 Allen SUMRALL USA 29:51.52
18 Willy FINK USA 29:56.54
19 Habtamu CHENEY USA 30:00.60
20 Jacob MCLEOD USA 30:22.37
Brandon GARNICA USA DNF
Men's 3000m Steeplechase
Heat 1
PLACE NAME NAT. MARK
1 Mason FERLIC USA 8:24.14
2 Daniel MICHALSKI USA 8:24.16
3 Duncan HAMILTON USA 8:24.66
4 Kenneth ROOKS USA 8:24.73
5 Andrew BAYER USA 8:25.18
6 Derek JOHNSON USA 8:26.51
7 Aidan TOOKER USA 8:29.92
8 Craig HUFF USA 8:32.03
9 Joey BERRIATUA USA 8:40.46
10 Peter HEROLD USA 8:47.67
11 Ben GARNER USA 8:56.53
12 Levi TAYLOR USA 9:10.56
Heat 2
PLACE NAME NAT. MARK
1 Craig NOWAK USA 8:29.17
2 Benard KETER USA 8:29.18
3 Isaac UPDIKE USA 8:29.23
4 Matthew WILKINSON USA 8:29.28
5 Anthony ROTICH USA 8:29.31
6 Alec BASTEN USA 8:29.45
7 Jackson MESTLER USA 8:30.02
8 Brian BARRAZA USA 8:33.34
9 Julius DIEHR USA 8:42.99
10 David RIBICH USA 8:45.92
11 Nathan MYLENEK USA 8:51.94
12 Alex SLENNING USA 9:05.33
13 Jacob MITCHEM USA 9:05.41
Men's Discus Throw
Final
PLACE NAME NAT. MARK
1 Sam MATTIS USA 65.93 meters
2 Turner WASHINGTON USA 65.6
3 Brian WILLIAMS USA 63.36
4 Joseph BROWN USA 62.56
5 Dallin SHURTS USA 61.92
6 Reno TUUFULI USA 61.72
7 Jordan ROACH USA 60.98
8 Robbie OTAL USA 59.11
9 Marcus GUSTAVESON USA 59.05
10 Josh SYROTCHEN USA 58.95
11 Jeff WILLIAMS USA 58.6
12 Darian BROWN USA 58.29
13 Niklas ARRHENIUS USA 57.58
14 Andrew EVANS USA 56.19
15 Milton INGRAHAM USA 55.79
Samuel WELSH USA NM
Women's 100m
Heat 1, Wind: +0.1
PLACE NAME NAT. MARK
1 Sha'Carri RICHARDSON USA 10.71
2 Brittany BROWN USA 10.96
3 Mia BRAHE-PEDERSEN USA 11.05
4 Kayla WHITE USA 11.1
5 Jenna PRANDINI USA 11.14
6 Caisja CHANDLER USA 11.24
7 Candace HILL USA 11.24
8 Amira YOUNG USA 11.39
9 Teahna DANIELS USA 11.55
Heat 2, Wind: -1.2
PLACE NAME NAT. MARK
1 Melissa JEFFERSON USA 11.1
2 Aleia HOBBS USA 11.11
3 Ezinne ABBA USA 11.15
4 Maia MCCOY USA 11.22
5 Mikiah BRISCO USA 11.25
6 Marybeth SANT-PRICE USA 11.29
7 Jadyn MAYS USA 11.35
8 Javianne OLIVER USA 11.39
Heat 3, Wind: +0.2
PLACE NAME NAT. MARK
1 Tamara CLARK USA 11.02
2 Tamari DAVIS USA 11.06
3 Twanisha TERRY USA 11.08
4 Jacious SEARS USA 11.08
5 Destiny SMITH-BARNETT USA 11.23
6 Semira KILLEBREW USA 11.44
7 Taylor ANDERSON USA 11.47
8 Celera BARNES USA 12.20
Heat 4, Wind: +2.1
PLACE NAME NAT. MARK
1 Morolake AKINOSUN USA 11.03
2 Shawnti JACKSON USA 11.05
3 English GARDNER USA 11.12
4 Kennedy BLACKMON USA 11.13
5 Dajaz DEFRAND USA 11.2
6 Cambrea STURGIS USA 11.22
7 Jada BAYLARK USA 11.22
8 Shannon RAY USA 11.24
Women's 400m
Heat 1
PLACE NAME NAT. MARK
1 Britton WILSON USA 50.08
2 Lynna IRBY-JACKSON USA 50.80
3 Ziyah HOLMAN USA 51.38
4 Shae ANDERSON USA 51.78
5 Kiah WILLIAMS USA 51.89
6 Taiya SHELBY USA 52.64
7 Brittany AVENI USA 53.88
Heat 2
PLACE NAME NAT. MARK
1 Sydney MCLAUGHLIN-LEVRONE USA 49.79
2 Makenzie DUNMORE USA 51.07
3 Quanera HAYES USA 51.32
4 Maya SINGLETARY USA 51.44
5 Kendall ELLIS USA 51.70
6 Tierra ROBINSON-JONES USA 52.01
7 Shakima WIMBLEY USA 52.96
Heat 3
PLACE NAME NAT. MARK
1 Talitha DIGGS USA 51.31
2 Jermaisha ARNOLD USA 51.35
3 Alexis HOLMES USA 51.51
4 Wadeline JONATHAS USA 51.72
5 Jada GRIFFIN USA 53.44
6 Na'Asha ROBINSON USA 54.34
7 Latasha SMITH USA 54.53
Heat 4
PLACE NAME NAT. MARK
1 Rosey EFFIONG USA 51.35
2 Courtney OKOLO USA 51.56
3 Paris PEOPLES USA 51.95
4 Jan'Taijah JONES USA 52.09
5 Bailey LEAR USA 52.78
6 Taylor MANSON USA 52.79
7 Kaylin WHITNEY USA 53.18
8 Ava ALEXANDER USA 57.46
Women's 800m
Heat 1
PLACE NAME NAT. MARK
1 Raevyn ROGERS USA 2:00.08
2 Roisin WILLIS USA 2:00.23
3 Ajee WILSON USA 2:00.32
4 Rachel GEARING USA 2:01.24
5 Samantha WATSON USA 2:01.71
6 Brooke FELDMEIER USA 2:04.99
7 Aaliyah MILLER USA 2:05.95
Heat 2
PLACE NAME NAT. MARK
1 Sage HURTA-KLECKER USA 2:01.48
2 McKenna KEEGAN USA 2:01.66
3 Brenna DETRA USA 2:02.01
4 Emily BROOKS-RICHARDS USA 2:02.11
5 Claire SEYMOUR USA 2:02.60
6 Danae RIVERS USA 2:03.90
7 Honour FINLEY USA 2:03.91
8 MaLeigha MENEGATTI USA 2:04.62
Heat 3
PLACE NAME NAT. MARK
1 Nia AKINS USA 1:59.09
2 Juliette WHITTAKER USA 2:00.74
3 Michaela ROSE USA 2:00.79
4 Olivia BAKER USA 2:01.13
5 Kristie SCHOFFIELD USA 2:02.66
6 Sabrina SOUTHERLAND USA 2:03.83
7 Kendra CHAMBERS USA 2:04.36
8 Kaitlin RYAN USA 2:07.30
Heat 4
PLACE NAME NAT. MARK
1 Charlene LIPSEY USA 2:00.10
2 Kaela EDWARDS USA 2:01.08
3 Allie WILSON USA 2:01.87
4 Presley WEEMS USA 2:03.07
5 Katherine MITCHELL USA 2:03.22
6 Valery TOBIAS USA 2:03.58
7 Madeleine BERKSON USA 2:03.94
Women's 1500m
Heat 1
PLACE NAME NAT. MARK
1 Addison WILEY USA 4:09.53
2 Cory Ann MCGEE USA 4:09.62
3 Athing MU USA 4:10.33
4 Alex TEUBEL USA 4:13.37
5 Melissa TANAKA USA 4:13.49
6 Allison CASH USA 4:14.34
7 Taryn RAWLINGS USA 4:14.70
8 Jennifer RANDALL USA 4:15.15
9 Ella DONAGHU USA 4:15.25
10 Savannah SHAW USA 4:18.41
11 Ellie SHEA USA 4:20.11
12 Natalie CIZMAS USA 4:28.54
Heat 2
PLACE NAME NAT. MARK
1 Sinclaire JOHNSON USA 4:07.84
2 Heather MACLEAN USA 4:07.90
3 Helen SCHLACHTENHAUFEN USA 4:09.72
4 Angel PICCIRILLO USA 4:10.46
5 Laurie BARTON USA 4:10.98
6 Anna GIBSON USA 4:11.98
7 Abbe GOLDSTEIN USA 4:13.82
8 Micaela DEGENERO USA 4:15.71
9 Julia HEYMACH USA 4:19.47
10 Madeleine BERKSON USA 4:20.99
11 Tracee VAN DER WYK USA 4:22.07
12 Katie MACKEY USA 4:22.51
Heat 3
PLACE NAME NAT. MARK
1 Nikki HILTZ USA 4:11.55
2 Emily MACKAY USA 4:12.24
3 Danielle JONES USA 4:12.75
4 Anna CAMP BENNETT USA 4:13.36
5 Katie CAMARENA USA 4:13.62
6 Christina ARAGON USA 4:14.63
7 Skylyn WEBB USA 4:15.20
8 Amelia KEYSER-GIBSON USA 4:19.90
9 Teagan SCHEIN-BECKER USA 4:20.04
10 Anna CONNOR USA 4:23.22
11 Anna JUREW USA 4:28.65
12 Danielle ARAGON USA 4:36.39
Women's 10,000m
Final
PLACE NAME NAT. MARK
1 Elise CRANNY USA 32:12.30
2 Alicia MONSON USA 32:17.51
3 Natosha ROGERS USA 32:22.77
4 Weini KELATI FREZGHI USA 32:30.40
5 Karissa SCHWEIZER USA 32:32.10
6 Ednah KURGAT USA 32:38.99
7 Emily VENTERS USA 32:45.57
8 Amanda VESTRI USA 33:11.26
9 Kassie PARKER USA 33:18.60
10 Alexandra HAYS USA 33:33.35
11 Jacqueline GAUGHAN USA 33:37.81
12 Vanessa FRASER USA 33:53.99
13 Samantha NADEL USA 34:01.35
14 Marybeth CHELANGA USA 34:01.91
15 Hannah BRANCH USA 34:16.65
16 Amaya NOE USA 34:46.16
17 India JOHNSON USA 34:58.50
18 Mackenzie CALDWELL USA 35:07.09
Maddie BLOCK USA DNF
Amelia PALADINO USA DNF
Women's 3000m Steeplechase
Heat 1
PLACE NAME NAT. MARK
1 Logan JOLLY USA 9:48.56
2 Kristlin GEAR USA 9:48.81
3 Olivia MARKEZICH USA 9:49.08
4 Courtney WAYMENT USA 9:49.26
5 Kayley DELAY USA 9:49.41
6 Madeline STRANDEMO USA 9:53.99
7 Emily COLE USA 9:59.05
8 Katherine THRONSON USA 10:07.49
9 Lydia OLIVERE USA 10:10.19
10 Abby KOHUT-JACKSON USA 10:10.76
11 Harper MCCLAIN USA 10:12.34
12 Katie RAINSBERGER USA 10:25.42
Heat 2
PLACE NAME NAT. MARK
1 Emma COBURN USA 9:36.69
2 Kaylee MITCHELL USA 9:38.15
3 Marisa HOWARD USA 9:38.19
4 Gabrielle JENNINGS USA 9:41.70
5 Madie BOREMAN USA 9:42.07
6 Lexy HALLADAY USA 9:43.09
7 Carmen GRAVES USA 9:43.11
8 Courtney FRERICHS USA 9:47.36
9 Emma GEE USA 9:59.24
10 Judi JONES USA 10:02.69
11 Angelina ELLIS USA 10:14.08
12 Katelyn MITCHEM USA 10:25.62
13 Meredith RIZZO USA 10:45.73
Women's Triple Jump
Final
PLACE NAME NAT. MARK WIND
1 Tori FRANKLIN USA 14.44 meters 0.2
2 Keturah ORJI USA 14.43 0.8
3 Jasmine MOORE USA 14.19 -0.4
4 Imani OLIVER USA 13.54 0.4
5 Mylana HEARN USA 13.38 0.1
6 Titiana MARSH USA 13.31 0.7
7 Euphenie ANDRE USA 13.15 -0.1
8 Alexa WANDY USA 13.11 -0.1
9 Alexis ELLIS USA 12.96 0.5
10 Jada BRANCH USA 12.8 0
11 Asherah COLLINS USA 12.7 0.4
12 Victoria KADIRI USA 12.55 0.6
13 Arianna FISHER USA 12.51 0.4
14 Amy WARREN USA 12.5 0.4
15 Cierra PULLIAM USA 12.47 0.5
16 Ryann PORTER USA 12.44 1.2
Women's Javelin Throw
Final
PLACE NAME NAT. MARK
1 Maddie HARRIS USA 60.73 meters
2 Maggie MALONE USA 58.79
3 Madison WILTROUT USA 55.51
4 Rebekah WALES USA 54.06
5 Megan ALBAMONTI USA 53.72
6 Ariana INCE USA 52.38
7 Maura HUWALT USA 49.1
8 Maria BIENVENU USA 47.69
9 Julia CAMPEZATO USA 46.9
10 Jada GREEN USA 46.73
11 Hannah JANSEN USA 46.11
12 Dana BAKER USA 45.39