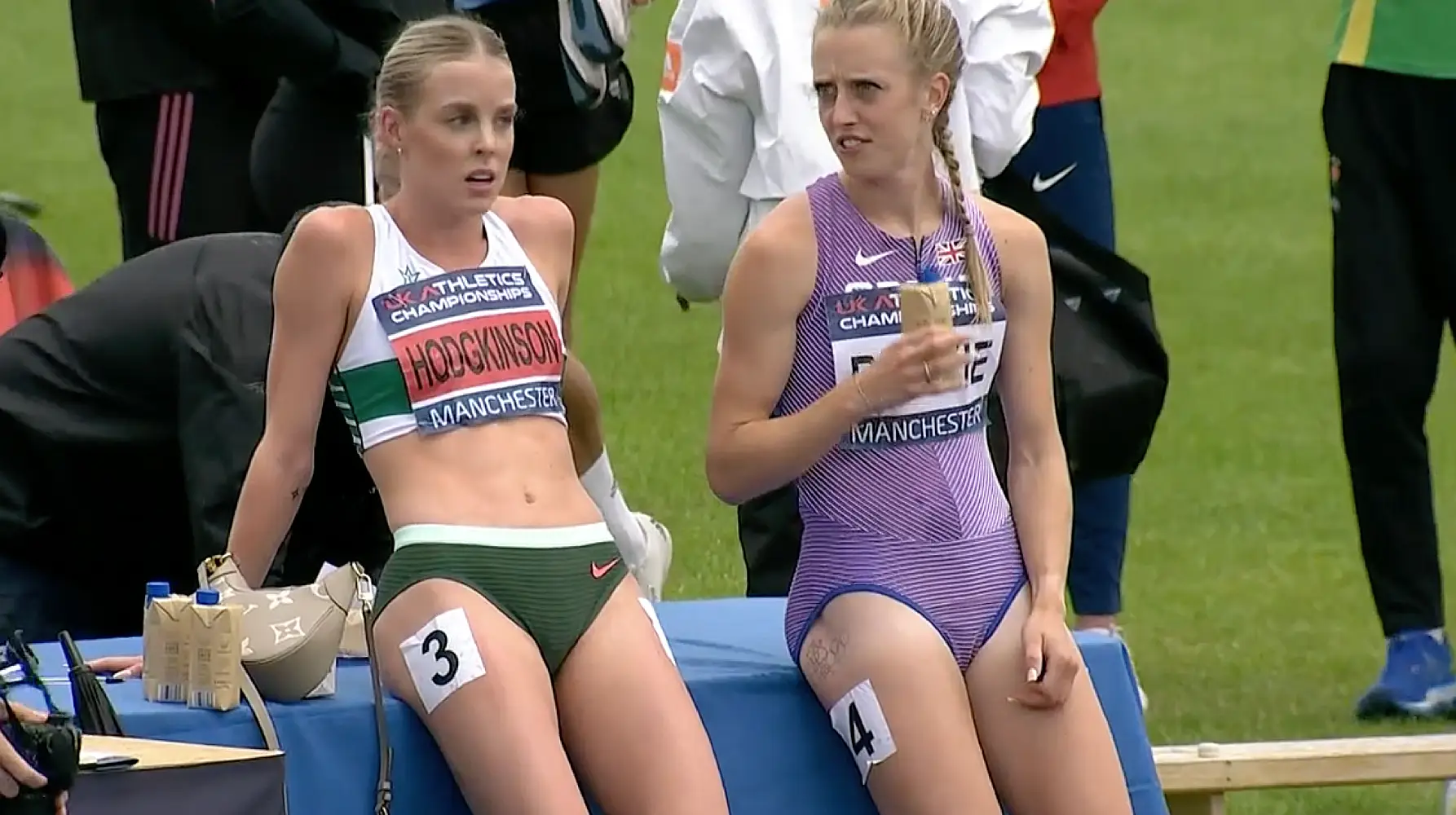 The following are the latest track and field results and news on the second and final day of competition at the 2023 UK Athletics Championships at the Manchester Regional Arena on Sunday, 9 July. Read Also: Keely Hodgkinson cruised to 1:58.29, Laura Muir stunned at British Athletics Championships
Several of the country's leading athletes returned for action on Sunday with Zharnel Hughes blasting to wind-aided 19.77 seconds to win the men's 200m and complete a fine sprint double, while 1 Daryll Neita was in top form when clocking 22.25secs to set a championships record to win the women's race.
Keely Hodgkinson ran comfortable 1:58.29 to win the women's 800m, while Laura Muir was beaten in the women's 1500m by Katie Snowden, who clocked 4:09.86 to defeat the latter 4:10.24.
Day 2: 2023 UK Athletics Championships Results
Men's 200m
Final, Wind: +2.3
PLACE NAME NAT. MARK
1 Zharnel HUGHES GBR 19.77
2 Joe FERGUSON GBR 20.43
3 Jona EFOLOKO GBR 20.45
4 Adam GEMILI GBR 20.53
5 Luke DORRELL GBR 20.59
6 Thomas SOMERS GBR 20.70
7 Richard KILTY GBR 20.73
8 Andrew MORGAN-HARRISON GBR 20.87
Heat 1, Wind: +1.5
PLACE NAME NAT. MARK
1 Jona EFOLOKO GBR 20.49
2 Joe FERGUSON GBR 20.61
3 Thomas SOMERS GBR 20.62
4 David MORGAN-HARRISON GBR 20.72
5 Jordan WATSON-BROWN GBR 21.12
6 Krishawn AIKEN GBR 21.17
7 Alwayne CAMPBELL GBR 21.20
8 Cian O'DONNELL GBR 21.56
Heat 2, Wind: +1.7
PLACE NAME NAT. MARK
1 Andrew MORGAN-HARRISON GBR 20.69
2 Adam GEMILI GBR 20.76
3 Toby HARRIES GBR 20.99
4 Edmond AMANING GBR 21.12
5 Finlay WAUGH GBR 21.27
6 Evan BLACKMAN GBR 21.35
7 Phoenix LYON GBR 21.48
8 David CHAPMAN GBR 21.51
Heat 3, Wind: +3.2
PLACE NAME NAT. MARK
1 Zharnel HUGHES GBR 20.26
2 Richard KILTY GBR 20.57
3 Luke DORRELL GBR 20.58
4 Chad MILLER GBR 20.72
5 Daniel OFFIAH GBR 21.00
6 Jahde WILLIAMS GBR 21.04
7 Jack FORREST GBR 21.92
Men's 400m
Final
PLACE NAME NAT. MARK
1 Alex HAYDOCK-WILSON GBR 45.97
2 Lewis DAVEY GBR 46.4
3 Michael OHIOZE GBR 46.41
4 Ben HIGGINS GBR 46.52
5 Joseph BRIER GBR 46.72
6 Charlie CARVELL GBR 46.92
7 Kevin METZGER GBR 47.98
Matthew HUDSON-SMITH GBR DNF
Men's 800m
Final
PLACE NAME NAT. MARK
1 Daniel ROWDEN GBR 1:45.13
2 Ben PATTISON GBR 1:45.15
3 Max BURGIN GBR 1:45.16
4 Ethan HUSSEY GBR 1:45.72
5 Josh KERR GBR 1:46.35
6 Yusuf BIZIMANA GBR 1:46.43
7 Thomas RANDOLPH GBR 1:46.54
8 Archie DAVIS GBR 1:46.76
Men's 1500m
Final
PLACE NAME NAT. MARK
1 Neil GOURLEY GBR 3:46.16
2 Elliot GILES GBR 3:46.48
3 George MILLS GBR 3:46.57
4 Matthew STONIER GBR 3:46.95
5 Adam FOGG GBR 3:47.12
6 Piers COPELAND GBR 3:47.33
7 Thomas KEEN GBR 3:47.58
8 Callum ELSON GBR 3:47.71
9 Michael WILSON GBR 3:49.02
10 James YOUNG GBR 3:49.21
11 James GORMLEY GBR 3:49.70
12 James HENEGHAN GBR 3:50.85
13 Tyler BILYARD GBR 3:51.08
14 Kieran REILLY GBR 3:51.88
Men's 110m Hurdles
Final, Wind: +3.2
PLACE NAME NAT. MARK
1 Tade OJORA GBR 13.16
2 Joshua ZELLER GBR 13.34
3 Sam BENNETT GBR 13.46
4 Thomas WILCOCK GBR 13.48
5 Cameron FILLERY GBR 13.68
6 David KING GBR 13.74
7 Miguel PERERA GBR 13.75
8 Ewan BRADLEY GBR 13.99
Heat 1, Wind: +2.1
PLACE NAME NAT. MARK
1 Tade OJORA GBR 13.49
2 Miguel PERERA GBR 13.80
3 Jack SUMNERS GBR 14.15
4 Jami SCHLUETER GBR 14.48
5 George VAUGHAN GBR 14.49
6 David NAYLOR GBR 14.78
7 Bradley REED GBR 14.90
Heat 2, Wind: +1.0
PLACE NAME NAT. MARK
1 David KING GBR 13.61
2 Cameron FILLERY GBR 13.64
3 Ewan BRADLEY GBR 14.08
4 Josh WATSON GBR 14.68
5 Ben INCE GBR 14.78
Joseph AGBODZA GBR DNF
Heat 3, Wind: +1.7
PLACE NAME NAT. MARK
1 Joshua ZELLER GBR 13.54
2 Sam BENNETT GBR 13.62
3 Thomas WILCOCK GBR 13.69
4 William RITCHIE-MOULIN GBR 14.1
5 Rob WOOLGAR GBR 14.68
6 Jake COVER GBR 14.73
7 David ARYEETEY GBR 14.86
Men's 400m Hurdles
Final
PLACE NAME NAT. MARK
1 Alastair CHALMERS GBR 49.49
2 Seamus DERBYSHIRE GBR 49.58
3 Marangha MOKAYA GBR 50.32
4 Chris MCALISTER GBR 50.48
5 Jack LAWRIE GBR 50.82
6 Jacob PAUL GBR 50.98
7 Joshua FAULDS GBR 51.87
8 Onyekachukwu OKOH GBR 52.34
Men's 3000mSC
Final
PLACE NAME NAT. MARK
1 William BATTERSHILL GBR 8:44.19
2 Zak SEDDON GBR 8:44.94
3 Jamaine COLEMAN GBR 8:54.40
4 Kristian IMROTH GBR 9:05.03
5 Sam COSTLEY GBR 9:09.25
6 Declan NEARY GBR 9:11.06
7 Lewis MILLS GBR 9:12.43
8 Elliot MORAN GBR 9:16.08
9 Luke BIRDSEYE GBR 9:22.97
Men's High Jump
Final
PLACE NAME NAT. MARK
1 Joel CLARKE-KHAN GBR 2.18
2 William GRIMSEY GBR 2.15
3 Luke BALL GBR 2.09
4 Dominic OGBECHIE GBR 2.09
5 Divine DURUAKU GBR 2.05
5 Ethan GLYDE GBR 2.05
5 Kimani JACK GBR 2.05
8 Akin COWARD GBR 2.05
8 Jonathon HEATH GBR 2.05
10 Toni ADEMUWAGUN GBR 2.05
10 Kaya WALKER GBR 2.05
12 Adam BROOKS GBR 2.00
13 Tom HEWES GBR 2.00
14 Ryan WEBB GBR 2.00
Kelechi AGUOCHA GBR NM
Men's Pole Vault
Final
PLACE NAME NAT. MARK
1 Charlie MYERS GBR 5.20
2 Lazarus BENJAMIN GBR 5
2 Adam HAGUE GBR 5.00
4 Jack PHIPPS GBR 5.00
5 Ethan WALSH GBR 4.85
6 Glen QUAYLE GBR 4.70
7 Thomas WALLEY GBR 4.70
8 George TURNER GBR 4.55
Men's Triple Jump
Final
PLACE NAME NAT. MARK WIND
1 Efe UWAIFO GBR 16.2 2.7
2 Jude BRIGHT-DAVIES GBR 16.05 -0.1
3 Sean OKOME GBR 15.93 2
4 Montel NEVERS GBR 15.76 1.7
5 Aidan QUINN GBR 15.45 1.3
6 Henry CLARKSON GBR 15.4 2.8
7 Daniel AKINRADEWO GBR 15.15 1.1
8 Joseph GILKES GBR 14.92 0.8
Efe UWAIFO GBR 15.79
Josh WOODS GBR NM
Men's Hammer Throw
Final
PLACE NAME NAT. MARK
1 Jake NORRIS GBR 74.75
2 Ben HAWKES GBR 70.08
3 Craig MURCH GBR 70.02
4 Chris BENNETT GBR 69.00
5 Kenneth IKEJI GBR 68.07
6 Osian JONES GBR 67.22
7 Jack PAGET GBR 66.44
8 Ruben BANKS GBR 66.27
9 Thomas HEAD GBR 65.58
10 Oliver GRAHAM GBR 61.29
Men's Javelin Throw
Final
PLACE NAME NAT. MARK
1 Benjamin EAST GBR 72.97
2 Michael ALLISON GBR 69.73
3 Joe DUNDERDALE GBR 68.69
4 Charlie EVANS GBR 66.35
5 Callum TAYLOR GBR 65.61
6 Peter BRINTON-QUINN GBR 64.94
7 Joe HARRIS GBR 64.50
8 Ben JONES GBR 56.69
Men's 5000m Race Walk
Final
PLACE NAME NAT. MARK
1 Christopher SNOOK GBR 21:35.72
2 Cameron CORBISHLEY GBR 22:27.65
3 Luc LEGON GBR 22:54.91
4 Matthew CRANE GBR 25:17.70
Women's 200m
Final, Wind: +1.3
PLACE NAME NAT. MARK
1 Daryll NEITA GBR 22.25
2 Bianca WILLIAMS GBR 22.59
3 Finette AGYAPONG GBR 22.69
4 Cassie-Ann PEMBERTON GBR 22.79
5 Georgina ADAM GBR 23.08
6 Success EDUAN GBR 23.20
7 Kristal AWUAH GBR 23.32
8 Faith AKINBILEJE GBR 23.58
Heat 1, Wind: +0.6
PLACE NAME NAT. MARK
1 Bianca WILLIAMS GBR 22.87
2 Georgina ADAM GBR 23.19
3 Madeleine WHAPPLES GBR 24.08
4 Ellie BANDY GBR 24.46
5 Alannah FASHANU GBR 24.58
6 Shiloh WRIGHT-TAIPOW GBR 24.63
Dolita AWALA-SHAW GBR DQ
Heat 2, Wind: +2.0
PLACE NAME NAT. MARK
1 Kristal AWUAH GBR 23.43
2 Rachel BENNETT GBR 23.66
3 Hannah BRIER GBR 23.79
4 Jazmine MOSS GBR 23.97
5 Kissiwaa MENSAH GBR 24.32
6 Hannah FOSTER GBR 24.33
Heat 3, Wind: +4.2
PLACE NAME NAT. MARK
1 Daryll NEITA GBR 22.28
2 Cassie-Ann PEMBERTON GBR 22.97
3 Success EDUAN GBR 23.18
4 Darcey KUYPERS GBR 23.53
5 Alicia REGIS GBR 23.88
6 Susanna BANJO GBR 23.88
7 Gwendoline DATEY GBR 24.05
Heat 4, Wind: +1.4
PLACE NAME NAT. MARK
1 Finette AGYAPONG GBR 23.02
2 Faith AKINBILEJE GBR 23.53
3 Katarina JOHNSON-THOMPSON GBR 23.58
4 Hannah LONGDEN GBR 23.69
5 Sophie WALTON GBR 23.77
6 Brooke IRONSIDE GBR 24.15
7 Yasmin LIVERPOOL GBR 24.73
Women's 400m
Final
PLACE NAME NAT. MARK
1 Victoria OHURUOGU GBR 50.89
2 Ama PIPI GBR 51.52
3 Yemi Mary JOHN GBR 51.61
4 Amber ANNING GBR 51.62
5 Laviai NIELSEN GBR 51.83
6 Nicole YEARGIN GBR 52.01
7 Carys MCAULAY GBR 52.98
8 Natasha HARRISON GBR 53.64
Women's 800m
Final
PLACE NAME NAT. MARK
1 Keely HODGKINSON GBR 1:58.26
2 Jemma REEKIE GBR 1:58.93
3 Alexandra BELL GBR 2:00.68
4 Khahisa MHLANGA GBR 2:01.75
5 Isabelle BOFFEY GBR 2:02.28
6 Revee WALCOTT-NOLAN GBR 2:02.58
7 Stephanie DRISCOLL GBR 2:03.05
8 Ella GREENWAY GBR 2:05.90
Women's 1500m
Final
PLACE NAME NAT. MARK
1 Katie SNOWDEN GBR 4:09.86
2 Laura MUIR GBR 4:10.24
3 Melissa COURTNEY-BRYANT GBR 4:11.91
4 Ellie BAKER GBR 4:14.88
5 Eloise WALKER GBR 4:17.37
6 Gemma FINCH GBR 4:18.34
7 Niamh BRIDSON-HUBBARD GBR 4:18.44
8 Ellie LEATHER GBR 4:19.36
9 Bethan MORLEY GBR 4:19.46
10 Philippa STONE GBR 4:20.13
11 Jenny SELMAN GBR 4:20.41
12 Alice WRIGHT GBR 4:23.61
Women's 5000m
Final
PLACE NAME NAT. MARK
1 Jessica WARNER-JUDD GBR 15:53.50
2 Amy-Eloise MARKOVC GBR 15:58.87
3 Abbie DONNELLY GBR 16:04.78
4 Stephanie TWELL GBR 16:09.24
5 Sarah ASTIN GBR 16:09.27
6 Hannah IRWIN GBR 16:09.77
7 Kate AXFORD GBR 16:17.55
8 Lauren HEYES GBR 16:18.20
9 Rachael FRANKLIN GBR 16:18.36
10 Ellie WALLACE GBR 16:19.04
11 Amy GRIFFITHS GBR 16:27.89
12 Rebecca MURRAY GBR 16:28.34
13 Holly REES GBR 16:33.56
14 Kirsty WALKER GBR 16:57.41
15 Jennifer WALSH GBR 17:13.09
Beth KIDGER GBR DNF
Calli THACKERY GBR DNF
Women's 400m Hurdles
Final
PLACE NAME NAT. MARK
1 Jessie KNIGHT GBR 54.97
2 Lina NIELSEN GBR 55.62
3 Emily NEWNHAM GBR 57.13
4 Jessica TAPPIN GBR 57.51
5 Ese OKORO GBR 57.94
6 Nicole KENDALL GBR 58.41
7 Chelsea WALKER GBR 58.47
8 Melissa COXON GBR 59.77
Women's Long Jump
Final
PLACE NAME NAT. MARK WIND
1 Jazmin SAWYERS GBR 6.86 2.5
2 Jade O'DOWDA GBR 6.64 2.6
3 Lucy HADAWAY GBR 6.60 2.6
4 Lorraine UGEN GBR 6.49 3.4
5 Abigail IROZURU GBR 6.47 1.3
6 Lucy FELLOWS GBR 6.25 2
7 Molly PALMER GBR 6.25 2
8 Rebecca CHAPMAN GBR 6.13 1.6
Jade O'DOWDA GBR 6.51
Leigh THOMPSON GBR NM
Lucy HADAWAY GBR 6.48
Jazmin SAWYERS GBR 6.77
Lorraine UGEN GBR 6.42
Women's Shot Put
Final
PLACE NAME NAT. MARK
1 Adele NICOLL GBR 17.26
2 Amelia STRICKLER GBR 16.83
3 Divine OLADIPO GBR 16.28
4 Shauna THOMPSON GBR 14.85
5 Teddy TEHOUDJA GBR 14.44
6 Cleo AGYEPONG GBR 14.29
7 Sophie MERRITT GBR 14.21
8 Samantha CALLAWAY GBR 13.43
9 Jessica HOPKINS GBR 12.92
10 Katarina JOHNSON-THOMPSON GBR 12.86
Women's Discus Throw
Final
PLACE NAME NAT. MARK
1 Jade LALLY GBR 60.13
2 Kirsty LAW GBR 57.3
3 Zara OBAMAKINWA GBR 55.99
4 Phoebe DOWSON GBR 55.01
5 Shadine DUQUEMIN GBR 54.58
6 Amy HOLDER GBR 54.31
7 Divine OLADIPO GBR 53.92
8 Samantha CALLAWAY GBR 50.44
9 Taia TUNSTALL GBR 49.31
10 Danielle BROOM GBR 48.79
11 Emma BOTHAM GBR 46.44
12 Kathryn WOODCOCK GBR 44.70
Women's 5000m Race Walk
Final
PLACE NAME NAT. MARK
1 Heather WARNER GBR 22:22.50
2 Bethan DAVIES GBR 22:55.85
3 Abigail JENNINGS GBR 24:11.68
4 Hannah HOPPER GBR 24:46.43
5 Gracie GRIFFITHS GBR 24:48.43
6 Pagen SPOONER GBR 25:13.12
7 Abby HUGHES GBR 26:44.28
8 Jessica WILTON GBR 27:46.78
Mia DUNWELL GBR DQ
Click here for all the latest track and field rankings