By David Monti, @d9monti
(c) 2023 Race Results Weekly, all rights reserved

EUGENE (July 7) — Capping a full night of distance action here at Hayward Field at the University of Oregon, Olympians Elise Cranny and Woody Kincaid took the 10,000m titles at the Toyota USATF Outdoor Track and Field Championships with sizzling last-lap sprints. 
Cranny, who represents the Nike Bowerman Track Club, got the best of USA record holder Alicia Monson of the On Athletics Club, running her final circuit in 62.6 seconds and finishing in 32:12.30.  Kincaid, who represents Nike, came out on top after a fierce four-way battle with Grant Fisher, Joe Klecker, and Sean McGorty. 
Kincaid's last lap of 54.8 seconds could not be matched by the others and he beat Klecker by 1.5 seconds in 28:23.01. – Read more: Sha'Carri Richardson runs WL 10.71secs at USA Championships
Woody Kincaid Used Tactics To Setup Title Run
It was no surprise that both races were tactical affairs, and both started off at a crawl.
"The pace felt easy, but the anticipation that you knew that the longer we kept running 68, 70-second laps it was just going to get really hard, really quick," said Klecker, who represents the On Athletics Club.  "So, when Grant made that move to the front it did not feel good to go cover it."
That move came with three laps to go when Fisher, the USA record holder, blasted a 60.4-second circuit which broke open the race.  Only Kincaid, Klecker and McGorty were able to follow, and two-time Olympic 5000m medalist Paul Chelimo was dropped (he would finish fifth).  At that point, Fisher was confident about his strategy.
"I squeezed it down a bit," he told reporters.  "I thought I squeezed it well enough to shake some people off, but have something at the end.  Just called it wrong; just didn't have enough at the end."
Woody Kincaid Knew He Had To Stick With Grant Fisher
Indeed, in the final lap Fisher got rolled-up by all three of his remaining rivals and ended up finishing fourth in 28:25.61. Kincaid knew that if he could just keep Fisher reasonably close he would have the sprint speed to beat him.
"I thought Grant was going to push from further out," Kincaid explained.  "Grant was actually in a tough position where he knew he had to drop me, right, because he had trained with me for so long (Kincaid was formerly with the Nike Bowerman Track Club). 
"I actually had less pressure, right?  I knew I could out-kick Grant and Grant knew I could out-kick him, so it's on him to try and beat me."  
By virtue of finishing first and second, respectively, and possessing the necessary qualifying standard of 27:10.00, both Kincaid and Klecker secured their spots on Team USATF for next month's World Athletics Championships in Budapest. 
Third place McGorty, who doesn't have the standard, has to hope that he can rise far enough in the World Athletics points ranking to get a spot, something which won't be known until the end of the month.  If he doesn't, Fisher would get the team spot because he has the standard and was next in line in the finish order.
Elise Cranny Was Ready To Run Fast at USATF Championships
In the women's contest, it was Monson who shook up the race in the final four laps, running a 69.5-second circuit.  That only left her and Cranny in contention for the win. Natosha Rogers was alone in third, a position she would maintain until the finish.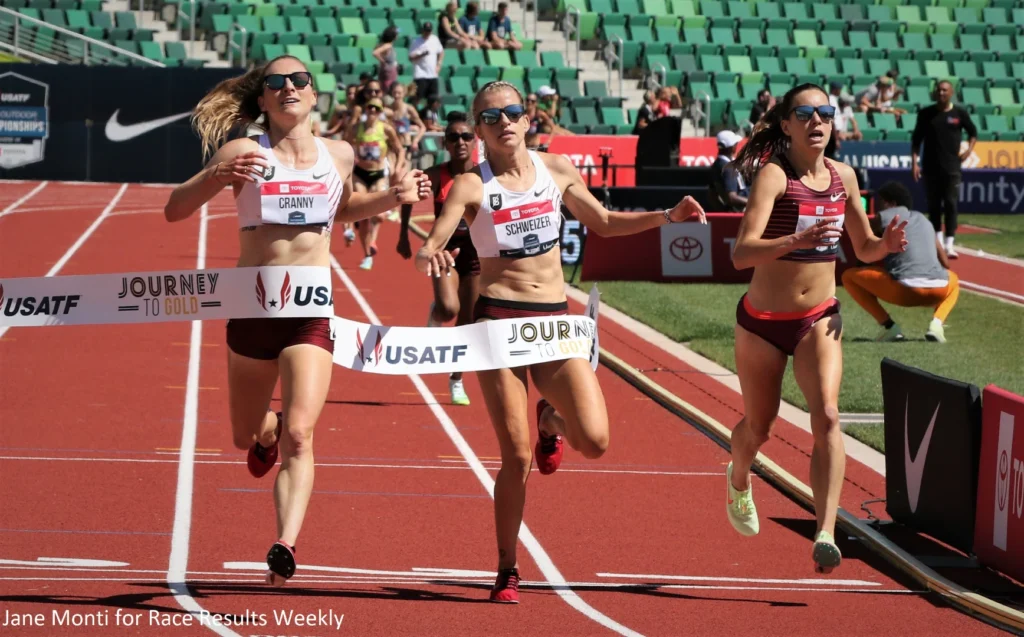 Cranny said that under coach Jerry Schumacher she had trained for both the 1500m and 10,000m for these championships, only choosing the longer event at the last minute (she may also do the 5000m on Sunday).  She was ready to run fast at the end tonight.
"We were kind of trying to decide between the fifteen and the ten," Cranny said.  "I was trying to convince Jerry to let me run the fifteen, and so I think towards the end I was like, if I can't run the fifteen then… I'm going to kind of channel a fifteen at the end of a 10-K."
READ MORE: Akins, Rogers, Ajee Wilson advanced in 800m at USA Championships
Monson finished second in 32:17.51, and both she and Cranny secured their team spots for Budapest because they both had met the entry standard of 30:40.00.  Rogers, who ran 32:22.77, does not have the entry standard. 
Like McGorty, she would either have to rise enough in the World Athletics rankings to make the team, or try to meet the standard by the end of the month, which she said would be very difficult.
"That's going to be a very tough move," said Rogers, who represents Puma.  She will also compete in the 5000m on Sunday where she has the standard.