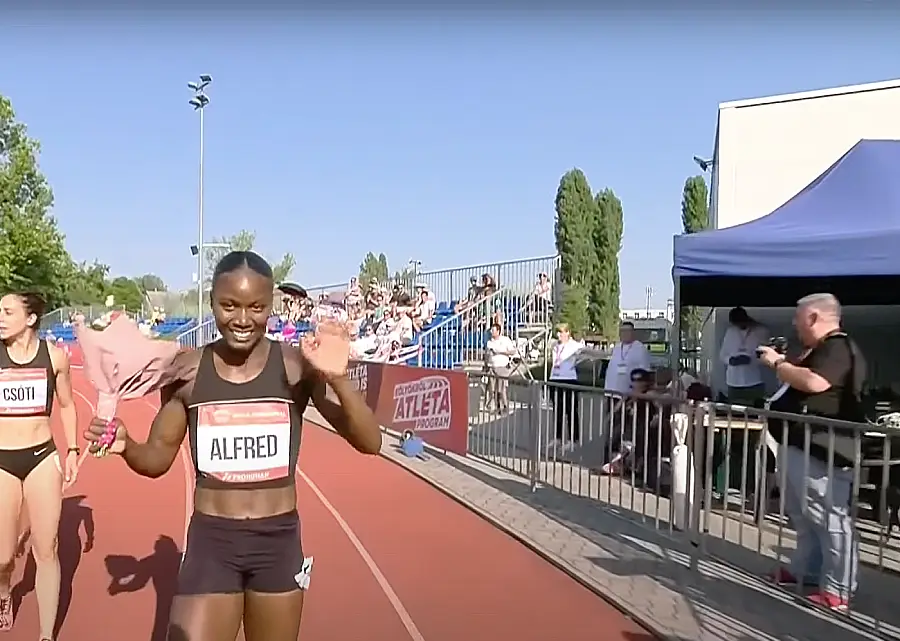 NCAA champion Julien Alfred delivered a superb performance to hand Sha'Carri Richardson a humbling defeat in the 100m race at the Gyulai Istvan Memorial in Szekesfehervar on Tuesday (18). Alfred impressively blazed across the finish line in a high-quality time of 10.89 seconds, leaving the American sensation to settle for second place.
Alfred, a phenomenal athlete with a remarkable track record on the collegiate level, had already secured five NCAA titles and had recently triumphed at the CAC Games in El Salvador. Eager to maintain her winning streak, she burst out of the blocks, immediately putting pressure on the rest of the field.
Richardson, a formidable competitor in her own right, fought valiantly to regain control of the race, but Alfred's early advantage proved insurmountable. The former University of Texas standout was competing for the first time since she turned a professional athlete.
For Sha'Carri Richardson, this was an unfamiliar experience—a taste of defeat in the 100m event after a string of five consecutive victories in recent races. The 23-year-old had secured a memorable win over Jamaican athlete Shericka Jackson at the Silesia Diamond League meeting just days before.
However, on this day, she had to settle for second place, clocking a respectable time of 10.97 seconds.
Read more: Video: Sha'Carri Richardson runs 10.76secs, beats Shericka Jackson again in Silesia
Completing the podium were Tamari Davis, who claimed third place in 11.02 seconds, and Twanisha Terry, who finished fourth in 11.07 seconds, both representing the United States.
Today's victory for Julien Alfred means she remains undefeated in 100m this season
The men's 100-meter race followed suit with a similar pattern of Caribbean dominance. Yohan Blake, the esteemed 2011 world champion, seized victory with a swift time of 10.04 seconds.
His compatriot and training partner, Ackeem Blake, trailed closely behind, securing second place with a time of 10.09 seconds. The Jamaican duo's outstanding performance ensured a clean sweep of the podium, as Rohan Watson, the national champion from earlier in the month, registered a solid time of 10.10 seconds to secure third place.
Steven Gardiner sounds warning to Wayde van Niekerk with world lead
In the men's 400m race, Bahamian Steven Gardiner, who won gold at the Tokyo Olympics, clocked 43.74 seconds to set the fastest time in the world this season ahead of the showdown with world record holder Wayde van Niekerk at the World Athletics Championships in Budapest, next month.
Gardiner, who missed the world championships in Oregon, last summer because of an injury, is now fit and he will be aiming to regain his track and field world title in Hungary.
Also impressing in the men's 400m at the meet today was Jamaica's national record holder Rusheen McDonald, who clocked a big season-best of 44.03 secs for second place.
World champion Shericka Jackson bounced back from her defeat to Sha'Carri Richardson in the 100m, and dominated the women's 200m, clocking in a time of 22.02 secs to defeat Irish rising star and the NCAA 400m champion Rhasidat Adeleke, who crossed the finishing line at 22.36. Bahamas' Anthonique Strachan, who is part of the training group with Shericka Jackson, was third in 22.45.
In the men's race, CAC Games 2023 champion Alexander Ogando from the Dominican Republic upset the U.S. champion and world championships bronze medalist Erriyon Knighton, clocking 19.99 to take the win over the teenage star, who was second in 20.05. Jamaica champion Andrew Hudson was third in 20.36.
Gyulai Istvan Memorial Results
Results – Women's 100m:
Julien Alfred (Saint Lucia) – 10.89s
Sha'Carri Richardson (United States) – 10.97s
Tamari Davis (United States) – 11.02s
Twanisha Terry (United States) – 11.07s
Boglarka Takacs (Hungary) – 11.18s
Melissa Jefferson (United States) – 11.21s
Natasha Morrison (Jamaica) – 11.32s
Jusztina Csóti (Hungary) – 11.57s
Results – Men's 100m:
Yohan Blake (Jamaica) – 10.04s
Ackeem Blake (Jamaica) – 10.09s
Rohan Watson (Jamaica) – 10.10s
Marvin Bracy-Williams (United States) – 10.11s
Emmanuel Matadi (Liberia) – 10.13s
Ryiem Forde (Jamaica) – 10.19s
Pjai Austin (United States) – 10.35s
Ronnie Baker (United States) – 10.48s
For more results, click here