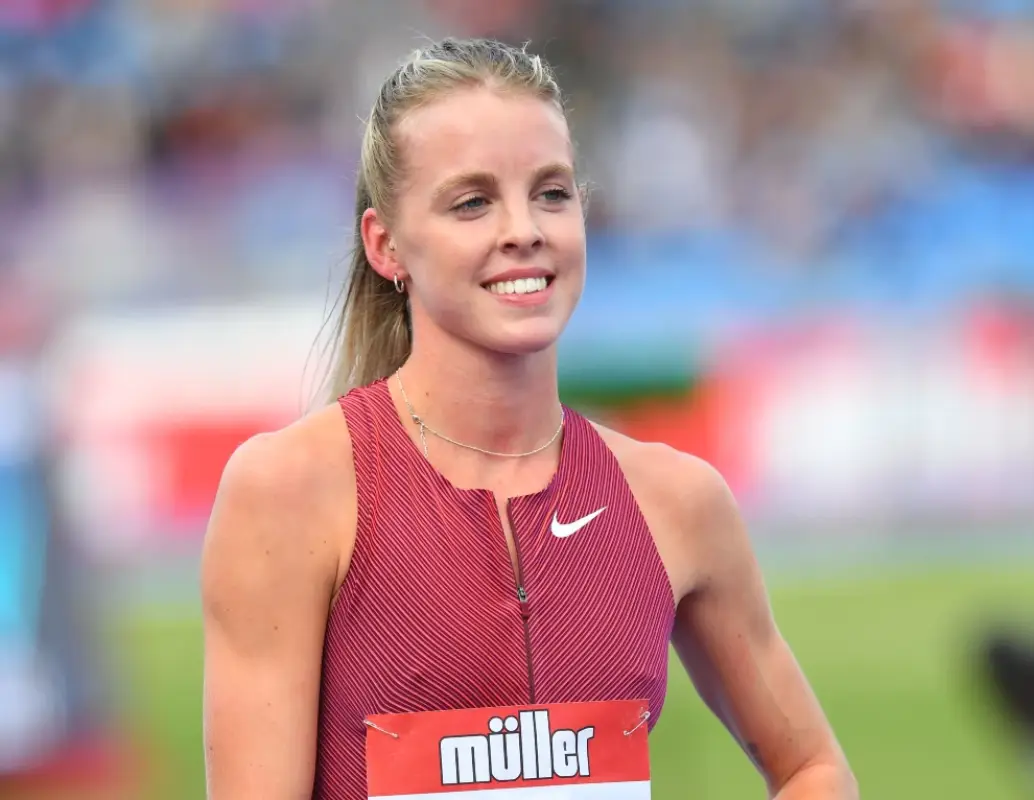 The complete London Wanda Diamond League 2023 meeting start lists, athletes' season and personal bests, and their respective lanes at the London Olympic Stadium on Sunday (23). Live streaming coverage of this meeting is available on the Wanda Diamond League YouTube page from 9:00 a.m. ET.
Among the featured events on the track are the men's 200m, the women's 100m, and the women's 800m races, while Sifan Hassan headlines the women's 5000m field, Beatrice Chepkoech leads the women's 3000m Steeplechase entrants.
Read more: How to watch the London Diamond League 2023, live results, start lists
Also, Wayde van Niekerk headlines the men's 400m field, Femke Bol in the women's 400m hurdles, and Americans Katie Moon and Sandi Morris are set to clash again in the women's pole vault.
London Wanda Diamond League 2023 full start lists
Women's 100m:
Dina Asher-Smith (GBR) – SB: 10.98, PB: 10.83

Aleia Hobbs (USA) – SB: 10.86, PB: 10.81

Shericka Jackson (JAM) – SB: 10.65, PB: 10.65

Daryll Neita (GBR) – SB: 10.97, PB: 10.90

Sha'Carri Richardson (USA) – SB: 10.71, PB: 10.71

Anthonique Strachan (BAH) – SB: 10.92, PB: 10.92

Marie-Josée Ta Lou (CIV) – SB: 10.75, PB: 10.72

Twanisha Terry (USA) – SB: 10.99, PB: 10.82
Women's 800m:
Catriona Bisset (AUS) – SB: 1:58.32, PB: 1:58.09

Natoya Goule-Toppin (JAM) – SB: 1:57.90, PB: 1:56.15

Keely Hodgkinson (GBR) – SB: 1:55.77, PB: 1:55.77

Anita Horvat (SLO) – SB: 1:58.73, PB: 1:58.73

Sage Hurta-Klecker (USA) – SB: 1:58.09, PB: 1:57.85

Rénelle Lamote (FRA) – SB: 1:59.30, PB: 1:57.84

Aneta Lemiesz (POL) – SB: 1:59.93

Halimah Nakaayi (UGA) – SB: 1:57.78, PB: 1:57.78

Jemma Reekie (GBR) – SB: 1:58.93, PB: 1:56.90

Raevyn Rogers (USA) – SB: 1:59.83, PB: 1:56.81

Katie Snowden (GBR) – SB: 2:00.43, PB: 1:59.72

Diribe Welteji (ETH) – SB: 1:57.02
Women's 5000m:
Margaret Akidor (KEN) – SB: 14:48.91, PB: 14:44.83

Mizan Alem (ETH) – SB: 14:46.20

Josette Andrews (USA) – SB: 14:43.36, PB: 14:43.36

Nadia Battocletti (ITA) – SB: 15:01.12, PB: 14:46.29

Beatrice Chebet (KEN) – SB: 14:36.52, PB: 14:34.55

Rose Davies (AUS) – SB: 15:10.30, PB: 15:07.49

Medina Eisa (ETH) – SB: 14:40.02, PB: 14:40.02

Teresiah Muthoni Gateri (KEN) – SB: 14:57.56, PB: 14:44.89

Girmawit Gebrzihair (ETH) – SB: 14:46.12, PB: 14:46.12

Werkuha Getachew (ETH)

Karoline Bjerkeli Grøvdal (NOR) – SB: 14:31.07

Sifan Hassan (NED) – SB: 14:22.12

Birke Haylom (ETH)

Elly Henes (USA) – SB: 14:54.20, PB: 14:52.87

Megan Keith (GBR) – SB: 15:32.15, PB: 15:32.15

Maureen Koster (NED) – SB: 15:07.11, PB: 15:00.64

Alicia Monson (USA) – SB: 14:34.88, PB: 14:31.11

Gudaf Tsegay (ETH) – SB: 14:13.32

Jessica Warner-Judd (GBR) – SB: 15:06.59, PB: 14:57.19

Melknat Wudu (ETH) – SB: 14:47.48, PB: 14:47.48
Women's 400m Hurdles:
Femke Bol (NED) – SB: 52.30, PB: 52.03

Rushell Clayton (JAM) – SB: 53.79, PB: 53.33

Jessie Knight (GBR) – SB: 54.32, PB: 54.09

Shamier Little (USA) – SB: 53.34, PB: 52.39

Janieve Russell (JAM) – SB: 53.65, PB: 53.08

Anna Ryzhykova (UKR) – SB: 55.41, PB: 52.96

Viktoriya Tkachuk (UKR) – SB: 54.71, PB: 53.76

Gianna Woodruff (PAN) – SB: 54.46, PB: 53.69
Women's 3000m Steeplechase: 
Elizabeth Bird (GBR) – SB: 9:07.87

Beatrice Chepkoech (KEN) – SB: 9:05.98, PB: 8:44.32

Jackline Chepkoech (KEN) – SB: 9:04.07, PB: 9:02.43

Fancy Cherono (KEN) – SB: 9:32.93, PB: 9:27.30

Michelle Finn (IRL) – SB: 9:41.16, PB: 9:29.25

Kristlin Gear (USA) – SB: 9:12.81, PB: 9:12.81

Juliane Hvid (DEN) – SB: 9:36.98, PB: 9:36.98

Alicja Konieczek (POL) – SB: 9:25.51, PB: 9:25.15

Aimee Pratt (GBR) – SB: 9:28.00, PB: 9:15.64

Flavie Renouard (FRA) – SB: 9:29.10, PB: 9:29.10

Irene Sánchez-Escribano (ESP) – SB: 9:20.04, PB: 9:20.04

Poppy Tank (GBR) – SB: 10:02.77, PB: 10:02.77

Courtney Wayment (USA) – SB: 9:11.41, PB: 9:09.91
Women's Long Jump:
Maryna Bekh-Romanchuk (UKR) – SB: 6.59, PB: 6.93

Quanesha Burks (USA) – SB: 6.95, PB: 6.96

Brooke Buschkuehl (AUS) – SB: 6.77, PB: 7.13

Tara Davis-Woodhall (USA) – SB: 7.07, PB: 7.14

Katarina Johnson-Thompson (GBR) – SB: 6.37, PB: 6.92

Leticia Oro Melo (BRA) – SB: 6.47, PB: 6.89

Jazmin Sawyers (GBR) – SB: 6.78, PB: 6.90

Ivana Vuleta (SRB) – SB: 6.86, PB: 7.10
Women's Pole Vault:
Holly Bradshaw (GBR) – SB: 4.61, PB: 4.90

Roberta Bruni (ITA) – SB: 4.61, PB: 4.72

Molly Caudery (GBR) – SB: 4.71, PB: 4.71

Nina Kennedy (AUS) – SB: 4.77, PB: 4.82

Katie Moon (USA) – SB: 4.90, PB: 4.95

Sandi Morris (USA) – SB: 4.71, PB: 5.00

Wilma Murto (FIN) – SB: 4.77, PB: 4.85

Alysha Newman (CAN) – SB: 4.61, PB: 4.82

Aikaterini Stefanidi (GRE) – SB: 4.61, PB: 4.91

Tina Šutej (SLO) – SB: 4.76, PB: 4.76
Women's 4x100m:
Australia (AUS)

Belgium (BEL)

Germany (GER)

Great Britain 1 (GBR)

Great Britain 2 (GBR)

Netherlands (NED)

United States (USA)
Ambulant Women 100m:
Hetty Bartlett (GBR)

Maddie Down (GBR)

Sophie Hahn (GBR)

Bebe Jackson (GBR)

Victoria Levitt (GBR)

Maria Lyle (GBR)

India Oates (GBR)

Ali Smith (GBR)
Women's 800m Wheelchair:
Fabienne André (GBR)

Léa Bayekula (BEL)

Shauna Bocquet (IRL)

Hannah Cockroft (GBR)

Sammi Kinghorn (GBR)

Eden Rainbow-Cooper (GBR)

Mel Woods (GBR)
Men's 200m:
Jona Efoloko (GBR) – SB: 20.49, PB: 20.48

Joseph Fahnbulleh (LBR) – SB: 20.14, PB: 19.83

Zharnel Hughes (GBR) – SB: 20.14, PB: 20.02

Kyree King (USA) – SB: 20.18, PB: 20.00

Noah Lyles (USA) – SB: 19.67, PB: 19.31

Emmanuel Matadi (LBR) – SB: 20.07, PB: 20.07

Alexander Ogando (DOM) – SB: 19.99, PB: 19.91

Letsile Tebogo (BOT) – SB: 19.87, PB: 19.87
Men's 400m:
Liemarvin Bonevacia (NED) – SB: 45.06, PB: 44.48

Bryce Deadmon (USA) – SB: 44.22, PB: 44.22

Alex Haydock-Wilson (GBR) – SB: 45.25, PB: 45.08

Matthew Hudson-Smith (GBR) – SB: 44.92, PB: 44.35

Vernon Norwood (USA) – SB: 44.39, PB: 44.35

Leungo Scotch (BOT) – SB: 44.82, PB: 44.82

Wayde van Niekerk (RSA) – SB: 44.08, PB: 43.03

Ryan Willie (USA) – SB: 44.25, PB: 44.25
Men's 800m:
Yusuf Bizimana (GBR) – SB: 1:45.74, PB: 1:45.74

Alex Botterill (GBR) – SB: 1:45.54, PB: 1:45.54

Max Burgin (GBR) – SB: 1:45.16, PB: 1:43.52

Archie Davis (GBR) – SB: 1:46.76, PB: 1:44.72

Ethan Hussey (GBR) – SB: 1:45.08, PB: 1:45.08

Guy Learmonth (GBR) – SB: 1:46.17, PB: 1:44.73

Ben Pattison (GBR) – SB: 1:45.05, PB: 1:44.60

Thomas Randolph (GBR) – SB: 1:45.75, PB: 1:44.98

Samuel Reardon (GBR) – SB: 1:45.95, PB: 1:45.95

Reece Sharman-Newell (GBR) – SB: 1:45.54, PB: 1:45.54

Erik Sowinski (USA) – SB: 1:46.98, PB: 1:44.58
Men's 1500m:
Timothy Cheruiyot (KEN) – SB: 3:29.08, PB: 3:28.28

Andrew Coscoran (IRL) – SB: 3:30.42, PB: 3:30.42

Mario García (ESP) – SB: 3:29.18, PB: 3:29.18

Elliot Giles (GBR) – SB: 3:31.56, PB: 3:31.56

Neil Gourley (GBR) – SB: 3:30.88, PB: 3:30.88

Azeddine Habz (FRA) – SB: 3:29.26, PB: 3:29.26

Oliver Hoare (AUS) – SB: 3:29.41, PB: 3:29.41

Cole Hocker (USA) – SB: 3:34.14, PB: 3:31.40

Stewart McSweyn (AUS) – SB: 3:32.85, PB: 3:29.51

Adel Mechaal (ESP) – SB: 3:35.67, PB: 3:30.77

George Mills (GBR) – SB: 3:31.54, PB: 3:31.54

Narve Gilje Nordås (NOR) – SB: 3:29.47, PB: 3:29.47

Yared Nuguse (USA) – SB: 3:29.02, PB: 3:29.02

Erik Sowinski (USA) – SB: 3:44.82

Matthew Stonier (GBR) – SB: 3:33.45, PB: 3:32.50

Samuel Tanner (NZL) – SB: 3:31.24, PB: 3:31.24
Men's 110m Hurdles:
Jamal Britt (USA) – SB: 13.14, PB: 13.08

Freddie Crittenden (USA) – SB: 13.19, PB: 13.00

Grant Holloway (USA) – SB: 12.98, PB: 12.81

Shunsuke Izumiya (JPN) – SB: 13.04, PB: 13.04

Tade Ojora (GBR) – SB: 13.26, PB: 13.26

Hansle Parchment (JAM) – SB: 13.12, PB: 12.94

Daniel Roberts (USA) – SB: 13.01, PB: 13.00

Joshua Zeller (GBR) – SB: 13.40, PB: 13.19
Men's High Jump:
Joel Baden (AUS) – SB: 2.33, PB: 2.33

Mutaz Essa Barshim (QAT) – SB: 2.36, PB: 2.43

Thomas Carmoy (BEL) – SB: 2.29, PB: 2.29

Joel Clarke-Khan (GBR) – SB: 2.18, PB: 2.27

JuVaughn Harrison (USA) – SB: 2.33, PB: 2.36

Hamish Kerr (NZL) – SB: 2.31, PB: 2.31

Tobias Potye (GER) – SB: 2.34, PB: 2.34

Andrii Protsenko (UKR) – SB: 2.21, PB: 2.40

Donald Thomas (BAH) – SB: 2.28, PB: 2.37
Men's Shot Put:
Josh Awotunde (USA) – SB: 22.10, PB: 22.29

Ryan Crouser (USA) – SB: 23.56, PB: 23.56

Leonardo Fabbri (ITA) – SB: 21.81, PB: 21.99

Jacko Gill (NZL) – SB: 22.12, PB: 22.12

Joe Kovacs (USA) – SB: 22.69, PB: 23.23

Scott Lincoln (GBR) – SB: 21.10, PB: 21.28

Filip Mihaljević (CRO) – SB: 21.63, PB: 21.94

Payton Otterdahl (USA) – SB: 22.11, PB: 22.11

Tomáš Staněk (CZE) – SB: 21.71, PB: 22.01

Tom Walsh (NZL) – SB: 22.22, PB: 22.90
Men's Discus Throw:
Kristjan Čeh (SLO) – SB: 71.86, PB: 71.86

Matthew Denny (AUS) – SB: 66.07, PB: 67.26

Andrius Gudžius (LTU) – SB: 67.66, PB: 69.59

Sam Mattis (USA) – SB: 67.49, PB: 68.69

Lawrence Okoye (GBR) – SB: 66.15, PB: 68.24

Simon Pettersson (SWE) – SB: 64.60, PB: 70.42

Alex Rose (SAM) – SB: 70.39, PB: 70.39

Daniel Ståhl (SWE) – SB: 71.45, PB: 71.86
Men's 4x100m:
Australia (AUS)

Denmark (DEN)

Germany (GER)

Great Britain 1 (GBR)

Great Britain 2 (GBR)

Japan (JPN)

Netherlands (NED)

Switzerland (SUI)
Ambulant Men 100m:
Ola Abidogun (GBR)

Makoye Kampengele (GBR) – SB: 10.66, PB: 10.61

James Ledger (GBR)

Emmanuel Oyinbo-Coker (GBR)

Kevin Santos (GBR)

Zac Shaw (GBR)

Zak Skinner (GBR) – SB: 11.00

Thomas Young (GBR)
Men's Wheelchair 1500m:
Josh Hartley (GBR)

Moatez Jomni (GBR)

Nathan Maguire (GBR)

Michael McCabe (GBR)

Danny Sidbury (GBR)

Johnboy Smith (GBR)