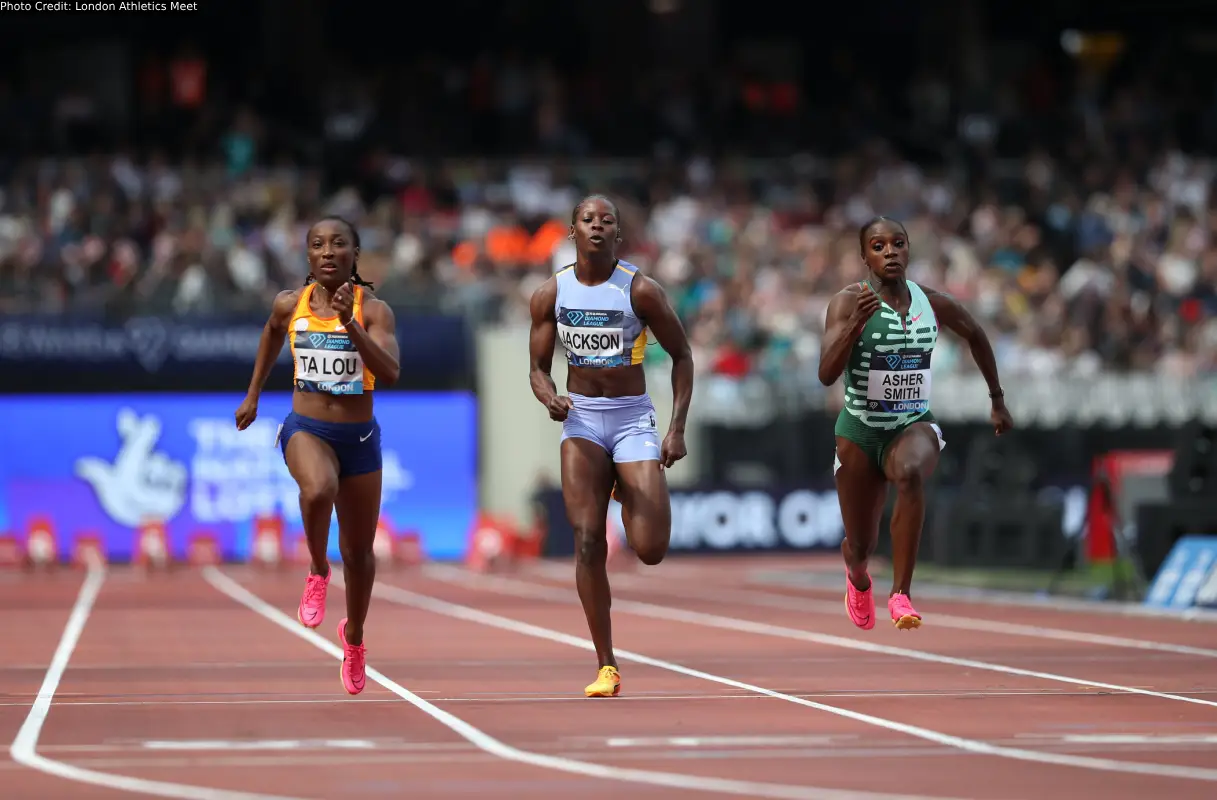 LONDON (July 23) – Ivorian sprinter Marie Josée Ta Lou set a new meeting record at the London Diamond League on Sunday, breaking the previous record held by Jamaican sprinter Shelly-Ann Fraser-Pryce on her way to beating a very strong field at the women's 100m. The race was missing Sha'Carri Richardson, though, who withdrew with an injury.
Ta Lou, who pulled out of the 2023 Kamila Skolimowska Memorial – Silesia Diamond League, clocked a time of 10.75 seconds (+1.2 m/s.) in the 100m race today, equaling her season's best in lowering the new meeting record by .02 seconds. Fraser-Pryce set the previous record of 10.77 seconds on July 27, 2013.
Sore hamstring forces Sha'Carri Richardson to pull out of London clash – (Updated)
The race saw British sprinter Dina Asher-Smith finishing second with a season-best time of 10.85 seconds. Jamaican Shericka Jackson, the world lead with a time of 10.65 seconds set earlier this season, finished third with a time of 10.94 seconds.
Jackson, who recently clocked 21.86 seconds for 200m, was all smiles at the end of the race. The Jamaican sprint double champion has been training through these meetings and isn't too worried about times. She got off to a slow start and never pushed through, easing down in the closing 20 meters to cruise across the finishing line third.
Still, the Jamaican sprint double champion remains confident of being ready for the world championships.
US champion Sha'Carri Richardson, who has beaten Jackson twice already this season, withdrew from the race after suffering a minor injury during her warm-up. Richardson currently holds fifth place in the Diamond League Qualifiers Standings with 16 points.
Ta Lou, the third-fastest in the world this season, leads the Diamond League Qualifiers Standings with 32 points, followed by Jackson with 26 points. The Ivorian sprinter's time is the joint-fastest on British soil, joining Shelly-Ann Fraser-Pryce.
"Today has been so great," Ta Lou said. "I was not feeling my best at first, but I've been listening to everything my coach has told me, and I won.
"I hope to go back and train even harder for Budapest because I know it will take more to win there, so I'll just fix up on a few small things. I know my finish is strong, but my start could be better, and I need to improve it to make sure I can achieve my goal of winning gold."
Click here for quotes from the athletes
Wanda Diamond League 100m Women's race held in London on July 23, 2023:
Marie Josée Ta Lou (CIV) – 10.75 seconds (Meeting Record, =SB)
Dina Asher-Smith (GBR) – 10.85 seconds (SB)
Shericka Jackson (JAM) – 10.94 seconds
Daryll Neita (GBR) – 10.96 seconds (SB)
Aleia Hobbs (USA) – 10.99 seconds
Twanisha Terry (USA) – 10.99 seconds (=SB)
Melissa Jefferson (USA) – 11.09 seconds
Anthonique Strachan (BAH) – 11.13 seconds
The Diamond League Qualifiers Standing after 6 of 8 qualification meetings are as follows:
Marie Josée Ta Lou (CIV) – 32 Points
Shericka Jackson (JAM) – 26 Points
Daryll Neita (GBR) – 21 Points
Dina Asher-Smith (GBR) – 18 Points
Sha'Carri Richardson (USA) – 16 Points
Gina Lückenkemper – 15 Points
Ewa Swoboda – 14 Points
Twanisha Terry (USA) – 13 Points
Anthonique Strachan (BAH) – 11 Points
Imani Lansiquot – 11 Points
Zoe Hobbs – 9 Points
Abby Steiner – 5 Points
Morolake Akinosun – 5 Points
Aleia Hobbs (USA) – 4 Points
Melissa Jefferson (USA) – 4 Points
Teahna Daniels – 3 Points
Gabrielle Thomas – 3 Points
Murielle Ahouré-Demps – 2 Points
Jenna Prandini – 2 Points
Gina Bass – 1 Point
Mujinga Kambundji – 1 Point