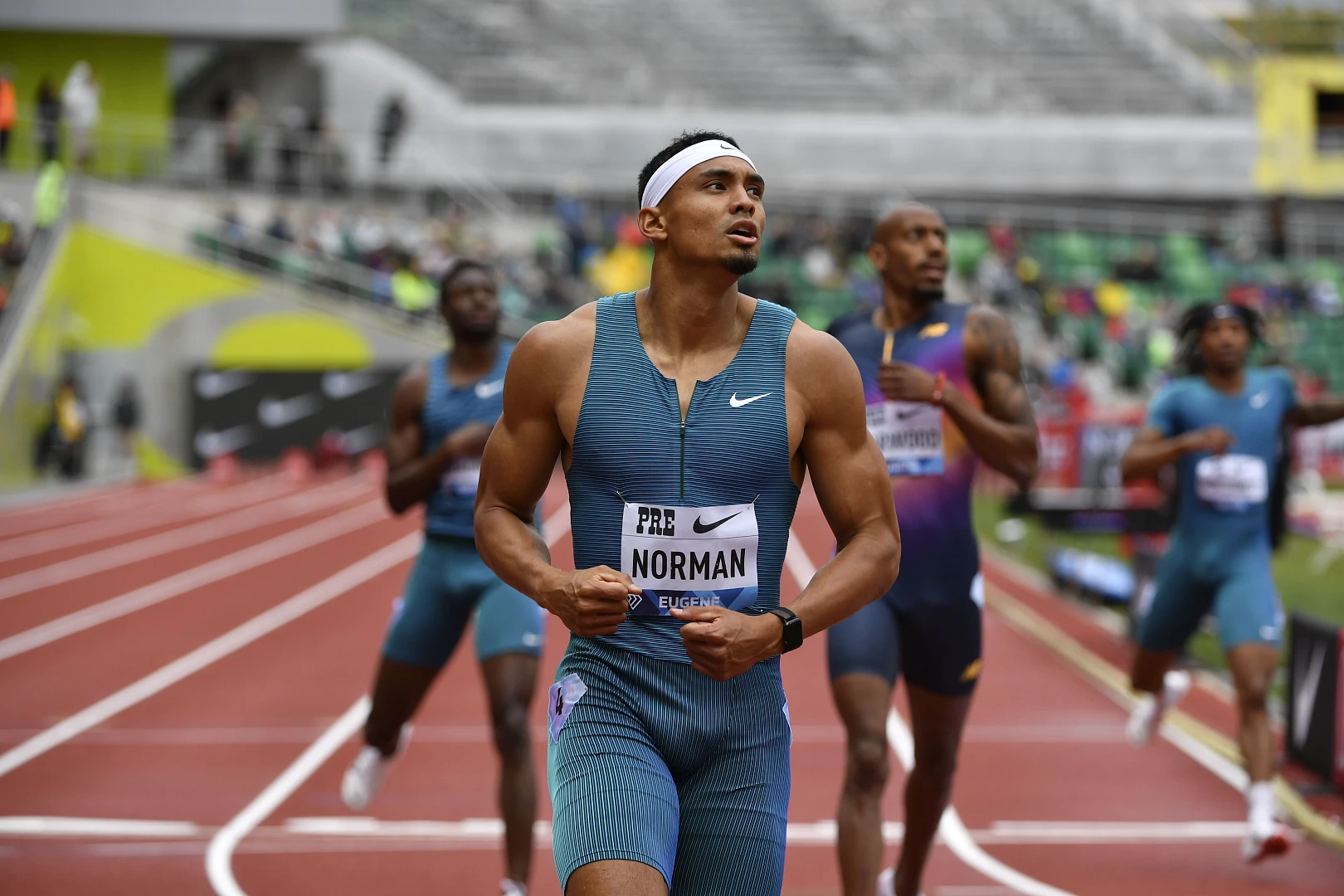 In a bid to bounce back from a disappointing performance in the men's 100m event, Michael Norman is determined to redeem himself in the 200m at the 2023 Toyota USATF Outdoor Championships on the third day of the competition on Saturday (8). bummer
Norman's underwhelming display in the 100m event saw him finish with a time of 10.31 seconds, placing him 27th overall and preventing him from progressing beyond the initial round.
However, the reigning world 400m champion is not one to be deterred easily, shifting his focus and turning his attention to the 200m discipline, where he hopes to make amends.
Taking to the track in the first heat of the 200m race, Norman will encounter formidable opponents who are eager to capitalize on his previous setback and present a fresh challenge. World bronze medalist Erriyon Knighton, as well as Kenny Bednarek, and Kendal Williams, among others, will be looking to exploit Norman's vulnerability and establish their dominance in the event.
In heat two, meanwhile, Cravont Charleston, the recently crowned national 100m champion on Friday evening, will face a tough lineup that includes Fred Kerley, the reigning world 100m champion, as well as former NCAA standout Terrance Laird and Josephus Lyles.
Heat three will feature Christian Coleman, Courtney Lindsey, and Elijah Morrow, while the fourth and final heat will see starters such as Robert Gregory from Florida and Kyree King, among the athletes vying for a chance to advance in the competition.
The men's 200m heats Start List below: 2023 Toyota USATF Outdoor Championships
Heat 1:
2 Trayvion White-Austin Arizona PB 20.44 SB 20.44
3 Cameron Rose Clemson PB 20.39 SB 20.39
4 Kenny Bednarek NIKE WCS PB 19.68 SB 20.11
5 Michael Norman NIKE WCS PB 19.70 SB 20.65
6 Matthew Boling Georgia WCS PB 19.92 SB 20.17
7 Connor Washington Arkansas PB 20.39 SB 20.52
8 Kendal Williams adidas PB 20.15 SB
9 Erriyon Knighton adidas WCS PB 19.49 SB 19.77
Heat 2:
2 Jeremiah Curry Arizona State WCS PB 20.15 SB 20.15
3 Josephus Lyles adidas PB 19.93 SB
4 Cravont Charleston Tracksmith PB 20.16 SB 20.44
5 Brandon Carnes Unattached PB 20.07 SB 20.50
6 Austin Kresley Iowa PB 20.26 SB 20.26
7 Fred Kerley ASICS WCS PB 19.76 SB 19.92
8 Terrance Laird adidas WCS PB 19.81 SB 20.06
9 Sam Blaskowski Wisconsin-La Crosse PB 20.67 SB 20.67
Heat 3:
2 Amir Willis Florida State PB 20.25 SB 20.25
3 Kamden Jackson Baylor PB 20.49 SB 20.49
4 Michael Gizzi Unattached PB 20.84 SB 21.19
5 Courtney Lindsey Texas Tech WCS PB 19.86 SB 19.86
6 Elijah Morrow AthleticsTX WCS PB 20.15 SB 20.15
7 Christian Coleman NIKE WCS PB 19.85 SB 20.00
8 Brice Chabot U T S A PB 20.44 SB 20.44
9 Marqueze Washington Unattached PB 20.32 SB 21.38
Heat 4:
2 Jae'Len Means Unattached PB 20.93 SB 20.93
3 David Dunlap Northern Arizona WCS PB 20.16 SB 20.16
4 Evan Miller South Carolina PB 20.35 SB 20.48
5 James Benson Arkansas PB 20.71 SB 20.71
6 Demarius Smith Unattached PB 20.51 SB 20.92
7 Cameron Miller Unattached PB 20.17 SB 20.17
8 Robert Gregory Florida WCS PB 19.89 SB 19.89
9 Kyree King NIKE WCS PB 20.00 SB 20.18
For complete results from the previous days, click here