LONDON (July 23) – U.S. sprint star Sha'Carri Richardson was forced to withdraw from the headline 100m event at the London Diamond League 2023 meeting on Sunday due to an irritated hamstring, casting a shadow over her forthcoming quest for a World Athletics Championships gold medal in Budapest next month.
Sha'Carri Richardson 100m Pullout Today
Richardson, 23, one of the frontrunners tipped for gold in the women's 100m at the global gathering, pulled out approximately an hour before the race, leaving spectators and rivals to digest the news.
"In warm-up, she had a sore hamstring and received treatment," the Wanda Diamond League revealed in a statement on behave of the athlete. "She has decided to withdraw as a precaution with the World Athletics Championships the priority."
An explosive talent, Richardson has been on an impressive streak this season, clocking four sub-10.80 seconds with legal wind readings. The Dallas-born speedster, who ran 10.71 seconds to set a personal best at the USATF Outdoor Championships 2023, has also tasted victory over some of the world's finest sprinters –including medalists at world championships and the Olympics –already this year.
This withdrawal thwarted a much-anticipated showdown with Jamaican world leader Shericka Jackson and Ivory Coast's Marie Josée Ta Lou, the season's third-fastest.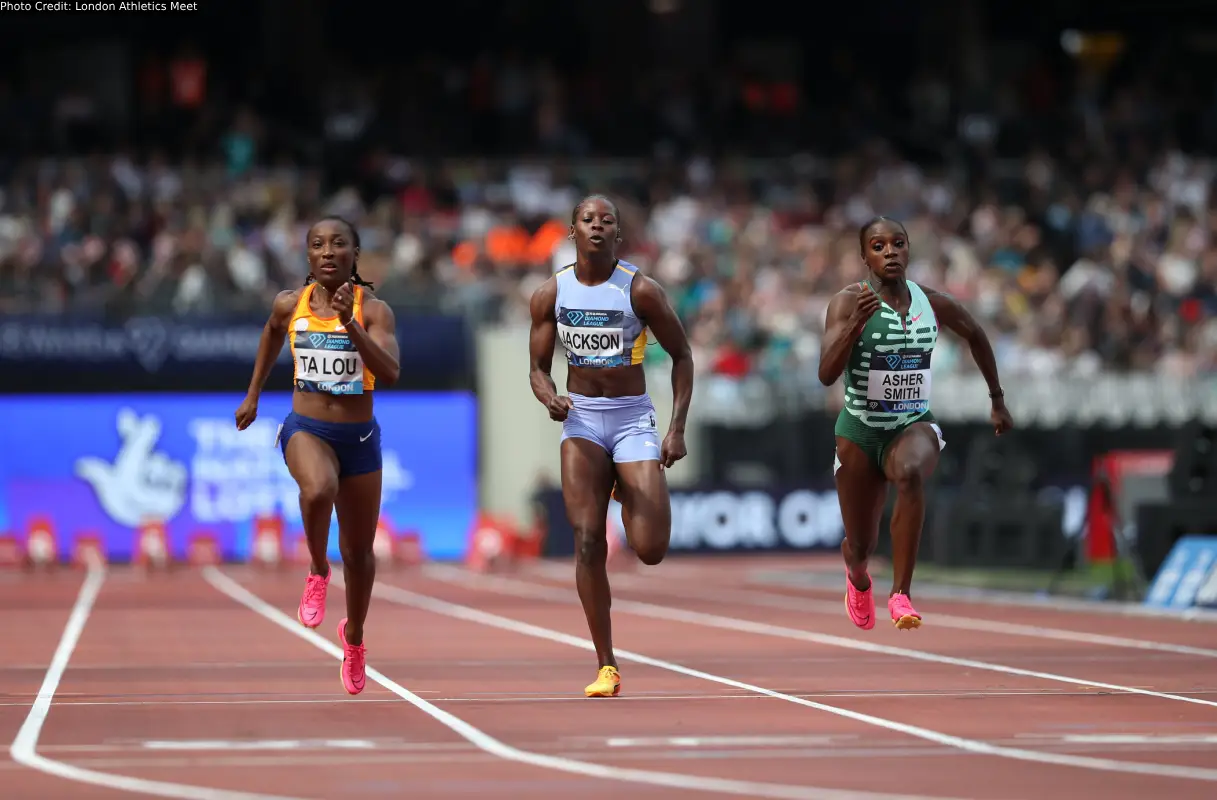 Jackson holds the global lead in the event, having posted a sizzling time of 10.65 seconds. However, she has tasted defeat twice this season at the hands of the flamboyant Richardson, who continues to dominate the track and field news since returning from a disappointing 2022 season, and the American champion remains one of the prime contenders to watch in Hungary.
On the other hand, Ta Lou has been on a tear, claiming a seven-race winning streak in the 100m. After bagging silver medals in 2017, she's eyeing her first world track and field championships gold medal.
"I hope to go back and train even harder for Budapest because I know it will take more to win there," the Ivory Coast sprinter, who ran a meeting record of 10.75 seconds at the London Athletics Meet, commented after Sunday's win.
"I need to improve my start to make sure I can achieve my goal of winning gold."
Meanwhile, with Richardson out of the race in London, it opened the door for other athletes to grab the limelight, including British sprinter Dina Asher-Smith who clocked a season-best time of 10.85 seconds to finish second behind Ta Lou. Jackson, who was on a cruise after a poor start, rounded out the podium in third with a time of 10.94 seconds.
Richardson's injury setback will now be watched closely by track and field enthusiasts, with the World Athletics Championships set to commence in Budapest in less than a month.
Check out the London Athletics Meeting 2023 full results here
PHOTO CREDIT: Photo by Ed Hall | MacroPro Photography