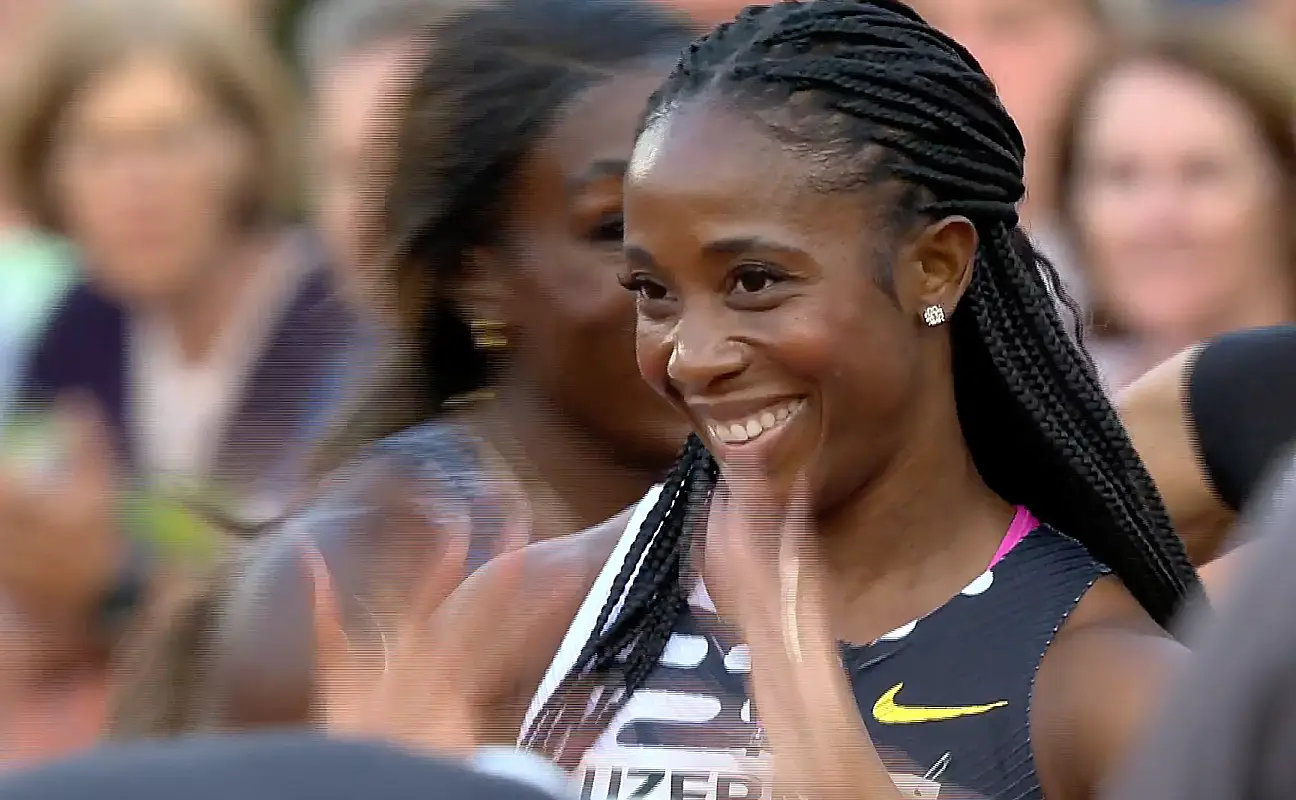 Jamaica's reigning world champion, Shelly-Ann Fraser-Pryce, delivered an impressive season debut in the 100 meters at the Spitzen Leichtathletik Luzern 2023, today (20). Clocking a time of 10.82 seconds (+0.3 m/s), Fraser-Pryce secured a resounding victory at the World Athletics Continental Tour Silver event held in Switzerland.
Earlier in the season, Fraser-Pryce had to delay her return to competition due to a knee injury sustained in May. However, she made her comeback at the Jamaica Track and Field Championships earlier this month, finishing second to Shericka Jackson in the 200m event.
Read more: How to watch Shelly-Ann Fraser-Pryce at the Spitzen Leichtathletik Luzern 2023?
Given the strong performances of athletes like Jackson and U.S. champion Sha'Carri Richardson in the 100m this season, all eyes were on Fraser-Pryce to see what time she would produce at the Spitzen Leichtathletik Luzern 2023. The 36-year-old sprinter, who sits atop the women's 100m world rankings, did not disappoint. – Check out the latest World Athletics women's 100m World Rankings
Fraser-Pryce swiftly distanced herself from the field right from the start and continued to extend her lead, leaving her competitors struggling to keep up. As a result, she not only claimed a commanding victory but also shattered the meeting record of 10.91 seconds, previously held by Ukraine's Zhanna Pintusevich-Block since 2002.
New Zealand's Hobbs Zoe secured second place with a time of 11.08 seconds, while the USA's Blackmon Kennedy finished third, clocking in at 11.11 seconds.
Only world leader Shericka Jackson, at 10.65 secs, Sha'Carri Richardson, with 10.71, and the Ivory Coast's Marie Josée Ta Lou, at 10.75, have run faster than Fraser-Pryce in the women's 100m this season.
Meanwhile, Fraser-Pryce's countryman and fellow Elite Performance training partner, Julian Forte, won the men's 100m in 9.99 seconds (+0.5 m/s) for a season-best, ahead of the Jamaica national champion, Rohan Watson, who clocked 10.03. Brandon Carnes of USA was third with a time of 10.06, just ahead of Arthur Cisse in 10.09.
Meanwhile, Jamaica also enjoyed success in the women's and men's sprint hurdles.
Amoi Brown finished strongest to win the women's 100m hurdles in a time of 12.64 seconds, ahead of her compatriot and 2015 world champion Danielle Williams. who ran 12.68 secs for second place, with USA's Tonea Marshall running 12.69 secs for third.
In the men's 110m hurdles, Tyler Mason clocked 13.19 secs to secure the victory ahead of his Jamaican countryman Orlando Bennett, who ran 13.22 secs for second place.
Another inform Jamaican, Rusheen McDonald continued his top form since returning from a back injury at the Jamaica champion, clocking 44.80 secs today to the men's 400m dash.
In other results at the Spitzen Leichtathletik Luzern 2023, Kenya's Peninah Muthoni Mutisya won the women's 800m with a time of 1:58.76, USA's Roger Steen threw 21.41 meters to win the men's shot put, while USA's Bridget Williams cleared 4.71m to win the women's pole vault.