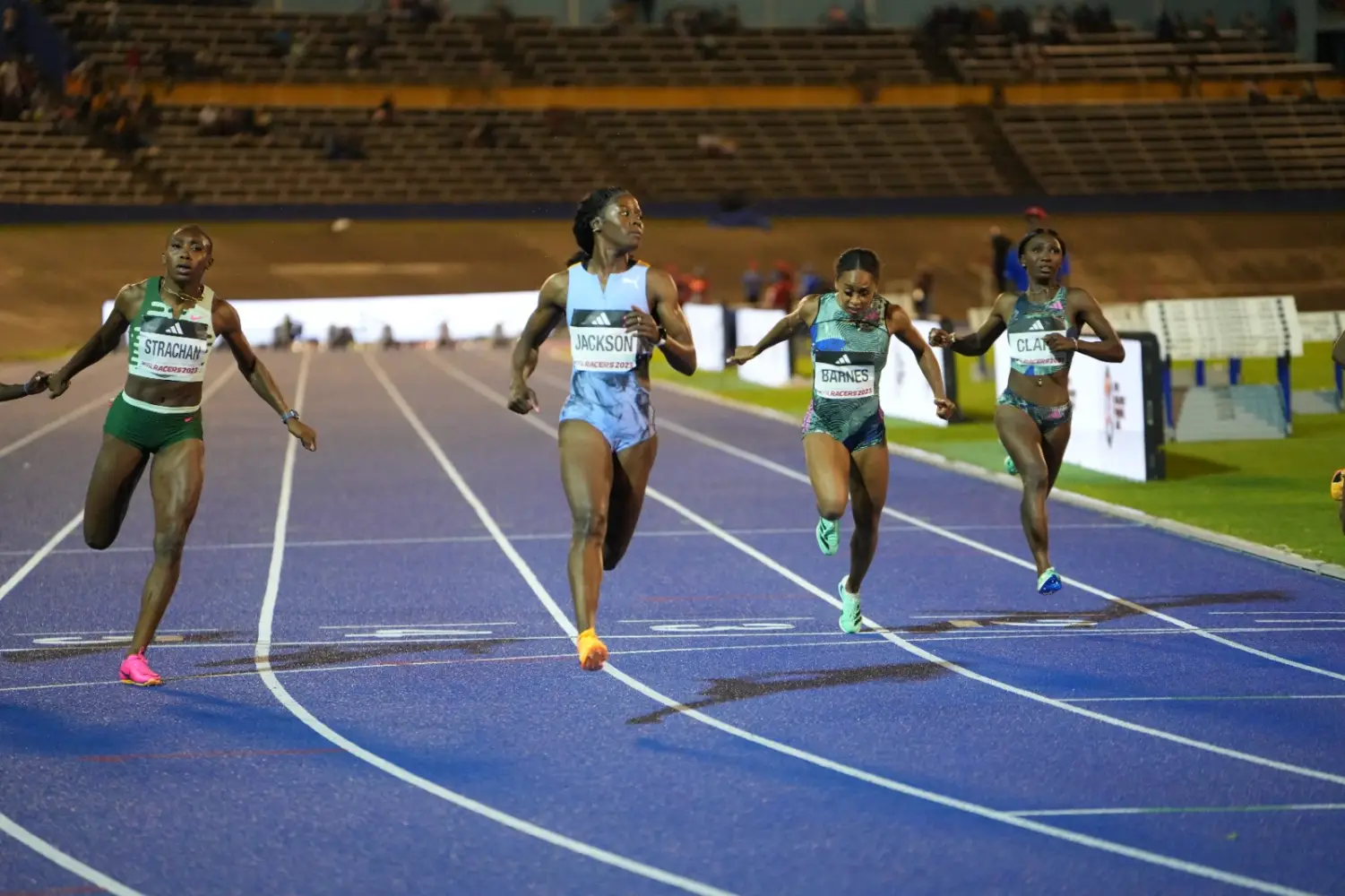 Shericka Jackson delivered an exceptional performance on her way to setting a new personal best and world-leading time of 10.65 seconds to claim victory in the women's 100-meters at the Jamaica Track and Field Championships 2023 at the National Stadium in Kingston on Friday night.
Jackson, who entered these championships with a personal best of 10.71 seconds, dominated the race from start to finish as she defended her national title and surpassed the previous world lead of 10.71 seconds set by Sha'Carri Richardson at the USA Championships heats on Thursday night.
Her winning time also equaled the fifth-fastest time in history, joining Marion Jones of the USA, who clocked the same time in 1998.
Shashalee Forbes also had a remarkable run, achieving a personal best of 10.96 seconds to secure second place behind Jackson. – Read more: How to watch the 2023 Toyota USATF Outdoor Championships day 2?
Natasha Morrison crossed the finish line in under 11 seconds, recording a time of 10.98 seconds, earning her a third-place finish. Briana Williams finished closely behind with a time of 11.01 seconds, while Olympic champion Elaine Thompson Herah clocked 11.06 seconds for fifth place.
Shericka Jackson Says Hard Work Is Paying Off
Reflecting on her victory, Jackson expressed her satisfaction, saying, "This year, I put in a lot of work, and the results showed tonight. I think I did a pretty good job. I achieved a personal best, so I am grateful."
The top three finishers in the women's 100-meters will join reigning world champion Shelly-Ann Fraser-Pryce at the upcoming World Championships in Budapest, scheduled for August.
Meanwhile, in the men's 100m event, Rohan Watson caused a significant upset, securing the title with an impressive time of 9.91 seconds (1.1 m/s).
Ryiem Forde also delivered an outstanding performance, clocking a personal best time of 9.96 seconds to claim second place. Oblique Seville completed the podium, finishing third with a time of 10.00 seconds.
Jamaica Track and Field Championships 100m Results
Men 20+ 100 Meter Dash
Finals
1 Rohan Watson 21 Mvp 9.91 1.1
2 Ryiem Forde 22 Adidas 9.96 1.1
3 Oblique Seville 22 Racers Track 10.00 1.1
4 Ackeem Blake 21 Titans Track 10.01 1.1
5 Tyquendo Tracey 30 Swept Track Club 10.09 1.1
6 Micheal Campbell 27 Mvp 10.13 1.1
7 Kadrian Goldson 26 G.C. Foster College 10.29 1.1
Women 20+ 100 Meter Dash
Finals
1 Shericka Jackson 29 Mvp 10.65 1.0
2 Shashalee Forbes 27 Sprintec Track Club 10.96 1.0
3 Natasha Morrison 31 Mvp 10.98 1.0
4 Briana Williams 21 Titans Track 11.01 1.0
5 Elaine Thompson Herah 31 New era track club 11.06 1.0
6 Ashanti Moore 23 Adidas 11.06 1.0
7 Alana Reid 18 Nike 11.10 1.0
8 Shockoria Wallace 30 Mvp 11.21 1.0