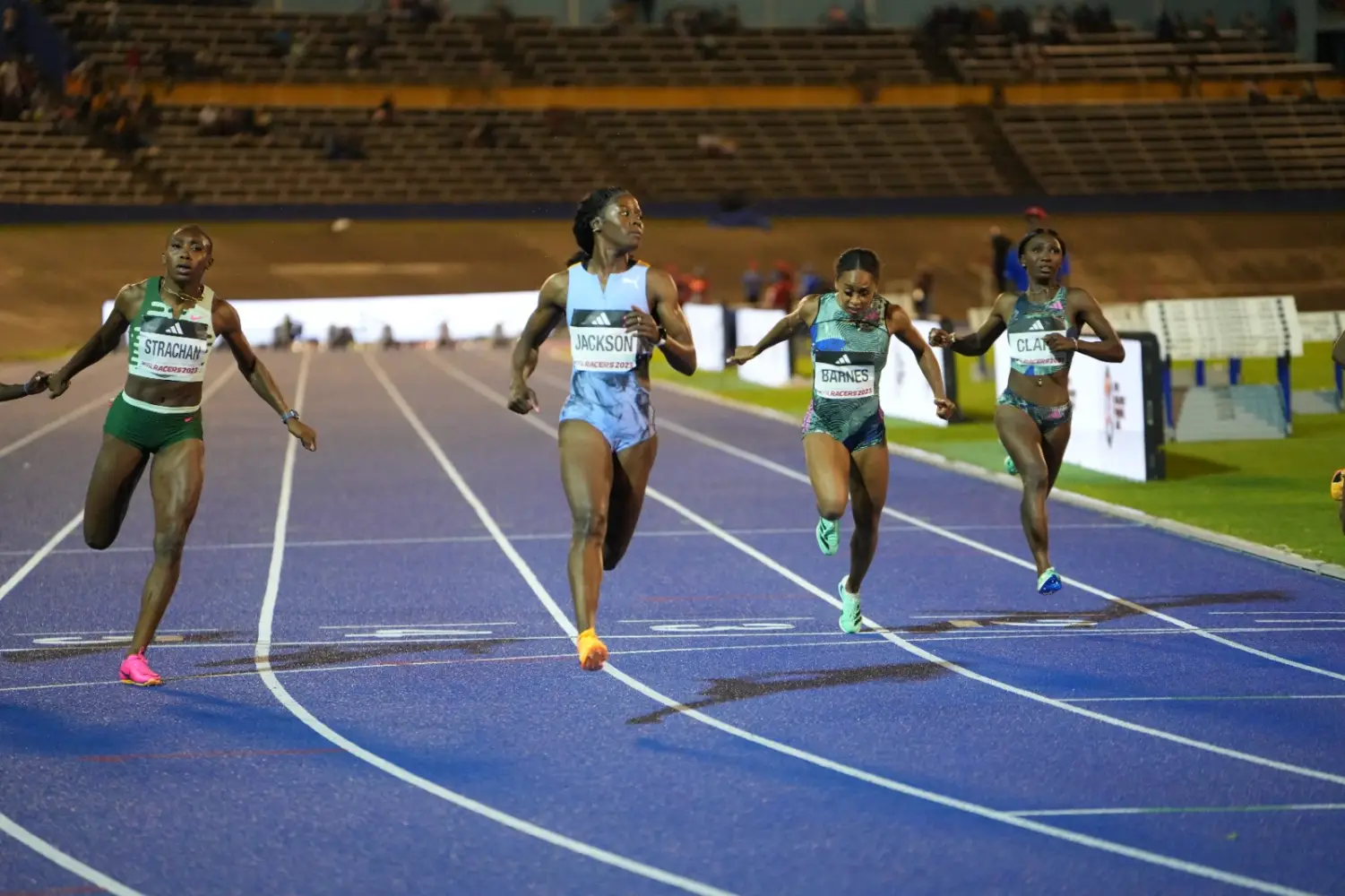 KINGSTON (July 6) — Shericka Jackson, Elaine Thompson-Herah, Alana Reid, and Natasha Morrison all advanced to the semifinals of the women's 100-meters at the Jamaica Track and Field Championships 2023, held at the National Stadium here on Thursday night (6).
In the first heat, Shericka Jackson, the world silver medalist from last summer's event in Oregon, dominated with a comfortable time of 10.99 seconds, securing the fastest overall time across all four sections.
Jonielle Smith and Briana Williams followed behind, finishing with times of 11.19 seconds to claim second and third place, respectively, behind Jackson, who began easing down halfway through the contest. – Read more: Sha'Carri Richardson runs WL 10.71secs at USA Championships
Elaine Thompson-Herah Returns Season-Best
Elaine Thompson-Herah, a two-time Olympic sprint double champion, triumphed in heat four with a season-best time of 11.12 seconds. Despite a slow start, Thompson-Herah, who was running only her second 100m this season, demonstrated her improving speed and easily surpassed her competitors at the 70-meter mark, securing a comfortable victory in the end.
Other notable athletes who advanced from the heat won by Thompson-Herah were Ashanti Moore (11.15), Kemba Nelson (11.19), and two-time World U20 champion Tina Clayton (11.19).
Meanwhile, newly minted professional and national junior record holder Alana Reid outperformed her rivals in heat two, clocking an impressive time of 11.12 seconds. Reid finished ahead of Remona Burchell (11.20) and Kiara Grant (11.31), securing her place in the semifinals.
Experienced sprinter Natasha Morrison showcased her prowess by clocking a swift time of 11.00 seconds in the third heat, surpassing Shashalee Forbes (11.09) and Kevona Davis (11.12) to claim first place.
World U20 silver medalist Serena Cole also secured her spot in the semifinals with a time of 11.19, achieved in the heat won by Morrison.
Notably absent from the women's 100m event was reigning world champion Shelly-Ann Fraser-Pryce, who did not compete. She will instead line up in the 200m later this week.
Women's 100m Results: Jamaica Track and Field Championships 2023

Heat 1 Preliminaries Wind: +0.0
1 Shericka Jackson 29 Mvp 10.99Q
2 Jonielle Smith 27 Mvp 11.19Q .188
3 Briana Williams 21 Titans Track 11.19Q .183
4 Kasheika Cameron 25 Mvp 11.53
Heat 2 Preliminaries Wind: -0.6
1 Alana Reid 18 Nike 11.14Q
2 Remona Burchell 32 Sprintec Track Club 11.20Q
3 Kiara Grant 23 Unattached 11.31Q
4 Tia Clayton 19 Mvp 11.40
5 Grizell Scarlett 22 Mvp 11.62
— Lanae-Tava Thomas 22 University of Texas X11.24
— Krystal Sloley 21 Mvp DNF
Heat 3 Preliminaries Wind: -0.4
1 Natasha Morrison 31 Mvp 11.00Q
2 Shashalee Forbes 27 Sprintec Track Club 11.09Q
3 Kevona Davis 22 University of Texas 11.12Q
4 Serena Cole 19 Mvp 11.19q .181
5 Jodean Williams 30 Racers Track 11.33q
6 Shenike Malcolm 21 Mvp 12.23
Heat 4 Preliminaries Wind: 0.3
1 Elaine Thompson Herah 31 New era track club 11.12Q
2 Ashanti Moore 23 Adidas 11.15Q
3 Kemba Nelson 23 Elite Perfor 11.19Q .187
4 Tina Clayton 19 Mvp 11.19q .190
4 Shockoria Wallace 30 Mvp 11.19q .182
6 Niesha Burgher 21 University o 11.53
7 Mickaell Moodie 22 G.C. Foster College 11.54
8 Shurria Henry 23 Titans Track 11.73