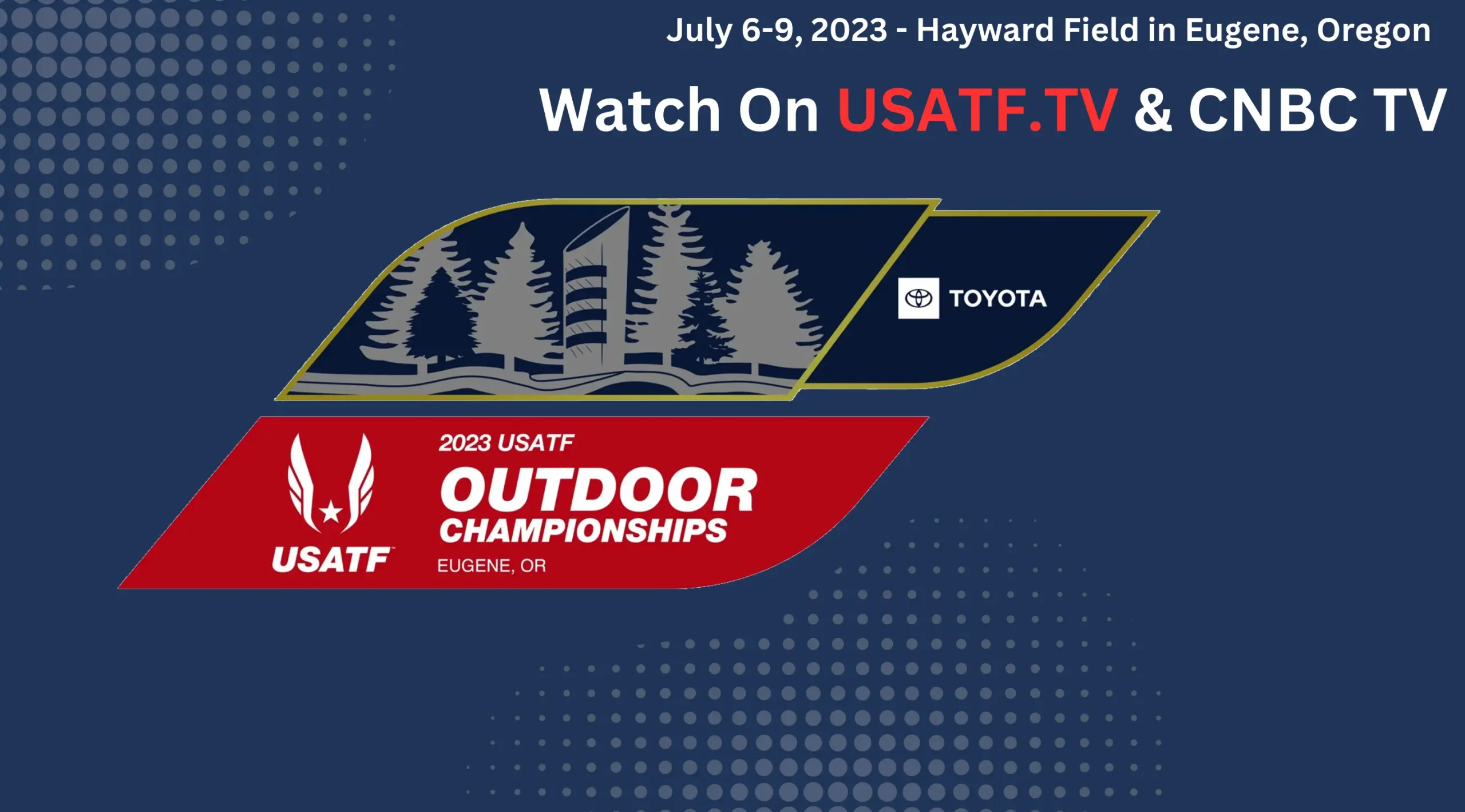 The 2023 USATF Outdoor Championships and USATF U20 Championships will be streamed live from Hayward Field in Eugene, Oregon, Thursday through Sunday, July 6-9, and you can watch all the coverage via USATF.TV and CNBC.
A number of intriguing match-ups are slated for the championships, particularly in the sprint events with the likes of Noah Lyles, Sha'Carri Richardson, Aleia Hobbs, Fred Kerley, Erriyon Knighton, Abby Steiner, Gabby Thomas, Sydney McLaughlin-Levrone, and Britton Wilson among the names to look out for.
READ MORE: Hall leads Heptathlon field at 2023 USATF Outdoor Championships
Live streaming coverage will be on USATF.TV with CNBC providing the live television broadcast. USATF.TV will stream live and exclusive broadcast of the men's decathlon and women's heptathlon, but please note that you will need to be a RunnerSpace +PLUS subscriber.
USATF Outdoor Championships TV and Live Streaming Broadcast
Day
Date
Live Stream
Pacific Time – local time
Easter Time
Information/Notes
Thursday
7/6
USATF.TV
11:20 AM – 9:15 PM
2:20 PM – 12:15 AM
All Events Live On USATF.TV
Friday
7/7
USATF.TV
10:55 AM – End of Field Events
1:55 PM – End of Field Events
Field Events Only Past-7:00 PM PT
CNBC
7:00 PM – 9:00 PM
10:00 PM – Midnight
Check Local TV Listings
Peacock
7:00 PM – 9:00 PM
10:00 PM – Midnight
Watch Peacock Premium Online
Saturday
7/8
USATF.TV
6:25 AM – End of Field Events
9:25 AM – End of Field Events
Field Events Only Past-6:00 PM PT
CNBC
6:00 PM – 8:00 PM
9:00 PM – 11:00 PM
Check Local TV Listings
Peacock
6:00 PM – 8:00 PM
9:00 PM – 11:00 PM
Watch Peacock Premium Online
Sunday
7/9
USATF.TV
10:55 AM – End of Field Events
1:55 PM – End of Field Events
Field Events Only Past-6:00 PM PT
CNBC
6:00 PM – 8:00 PM
9:00 PM – 11:00 PM
Check Local TV Listings
Peacock
6:00 PM – 8:00 PM
9:00 PM – 11:00 PM
Watch Peacock Premium Online
Senior Women's Heptathlon Schedule (Subject To Change). Full Schedule Here.
Where To Watch
Pacific Time
Eastern Time
Note
Thursday
7/6
USATF.TV
11:20 AM – End of Competition
2:20 PM – End of Competition
Friday
7/7
USATF.TV
1:40 PM – End of Competition
4:40 PM – End of Competition
**U20 Heptathlon Part of Integrated Main Feed + Dedicated Field Event Feeds**
Senior Men's Decathlon Schedule (Subject To Change). Full Schedule Here.
Where To Watch
Pacific Time
Eastern Time
Note
Thursday
7/6
USATF.TV
11:40 AM – End of Competition
2:40 PM – End of Competition
Friday
7/7
USATF.TV
11:40 AM – End of Competition
2:40 PM – End of Competition
**U20 Decathlon Part Of Integrated Main Feed + Dedicated Field Event Feeds**