World leader Zharnel Hughes clinched the men's 100m title at the 2023 British Athletics Championships on Saturday (8), clocking an impressive 10.03 seconds amidst torrential rain at the Manchester Regional Arena. Dina Asher-Smith secured the women's national title following a significant delay that disrupted both the broadcast and timing systems.
Impressive Run From Zharnel Hughes
The men's race was nearly derailed by a sudden downpour that escalated from a light drizzle to a heavy rainstorm, threatening to end the day's events prematurely. – Read more: Keely Hodgkinson runs 2:01.16, leads pack at 2023 British Athletics Championships
But despite the worsening weather, race officials elected to proceed. Hughes, fresh off setting a new British record of 9.83 seconds in New York City last month, showed class today by outpacing his competitors and securing his spot on the team at the World Athletics Championships in Budapest in August.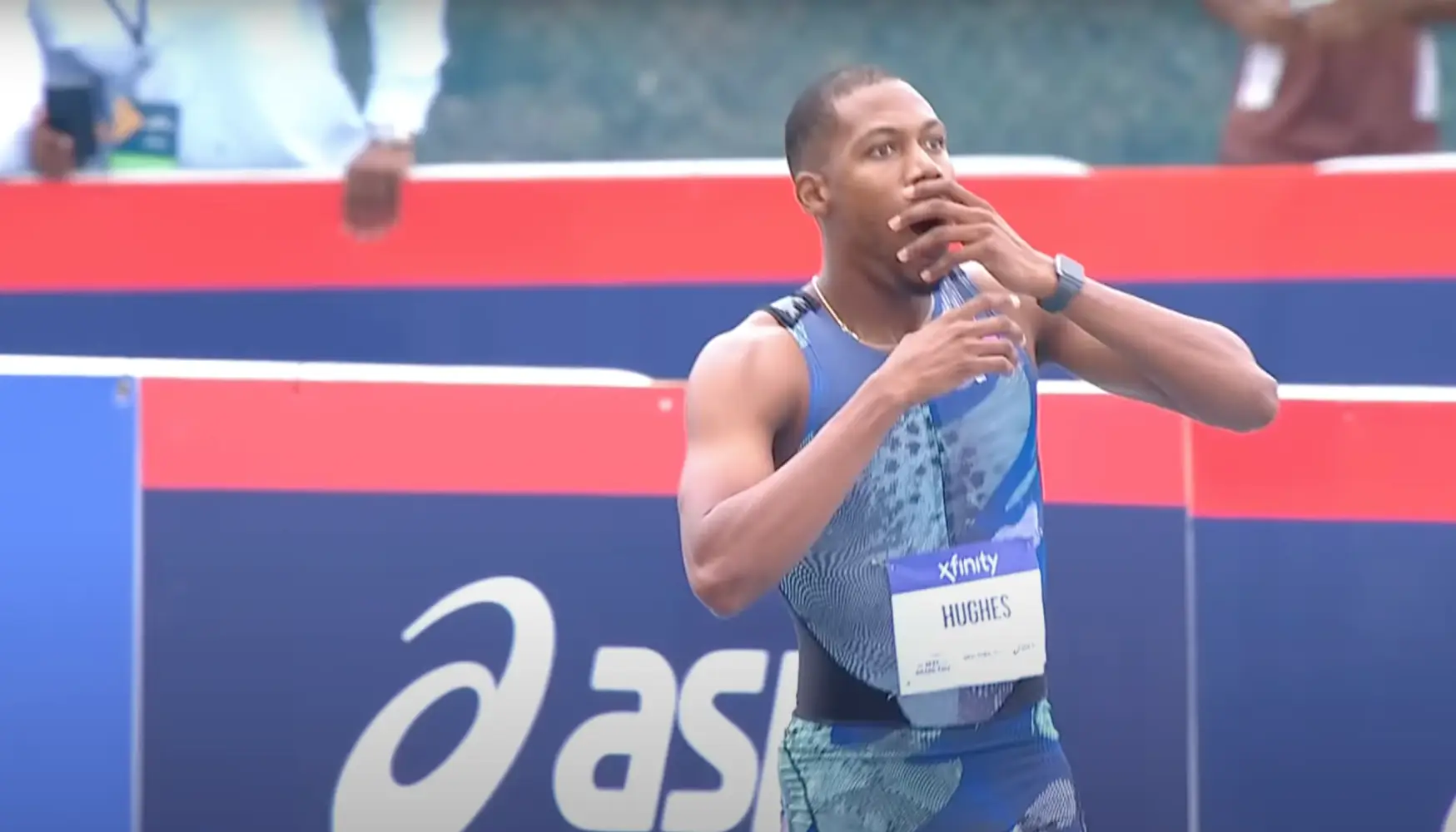 Reece Prescod trailed home Hughes, finishing second in the final with a time of 10.14 seconds, while Eugene Amo-Dadzie, who owns a season and personal best of 9.93 seconds, clinched third place with a time of 10.18 seconds.
Dina Asher-Smith Prevailed After Delay
Following a 20-minute delay, Dina Asher-Smith claimed the women's 100m title, posting a respectable time of 11.06 seconds (+0.2 m/s).
Imani Lansiquot secured second place with a time of 11.26 seconds, earning her a spot at the World Athletics Championships. Bianca Williams rounded out the top three with a time of 11.29 seconds.
The day, however, concluded on a somber note for Alisha Rees, who sustained an injury approximately 40 meters into her race. She veered into adjacent lanes before collapsing on the track in evident discomfort.
British Athletics Championships 100m results
Men's 100m Results
Zharnel Hughes – 10.03
Reece Prescod – 10.14
Eugene Amo-Dadzie – 10.18
Jeremiah Azu – 10.28
Cj Ujah – 10.31
Nicholas Walsh – 10.37
Oliver Bromby – 10.38
Harry Aikines-Aryeetey – 10.49
Women's 100m Results
Dina Asher-Smith – 11.06
Imani Lansiquot – 11.26
Bianca Williams – 11.29
Kristal Awuah – 11.54
Amy Hunt – 11.67
Nia Wedderburn-Goodison – 11.67
Alisha Rees – DNF
Annie Tagoe – DNF