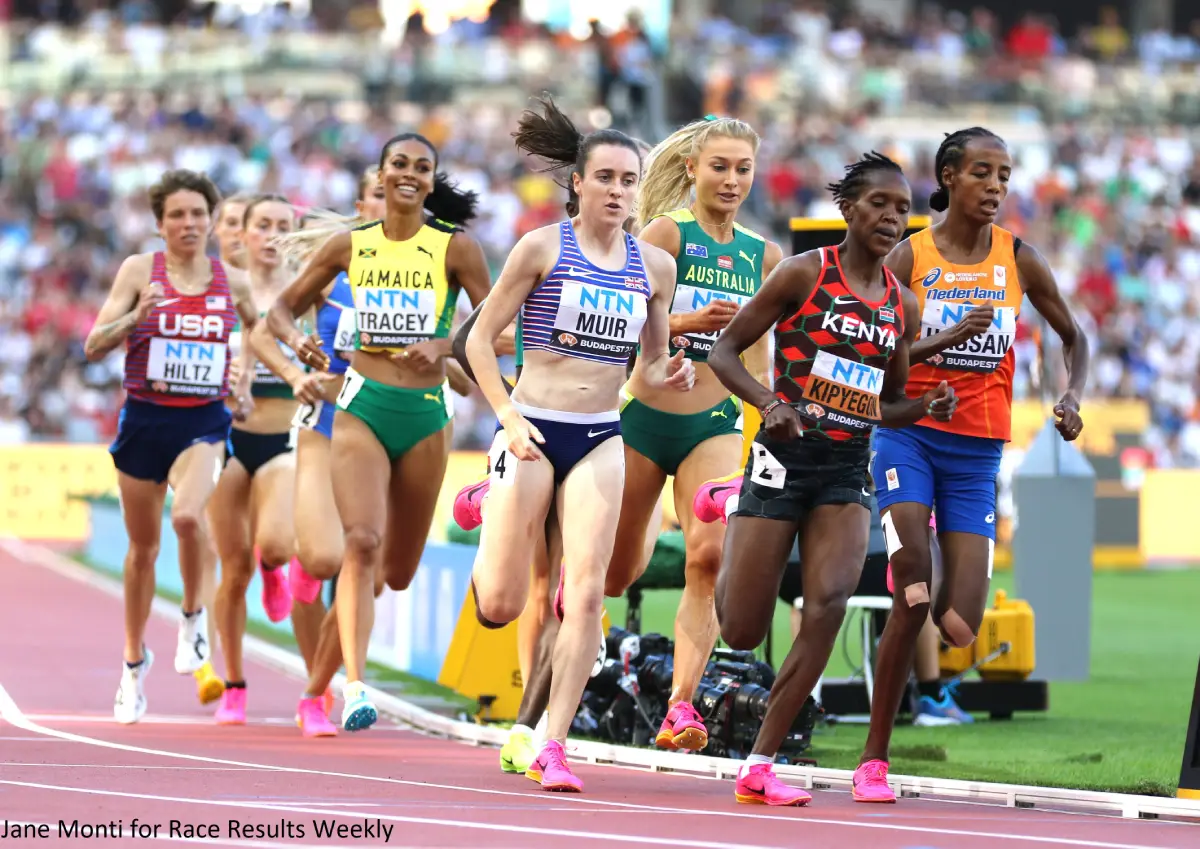 BUDAPEST, Hungary (August 20) – Both the men's and women's 1500m semi-finals were held tonight on the second day at the 2023 World Athletics Championships here in Budapest, and the athletes ran surprisingly fast, again.
Faith Kipyegon and Sifan Hassan Advanced; Nikki Hiltz Didn't
Defending women's champion, Faith Kipyegon, hammered the second of the two heats and won in 3:55.14, just one of nine women who broke 4:00 in the heat.  Kipyegon, twice the Olympic 1500m champion, perhaps wanted to tire out one of her key rivals, Sifan Hassan, who ran the 10,000m the night before. 
Read more: Joshua Cheptegei wins 3rd straight world 10,000m title
Hassan looked unfazed, running 3:55.48 in third place just behind Ethiopia's Diribe Welteji (3:55.18).  Also advancing by virtue of finishing in the top-6 were Britain's Laura Muir and Katie Snowden (3:56.36 and 3:56.72, respectively), and Australia's Jessica Hull (3:57.85).
"I feel good; I'm looking forward to the final," Kipyegon told reporters in the mixed zone.  "It won't be an easy race, but we hope for the best."
In the same heat, USA champion Nikki Hiltz ran a fast 4:00.84, but did not advance, finishing 11th.
"It's just a different game now," Hiltz told Race Results Weekly.  The reigning USA road mile champion added: "Like, I had to run 4:01 to make the final in Doha.  I ran 4-flat and it wasn't good enough.  Yeah, it's just a whole different game, but I'm proud of my season."
Nelly Chepchirchir Set The Pace in Heat One
The first heat was won by Kenya's Nelly Chepchirchir in 4:02.14 ahead of Ethiopia's Birke Haylom (4:02.46), Ireland's Ciara Mageean (4:02.70), and the USA's Cory McGee (4:02.71).  Britain's Melissa Courtney-Bryant and Italy's Ludovica Cavalli got the last two qualifying spots.
Read more: Noah Lyles wins first-ever world 100m title at Budapest 23
"I feel like I'm just leaning into my experience," McGee told Race Results Weekly.  "I have a good idea of what time would be required based on the last couple of years.  I just went out there and tried to get the job done."
Jakob Ingebrigtsen and Yared Nuguse We Winners
Yared Nuguse of the USA (3:32.69) and Jakob Ingebrigtsen of Norway (3:34.98) won their respective heats of the men's 1500m semi-finals.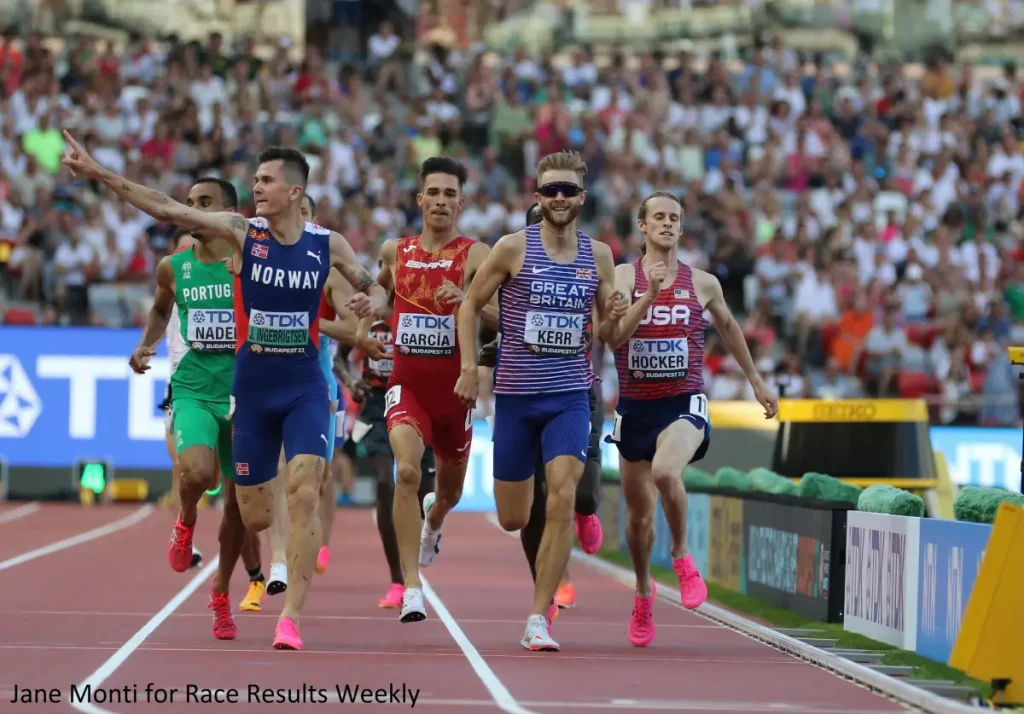 Nuguse ran a very controlled race, using just enough energy to edge Kenya's Abel Kipsang (who led most of the race) and the Netherlands' Niels Laros. 
Ingebrigtsen, who ran at the back of the race most of the way, rallied with 200 meters to go.  He zipped around the field, waving his arm and encouraging the crowd to cheer for him.
"I felt really controlled," Nuguse said.  "You know, I have a lot of strength and I knew coming to the semi-finals I knew I would be really strong if I put myself in the right position.  That's exactly what I did and I came away with a great result today."
Other medal favorites who advanced to the final were Britain's Josh Kerr and Neil Gourley, Spain's Mario Garcia Romo, and the USA's Cole Hocker. 
Two big medal favorites were eliminated: Kenya's Timothy Cheruiyot, the 2019 world champion, and Spain's Mohamed Katir, the 2022 world championships bronze medalist.  Katir finished tenth in heat one, despite running a fast 3:33.56, and Cheruiyot was ninth in heat two in 3:37.40.
The women's 1500m final takes place on Tuesday and the men's will be held on Wednesday.