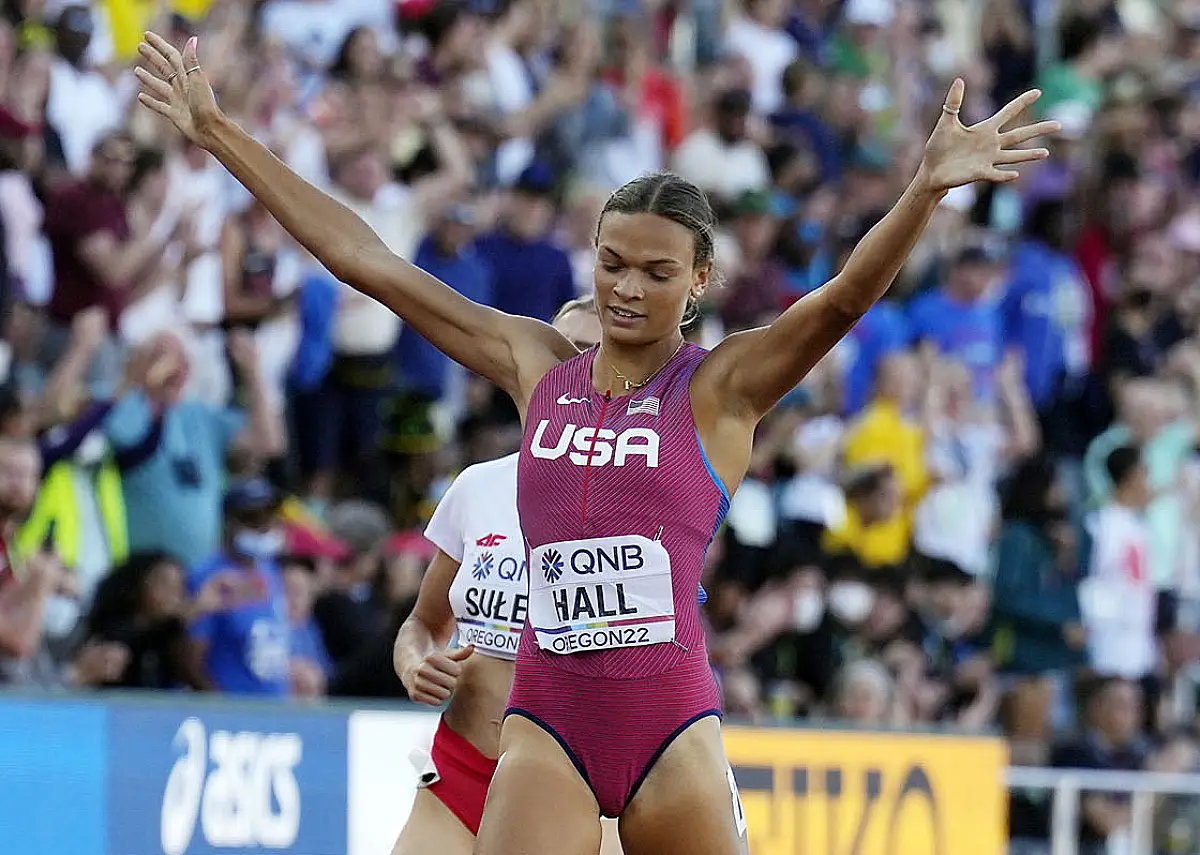 BUDAPEST, Hungary (August 19) — World bronze medalist and the current world leader Anna Hall of the United States took the lead after the first day of the heptathlon at the 2023 World Athletics Championships on Saturday.
Hall, who emerged as the leading contender for the title after the withdrawal of Belgium's Nafi Thiam, ended the day with a total of 3998 points after four events, with standout performances in the 200 meters and shot put.
Read more: Ryan Crouser throws 23.51m, shatters championship record to defend his world title
After a slow start in the 100m hurdles, Great Britain's former world champion, Katarina Johnson-Thompson, recovering from an Achilles tendon injury, finished the day with a winning performance in the 200m, clocking 23.48 seconds while finishing the day with 3905 points.
Chari Hawkins, another American contender, is currently in third place with 3900 points, while Taliyah Brooks, also from the USA is in fourth with 3888 points. Germany's Sophie Weissenberg rounds out the top five with 3877 points.
The second day of competition in the women's heptathlon on Sunday will see the athletes taking part in the Long Jump, Javelin Throw and conclude with the 800m.
The 2023 World Athletics Championships, which have seen a mix of weather conditions and intense competition on the first day on Saturday, will be unfolding until August 27.
Women's Heptathlon Score After 4 Events
| Position | Athlete | Country | Points |
| --- | --- | --- | --- |
| 1 | Anna Hall | USA | 3998 |
| 2 | Katarina Johnson-Thompson | GBR | 3905 |
| 3 | Chari Hawkins | USA | 3900 |
| 4 | Taliyah Brooks | USA | 3888 |
| 5 | Sophie Weissenberg | GER | 3877 |
| 6 | Noor Vidts | BEL | 3833 |
| 7 | Anouk Vetter | NED | 3792 |
| 8 | Saga Vanninen | FIN | 3771 |
| 9 | Auriana Lazraq-Khlass | FRA | 3712 |
| 10 | Sofie Dokter | NED | 3711 |
| 11 | Kate O'Connor | IRL | 3684 |
| 12 | Xénia Krizsán | HUN | 3672 |
| 13 | Emma Oosterwegel | NED | 3666 |
| 14 | Esther Conde-Turpin | FRA | 3626 |
| 15 | Vanessa Grimm | GER | 3599 |
| 16 | Léonie Cambours | FRA | 3581 |
| 17 | Rita Nemes | HUN | 3580 |
| 18 | Sarah Lagger | AUT | 3478 |
| 19 | Paulina Ligarska | POL | 3427 |
| 20 | Ekaterina Voronina | UZB | 3393 |
| 21 | Martha Valeria Araujo Siniste | COL | 3357 |