BUDAPEST, Hungary (August 26) — Amane Beriso Shankule, with a display of sheer determination, navigated through intense morning heat to secure a decisive victory in the women's marathon at the World Athletics Championships 2023 on Saturday morning. Beriso Shankule led an Ethiopian 1-2 finish as her compatriot and last year's Oregon 2022 titleholder, Gotytom Gebreslase collected the silver medal.
Beriso Shankule pulls away late to strike gold
The race saw the Ethiopian duo initially collaborating, hinting at a potential podium sweep for their nation.
However, Beriso Shankule, who ran third-fastest marathon ever in Valencia last December, surged ahead during the final 10km lap, sealing her win with a time of 2:24.23.
Gebreslase secured the silver with a close 2:24.34, while Morocco's Fatima Gardadi made history by bagging the bronze, marking Morocco's inaugural medal in this event at the world track and field championships.
It was hot from early for the women's marathon race in Budapest
The day began with the marathon runners facing a challenging environment, with the sun blazing down early despite the early 7:00 a.m. start locally. The initial stages of the race were marked by a cautious pace, but a group of six athletes eventually pulled ahead.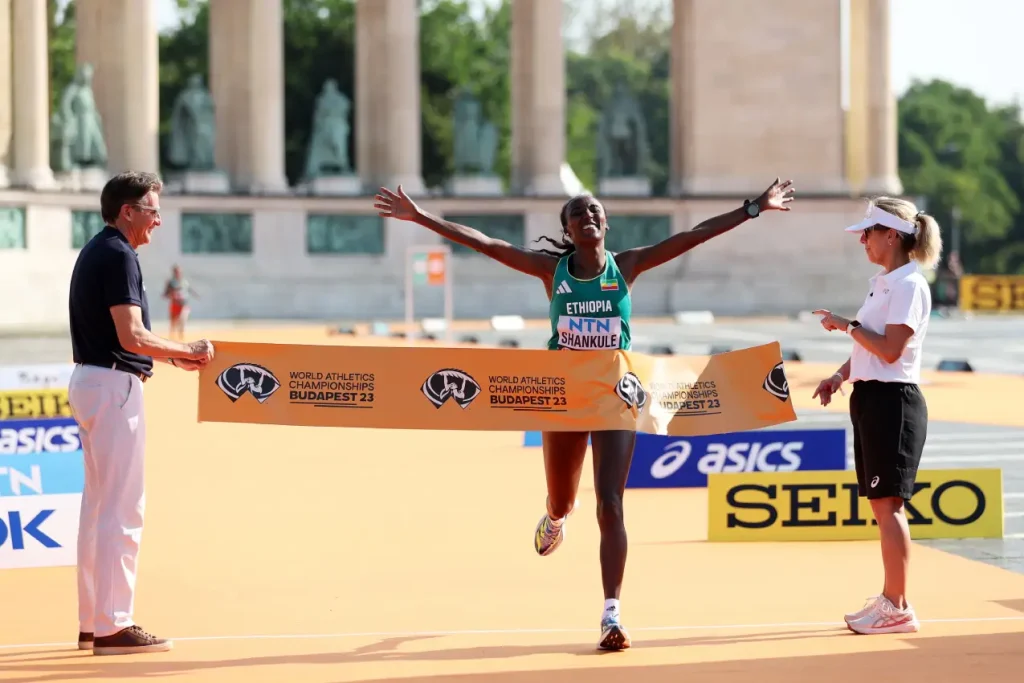 The Ethiopian quartet then collaborated, strategizing their move in the last lap. Beriso's decisive break from the pack showcased her strength, leaving a significant gap between her and the trailing Yehualaw.
While Gebreslase managed to reclaim her second position, Yehualaw's energy waned, allowing Gardadi to overtake.
Beriso Shankule's victory at Budapest 2023 is the latest feather in her cap, following her remarkable performance in Valencia where she shaved nearly six minutes off her personal best.
Victory was a team strategy – Beriso Shankule
Reflecting on the race, Beriso Shankule commented on the team's strategy, "We knew if we worked together we could get a better result, and we worked well as a team today."
She expressed her contentment with Ethiopia securing both gold and silver, emphasizing the nation's consistency of producing gold medal winners and podium finishers at major championships.
Israel's Lonah Chemtai Salpeter, who won bronze last summer at the Oregon 2022 World Athletics Championships, is fourth in 2:25:38 a year later, and Yehualaw is fifth in 2:26:13.
The first US runner to cross the finish line today is Lindsay Flanagan in ninth with 2:27:47, while compatriots Keira D'Amato took 17th in 2:31:25 and Susanna Sullivan finished 58th in 2:44:24.
Meanwhile, the men's marathon on the last day at the world track and field championships is slated for Sunday, with predictions of another scorching day.
Adjustments have also been made to the mass participation 10km race, reducing it to 5km due to the anticipated heat.
PHOTO: Amane Beriso Shankule wins the women's marathon world title at the world track and field championships. Photo: Getty Images for World Athletics
For more results and updates – visit the World Athletics website
For more World Athletics Championships 2023 news and results – visit our homepage