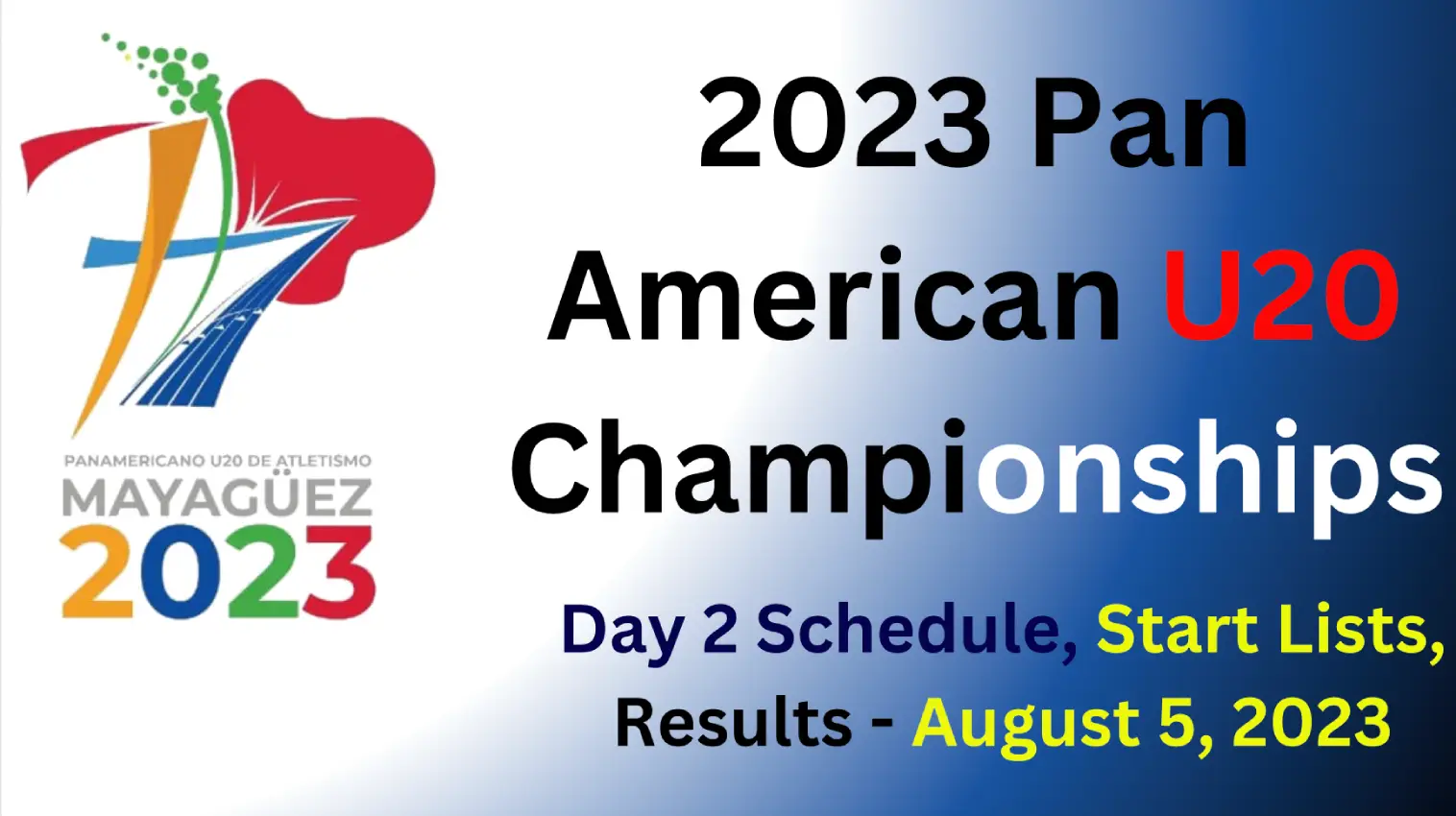 The 2023 Pan American U20 Championships track and field schedule continues with another exciting schedule on Saturday, and you can watch the live broadcast of the second-day morning session on the Departamento de Recreación y Deportes de PR YouTube Channel. Today's schedule will feature both the Decathlon and the Heptathlon competitions.
Day Two competition will start at 6:30 a.m. ET with the men's 10,0000m Race Walk, and you can watch the live streaming for free as the battle for podium places resumes today. –
Please note that because of a weather delay, due a thunderstorm in the area, the schedule of events have been adjusted. Also the live stream from the link below is also experiencing buffering.
Watch Live Streaming Broadcast of the 2023 Pan Am U20 Championships. – Day 2
The second-day live stream will get underway at 6:30 a.m. before the focus turns the track at 8:45 a.m. with the heats of the men's 110m hurdles and the women's 100m hurdles. The heats of the men's 400m will start at 10:00 a.m.
Read more: Evening Session Day 1: Pan American U20 Championships Results
Meanwhile, the field event competition at the 2023 Pan American U20 Championships during the track and field schedule will start at 2:00 p.m. ET with the men's Discus Throw final.
Also on the schedule today are the combined events. The men's Decathlon competition will resume with the remaining five events today, while the women's Heptathlon will begin this morning and will feature four of the seven events.
2023 Pan American U20 Championships Day 2 Track and Field Schedule, Live Results, and Start Lists
Men Decathlon
| Day  | Start Time  | Event  | Status  |
| --- | --- | --- | --- |
| Friday  | 8:30 AM  | Mens Decathlon Standings  | Standings |
| Friday  | 8:30 AM  | Mens Decathlon 100 Dash  | Results  |
| Friday  | 9:32 AM  | Men Decathlon Shot Put  | Results  |
| Friday  | 10:50 AM  | Men Decathlon High Jump  | Results  |
| Friday  | 5:45 PM  | Men Decathlon 110 Hurdles  | Results  |
| Friday  | 8:00 PM  | Mens Decathlon 400 Dash  | Results  |
| Saturday  | 8:30 AM  | Men Decathlon Pole Vault  | Results  |
| Saturday  | 9:30 AM  | Men Decathlon Discus Throw  | Results  |
| Saturday  | 11:00 AM  | Men Decathlon Discus Throw  | Results  |
| Saturday  | 4:30 PM  | Men Decathlon Long Jump  | Results |
| Saturday  | 6:20 PM  | Men Decathlon 1500 Run  | Results |
Womens Heptathlon
| Day  | Start Time  | Event  | Status  |
| --- | --- | --- | --- |
| Saturday  | 9:05 AM  | Women Heptathlon Standings | Standings |
| Saturday  | 9:05 AM  | Women Heptathlon 100 Hurdles  | Results |
| Saturday  | 9:45 AM  | Women Heptathlon High Jump  | Results |
| Saturday  | 3:00 PM  | Women Heptathlon Shot Put  | Results |
| Saturday  | 5:10 PM  | Women Heptathlon 200 Dash  | Results |
| Sunday  | 8:30 AM  | Women Heptathlon Long Jump  | Results  |
| Sunday  | 10:40 AM  | Women Heptathlon Javelin Throw  | Results |
| Sunday  | 4:30 PM  | Women Heptathlon 800 Run  | Results |