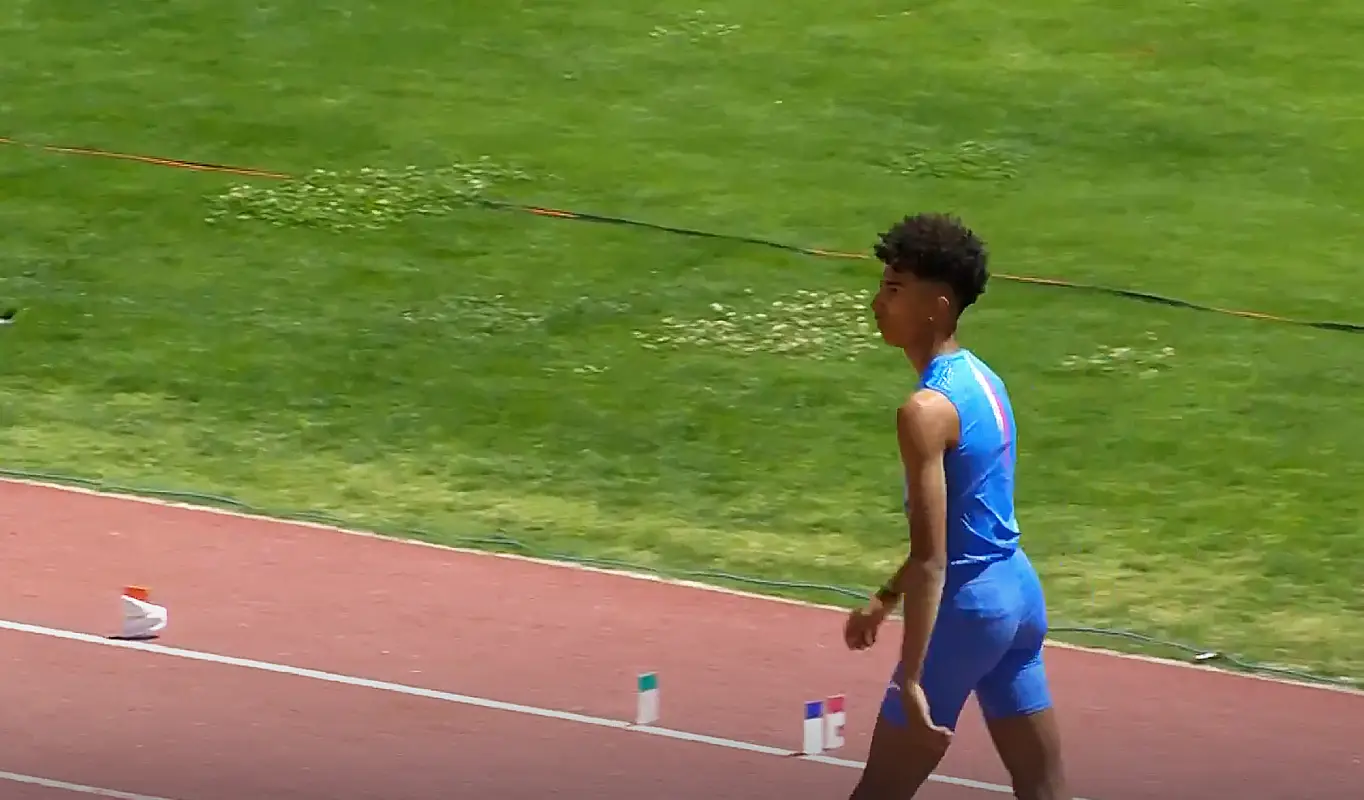 The 2023 European Athletics U20 Championships results from the morning session on Monday morning at the Givat Ram Stadium in Jerusalem, Israel. Several top athletes, including Angelina Topic and Mattia Furlani, made their marks in the early session en route to advancing to the final in their respective events.
Angelina Topic, who is seeking to win a never-before long jump and high jump double, cleared 1.83m to qualify for the final of the latter event this morning and revealed afterwards that she's feeling "better than ever."
Read more: Day 1: European U20 Track and Field Championships, stream, live results, start lists
Meanwhile, Mattia Furlani, who has decided to compete in only the long jump at the 2023 European Athletics U20 Championships, rather than chasing the high jump crown as well, as he did at the European Athletics U18 Championships, also easily made progress to the former this morning with a comfortable 8.07m in qualifications.
2023 European Athletics U20 Championships results Day 1 Morning Session
Men's 400m
Heat 1
PLACE NAME NAT. MARK
1 Lukas SUTKUS LTU 46.63
2 Jónas GUNNLEIVSSON ISAKSEN DEN 46.75
3 Noam MAMU ISR 47.20
4 Louis QUARATA GER 47.33
5 Sergio PLATA ESP 47.76
6 Jeroen PERSSON SWE 48.67
7 Franklin HENRY SVK 48.90
8 David PRONK NED 49.10
Heat 2
PLACE NAME NAT. MARK
1 Charlie CARVELL GBR 45.92
2 David GARCÍA ESP 46.17
3 Matteo DI BENEDETTO ITA 46.41
4 Árpád KOVÁCS HUN 47.18
5 Tomáš GRAJCARÍK SVK 47.37
6 Alessandro GRECO AUT 47.4
7 Mustafa ÇİNPOLAT TUR 47.82
8 Viggo TIJBOSCH NED 48.98
Heat 3
PLACE NAME NAT. MARK
1 Maksymilian SZWED POL 46.40
2 Marko OREŠKOVIĆ CRO 47.07
3 Bastian ELNAN AURSTAD NOR 47.26
4 Ondřej LOUPAL CZE 47.77
5 Killian MERSSEMAN BEL 47.94
6 Simone GILIBERTO ITA 48.06
7 Ognen STEFANOVSKI MKD 48.85
8 Matas JANARAUSKAS LTU 49.45
Men's 3000m
Heat 1
PLACE NAME NAT. MARK
1 Andreas FJELD HALVORSEN NOR 8:32.20
2 Nicholas GRIGGS IRL 8:32.22
3 Jonathan GRAHN SWE 8:32.25
4 Alessandro MOROTTI ITA 8:32.61
5 Pedro VAZQUEZ ESP 8:32.76
6 Edward BIRD GBR 8:32.91
7 Suleyman YALAOUI FRA 8:32.97
8 Mathis LIEVENS BEL 8:33.81
9 Aldin ĆATOVIĆ SRB 8:35.49
10 Timo HINTERNDORFER AUT 8:38.37
11 Jack FENLON IRL 8:40.24
12 Dragoș Luca POP ROU 8:41.54
13 Kiyasettin KARA TUR 8:48.81
14 Moritz KLEESIEK GER 8:58.92
15 Carlos ZARATE ESP 9:01.92
Heat 2
PLACE NAME NAT. MARK
1 Emmanouil-Georgios SGOUROS GRE 8:20.39
2 Bradley GIBLIN GBR 8:20.47
3 Kamil HERZYK POL 8:21.01
4 Håkon MOE BERG NOR 8:22.05
5 Juan ZIJDERLAAN NED 8:22.40
6 Karl OTTFALK SWE 8:22.74
7 Aleix VIVES ESP 8:24.60
8 Dafydd JONES GBR 8:25.18
9 João SANTOS POR 8:29.15
10 Simon JEUKENNE BEL 8:30.42
11 Andrea RIBATTI ITA 8:30.43
12 Utku GÖLER TUR 8:32.72
13 Eliah RIECK GER 8:42.13
14 Jakob DIETERICH GER 8:56.70
Niall MURPHY IRL DQ
Men's Pole Vault
Qualification 1
PLACE NAME NAT. MARK
1 Valentin IMSAND SUI 5.15 meters
1 Federico BONANNI ITA 5.15
3 William ASKER SWE 5.05
4 Hendrik MÜLLER GER 5.05
4 Mario HAJZLER CZE 5.05
4 Philip Andreas KUBON NOR 5.05
7 Gabin MATHE FRA 5.05
8 Victor LEON ESP 5.05
9 Rodrigo ALCOBIA POR 5.05
10 Ladislav SEDLÁČEK CZE 5.05
11 Marec METZGER GER 4.85
11 Alexander AUER AUT 4.85
11 Karl Kristjan POHLAK EST 4.85
14 Luka ZUPANC SLO 4.85
15 Constantinos PROKOPIOU CYP 4.65
Illia BOBROVNYK UKR NM
Pavlos KRIARAS GRE NM
Qualification 2
PLACE NAME NAT. MARK
1 Michał GAWENDA POL 5.15 meters
1 Lazarus BENJAMIN GBR 5.15
1 Simone BERTELLI ITA 5.15
4 Justin FOURNIER SUI 5.15
5 Linus JÖNSSON SWE 5.15
6 Robert KOMPUS EST 5.15
7 Erdem TILKI TUR 5.05
8 Remi FILHON FRA 5.05
9 Jan KRČEK CZE 5.05
10 Martí SERRA ESP 5.05
11 Hendrik HOHMANN GER 5.05
12 Maj BIZJAK SLO 4.85
12 Viktor RAHM SWE 4.85
14 Georgios PAPANASTASIOU GRE 4.85
15 Dimitris CHRISTOFI CYP 4.65
Mathis PROD HOMME FRA NM
Men's Long Jump
Qualification 1
PLACE NAME NAT. MARK WIND
1 Kasperi VEHMAA FIN 7.72 meters 1.6
2 Luka ĆURKOVIĆ CRO 7.67 1.4
3 Sebastian BERNTSEN NOR 7.63 1.8
4 Noah FISCHER GER 7.61 2.4
5 Christos CHITAS GRE 7.60 1
6 Danylo DUBYNA UKR 7.55 1
7 Eden SELA ISR 7.46 0.5
8 Jeremy ZAMMIT MLT 7.39 1.8
9 Andrei Vlad ENACHE ROU 7.36 -0.1
10 Krzysztof GROCHOWSKI POL 7.24 1.7
11 Louis ODIN FRA 7.23 -1.5
12 Mattia BENENTE ITA 7.00 2.6
Qualification 2
PLACE NAME NAT. MARK WIND
1 Mattia FURLANI ITA 8.07 meters 0.6
2 Bozhidar SARÂBOYUKOV BUL 7.87 0.3
3 Nicolas BERSIER SUI 7.76 1.3
4 Elad ADIKA ISR 7.69 2.8
5 Nikita MASLIUK UKR 7.69 1.4
6 Mathis VAITULUKINA FRA 7.61 2
7 Francesco Ettore INZOLI ITA 7.59 2.8
8 Michal BAČÍK SVK 7.28 0.3
9 Kristóf BÁNÓCZI HUN 7.28 0.8
10 Antreas MACHALLEKIDES CYP 7.27 -0.2
11 Matyáš VANĚK CZE 7.21 -0.5
12 Kasgin ABBASZADE AZE 6.47 1.4
Women's 400m
Heat 1
PLACE NAME NAT. MARK
1 Karolina ZBIČAJNIK SLO 53.88
2 Ashley NEMITS GBR 53.95
3 Dominika DURAJ POL 54.13
4 Nicole MILIĆ CRO 54.43
5 Niamh MURRAY IRL 54.75
6 Kateřina MATOUŠKOVÁ CZE 54.79
7 Clarissa VIANELLI ITA 55.13
Heat 2
PLACE NAME NAT. MARK
1 Lurdes Gloria MANUEL CZE 53.15
2 Ana PRIETO ESP 53.52
3 Alexe DEAU FRA 53.66
4 Michelle LIEM SUI 53.74
5 Madelief VAN LEUR NED 54.76
6 Borghild Oline HOLSTAD NOR 55.41
7 Leonor FERREIRA POR 56.02
Heat 3
PLACE NAME NAT. MARK
1 Myrte VAN DER SCHOOT NED 54.3
2 Anna HENSE GER 54.36
3 Nadiia STETSIUK UKR 54.48
4 Valentina VACCARI ITA 54.94
5 Lenka GYMERSKÁ SVK 55.02
6 Maria Denisa CAPOTA ROU 55.11
7 Charlotte KELSEY GBR 55.63
Heat 4
PLACE NAME NAT. MARK
1 Britt DE BLAAUW NED 53.91
2 Eda Nur TULUM TUR 54.22
3 Maja SCHORR GER 54.25
4 Karolína MITANOVÁ CZE 54.63
5 Nancy DEMATTE ITA 55.11
6 Shani ZAKAY ISR 56.69
Women's 3000m Steeplechase
Heat 1
PLACE NAME NAT. MARK
1 Mejra MEHMEDOVIĆ SRB 10:26.54
2 Carolin HINRICHS GER 10:28.11
3 Merve KARAKAYA TUR 10:28.22
4 Karolína JAROŠOVÁ CZE 10:30.55
5 Ebba CRONHOLM SWE 10:33.30
6 Margot DAJOUX FRA 10:33.82
7 Hattie REYNOLDS GBR 10:38.13
8 Thea Charlotte KNUTSEN NOR 10:40.68
9 Redia DAUTI ALB 10:43.78
10 Rhune VANROOSE BEL 10:54.93
11 Miina KILPELÄINEN FIN 11:01.63
Heat 2
PLACE NAME NAT. MARK
1 Mihaela BLAGA ROU 10:32.80
2 Vasiliki KALLIMOGIANNI GRE 10:33.16
3 Adia BUDDE GER 10:33.96
4 Julia RATH GER 10:34.01
5 Lowa BRANTH SWE 10:38.30
6 Martyna KRAWCZYŃSKA POL 10:38.93
7 Radana LAPÁČKOVÁ CZE 10:40.44
8 Sini-Sofia RAJANIEMI FIN 10:44.76
9 Giulia BERNINI ITA 10:54.54
10 Maiken Homlung PRØITZ NOR 10:59.01
Women's High Jump
Qualification 1
PLACE NAME NAT. MARK
1 Johanna GÖRING GER 1.83 meters
2 Elisabeth PIHELA EST 1.83
3 Lilianna BÁTORI HUN 1.80
4 Engla NILSSON SWE 1.80
5 Aurora VICINI ITA 1.80
6 Gabriela SANZ ESP 1.77
7 Birta María HARALDSDÓTTIR ISL 1.77
8 Nikoleta MICHAILIDOU GRE 1.72
8 Gabriela LIMINOVIČ LTU 1.72
8 Halle FERGUSON GBR 1.72
11 Meike HAIDUK GER 1.72
12 Emilia TWARDOWSKA POL 1.72
13 Zorana ROKAVEC SRB 1.67
Qualification 2
PLACE NAME NAT. MARK
1 Angelina TOPIĆ SRB 1.83 meters
2 Joana HERRMANN GER 1.83
3 Merel MAES BEL 1.83
4 Ela VELEPEC SLO 1.83
5 Celia RIFATERRA ESP 1.83
6 Gabrielle GARBER GBR 1.8
7 Maryna KOVTUNOVA UKR 1.8
7 Ava ROCHFORD IRL 1.8
9 Patrīcija JANSONE LAT 1.72
9 Iren SARÂBOYUKOVA BUL 1.72
11 Alvah LIND SWE 1.72
12 Maja SŁODZIŃSKA POL 1.67
Women's Hammer Throw
Qualification 1
PLACE NAME NAT. MARK
1 Valentina SAVVA CYP 64.48 meters
2 Jázmin CSATÁRI HUN 62.54
3 Villő VISZKELETI HUN 60.33
4 Lara HUNDERTMARK GER 60.27
5 Valeriia DMYTROVSKA UKR 59.33
6 Florella FREYCHE FRA 58.36
7 Weronika KANIOWSKA POL 58.00
8 Saga BERG SWE 57.73
9 Giulia ROSSI ITA 55.44
10 Márcia MAKETA POR 54.77
11 Afroditi TZATZIMAKI GRE 54.63
12 Emmi MÄKÄLÄINEN FIN 54.39
Qualification 2
PLACE NAME NAT. MARK
1 Audrey JACOBS NED 63.35 meters
2 Jada JULIEN GER 61.33
3 Nova KIENAST GER 59.16
4 Maria DUSZKIEWICZ POL 58.45
5 Emilia KOLOKOTRONI CYP 58.18
6 Lili ZIMMERMANN HUN 57.74
7 Lucija PENDIĆ CRO 57.66
8 Charlotta SANDKULLA FIN 56.82
9 Taru KILLINEN FIN 56.15
10 Linda HEDLUND SWE 51.69
11 Hira ÖZTOPRAK TUR 48.82
Keren MBONGO ITA NM
Combined Events – D
Women's 100m Hurdles
Combined 1, Wind: +1.5
PLACE NAME NAT. MARK POINTS
1 Kajsa ZIMMERMANN GER 14.02 976
2 Betty JENSEN DEN 14.05 971
3 Gerda Kerija DREIMANE LAT 14.23 946
4 Paulina KUBIS POL 14.26 942
5 Sophie KREINER AUT 14.36 928
6 Sennah VANHOEIJEN BEL 14.39 924
7 Jamila ISMAN NOR 14.45 916
Combined 2, Wind: +0.5
PLACE NAME NAT. MARK POINTS
1 Sandrina SPRENGEL GER 13.75 1014
2 Maeva BASTIEN FRA 13.84 1001
3 Melissa WULLSCHLEGER SUI 13.95 985
3 Liana TRÜMPI SUI 13.95 985
5 Linnéa SVANHALL SWE 14.37 927
6 Shantell KWOFIE NED 14.45 916
Combined 3, Wind: +1.0
PLACE NAME NAT. MARK POINTS
1 Jana KOŠČAK CRO 13.37 1069
2 Adéla TKÁČOVÁ CZE 13.69 1023
3 Sofia COSCULLUELA ESP 13.7 1021
4 Linda BICHSEL SUI 13.77 1011
5 Pia MEßING GER 13.79 1008
6 Liisa-Maria LUSTI EST 13.88 995
Combined Events – D
Women's High Jump
Combined 1
PLACE NAME NAT. MARK POINTS
1 Sennah VANHOEIJEN BEL 1.68 meters 830
2 Linnéa SVANHALL SWE 1.65 795
2 Adéla TKÁČOVÁ CZE 1.65 795
4 Kajsa ZIMMERMANN GER 1.62 759
5 Jamila ISMAN NOR 1.62 759
6 Melissa WULLSCHLEGER SUI 1.62 759
7 Liana TRÜMPI SUI 1.59 724
8 Shantell KWOFIE NED 1.59 724
9 Sofia COSCULLUELA ESP 1.53 655
10 Betty JENSEN DEN 1.50 621
Combined 2
PLACE NAME NAT. MARK POINTS
1 Jana KOŠČAK CRO 1.86 1054
2 Sandrina SPRENGEL GER 1.83 1016
3 Liisa-Maria LUSTI EST 1.80 978
4 Paulina KUBIS POL 1.77 941
5 Sophie KREINER AUT 1.74 903
6 Pia MEßING GER 1.71 867
7 Linda BICHSEL SUI 1.71 867
8 Maeva BASTIEN FRA 1.71 867
9 Gerda Kerija DREIMANE LAT 1.71 867