By David Monti, @d9monti
(c) 2023 Race Results Weekly, all rights reserved

BUDAPEST (26-Aug) — On a day better suited for sunbathing and a dip in the pool, Ethiopia's Amane Beriso Shankule overcame both the heat and a stacked field to win the 2023 World Athletics Championships women's marathon title at Heroes' Square this morning.
How much money did Amane Beriso Shankule earn for women's marathon win?
Amane Beriso Shankule earned USD $70,000 in prize money for her victory, but would surely earn an additional bonus from her kit sponsor, adidas.
Read more: Revealed: 2023 World Athletics Championships prize money
Among 78 women from 47 countries who started today's race at 7:00 a.m., the 31-year-old Beriso was fastest in 2:24:23, a strong time given that race temperatures rose to the mid-80's Fahrenheit (high 20's Celsius) accompanied by high humidity. 
For Beriso it was her first global title in her first appearance at a World Athletics Championships.
"It's simple; it makes me very happy," Beriso told reporters through a translator.  She continued: "You always have to be blessed by God. 
"I wished (to win), I trained very hard, but only God can make it happen.  So, God helped me and I'm here."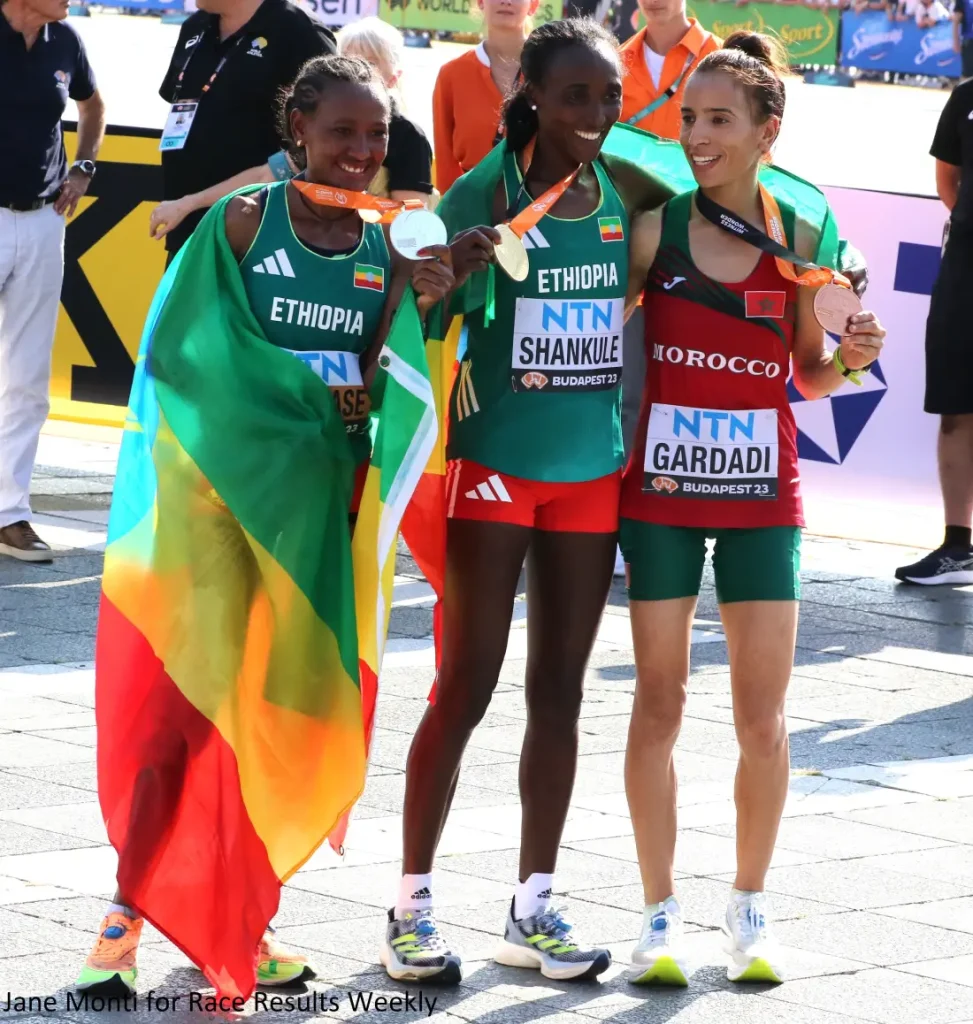 Beriso was part of a superb Ethiopian team which controlled today's race completely.  The team leader was Gotytom Gebreslase, the reigning world champion, and the other two were Tsehay Gemechu, the second place finisher at this year's Tokyo Marathon, and Yalemzerf Yehualaw, the fifth place finisher from the TCS London Marathon last April. 
The foursome were part of a 26-woman lead pack at halfway (1:14:29) which was led by former USA record holder Keira D'Amato.
Read more: Patrick Kipngeno repeats at the 2023 World Mountain and Trail Running Championships
"I felt really smooth in the first half," said D'Amato, who later in the race felt a pinch in the top of her right thigh just below where her hip flexes. Having trouble moving her leg, she struggled to finish and ended up 17th in 2:31:35.
"I felt like I just couldn't pick up my right leg, so it was tough," the USA half-marathon record holder continued.  "So it came down to, should I stop? 
"No, I'm not going to stop.  If I can keep moving, I'm going to keep moving, just knowing my kids are watching.  It's like, you're fighting for something else at that point."
Beriso among the early leaders in the race
Beriso was the leader at 25 km (1:27:51) and her three teammates were still with her, plus other medal favorites like Kenya's Rosemary Wanjiru and Selly Chepyego Kaptich, Israel's Lonah Chemtai Salpeter, and Eritrea's Nazret Weldu.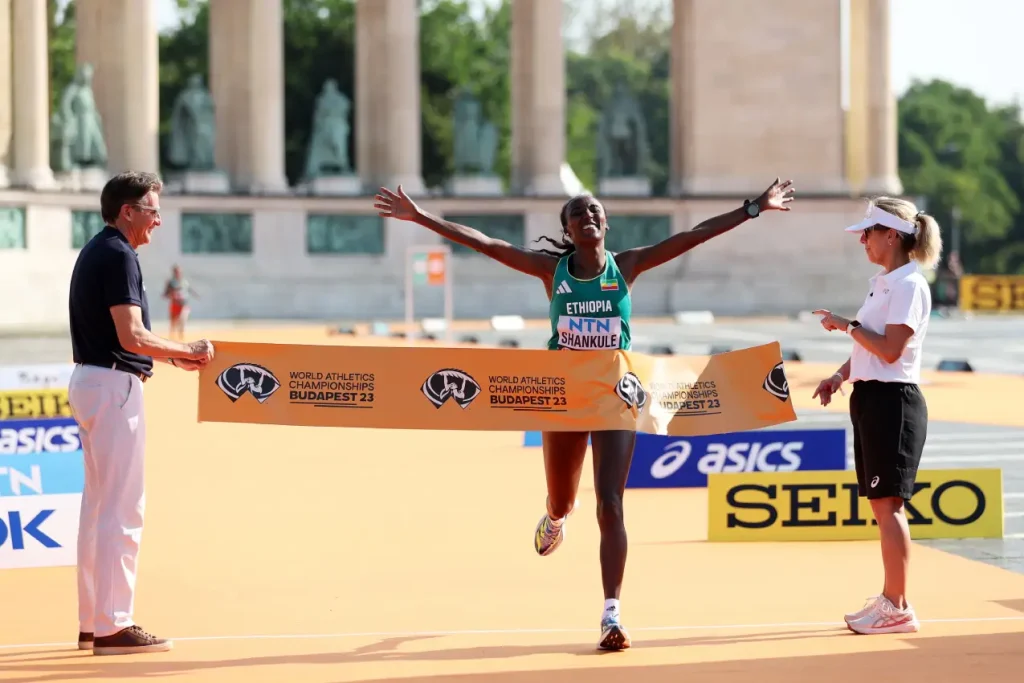 Unheralded Moroccan Fatima Ezzahra Gardadi, ranked only 159th in the world by World Athletics, was also among the leaders.
The pace got a lot faster over the next five kilometers, dipping down to 16:35 for that split (3:19/km).  That brought the lead group down to just nine, with all four Ethiopians still in the mix.  But in the 34th kilometer Gemechu abruptly dropped out, seen limping at the side of the road. 
That's not surprising because the 5-kilometer segment through 35 km went in 16:09 (3:14/km).  That left only Beriso, Gebreslase and Yehualaw in the lead group. 
Salpeter was 21 seconds behind, and Gardadi another four seconds behind Salpeter.  Beriso knew that if she wanted to get the win she would have to move soon.
"I saw that the race was very tight and it was getting slow," Beriso explained.  "My coach from the side is telling me to break away, not just me but all of us to move forward as a team.  That's why I just broke out."
A 3:11 38th kilometer was enough to give Beriso a 17 second lead over Yehualaw and Gebreslase.  Gardadi was in fourth, but she was more than half a minute behind the two Ethiopians battling for silver that she seemed to be out of the medal picture.
Beriso takes control of the women's marathon
From there, Beriso was never challenged and cruised in for the win.  She said that the hot weather wasn't that bad for her.
"It's very hot; we know that," she said.  "But for me I don't think it's very difficult."
It was a different situation for Yehualaw who was visibly suffering.  In the 39th kilometer she was passed by Gebreslase who would go on to take the silver medal in 2:24:34.  Although she did not win gold for the second time, she was pleased with her result.
"I'm happy," Gebreslase said.  She added: "It's a competition. Sometimes you win, sometimes you lose.  So, I'm very happy I get this place."
For Yehualaw things got worse.  She had a 20-second cushion on Gardadi at 40 km, but just one kilometer later Gardadi was ahead of the Ethiopian by 12 seconds.
She went on to get the bronze medal in 2:25:17 becoming the first Moroccan woman to win a medal in a World Athletics Championships marathon.  
Salpeter, the bronze medalist from the Eugene world championships a year ago, also passed Yehualaw to take fourth in 2:25:38; Yehualaw got fifth in 2:26:13.
USA finishers at the World Athletics Championships women's marathon
Lindsay Flanagan of the USA recorded the best performance by an athlete from the Americas, finishing ninth in 2:27:47. Interestingly, she was in the same position at halfway, but had fallen back to 15th place at 25 km before battling back to return to the top-10.
Although she thought she was running at a level pace, she actually pulled off a significant negative split, recording halves of 1:14:30 and 1:13:17, respectively.
"I just kept saying, run steady, do not surge," Flanagan told reporters.  "I don't know if I sped up or slowed down, but I think I just stayed pretty even."  She added: "I'm really happy with it."  
Forty-one year-old Tasha Wodak was the top Canadian in 15th place (2:30:09), and 44 year-old Australian Lisa Weightman –the oldest woman in the field– finished 16th in 2:30:50.