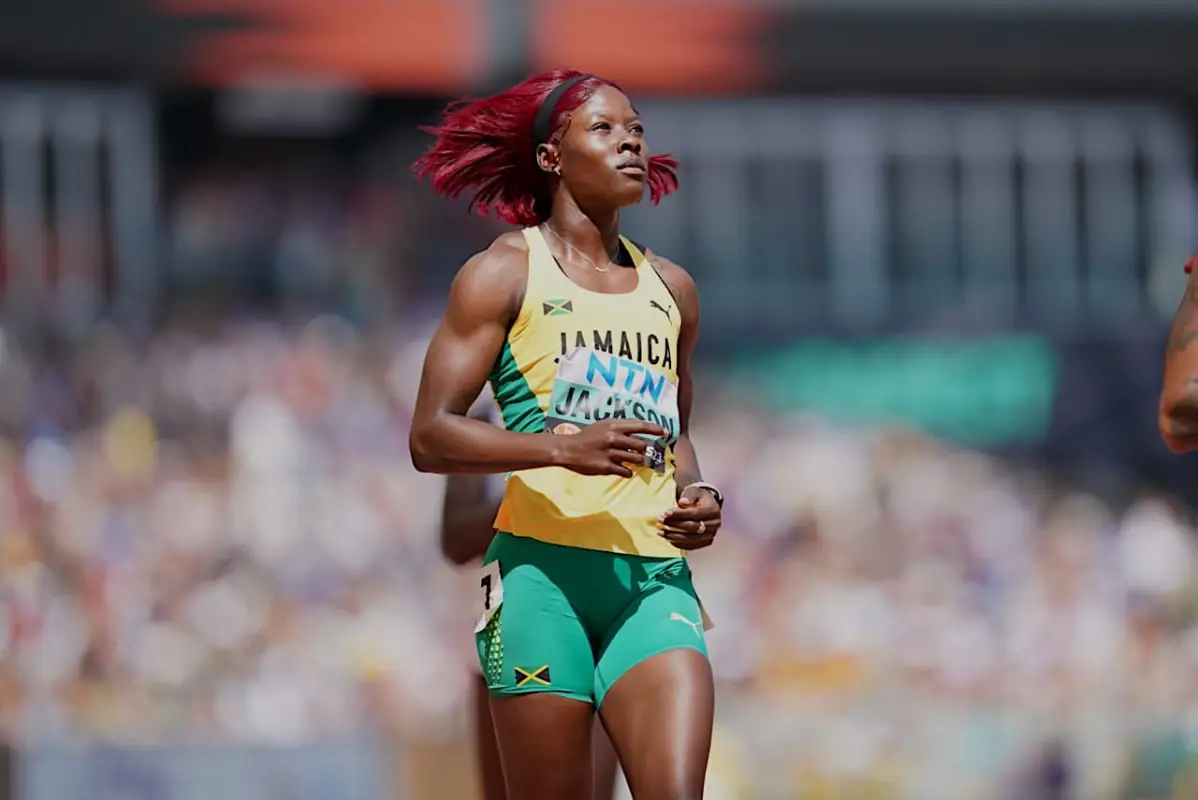 BUDAPEST, Hungary (August 24) — Thursday evening at the 2023 World Athletics Championships promises a thrilling women's 200m semifinal, with top contenders Shericka Jackson and Sha'Carri Richardson, in addition to Marie-Josée Ta Lou, set to compete in a highly anticipated heat.
Richardson, fresh off her 100m victory, advanced to the semifinals posting the day's quickest time of 21.94 seconds. Close on her heels was Ta Lou from the Ivory Coast. Meanwhile, Jamaica's reigning champion, Jackson, effortlessly secured her spot with a time of 22.51 seconds.
Read more: How to watch Day 6: World Track and Field Championships, live results, start lists
These three powerhouses, who previously went head-to-head in the 100m semifinals, are poised for another electrifying showdown in the third semifinal of the women's 200m. Their aim? To secure an advantageous lane in the final.
In other matchups, Gabby Thomas, the current world-leader and U.S. champion, will compete in the first semifinal. She'll be challenged by the likes of Dina Asher-Smith from Great Britain, Maboundou Koné of the Ivory Coast, and Jamaica's Natalliah Whyte.
The second semifinal showcases Caribbean standouts Anthonique Strachan of the Bahamas and St. Lucia's Julien Alfred. They'll be racing against Kayla White from the USA and Daryll Neita of Great Britain.
Fans can catch the women's 200m semifinal heats, scheduled to commence at 1:45 p.m. ET.
Semi-finals of the Women's 200m:
Heat 1 – 24 August 2023, 19:45
Dalia Kaddari (ITA) – PB: 22.64, SB: 22.67
Polyniki Emmanouilidou (GRE) – PB: 22.85, SB: 22.85
Olivia Fotopoulou (CYP) – PB: 22.65, SB: 22.65
Maboundou Koné (CIV) – PB: 22.53, SB: 22.53
Dina Asher-Smith (GBR) – PB: 21.88, SB: 22.23
Natalliah Whyte (JAM) – PB: 22.39, SB: 22.39
Gabrielle Thomas (USA) – PB: 21.60, SB: 21.60
Tasa Jiya (NED) – PB: 22.77, SB: 22.77
Heat 2 – 24 August 2023, 19:54
Adaejah Hodge (IVB) – PB: 22.33, SB: 22.33
Krystsina Tsimanouskaya (POL) – PB: 22.75, SB: 22.75
Kevona Davis (JAM) – PB: 22.26, SB: 22.33
Jessika Gbai (CIV) – PB: 22.43, SB: 22.43
Julien Alfred (LCA) – PB: 21.91, SB: 21.91
Anthonique Strachan (BAH) – PB: 22.15, SB: 22.15
Daryll Neita (GBR) – PB: 22.23, SB: 22.23
Kayla White (USA) – PB: 22.01, SB: 22.01
Heat 3 – 24 August 2023, 20:03
Favour Ofili (NGR) – PB: 21.96, SB: 22.11
Gina Bass (GAM) – PB: 22.58, SB: 22.75
Jaël Bestué (ESP) – PB: 22.54, SB: 22.54
Bianca Williams (GBR) – PB: 22.58, SB: 22.59
Marie-Josée Ta Lou (CIV) – PB: 22.08, SB: 22.26
Shericka Jackson (JAM) – PB: 21.45, SB: 21.71
Sha'Carri Richardson (USA) – PB: 21.94, SB: 21.94
Veronica Shanti Pereira (SGP) – PB: 22.57, SB: 22.57