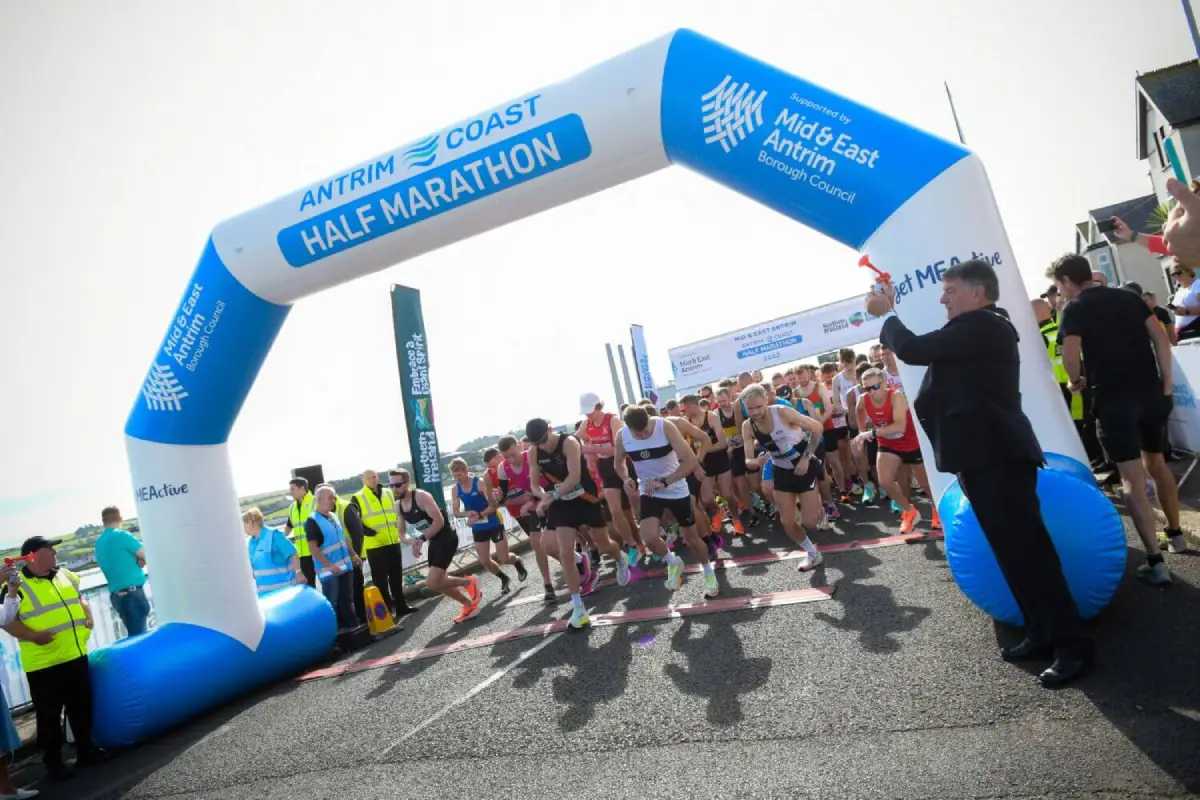 The 2023 Antrim Coast Half Marathon elite race is on Sunday, 27 August, and you can watch the event live broadcast on BBC iPlayer or via the red button. For those who are unable to watch the live stream, you can follow live results on the Antrim Coast Half Marathon official website.
The Clearer Water Antrim Coast course is both flat and fast and provides the perfect opportunity for Elite runners to produce some fast times in what is expected to be relatively cool conditions on Sunday morning, with the race scheduled to start at 09:30 BST.
Watch Live Stream on BBC Sports Website (up IP address is required)
Read more: When is the world championships men's marathon and how to watch it live?
The Clearer Water Antrim Coast Half Marathon 2023 has been approved by World Athletics as an Elite Event, and the race is one of the fastest half marathons in the world!
Kicking off from the beginning of the iconic Antrim Coast Road, the course moves into Larne Harbour and through Larne town before advancing onto the world-famous Antrim Coast Road.
Ethiopia's Jemal Yimer, who won the men's Elite race last year, is among the leading contenders returning to battle for the crown this year.
On the women's side, another Ethiopian runner, Genzebe Dibaba, is expected to be among the front runners for the title today, with compatriot Degitu Azimeraw and Kenya's Evaline Chirchir also competing this weekend.
The 2023 Antrim Coast Half Marathon Elite race start list
Men's Elite:
Shadrack Kimining (KEN) – 10km: 28:08, HM: 59:27
Daniel Mateiko (KEN) – HM: 58:26
Jemal Yimer (ETH) – 10km: 26:54, HM: 58:33, Mar: 2:08:58
Birhanu Legese (ETH) – HM: 58:59, Mar: 2:02:48
Nibret Melak (ETH) – HM: 59:06
Huseydin Mohamed (ETH) – HM: 59:32, Mar: 2:05:05
Erick Sang (KEN) – HM: 59:50
Tsegay Kidanu (ETH) – 10km: 27:14, HM: 59:52
Hicham Amghar (MOR) – HM: 59:53
Callum Hawkins (SCO) – 10km: 28:49, HM: 60:00, Mar: 2:08:14
Women's Elite:
Bjorn Koreman (Pace, NED) – HM: 62:45, Mar: 2:10:45
Luuk Maas (Pace, NED) – HM: 63:31, Mar: 2:13:35
Genzebe Dibaba (ETH) – 10km: 31:02, HM: 65:18, Mar: 2:18:05
Zeineba Yimer (ETH) – HM: 65:39, Mar: 2:19:28
Evaline Chirchir (KEN) – 10km: 30:43, HM: 66:01
Degitu Azimeraw (ETH) – HM: 66:07, Mar: 2:17:58
Aoife Cooke (IRL) – HM: 71:06
Jacqueline Gaughan (ENG) – HM: 71:17
Mhairi Maclennan (ENG) – HM: 71:37
Ann-Marie McGlynn (NIR) – 10km: 32:43, HM: 71:40, Mar: 2:29:34