BUDAPEST, Hungary (August 23) — Norway's Karsten Warholm didn't run the perfect race, but was still much better than his rivals in the men's 400m hurdles, clinching his third world title at the 2023 World Athletics Championships here in Budapest, on Wednesday.
The Olympic gold medalist and world record holder, powered down the final straight to deliver a time of 46.89 seconds, holding off Commonwealth Games champion, Kyron McMaster of the British Virgin Islands, who secured silver with 47.34 seconds, following a strong finish.
"It feels incredibly good to have the gold around my neck again," Warholm told Norwegian broadcaster NRK. "I fought all I could in the last 100 metres."
Read more: Lyles, Hughes, Tebogo among men's 200m top qualifiers
Meanwhile, McMaster, winning the first-ever world track and field championships medal for the British Virgin Islands, was equally as delighted with his silver medal.
"This means the world to my country – I have been chasing this medal since 2017," McMaster said. "For so many years, I have been chasing a medal, but (it is) not the ultimate medal, because that is a gold."
The bronze went to American champion Rai Benjamin, finishing in 47.56 seconds. He had previously finished with silvers in 2022 world track and field championships in Oregon and at the Tokyo Olympics in 2021.
"I do not know what happened. I am proud of myself but I just wanted more. I want to prove I have it in me," Benjamin said.
"It has been a very tough season, dealing with a quadriceps injury, a lot of changes, a lot of distractions. I lost a close friend of mine. It was just tough."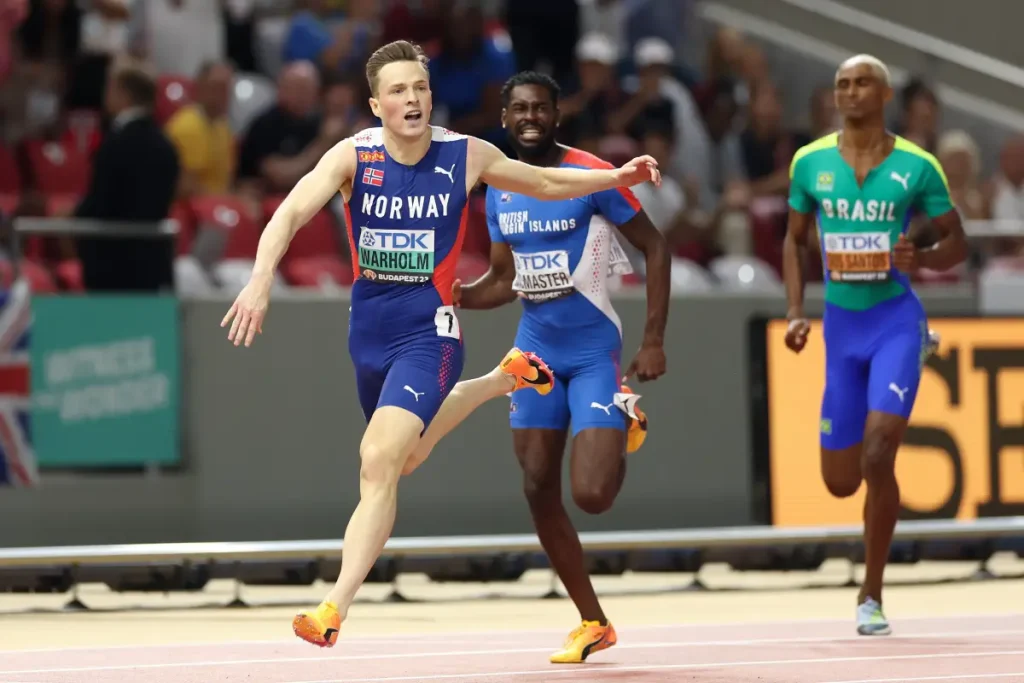 Jamaica's Roshawn Clarke, who posted a national record in the semifinals, ran 48.07 for fourth place in the final.
Meanwhile, reigning world champion Alison Dos Santos of Brazil, returning from surgery earlier this season, clipped the eighth and the 10th hurdles, which dashed his medal aspirations, landing him in fifth place with 48.10.
The victory tonight adds to Karsten Warholm's previous world championship golds from London in 2017 and Doha in 2019. Notably, after an early return from injury, he placed seventh in Oregon, last summer.
"I know that there is no one else who can do the first part of the race as fast as I can. And if they do, they will have a hard time at the end," added Warholm, who becomes the first man to win three world 400m hurdles gold medals.
"Today, unlike other races I've had, I felt like I was a bit sneaky and was waiting. And then I took it at the end, which people don't think I can do. But I also have it in the toolbox when needed."
Click here for complete results