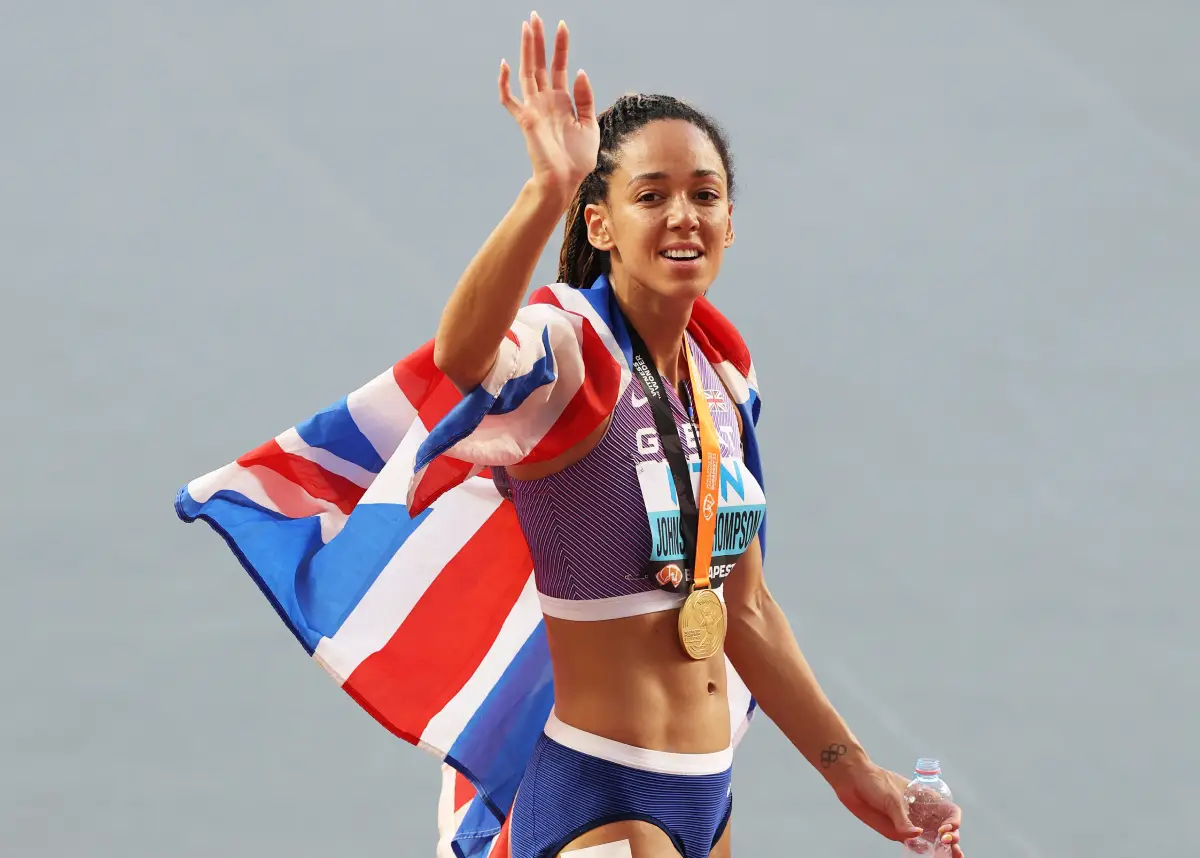 BUDAPEST, Hungary (August 20) – Great Britain's Katarina Johnson-Thompson regained the heptathlon title at the 2023 World Athletics Championships on Sunday, marking a stunning return from a series of injuries that had threatened her career.
Johnson-Thompson accumulated a total of 6,740 points to capture her second career world title by only 20 points on a very emotion day. – Read more: Maria Perez wins women's 20km race walk gold: World Athletics Championships Day 2
Anna Hall of the United States, the world bronze medalist from the 2022 world championships, entered at the favorite but had to settle for silver with 6,720 points, while Anouk Vetter of the Netherlands rounded off the top three, bagging the bronze with 6,501 points.
Johnson-Thompson, who previously secured the world title in 2019 at the Doha championships in Qatar, recovered from a poor first-event start in the competition on Saturday to close out with a promising performance in the 800 metres, the competition's final event.
Although she finished second with a personal-best time of 2:05.63, it was sufficient to ensure her top position on the podium and that performance came on the back of a very good performances in the long jump and the Javelin events.
The British athlete's journey to this victory was fraught with challenges. In 2020, she suffered a ruptured Achilles and had to bow out of the Tokyo Olympics due to a calf muscle tear during the 200m event.
Her triumphant return was all the more poignant as world and Olympic champion Nafi Thiam of Belgium was absent from the event due to injury.
Complete Women's Heptathlon Points Standings
| Place | BIB | Name | Country | Total Points |
| --- | --- | --- | --- | --- |
| 1 | 1848 | Katarina JOHNSON-THOMPSON | GBR | 6,740 |
| 2 | 21402 | Anna HALL | USA | 6,720 |
| 3 | 31156 | Anouk VETTER | NED | 6,501 |
| 4 | 4934 | Xénia KRIZSÁN | HUN | 6,479 |
| 5 | 51144 | Emma OOSTERWEGEL | NED | 6,464 |
| 6 | 6564 | Noor VIDTS | BEL | 6,450 |
| 7 | 7907 | Sophie WEIßENBERG | GER | 6,438 |
| 8 | 81404 | Chari HAWKINS | USA | 6,366 |
| 9 | 9803 | Saga VANNINEN | FIN | 6,289 |
| 10 | 941 | Rita NEMES | HUN | 6,232 |
| 11 | 1138 | Sofie DOKTER | NED | 6,192 |
| 12 | 818 | Auriana LAZRAQ-KHLASS | FRA | 6,179 |
| 13 | 968 | Kate O'CONNOR | IRL | 6,145 |
| 14 | 877 | Vanessa GRIMM | GER | 6,088 |
| 15 | 807 | Léonie CAMBOURS | FRA | 5,939 |
| 16 | 1452 | Ekaterina VORONINA | UZB | 5,922 |
| 17 | 540 | Sarah LAGGER | AUT | 5,910 |
| 18 | 834 | Esther CONDE-TURPIN | FRA | 5,256 |