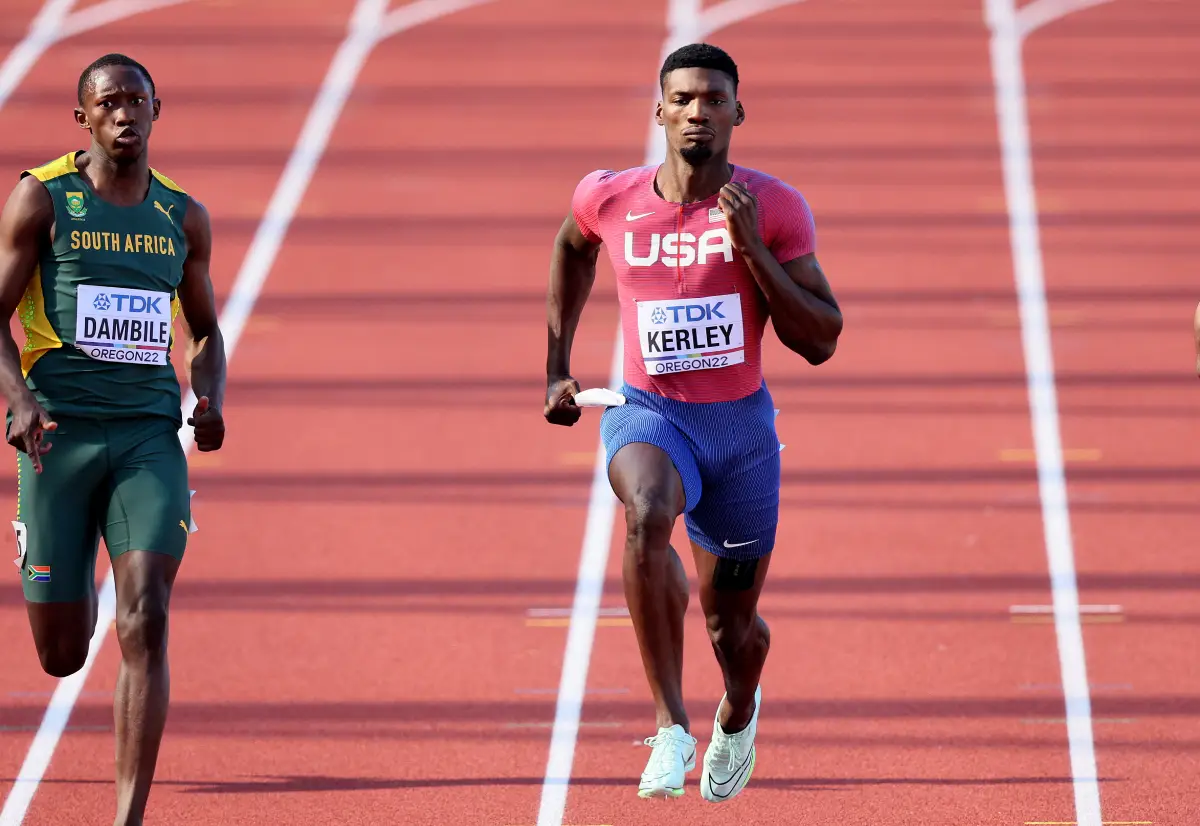 BUDAPEST, Hungary (August 20) – Defending world champion Fred Kerley and Jamaica's Oblique Seville are set to reignite their rivalry in the men's 100m semifinals at the 2023 World Athletics Championships on Sunday.
The two sprinters previously clashed in Saturday's heats, with Seville taking the win in a swift 9.86 seconds to equal his personal best. They will face off again in the third of today's three semifinal races, as the competition for spots in the final heats up.
Read more: Oblique Seville sets the pace with 9.86secs: Men's 100m results
Joining them in this semifinal are Letsile Tebogo of Botswana and Reece Prescod of Great Britain, both eyeing a place in the championship final.
The first semifinal will feature USA's Noah Lyles and Kenya's Ferdinand Omanyala, who also competed head-to-head in Saturday's heats.
Although Lyles trailed Omanyala in their previous encounter, the American two-time reigning 200m world champion has expressed confidence in achieving a 9.65-second finish in Budapest, making him one to watch.
Great Britain's world leader Zharnel Hughes will headline the second semifinal, competing against the likes of USA's 2019 world champion Christian Coleman, South Africa's Akani Simbine, and Jamaica's Ryiem Forde.
Despite boasting a personal best of 9.83 seconds, Hughes will need to refine his starting technique to approach that time again.
Olympic champion Lamont Marcell Jacobs, who narrowly advanced from the heats, will compete in the first semifinal alongside Jamaican champion Rohan Watson.
Men's 100m Semifinals Start List:
Heat 1 – Start Time: 16:35
Dominik Kopeć (POL) – Personal Best: 10.05, Season Best: 10.05
Lamont Marcell Jacobs (ITA) – Personal Best: 9.80, Season Best: 10.15
Noah Lyles (USA) – Personal Best: 9.86, Season Best: 9.94
Ferdinand Omanyala (KEN) – Personal Best: 9.77, Season Best: 9.84
Abdul Hakim Sani Brown (JPN) – Personal Best: 9.97, Season Best: 10.07
Eugene Amo-Dadzie (GBR) – Personal Best: 9.93, Season Best: 9.93
Rohan Watson (JAM) – Personal Best: 9.91, Season Best: 9.91
Usheoritse Itsekiri (NGR) – Personal Best: 10.02, Season Best: 10.02
Heat 2 – Start Time: 16:42
Hiroki Yanagita (JPN) – Personal Best: 10.02, Season Best: 10.02
Seye Ogunlewe (NGR) – Personal Best: 10.03, Season Best: 10.03
Akani Simbine (RSA) – Personal Best: 9.84, Season Best: 9.92
Christian Coleman (USA) – Personal Best: 9.76, Season Best: 9.91
Ryiem Forde (JAM) – Personal Best: 9.96, Season Best: 9.96
Zharnel Hughes (GBR) – Personal Best: 9.83, Season Best: 9.83
Emmanuel Matadi (LBR) – Personal Best: 9.97, Season Best: 9.97
Emanuel Archibald (GUY) – Personal Best: 10.14, Season Best: 10.14
Heat 3 – Start Time: 16:49
Brendon Rodney (CAN) – Personal Best: 10.00, Season Best: 10.00
Rohan Browning (AUS) – Personal Best: 10.01, Season Best: 10.02
Fred Kerley (USA) – Personal Best: 9.76, Season Best: 9.88
Raphael Bouju (NED) – Personal Best: 10.02, Season Best: 10.02
Letsile Tebogo (BOT) – Personal Best: 9.91, Season Best: 9.93
Oblique Seville (JAM) – Personal Best: 9.86, Season Best: 9.86
Reece Prescod (GBR) – Personal Best: 9.93, Season Best: 9.99
Henrik Larsson (SWE) – Personal Best: 10.13, Season Best: 10.13