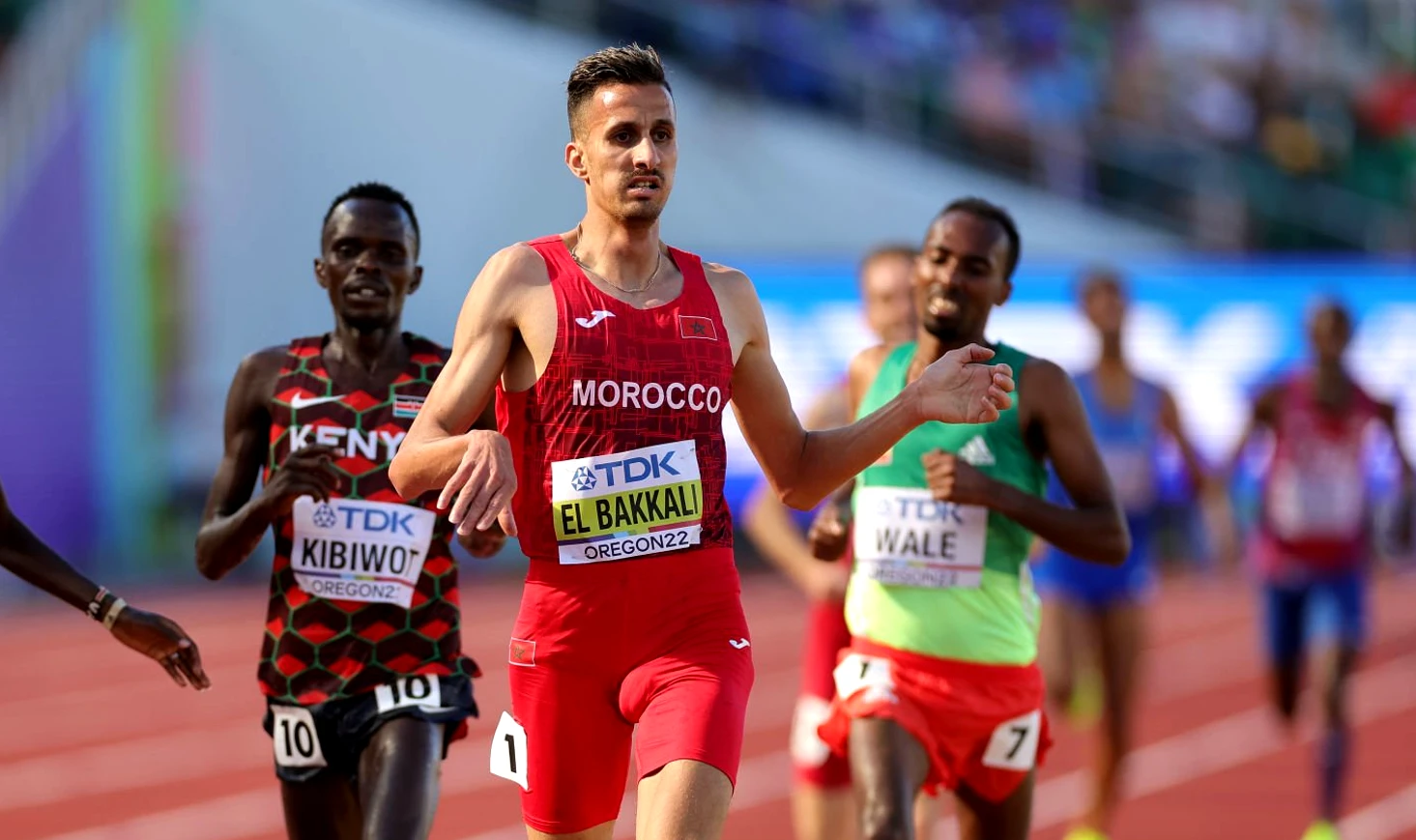 BUDAPEST, Hungary (August 19) — The opening morning of the 2023 World Athletics Championships in Budapest on Saturday saw all the medal frontrunners advancing to the final of the men's 3000m steeplechase.
Lamecha Girma, the world record-holder, effortlessly secured his spot, registering a relaxed 8:15.89 in the third heat, marking the swiftest time from the first round. – Read more: Mixed 4x400m Relay Results: USA, Britain, Netherlands advance to final
Defending champion Soufiane El Bakkali and USA's national champion Kenneth Rooks finished neck and neck, both clocking 8:23.66 in the second heat and advanced to the final comfortably.
Getnet Wale, another strong medal prospect and the season's fourth-quickest in the event globally, paced the field from the opening lap and triumphed in the first heat with an 8:19.99 timing, progressing with the morning fifth-best time from the round.
Elsewhere, New Zealand's Geordie Beamish ran 8:16.36, earning his place in the final with the second-best time. Not far behind, Kenya's Leonard Kipkemoi Bett (8:16.74) and Japan's Ryuji Miura (8:18.73) also secured their spots from the third heat, which was the speediest of the three preliminary races.
Two Americans Fell Short In Th Heats
However, the morning proved challenging for the American contingent in the men's 3000m steeplechase.
Benard Keter, who clinched second place at the USATF Outdoor Championships just last month, managed only an eighth-place finish in the first heat with 8:24.20.
Similarly, Isaac Updike, the trials' third-place finisher, lagged behind, securing the 11th spot in the third heat with a time of 8:31.81.
Men's 3000m Steeplechase Results – Round 1:
Heat 1:
Getnet Wale (ETH) – 8:19.99 – Qualified (Q)
Jean-Simon Desgagnés (CAN) – 8:20.04 – Qualified (Q)
Simon Kiprop Koech (KEN) – 8:20.29 – Qualified (Q)
Daniel Arce (ESP) – 8:20.46 – Qualified (Q)
Ryoma Aoki (JPN) – 8:20.54 (Season's Best – SB) – Qualified (Q)
Mohamed Tindouft (MAR) – 8:20.67
Avinash Mukund Sable (IND) – 8:22.24
Benard Keter (USA) – 8:24.20
Vidar Johansson (SWE) – 8:27.21
Ahmed Jaziri (TUN) – 8:29.81
Topi Raitanen (FIN) – 8:30.69
Matthew Clarke (AUS) – 8:40.92
Heat 2:
Kenneth Rooks (USA) – 8:23.66 – Qualified (Q)
Soufiane El Bakkali (MAR) – 8:23.66 – Qualified (Q)
Mohamed Amin Jhinaoui (TUN) – 8:24.20 – Qualified (Q)
Abraham Kibiwot (KEN) – 8:24.31 – Qualified (Q)
Leonard Chemutai (UGA) – 8:24.74 – Qualified (Q)
Nahuel Carabaña (AND) – 8:27.05
István Palkovits (HUN) – 8:29.37
Abrham Sime (ETH) – 8:31.49
Osama Zoghlami (ITA) – 8:33.07
Salaheddine Ben Yazide (MAR) – 8:38.14
Seiya Sunada (JPN) – 8:38.59
Emil Blomberg (SWE) – 8:42.33
Heat 3:
Lamecha Girma (ETH) – 8:15.89 – Qualified (Q)
George Beamish (NZL) – 8:16.36 – Qualified (Q)
Leonard Kipkemoi Bett (KEN) – 8:16.74 – Qualified (Q)
Ryuji Miura (JPN) – 8:18.73 – Qualified (Q)
Simon Sundström (SWE) – 8:20.10 (Personal Best – PB) – Qualified (Q)
Víctor Ruiz (ESP) – 8:20.54
Djilali Bedrani (FRA) – 8:20.69
Karl Bebendorf (GER) – 8:22.33
Mohammed Msaad (MAR) – 8:22.95
Ala Zoghlami (ITA) – 8:28.76
Isaac Updike (USA) – 8:31.81
Fouad Idbafdil (ART) – 8:39.21
Julián Molina (ARG) – 8:46.44
Click here for more information