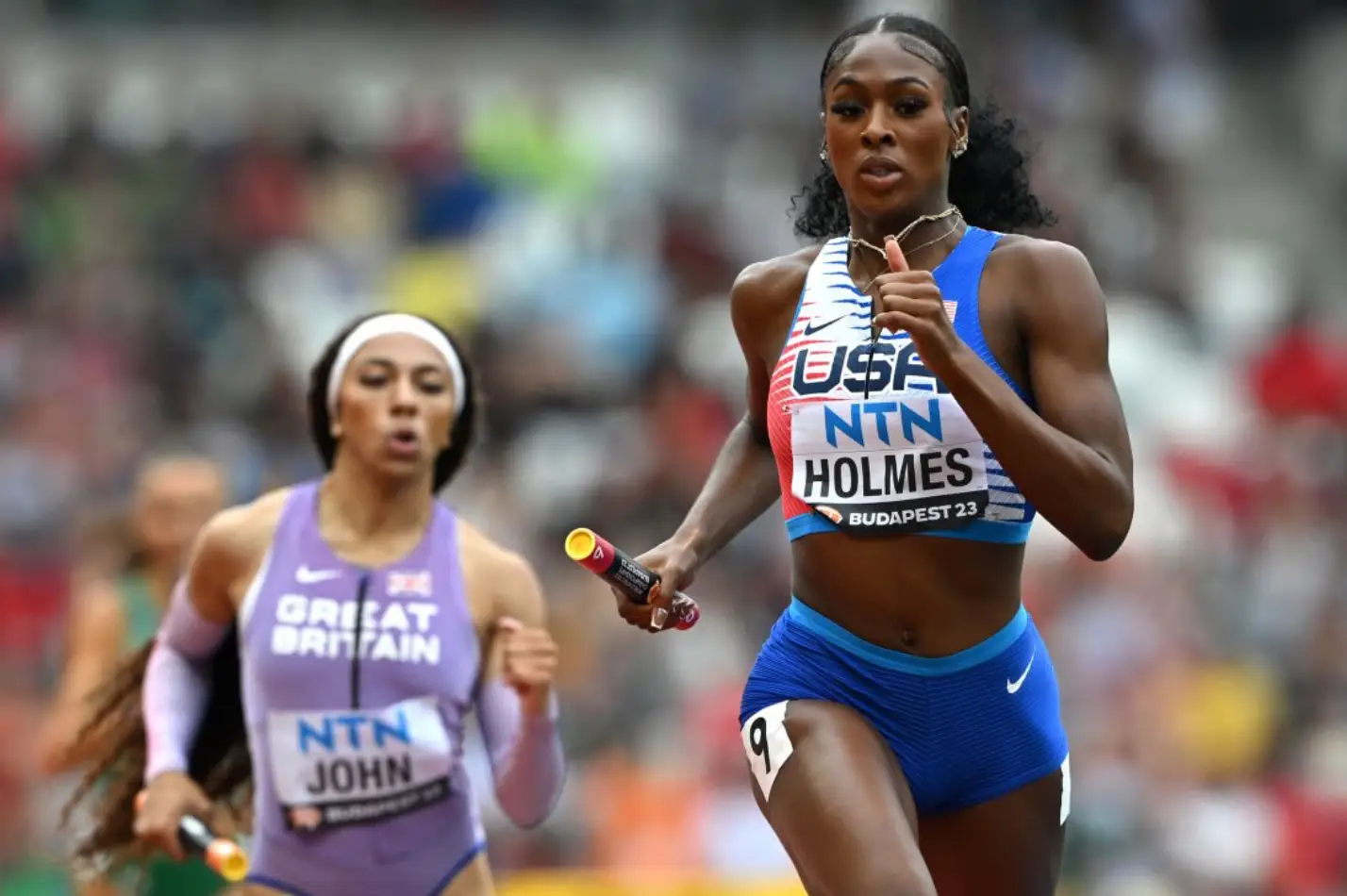 BUDAPEST, Hungary (August 19) —  United States, Great Britain, and The Netherlands advanced to the final of the mixed 4x400m relay on Day One of the World Athletics Championships 2023 on Saturday (19). However, Jamaica, a strong medal contender, did not secure a spot in the medal race.
The USA team, comprising talents like Ryan Willie, Rosey Effiong, Justin Robinson, and Alexis Holmes, dominated their heat, clocking an impressive world-leading time of 3:10.41. – Read more: Day 1: World Athletics Championships start lists, results, streams
The Americans are poised to up the speed in the final, with 200m specialist Gabby Thomas set to bolster their ranks this evening in the medal race.
Great Britain, anchored by World U20 champion Yemi Mary John, secured second place, setting a new national record with 3:11.19. Belgium followed closely, clinching the other automatic qualifying slot with a season-best time of 3:11.81.
Femke Bol Easily Anchors Dutch Team To Win
The Netherlands, with the ever-composed Femke Bol leading the charge, effortlessly made it to the mixed 4x400m relay final, posting a time of 3:12.12.
Bol, a favorite for the women's 400m hurdles gold, showcased her skills alongside teammates Isaya Klein Ikkink, Lieke Klaver, and Terrence Agard.
France finished second in the same heat, setting national record with 3:12.25, while the Czech Republic followed suit, earning an automatic qualifying spot with a time of 3:12.52.
Jamaica and Poland Shocked
However, the day, which already started with a weather delay, wasn't without its share of drama.
Olympic champions Poland faced a setback after a collision during the final changeover, leaving them trailing and ultimately finishing last with 3:14.63.
Jamaica's unexpected fifth-place finish in heat two with 3:14.05 meant they too would not advance, adding to the day's unexpected outcomes.
In the meantime, defending world champions Dominican Republic did not start the race today.
Here are the results for the Mixed 4×400 Metres Relay – Heats
United States (USA) – 3:10.41 (World Leading – WL) – Qualified (Q)
Great Britain & NI (GBR) – 3:11.19 (National Record – NR) – Qualified (Q)
Belgium (BEL) – 3:11.81 (Season's Best – SB) – Qualified (Q)
Netherlands (NED) – 3:12.12 (Season's Best – SB) – Qualified (Q)
France (FRA) – 3:12.25 (National Record – NR) – Qualified (Q)
Czech Republic (CZE) – 3:12.52 – Qualified (Q)
Germany (GER) – 3:13.25 (Season's Best – SB) – Qualified by time (q)
Ireland (IRL) – 3:13.90 (Season's Best – SB) – Qualified by time (q)
Jamaica (JAM) – 3:14.05 (Season's Best – SB)
Hungary (HUN) – 3:14.08 (National Record – NR)
Switzerland (SUI) – 3:14.38
Nigeria (NGR) – 3:14.38 (Season's Best – SB)
Italy (ITA) – 3:14.56
Poland (POL) – 3:14.63
Kenya (KEN) – 3:15.47
Portugal (POR) – 3:15.75
Dominican Republic (DOM) – Did Not Start (DNS)
PHOTO: Alexis Holmes of USA in Heat 2 of the Mixed 4x400m Relay. Photo by Shaun Botterill/Getty Images