By David Monti, @d9monti
(c) 2023 Race Results Weekly, all rights reserved

BUDAPEST (24-Aug) — With just the top-8 from each heat advancing to the final, 27 men failed to move on from tonight's preliminaries of the men's 5000m on Day 6 at the World Athletics Championships 2023.
Mo Katir, Luis Grijalva, and Jakob Ingebrigtsen advanced in men's 5000m
Both semi-final races started slow and finished fast, and Spain's Mo Katir (13:35.90) and Guatemala's Luis Grijalva (13:32.72) won the first and second heats, respectively.
Read more: Josh Kerr upsets Jakob Ingebrigtsen, storms to first world 1500m title
Katir –who earlier this week failed to reach the final of the 1500m when he only finished tenth in his semi-final– waited for the last lap to show his class.  He ran a sizzling 54.4 seconds to beat Ethiopia's Hagos Gebrhiwet (13:36.15) and Norway's Jakob Ingebrigtsen (13:36.21). 
Ingebrigtsen, the defending champion who took the silver medal in the 1500m last night, spent most of the race at the back before moving up to the lead group where he looked smooth in the final laps.  
Grijalva, the former Northern Arizona University star in the NCAA system, ran with the leaders throughout the race and out-sprinted Ethiopia's Yomif Kejelcha in the homestretch to get the win by 11/100ths of a second.  Grijalva said that it was important for him to win the heat and not just qualify.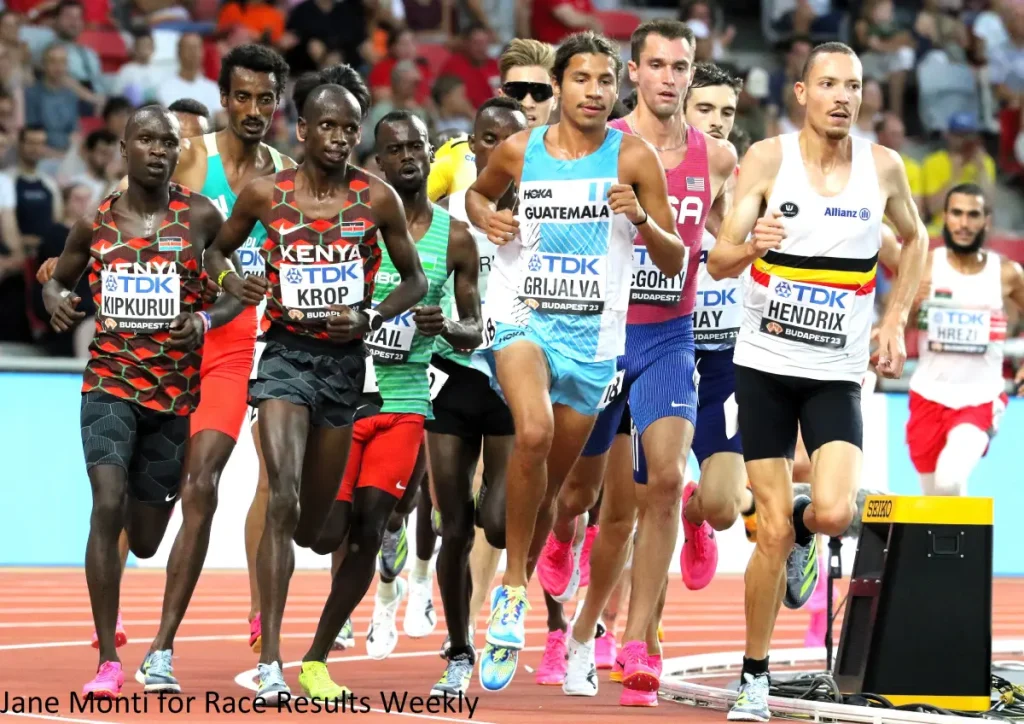 "I've never won a professional race in my pro career," he told Race Results Weekly.  "I'm sure there were a lot of guys behind me. 
"I didn't want to leave it to a risk in case I let up at the line.  I'm sure running half a second faster in the last hundred will make no big difference two days from now."
Read more: Sifan Hassan and Faith Kipyegon advanced in 5000m at world championships
Still living and training in Flagstaff, Ariz., Grijalva is a "Dreamer," who came to the United States as a child when his parents crossed the southern border looking for a better life.  He remains a Guatemalan citizen and is proud to represent his home country.
"It puts me on the map but it also puts Guatemala on the map," Grijalva said of winning his heat tonight.  "Like, hey, this guy just won the prelim.  The final's in three days.  Let's see what he can do."
USA's Abdi Nur and Paul Chelimo Also Advanced
Two of the three Americans, Abdi Nur and Paul Chelimo, also made the final.  Both running in the first heat, they finished fifth and seventh, respectively. Chelimo, twice an Olympic medalist, said that he still felt the effects of traveling here from Colorado.
"I was just like, I got to use as less energy as I can," Chelimo said.  "I haven't recovered well from the jet lag.  So, got to get more recovery, more massage. 
"Finals, you know, that's what it is.  The goal was to make it to finals, so it doesn't matter (the place).  I finished what I needed to do."
Other athletes with medal hopes who advanced included Canada's Moh Ahmed, Ethiopia's Berihu Aregawi, Kenya's Jacob Krop, and Norway's Narve Gilje Nordas (Nordas was the silver medalist in the 1500m).
Australia's Stewart McSweyn was advanced by the referee after he fell over another competitor, Germany's Sam Parsons, who tripped in heat one with about 900 meters left in the race.
"I think he got clipped and he just went down," McSweyn told Race Results Weekly before knowing that he had been advanced.  
"And then, obviously, I had nowhere to go.  I went right over the top of him and face-planted, pretty much."
The men's 5000m final will be held on Sunday night.