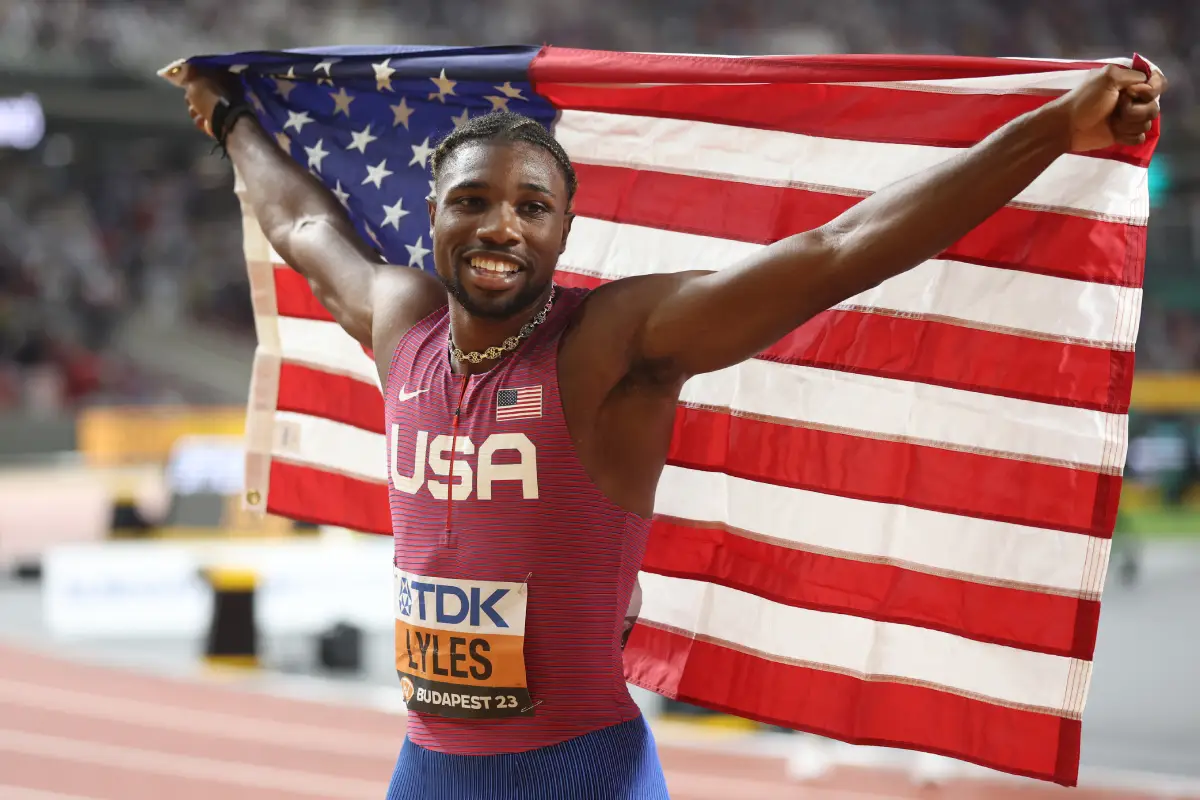 BUDAPEST, Hungary (August 25) — On a riveting Friday evening at the Track and Field World Championships, Noah Lyles delivered on the grand stage, clinching the 200-meter title in 19.52 seconds. This feat marks Lyles as the first sprinter to achieve the iconic 100-200 double at the worlds since sprint legendary and world record holder Usain Bolt in 2015.
This Budapest victory chalks up the third consecutive 200-meter world title for Lyles, further underlining his dominant position as the pre-eminent sprinter to watch at the forthcoming Paris Olympics.
Read more: [Video] Shericka Jackson runs 21.41secs, Noah Lyles at the double: World Championships 2023
"I definitely do [think I've achieved something special]," Lyles told reporters. "I've reached a level five other male sprinters have ever achieved, just became the double world champion. Still running fast, ran against an amazing field on both sides. And shoot, what a world championships."
Records have always been in Lyles' purview leading into the world track and field championships.
However, his 19.52 couldn't quite measure up to his ambitious target of 19.10 seconds – a time that would have eclipsed Bolt's staggering 19.19 seconds world record set at the 2009 World Championships.
"Of course I wanted it to be faster, I at least wanted to break the American record (19.31 secs) again," he added. "Of course I still have the ability to. But after my sixth race and I still run 19.5, I have to be happy with that."
Lyles' victory here in Budapest tonight was nothing short of compelling. With a surge of speed around the curve, he decisively passed and bested fellow American Erriyon Knighton by .23.
This performance has, for now, postponed any brewing contest between the 26-year-old and the rising 19-year-old Knighton, who clocked 19.75 secs for the silver.
Completing the podium was Botswana's Letsile Tebogo, who now boasts a bronze to pair with his 100-meter silver. The 20-year-old posted 19.81 secs to continue his ongoing development which is certainly trending in the right direction.
"It means a lot. It really shows we're on the right track going forward for the Olympics and the other upcoming competitions," Tebogo said. "The 200m bronze was a bonus for us as it was just to see how my body was going to respond after six races at the world stage."
Noah Lyles victory tonight came 24 hours after an unexpected collision.
A cart transporting Lyles and other 200-meter contenders to the arena was unexpectedly hit by another vehicle. This accident sent shards of glass flying, which unfortunately caught Jamaican sprinter Andrew Hudson.
Initially, Hudson did not make the final, but the Jamaican sprinter was given a lane in the medal after his athletics federation won an appeal. Hudson competed and secured an eighth-place finish in the final.
Earlier in the women's 200m final, Jamaica's Shericka Jackson dazzled with a staggering 21.41 – the second fastest ever recorded – securing her back-to-back world title at 200 meters.
She dominated USA's Gabby Thomas (21.81) by a decisive .4 seconds and a clear three strides, while compatriot Sha'Carri Richardson (21.92) clinched bronze, complementing her 100-meter gold.
PHOTO: Noah Lyles wins men's 200m final at world track and field championships 2023. Photo by Christian Petersen/Getty Images for World Athletics