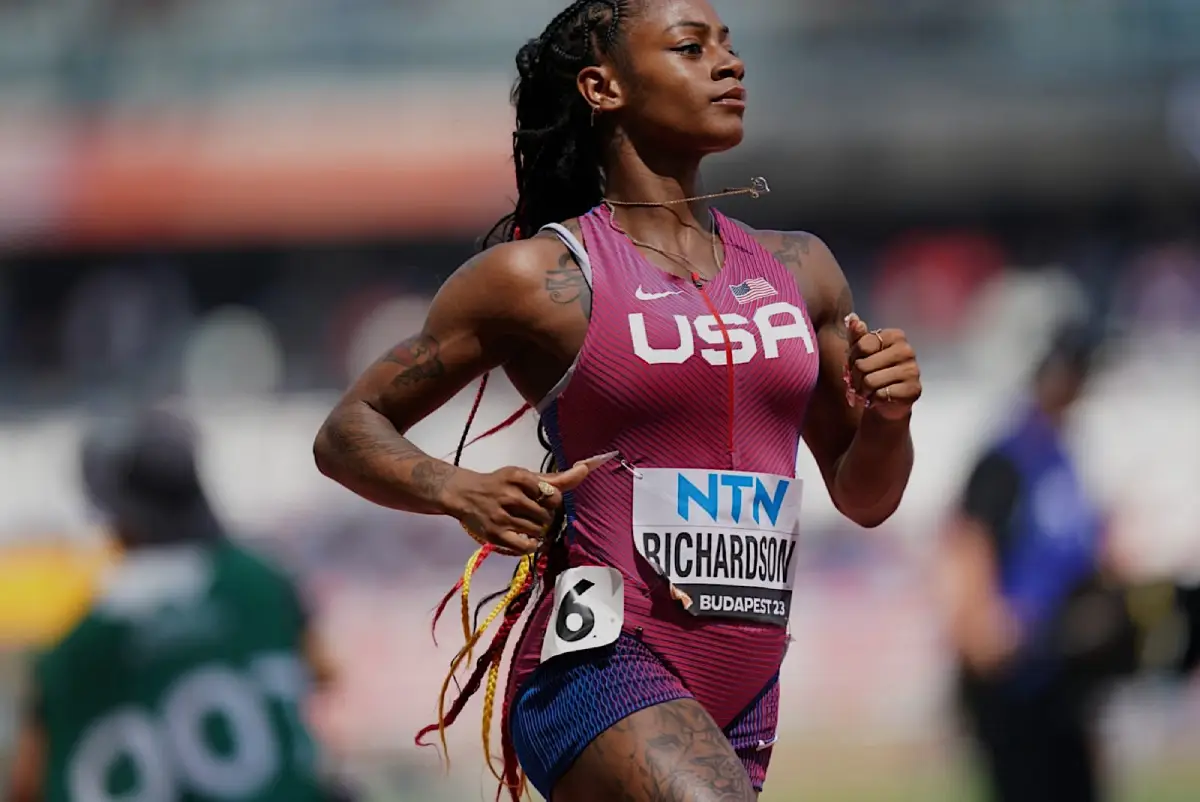 BUDAPEST, Hungary (August 20) – Sha'Carri Richardson posted the fastest time in the women's 100m heats at the World Athletics Championships on Sunday. However, other podium contenders, including Shericka Jackson, Shelly-Ann Fraser-Pryce, Marie Josée Ta Lou, and Julien Alfred, also advanced to the semifinal round.
USA champion Richardson breezed through her heat, clocking the day's fastest time of 10.92 seconds (+0.4m/s). She was one of only three sprinters to break the 11-second barrier this morning. The 23-year-old comfortably defeated Jamaica's Natasha Morrison, who finished in 11.02 seconds.
Read more: Paulino dominates women's 400m heats; shocking run from Britton Wilson
Though she didn't run sub-11 seconds today, defending champion and five-time gold medalist Shelly-Ann Fraser-Pryce won her heat in 11.01 seconds. The Jamaican said she's relying on her experience, especially after an injury disrupted her early preparations.
Her compatriot and world silver medalist, Shericka Jackson, who also holds the world-leading time, won her heat with a solid 11.06 seconds, despite a slight -1.0m/s headwind. European champion Gina Lückenkemper of Germany advanced from her heat with a time of 11.21 seconds.
NCAA champion Julien Alfred of St. Lucia clocked 10.99 seconds to win her heat. Poland's Ewa Swoboda also finished under 11 seconds, recording 10.98 seconds (-0.4m/s) to secure victory in heat three, ahead of USA's Tamari Davis, who finished in 11.06 seconds.
Read Also: Anna Hall leads heptathlon after Day 1: World Athletics Championships
Brittany Brown of the USA edged out Briton Dina Asher-Smith with a time of 11.01 seconds to Asher-Smith's 11.04 in the second heat. Marie-Josée Ta Lou clocked 11.08 seconds to easily advance from heat six.
Women's 100m heats results
Heat 1 (Wind: 0.0 m/s):
Julien Alfred (LCA) – 10.99 – Qualified (Q)
Daryll Neita (GBR) – 11.03 – Qualified (Q)
Gina Bass (GAM) – 11.10 – Qualified (Q)
Géraldine Frey (SUI) – 11.26 – Qualified (q)
Delphine Nkansa (BEL) – 11.40
Ángela Gabriela Tenorio (ECU) – 11.52
Fasihi Farzaneh (IRI) – 11.63
Zarinae Sapong (NMI) – 13.04 – Season's Best (SB)
Heat 2 (Wind: -0.8 m/s):
Brittany Brown (USA) – 11.01 – Qualified (Q)
Dina Asher-Smith (GBR) – 11.04 – Qualified (Q)
Jaël Bestué (ESP) – 11.28 – Qualified (Q)
Veronica Shanti Pereira (SGP) – 11.33
Halle Hazzard (GRN) – 11.34 – Season's Best (SB)
Salomé Kora (SUI) – 12.18
Chloe David (VAN) – 12.88
Yunisleydis De La C. García (CUB) – Disqualified (DQ) – False start
Heat 3 (Wind: -0.4 m/s):
Ewa Swoboda (POL) – 10.98 – Qualified (Q)
Tamari Davis (USA) – 11.06 – Qualified (Q) – Personal Best (PB)
N'Ketia Seedo (NED) – 11.11 – Qualified (Q) – Personal Best (PB)
Rani Rosius (BEL) – 11.18 – Qualified (q)
Murielle Ahouré-Demps (CIV) – 11.29
Leah Bertrand (TTO) – 11.32
Mudhawi Alshammari (KUW) – 11.93
Silina Pha Aphay (LAO) – 12.67
Heat 4 (Wind: -1.0 m/s):
Shericka Jackson (JAM) – 11.06 – Qualified (Q)
Michelle-Lee Ahye (TTO) – 11.16 – Qualified (Q) – Season's Best (SB)
Gina Lückenkemper (GER) – 11.21 – Qualified (Q)
Rosemary Chukwuma (NGR) – 11.24 – Qualified (q)
Olivia Fotopoulou (CYP) – 11.38
Vitoria Cristina Rosa (BRA) – 11.57
Natacha Ngoye Akamabi (CGO) – 11.60
Kesaia Boletakanakandavu (FIJ) – 12.46
Heat 5 (Wind: +0.4 m/s):
Sha'Carri Richardson (USA) – 10.92 – Qualified (Q)
Natasha Morrison (JAM) – 11.02 – Qualified (Q)
Zaynab Dosso (ITA) – 11.14 – Qualified (Q) – National Record (NR)
Maboundou Koné (CIV) – 11.26
Krystsina Tsimanouskaya (POL) – 11.32
Torrie Lewis (AUS) – 11.45
Sydney Francisco (PLW) – 13.48 – Personal Best (PB)
Imani Lansiquot (GBR) – Disqualified (DQ) – False start
Heat 6 (Wind: +0.9 m/s):
Marie-Josée Ta Lou (CIV) – 11.08 – Qualified (Q)
Shashalee Forbes (JAM) – 11.12 – Qualified (Q)
Boglárka Takács (HUN) – 11.18 – Qualified (Q)
Patrizia Van Der Weken (LUX) – 11.38
Bree Masters (AUS) – 11.43
Magdalena Stefanowicz (POL) – 11.43
Arialis Gandulla (POR) – 11.47
Jovita Arunia (SOL) – 13.20 – Season's Best (SB)
Heat 7 (Wind: +0.2 m/s):
Shelly-Ann Fraser-Pryce (JAM) – 11.01 – Qualified (Q)
Mujinga Kambundji (SUI) – 11.08 – Qualified (Q)
Zoe Hobbs (NZL) – 11.14 – Qualified (Q)
Lorène Dorcas Bazolo (POR) – 11.29
Khamica Bingham (CAN) – 11.29
Rebekka Haase (GER) – 11.43
Arisa Kimishima (JPN) – 11.73
Yara Ahmed Abuljadayel (KSA) – 13.54