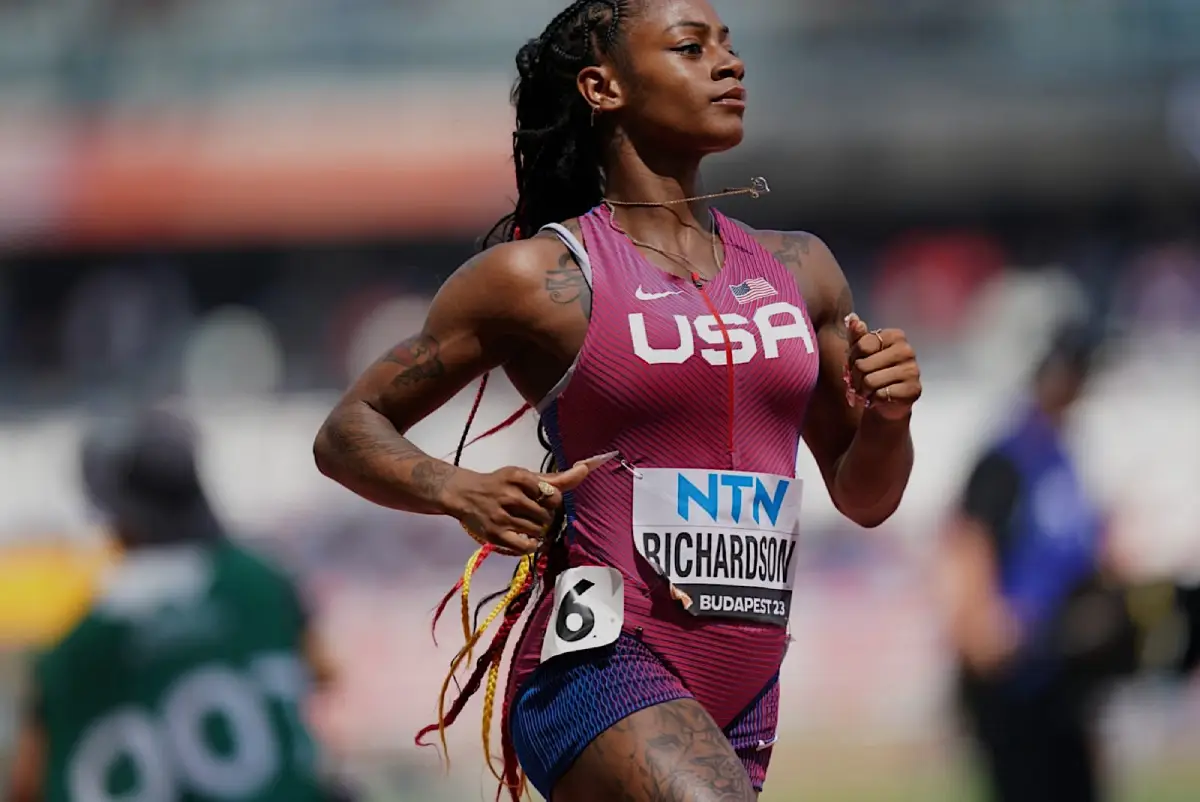 BUDAPEST, Hungary (August 23) – Day 5 of the 2023 World Athletics Championships in Budapest will see the return of some of the world's top sprinters in the women's 200m heats, with top contenders like Sha'Carri Richardson, Shericka Jackson, and Gabby Thomas taking center stage.
Sha'Carri Richardson vs Marie-Josée Ta Lou
Fresh off her world 100m title, Richardson is set to kick off her pursuit of a sprint double. She'll face stiff competition in the second heat, going head-to-head with Ivory Coast's Marie-Josée Ta Lou and Jamaica's Ashanti Moore.
Read more: Dominating Sha'Carri Richardson takes down Jackson, Fraser-Pyrce, wins world 100m title
Richardson, who clocked a world-leading time of 10.65 seconds to win the world 100m title on Monday, comes into these championships with a personal best of 21.94 secs for the 200m, but expect her to run faster than that here this week.
Shericka Jackson, the current titleholder, is eager to make a statement after her recent 100m setback against Richardson. Competing in the third heat, Jackson, this season's second-quickest women over the half-lap, will be challenged by rising star Adaejah Hodge from the British Virgin Islands, boasting a commendable season and personal best of 22.33 seconds.
Gabby Thomas Confident Above Winning 200m Title
Gabby Thomas, the Olympic bronze medalist and this year's fastest at 21.60 seconds, is another athlete to watch.
Having bested Richardson at the U.S. Championships in July, Thomas is poised for a strong performance. She'll be racing in Heat five, pitted against Jamaica's Kevona Davis.
The women's 200m heats also feature NCAA champion Julien Alfred of St. Lucia in heat four, competing against Britain's Bianca Williams and Jamaica's Natalliah Whyte.
Meanwhile, Britain's Dina Asher-Smith, a former world champion, is keen to redeem herself after a less-than-stellar 100m performance. She'll be in action in heat six.
Here's the start list for all the heats of the women's 200m Heats:
Heat 1 – 23 August 2023, 5:20 a.m. ET
Ana Carolina Azevedo (BRA) – PB: 22.99, SB: 22.99
Jaël Bestué (ESP) – PB: 22.54, SB: 22.54
Aino Pulkkinen (FIN) – PB: 23.36, SB: 23.36
Favour Ofili (NGR) – PB: 21.96, SB: 22.11
Yunisleydis De La C. García (CUB) – PB: 23.00, SB: 23.00
Daryll Neita (GBR) – PB: 22.23, SB: 22.23
Léonie Pointet (SUI) – PB: 23.23, SB: 23.27
Anthonique Strachan (BAH) – PB: 22.15, SB: 22.15
Heat 2 – 23 August 2023, 5:27 a.m. ET
Lorène Dorcas Bazolo (POR) – PB: 22.64, SB: 23.06
Olivia Fotopoulou (CYP) – PB: 22.71, SB: 22.71
Anniina Kortetmaa (FIN) – PB: 23.22, SB: 23.22
Marie-Josée Ta Lou (CIV) – PB: 22.08, SB: 22.31
Sha'Carri Richardson (USA) – PB: 21.94, SB: 21.94
Polyniki Emmanouilidou (GRE) – PB: 22.85, SB: 22.85
Ashanti Moore (JAM) – PB: 22.49, SB: 22.49
Gorete Semedo (STP) – PB: 23.27, SB: 23.81
Heat 3 – 23 August 2023, 5:34 a.m. ET
Nicole Caicedo (ECU) – PB: 22.81, SB: 22.81
Susanne Gogl-Walli (AUT) – PB: 23.09, SB: 23.09
Shericka Jackson (JAM) – PB: 21.45, SB: 21.71
Jessika Gbai (CIV) – PB: 22.43, SB: 22.43
Adaejah Hodge (IVB) – PB: 22.33, SB: 22.33
Alexa Sulyán (HUN) – PB: 23.12, SB: 23.12
Veronica Shanti Pereira (SGP) – PB: 22.69, SB: 22.69
Heat 4 – 23 August 2023, 5:41 a.m. ET
Georgia Hulls (NZL) – PB: 22.84, SB: 22.84
Gina Bass (GAM) – PB: 22.58, SB: 22.75
Julien Alfred (LCA) – PB: 21.91, SB: 21.91
Ella Connolly (AUS) – PB: 22.95, SB: 23.07
Julia Henriksson (SWE) – PB: 23.15, SB: 23.22
Bianca Williams (GBR) – PB: 22.58, SB: 22.59
Natalliah Whyte (JAM) – PB: 22.39, SB: 22.39
Heat 5 – 23 August 2023, 5:48 a.m. ET
Boglárka Takács (HUN) – PB: 22.77, SB: 22.77
Kevona Davis (JAM) – PB: 22.26, SB: 22.33
Tasa Jiya (NED) – PB: 22.77, SB: 22.77
Christine Bjelland Jensen (NOR) – PB: 23.16, SB: 23.16
Cecilia Tamayo-Garza (MEX) – PB: 22.45, SB: 22.45
Martyna Kotwiła (POL) – PB: 22.99, SB: 23.12
Gabrielle Thomas (USA) – PB: 21.60, SB: 21.60
Heat 6 – 23 August 2023, 5:55 a.m. ET
Vitoria Cristina Rosa (BRA) – PB: 22.47, SB: 23.02
Rhoda Njobvu (ZAM) – PB: 22.69, SB: 23.49
Kayla White (USA) – PB: 22.01, SB: 22.01
Remi Tsuruta (JPN) – PB: 23.17, SB: 23.27
Dalia Kaddari (ITA) – PB: 22.64, SB: 22.86
Krystsina Tsimanouskaya (POL) – PB: 22.75, SB: 22.75
Dina Asher-Smith (GBR) – PB: 21.88, SB: 22.23
Maboundou Koné (CIV) – PB: 22.53, SB: 22.53