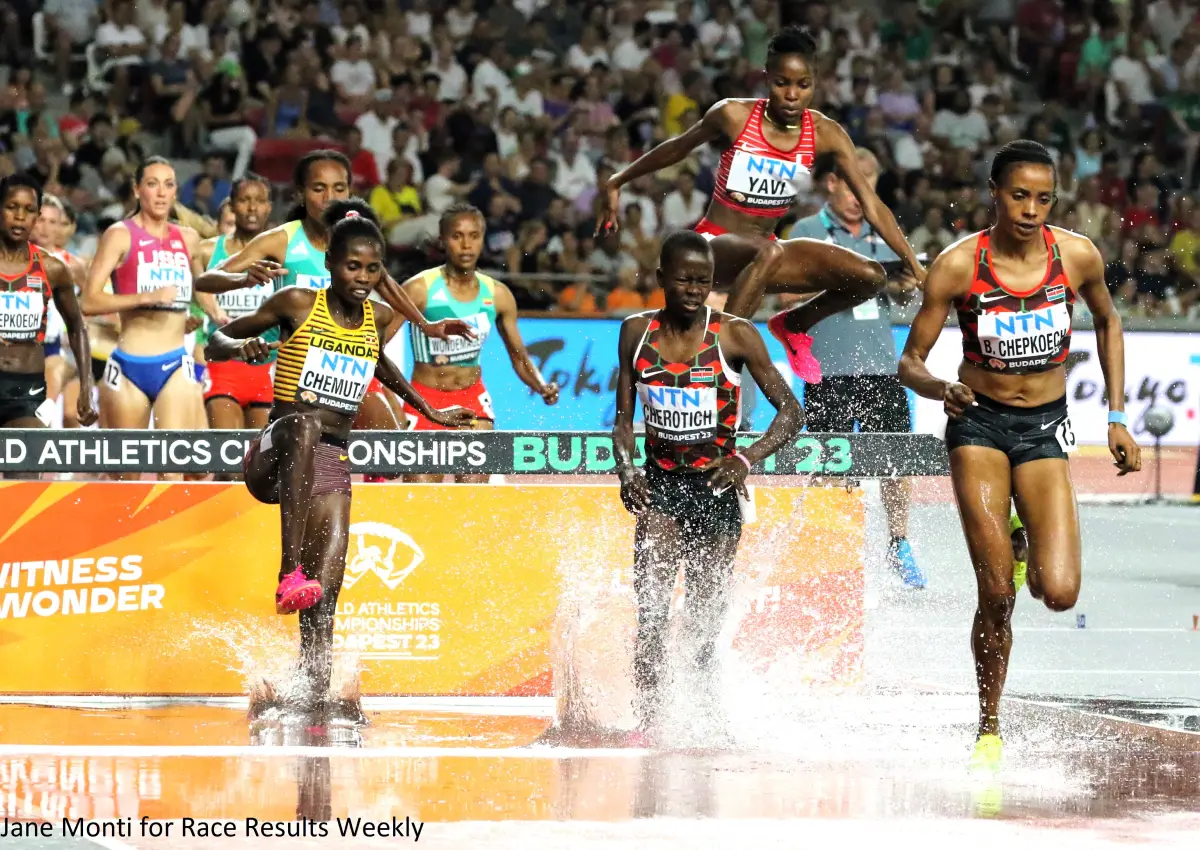 By David Monti, @d9monti
(c) 2023 Race Results Weekly, all rights reserved

BUDAPEST (27-Aug) — The women's 3000m steeplechase has only been contested at the World Athletics Championships since 2005, and no woman from Bahrain has ever won a medal.
Until tonight.
Winfred Mutile Yavi, a 23-year-old former Kenyan, changed all that by dominating the last 500 meters of tonight's women's steeplechase final to win by a healthy four seconds in a world-leading 8:54.29. 
She beat Kenya's Beatrice Chepkoech, the 2019 world champion, who was timed in 8:58.98.  Kenya's Faith Cherotich –who is only 19 years old and looks even younger– got the bronze in a personal best of 9:00.69.
"Oh my God, I just found out that this is the fourth-fastest race in history," Yavi told the flash quotes team.  "I am really excited about that.  It was a fast race, but I did not realize it was that fast."
Chepkoech, 32, led most of the race, splitting 1000m in 2:59.9 and 2000m in 5:57.8.  Yavi was close behind at the 2-K split, but didn't pull ahead until after 2500 meters.
"I knew I would have the power on the last lap," Yavi continued.  "It was perfect.  I have never felt like this before."
Chepkoech was pleased with her run, explaining that she struggled with injuries in 2022 after taking seventh in the 2021 Tokyo Olympics, where she was managing a lower back problem.
"I'm not disappointed because I was out for the last two years dealing with injuries, so I was happy with the silver medal," Chepkoech told Race Results Weekly.
"Just coming back after two years is not something easy.  You know in the Olympics I was having a lower back problem, and then hamstring. Then last year, I was having stress fracture one month before world championship.  It put me out."
– – – – –
As these 19th World Athletics Championships closed here tonight the local organizing committee was showered with praise at a press conference today by World Athletics president Sebastian Coe. 
He appreciated both the brand new National Athletics Center, the professional organization, and the large and enthusiastic crowds.
"I can't remember a better atmosphere at a world championships," Coe told reporters.  "These have been a truly great championships."
The 20th World Athletics Championships will be held in Tokyo from September 13 to 21, 2025.
For more information, visit our homepage