BUDAPEST, Hungary (August 19) —  In the first round of the women's 1500m on Day 1 at the 2023 World Athletics Championships here in Budapest on Saturday, the racing was surprisingly fast, despite the fact that there would be no time qualifiers. Sifan Hassan and Faith Kipyegon booked their places.
Faith Kipyegon Comfortably Advanced
The winners of all four heats ran faster than 4:03.5, including defending champion Faith Kipyegon of Kenya who led heat two from gun to tape, clocking 4:02.62.  She finished just ahead of another medal contender, Ethiopia's Diribe Welteji, by 1/10th of a second.
"I just wanted to qualify to the semis and enjoy it," Kipyegon told the flash quotes team here.  "I do not know about my tactics in the next one because I don't know how it is going to be.
"Let's see, semifinals are sometimes slow, sometimes fast. I am just looking forward to it. I am expecting great things from myself."
Dutchwoman Sifan Hassan won the first heat in 4:02.92 over Britain's Laura Muir (4:03.50).  Hassan, who is also competing in the 5000m and 10,000m here, didn't appear to be worried about saving any energy for tonight's 10,000m final (see above).  She did not speak to the media after her prelim.

Muir, who is the captain of the British team, had this to say: "I saw a couple of the girls pushing it a bit and I thought I just don't want to leave it too late, that gap. 
"So, I just came round and got in a good position, and I covered each move. I got clipped a couple of times, which is to be expected and I just wanted to stay clear of that. And I did and stayed out of trouble and came top six."
Both of Muir's British Athletics teammates, Katie Snowden and Melissa Courtney-Bryant, also advanced to the semi-finals.
Nikki Hiltz, Sinclaire Johnson and Cory McGee Made Progress
The three Americans –Nikki Hiltz, Sinclaire Johnson and Cory McGee– all made it through.  Hiltz ran in the first heat and finished third behind Hassan and Muir in 4:03.76.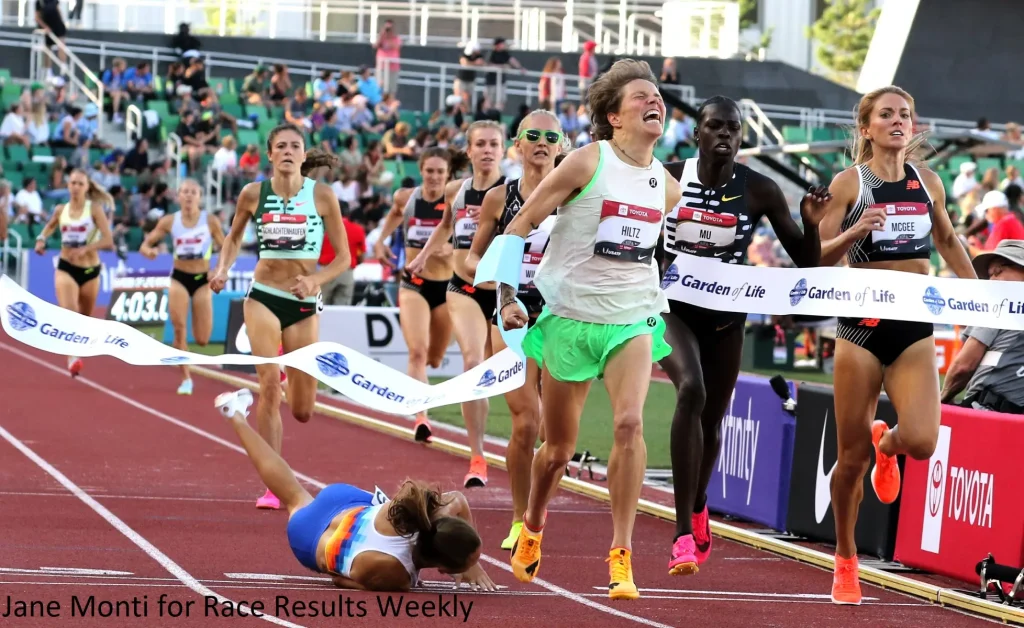 Johnson finished second in heat 3 (4:01.09) and McGee finished fourth in the fourth and final heat in heat 4 (4:03.61).  Hiltz, reigning USA champion, was a little surprised by the fast pace.
Read more: Anna Hall leads heptathlon after Day 1: World Athletics Championships
"It was definitely a shock to the system," said Hiltz, who finished 12th in the 2019 World Athletics Championships but did not make the team for Eugene in 2022.
"I think a little bit faster than I thought.  You know, I was just trying to be patient.  All of a sudden there was a lap to go and I was like, let's go!"
Two of Europe's rising stars who competed in the NCAA last season, Italy's Sinta Vissa and Ireland's Sophie O'Sullivan, failed to advance despite running career-best times.  Vissa finished seventh in heat three in 4:01.66. 
O'Sullivan ran in the same heat and finished eighth in 4:02.15. Like Vissa, she got an Olympic Games qualifier (4:02.50 or better).
"I hadn't really thought of that," she told Irish reporter Cathal Dennehy in the mixed zone, breaking into a smile after shedding tears earlier.
Also failing to advance was Poland's Sofia Ennaoui, a five-time European championships medalist.  She was a distant tenth in the first heat in 4:06.47.