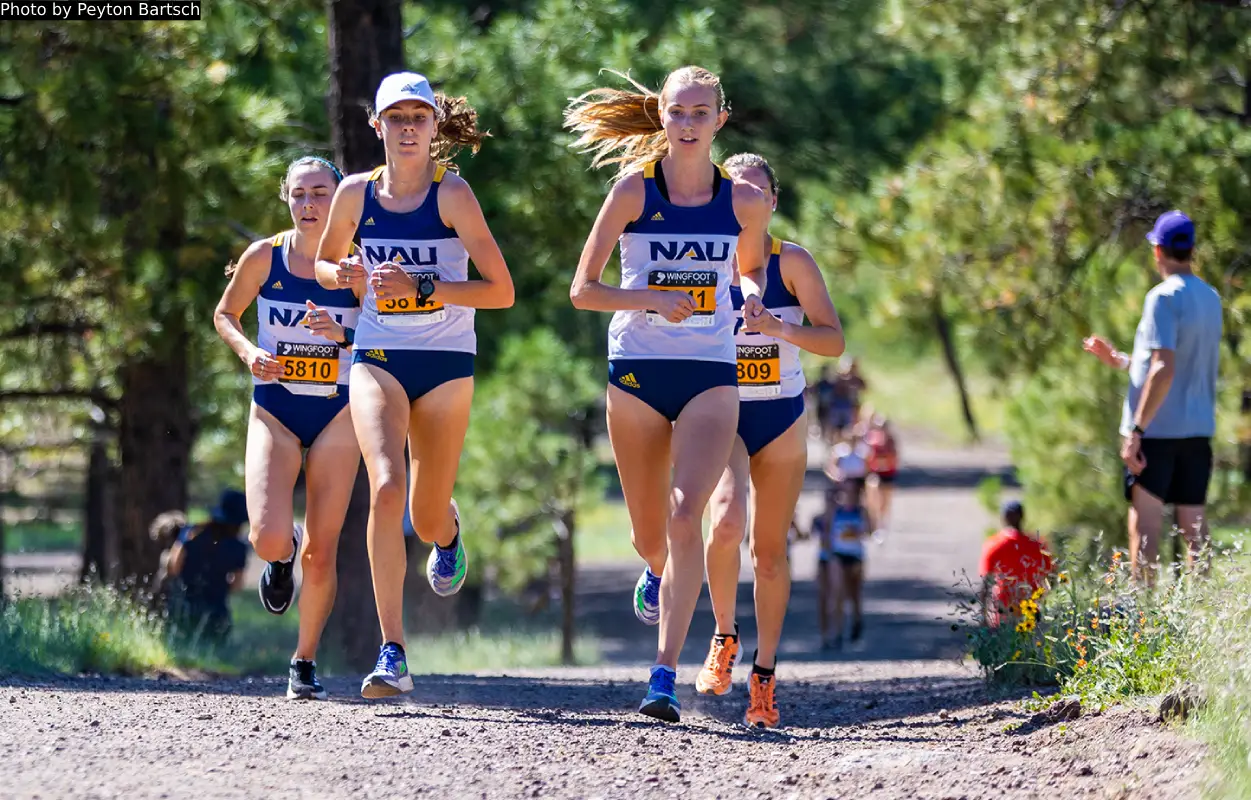 CHARLOTTESVILLE, Va. (Sept. 23) — Elise Stearns captured the women's 5000m title at the 2023 Virginia Invitational College and Open cross country meet, clocking in at 16:18.9. Her team, No. 2 Northern Arizona, also dominated the women's team scores with 44 points. The event took place at Panorama Farms in Charlottesville on Saturday.
Elise Stearns leads the way for dominant Northern Arizona
Stearns led the Northern Arizona scorers, all of whom finished in the top 15. Senior Annika Reiss posted a time of 16:30.3 for seventh place, while Gracelyn Larkin, another senior, ran 16:33.2 for eighth.
Keira Moore and Maggi Congdon rounded out the team's scoring, finishing 13th and 15th with times of 16:40.5 and 16:43.1, respectively.
Georgetown's Chloe Scrimgeour finished second behind Stearns with a time of 16:19.7. She was followed by Virginia's Margot Appleton at 16:21.5, Columbia's Phoebe Anderson at 16:23.8, and Stanford's Amy Bunnage, who completed the top five at 16:26.4.
Click here for more news: 2023 Virginia Invitational men's results, team scores: Drew Bosley and Northern Arizona triumph
In the women's team standings, No. 9 Stanford took second place with 91 points, while host team No. 11 Virginia secured third with 110 points. No. 12 Georgetown and No. 26 Iowa State completed the top five with 185 and 206 points, respectively.
The No. 5 Colorado Buffaloes, who were competing without several of their top athletes, including sophomore transfer Natalie Cooke, found themselves ninth in the team scoring table, finishing with 253 points.
2023 Virginia Invitational College and Open cross country results and points standings
Women's 5K Run CC Individual Results Table
| PLACE | ATHLETE | SCHOOL | 5000M | PACE | TIME DIFF |
| --- | --- | --- | --- | --- | --- |
| 1 | Elise Stearns | Northern Arizona | 16:18.9 | 2:35.3 | |
| 2 | Chloe Scrimgeour | Georgetown | 16:19.7 | 2:36.0 | +0.8 |
| 3 | Margot Appleton | Virginia | 16:21.5 | 2:38.1 | +2.7 |
| 4 | Phoebe Anderson | Columbia | 16:23.8 | 2:39.2 | +4.9 |
| 5 | Emily Covert | Colorado | 16:25.9 | 2:41.8 | +7.0 |
| 6 | Amy Bunnage | Stanford | 16:26.4 | 2:42.4 | +7.5 |
| 7 | Amina Maatoug | Duke | 16:27.5 | 2:44.0 | +8.6 |
| 8 | Annika Reiss | Northern Arizona | 16:30.3 | 2:40.0 | +11.4 |
| 9 | Gracelyn Larkin | Northern Arizona | 16:33.2 | 2:43.0 | +14.3 |
| 10 | Kimberley May | Providence | 16:34.8 | 2:44.4 | +15.9 |
| 11 | Addie Engel | Ohio State | 16:35.6 | 2:51.4 | +16.7 |
| 12 | Katie Osika | Michigan State | 16:38.3 | 2:40.5 | +19.4 |
| 13 | Melissa Riggins | Georgetown | 16:39.3 | 2:44.9 | +20.5 |
| 14 | Keira Moore | Northern Arizona | 16:40.5 | 2:41.7 | +21.6 |
| 15 | Sophie O'Sullivan | Washington | 16:40.7 | 2:39.9 | +21.8 |
| 16 | Maggi Congdon | Northern Arizona | 16:43.1 | 2:41.7 | +24.2 |
| 17 | Emily Boutin | Navy | 16:43.4 | 2:42.4 | +24.5 |
| 18 | Chloe Foerster | Washington | 16:44.5 | 2:39.4 | +25.6 |
| 19 | Anna Workman | Virginia | 16:45.0 | 2:45.7 | +26.2 |
| 20 | Lucy Jenks | Stanford | 16:46.6 | 2:45.6 | +27.7 |
| 21 | Karrie Baloga | Colorado | 16:47.1 | 2:50.0 | +28.2 |
| 22 | Riley Stewart | Stanford | 16:47.7 | 2:46.1 | +28.8 |
Click here for full results of the women's 8000m race
Men's Team Scores
| PLACE | TEAM | 5000M | 1 | 2 | 3 | 4 | 5 | (6) | (7) |
| --- | --- | --- | --- | --- | --- | --- | --- | --- | --- |
| 1 | Northern Arizona | 48 | 9 | 1 | 8 | 9 | 14 | (40) | (76) |
| 2 | Stanford | 104 | 7 | 6 | 20 | 22 | 24 | (44) | (49) |
| 3 | Virginia | 123 | 1 | 3 | 19 | 23 | 27 | (59) | (69) |
| 4 | Washington | 131 | 2 | 15 | 18 | 30 | 33 | (60) | (77) |
| 5 | Georgetown | 204 | 11 | 2 | 13 | 39 | 43 | (107) | (129) |
| 6 | Iowa State | 231 | 25 | 31 | 47 | 57 | 71 | (87) | (89) |
| 7 | Michigan State | 243 | 18 | 12 | 37 | 46 | 70 | (78) | (81) |
| 8 | Providence | 246 | 21 | 10 | 36 | 38 | 67 | (95) | (101) |
| 9 | Colorado | 253 | 8 | 5 | 21 | 56 | 79 | (92) | (136) |
| 10 | Syracuse | 269 | 13 | 41 | 50 | 54 | 58 | (90) | (94) |
| 11 | North Carolina | 288 | 17 | 26 | 28 | 62 | 64 | (108) | (113) |
| 12 | Duke | 298 | 4 | 7 | 42 | 61 | 86 | (102) | (106) |
| 13 | Elon | 359 | 16 | 48 | 52 | 55 | 72 | (132) | (148) |
| 14 | Northwestern | 359 | 14 | 45 | 65 | 68 | 85 | (96) | (98) |
| 15 | Ohio State | 369 | 26 | 11 | 29 | 80 | 123 | (126) | (143) |
| 16 | Columbia | 405 | 4 | 4 | 53 | 99 | 115 | (134) | (147) |
| 17 | Air Force | 446 | 35 | 75 | 83 | 84 | 93 | (111) | (119) |
| 18 | Utah State | 476 | 16 | 63 | 91 | 97 | 109 | (116) | (118) |
| 19 | Liberty | 535 | 22 | 34 | 112 | 120 | 124 | (145) | |
| 20 | Navy | 548 | 6 | 17 | 125 | 127 | 139 | (140) | (144) |
| 21 | Charlotte | 551 | 33 | 74 | 100 | 114 | 130 | (133) | (137) |
| 22 | Eastern Kentucky | 596 | 6 | 73 | 88 | 135 | 149 | (151) | (155) |
| 23 | James Madison | 637 | 105 | 110 | 117 | 152 | 153 | (156) | (158) |