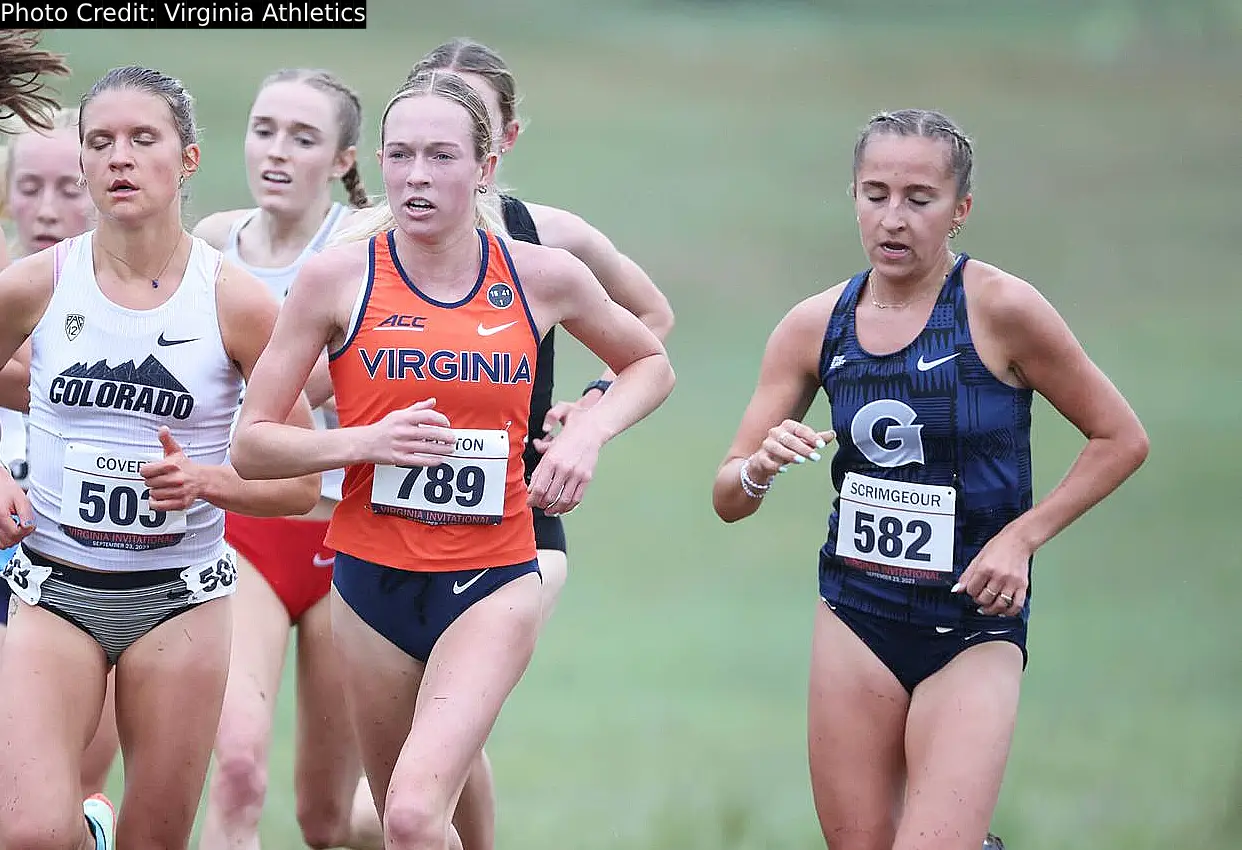 CHARLOTTESVILLE, Va. — As the countdown to the 2023 NCAA Cross Country National Championships begins, the nation's top collegiate programs are converging on Panorama Farms for the XC23 Pre-Nationals this Saturday.
Hosted by the University of Virginia, the event serves as a critical preview of the course that will stage the NCAA Championships later this year.
Read more: Northern Arizona men dominates 2023 Nuttycombe Invitational; results, team scores
The day's action kicks off with the Men's 8k Orange Race at 8:45 a.m., followed by the Men's 8k Blue Race, the marquee event, at 9:40 a.m. The Women's 6k Blue Race is slated for 10:30 a.m., with the Women's 6k Orange Race rounding out the competition at 11 a.m.
For fans unable to make it to Panorama Farms, the XC23 Pre-Nationals will be streamed on ACCNX, accessible through the ESPN app for those with an ACC Network subscription. Live results and updates will be available on the official Virginia Sports website, as well as the program's Twitter account. For live results and updates, please click here
XC23 Pre-Nationals Ticketing and Logistics
Tickets for the XC23 Pre-Nationals are priced at $20 and cover entry, parking at Fashion Square Mall, and round-trip shuttle service to Panorama Farms. Onsite parking will be unavailable for spectators, necessitating the use of shuttles, which will operate between 6:45 a.m. and 12:30 p.m. Tickets are available for purchase online and will not be sold at the venue.
Rankings and Expectations
The Virginia men's team enters the meet ranked 10th nationally, while the women's squad holds the No. 7 spot. Both teams have high expectations, as indicated by their strong showings in the ACC Preseason Coaches Poll.
Teams and runners to Watch
The women's and men's Blue Races will feature a strong lineup including Arkansas, BYU, Cal Poly, Villanova, Yale, and Duke, among others.
Arkansas standout freshman Paityn Noe is one of the athletes to watch out for in the women's 6k Blue Race, with her teammate Sydney Thorvaldson and Maddy Elmore of Oregon, also expected to be among the front runners on Saturday morning.