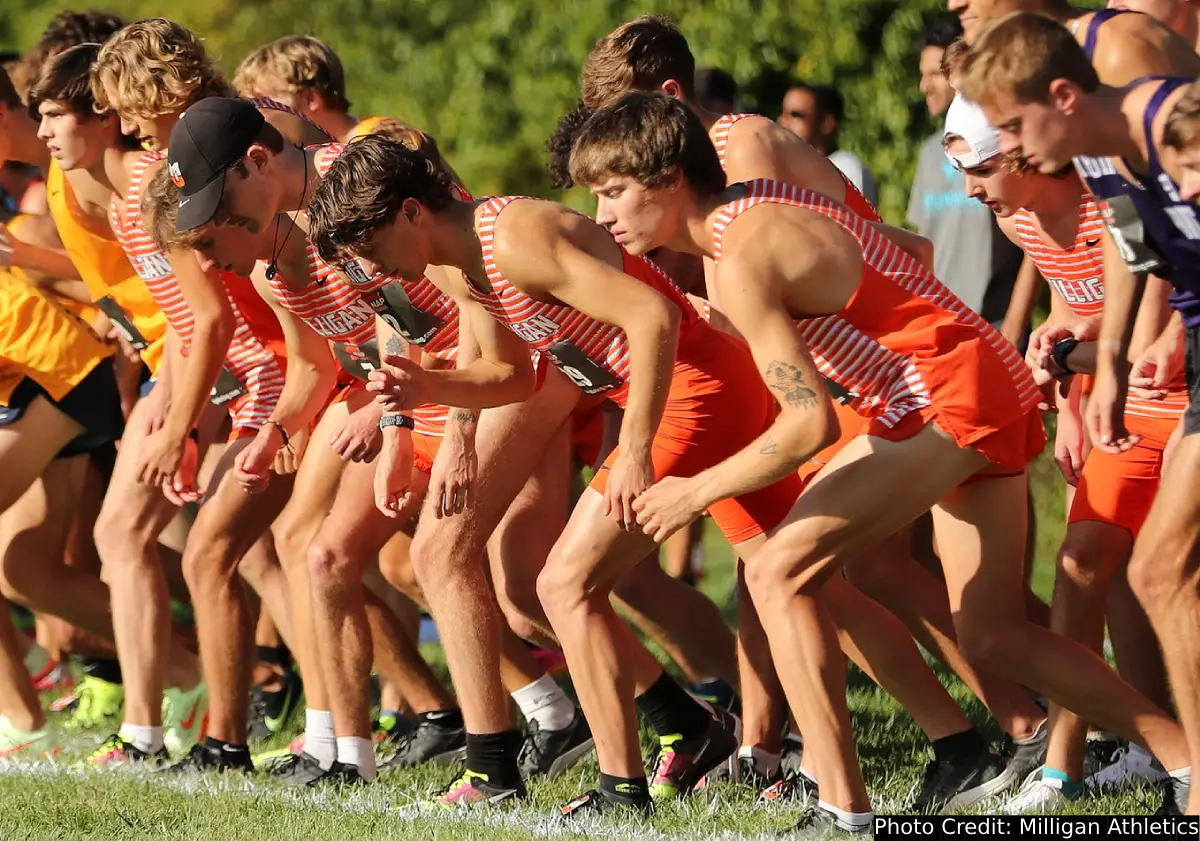 KNOXVILLE, Tenn. — Milligan University's men's and women's cross country teams, both nationally ranked, made a resounding statement at the NAIA Appalachian Challenge held at Sequoyah Park. The men's team, ranked third, clinched the team title with Bryn Woodall setting a new 8k record. The women's team, ranked second, also captured the team title, led by Caitlin Dominy's fifth-fastest 5k in team history.
Record-Breaking Performance From Woodall
In "really good conditions" on Friday morning, Bryn Woodall posted a sizzling 23:49 time for the 8k to not only secure him his second career victory but also broke Milligan's previous 8k standard by six seconds.
Read more: How to follow the 2023 Blazing Tiger NAIA Classic live results?
His performance led the Buffs to a team score of 42 points, 11 points ahead of second-place No. 10 Montreat. Despite facing some health issues, the team showcased its depth with four top-10 individual finishes and seven top-25 finishers.
The performance was lauded by head coach Chris Layne, who said on the school website, "That's a big run from Bryn today. We've had three different guys lead us this year, and I think that speaks to the talent in this crew."
Team Depth and Individual Achievements
Milligan's team proved its depth with four top-10 individual finishes and seven top-25 finishers. Aaron Jones (24:05.4) and Will Stockley (24:12.4) finished third and fifth, respectively, both posting season-best times.
Zimri Kuhn (25:01.2) and Sylas Chambers (25:35.4) also contributed to the team's success with personal-best times for 10th and 23rd, respectively.
Read more: How to watch the 2023 NAIA Great Lakes Challenge Cross Country?
Meanwhile, Caitlin Dominy collected her first collegiate cross country victory with a time of 17:29, moving her to fifth on Milligan's all-time cross country 5k leaderboard during the women's competition.
No. 10 Montreat was in the team scoring with 53 points. Huntington, receiving votes in the latest national rankings, finished third with 95 points.
Milligan Women's Team: A Dominant Run
The No. 2 Milligan women went 1-2-3 in the race and  had six of the top 11 finishers, completing the meet with a team score of 23, far ahead of second-place Montreat's 73 points.
"Caitlin has worked so hard and it's just so rewarding to see her make the jump she has," said Layne. "She never broke 20 minutes in high school but we knew because of her track times she was capable of doing what she's done."
Ellen-Mary Kearney was the runner-up to teammate Dominy in 17:35, and Hannah Brown finished third with a season-best time of 18:04.
Head coach Chris Layne expressed satisfaction with both teams' performances. "We really hadn't had good conditions until today and love how they responded and took advantage of a great environment," said Layne.
No. 12 Montreat finished second in the women's scoring with a team score of 73 and No. 23 SCAD Savannah was third with 95 points.
Upcoming Events
Both teams will return to Sequoyah Park for the Appalachian Athletic Conference Championships in two weeks, aiming to carry forward the momentum from their respective victories here at the 2023 NAIA Appalachian Challenge.
For complete results of the 2023 NAIA Appalachian Challenge, click here
2023 NAIA Appalachian Challenge Results and Team Scores
| | | | | |
| --- | --- | --- | --- | --- |
| Mens 8000m Individual Results (8k) | | | | |
| PL | NAME | YEAR | TEAM | TIME |
| 1 | Bryn Woodall | JR-3 | Milligan | 23:49.4 |
| 2 | Joseph Skoog | JR-3 | Bethel (Tenn.) | 23:54.3 |
| 3 | Aaron Jones | SR-4 | Milligan | 24:05.4 |
| 4 | Dylan Branch | SR-4 | Montreat | 24:08.4 |
| 5 | Will Stockley | SR-4 | Milligan | 24:12.4 |
| 6 | Austin Liepe | JR-3 | Huntington | 24:34.4 |
| 7 | Ethan Stamey | JR-3 | Montreat | 24:39.9 |
| 8 | Kent Yoder | SR-4 | Huntington | 24:45.3 |
| 9 | Nathan Stamey | JR-3 | Montreat | 24:53.4 |
| 10 | Zimri Kuhn | JR-3 | Milligan | 25:01.2 |
| 11 | Reece Gibson | JR-3 | Huntington | 25:05.4 |
| 12 | Caleb Wright | JR-3 | Montreat | 25:08.9 |
| 13 | Edimo Nintereste | FR-1 | Bryan | 25:12.6 |
| 14 | Trent Wells | SO-2 | SCAD Atlanta | 25:15.7 |
| 15 | John Perez-Dunn | SR-4 | Southeastern U. | 25:15.9 |
| | | | | |
| --- | --- | --- | --- | --- |
| Womens 5000m Individual Results (5k) | | | | |
| PL | NAME | YEAR | TEAM | TIME |
| 1 | Caitlin Dominy | SR-4 | Milligan | 17:29.4 |
| 2 | Ellen-Mary Kearney | SO-2 | Milligan | 17:35.4 |
| 3 | Hannah Brown | JR-3 | Milligan | 18:04.0 |
| 4 | Andrea De La Rosa | SR-4 | Bethel (Tenn.) | 18:07.1 |
| 5 | Avery Raymond | FR-1 | SCAD Atlanta | 18:09.9 |
| 6 | Ali Ray | SR-4 | Montreat | 18:11.1 |
| 7 | Anna Martin | JR-3 | Huntington | 18:17.1 |
| 8 | Alex Midgett | SR-4 | SCAD Savannah | 18:22.8 |
| 9 | Gracie Allen | SR-4 | Milligan | 18:24.1 |
| 10 | Zanelle Willemse | SR-4 | Milligan | 18:27.0 |
| 11 | Patricia Barrera | SO-2 | Milligan | 18:27.6 |
| 12 | Edith Manfred | FR-1 | SCAD Savannah | 18:28.3 |
| 13 | Catherine Slack | JR-3 | Montreat | 18:31.0 |
| 14 | Blanca Conesa | SO-2 | William Carey | 18:31.5 |
| 15 | Mercy Kibiwott | SO-2 | Cumberland (Tenn.) | 18:41.6 |
Men's 8k Team Score
| | | | | |
| --- | --- | --- | --- | --- |
| PL | Team | Total Time | Avg. Time | Score |
| 1 | Milligan | 2:02:43 | 24:32:00 | 42 |
| 2 | Montreat | 2:04:15 | 24:51:00 | 53 |
| 3 | Huntington | 2:06:35 | 25:19:00 | 95 |
| 4 | Lindsey Wilson | 2:09:38 | 25:55:00 | 162 |
| 5 | SCAD Atlanta | 2:10:57 | 26:11:00 | 193 |
| 6 | Cumberland (Tenn.) | 2:11:03 | 26:12:00 | 195 |
| 7 | William Carey | 2:12:01 | 26:24:00 | 230 |
| 8 | Southeastern U. | 2:11:48 | 26:21:00 | 232 |
| 9 | Bethel (Tenn.) | 2:11:18 | 26:15:00 | 238 |
| 10 | Bryan | 2:12:23 | 26:28:00 | 243 |
Women's 5k Team Score
| | | | | |
| --- | --- | --- | --- | --- |
| PL | Team | Total Time | Avg. Time | Score |
| 1 | Milligan | 1:29:59 | 17:59 | 23 |
| 2 | Montreat | 1:33:19 | 18:39 | 73 |
| 3 | SCAD Savannah | 1:34:26 | 18:53 | 95 |
| 4 | Huntington | 1:35:45 | 19:09 | 128 |
| 5 | William Carey | 1:36:58 | 19:23 | 161 |
| 6 | Lindsey Wilson | 1:39:26 | 19:53 | 204 |
| 7 | Southeastern U. | 1:39:25 | 19:53 | 214 |
| 8 | Bethel (Tenn.) | 1:40:36 | 20:07 | 238 |
| 9 | Cumberland (Tenn.) | 1:41:17 | 20:15 | 254 |
| 10 | Bethel (Ind.) | 1:41:50 | 20:22 | 258 |