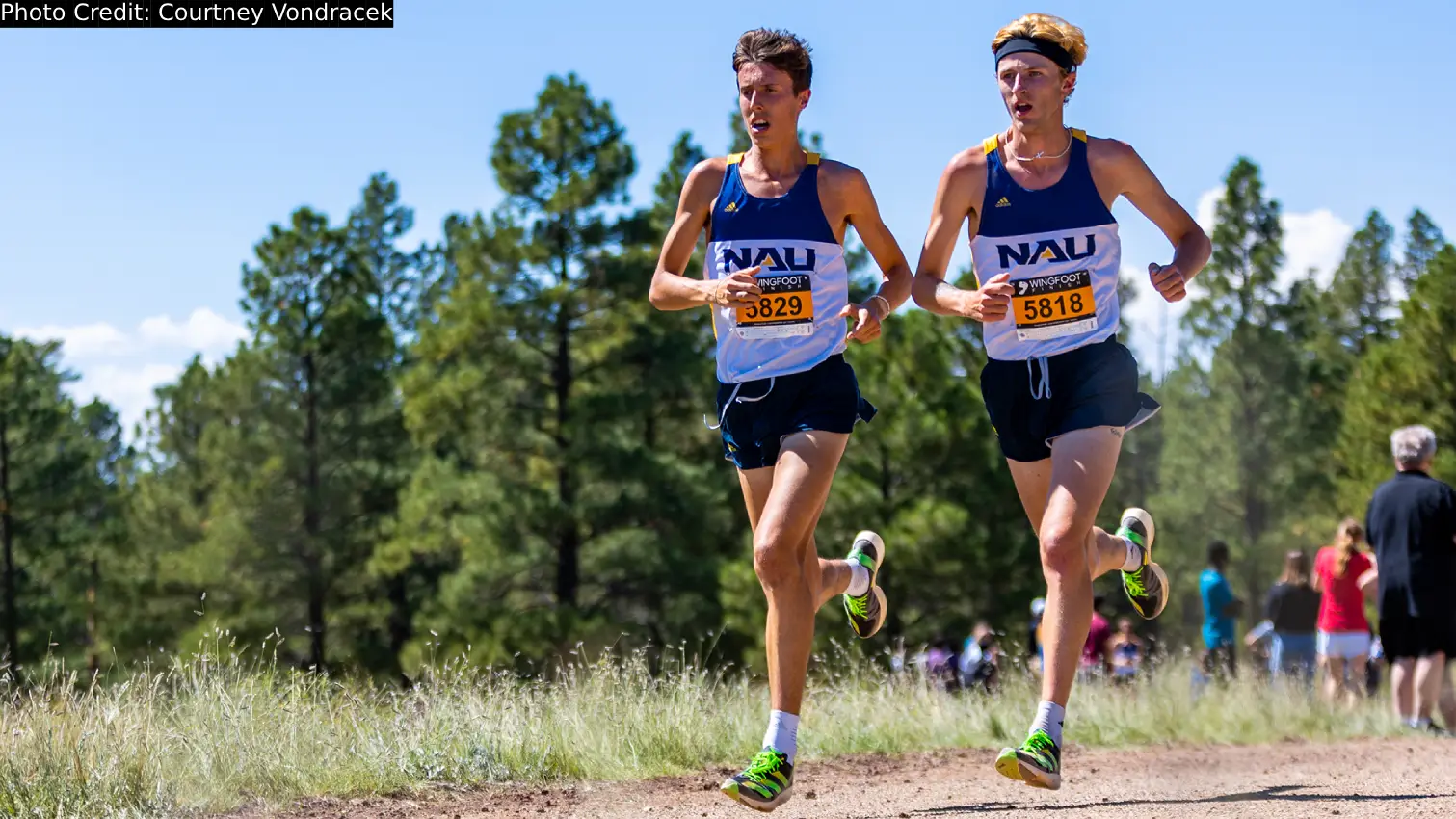 MADISON, Wisc. — In a display of sheer dominance, Northern Arizona University's men's cross country team left no room for doubt at the 2023 Nuttycombe Invitational. The Lumberjacks made history by becoming the only program to sweep both the men's and women's championship races, a feat that underscores their depth and tactical brilliance under coach Michael Smith.
Read more: NC State and NAU win back-to-back NCAA Cross Country National Championships
NAU's strategy of pack running paid off handsomely, as all five scorers finished inside the top 30. The team amassed 76 points, outclassing a field that included 21 other top-30 programs.
Nico Young, NAU's leading runner, took second place for the second consecutive year, clocking an 8K time of 23:26.1. However, the individual race was won by Graham Blanks of Harvard, who posted a time of 23:23.4.
Yet, the day unequivocally belonged to Northern Arizona, who finished third here behind Stanford last year before going on to win a third successful NCAA national championship.
Drew Bosley secured eighth place with a time of 23:32.1, while Aaron Las Heras had an impressive outing, finishing 12th at 23:39.0. Theo Quax and Santiago Gomez-Prosser completed the scoring for the champions, placing 25th and 29th with times of 23:55.3 and 23:57.6, respectively.
Read more: Northern Arizona sweeps Nuttycombe Invitational 2023; Parker Valby beats Katelyn Tuohy
Habtom Samuel of New Mexico was second with 23:26.2, followed by last year's champion Ky Robinson of Stanford with 23:26.2 in fourth and Jackson Sharp of Wisconsin, fifth with 23:26.4.
NAU's men also outperformed several top-ranked teams. Trailing them were No. 3 BYU with 162 points in second place, No. 6 Syracuse with 251 points in third, No. 14 California Baptist with 272 points in fourth, and No. 11 Texas rounding out the top five with 286 points.
In the women's 6k Championship at the 2023 Nuttycombe Invitational, Northern Arizona University also dominated a very strong field, scoring 52 points to beat No. 1 NC State with 95 points.
2023 Nuttycombe Invitational Results and Team Scores
Men's 8k Top 10 Results
Graham Blanks, Harvard [JR], 23:23.4
Nico Young, Northern Arizona [JR], 23:26.1
Habtom Samuel, New Mexico [FR], 23:26.2
Ky Robinson, Stanford [JR], 23:26.2
Jackson Sharp, Wisconsin [SR], 23:26.4
Rocky Hansen, Wake Forest [FR], 23:27.2
Parker Wolfe, North Carolina [JR], 23:29.0
Drew Bosley, Northern Arizona [SR], 23:32.1
Wil Smith, Gonzaga [JR], 23:32.5
Creed Thompson, BYU [JR], 23:35.3
Top 10 Team Scores – Men's 8k
Northern Arizona, 76
BYU, 162
Syracuse, 251
CBU, 272
Texas, 286
Harvard, 287
Colorado, 312
Villanova, 373
Furman, 394
North Carolina, 399
Click here for the full results