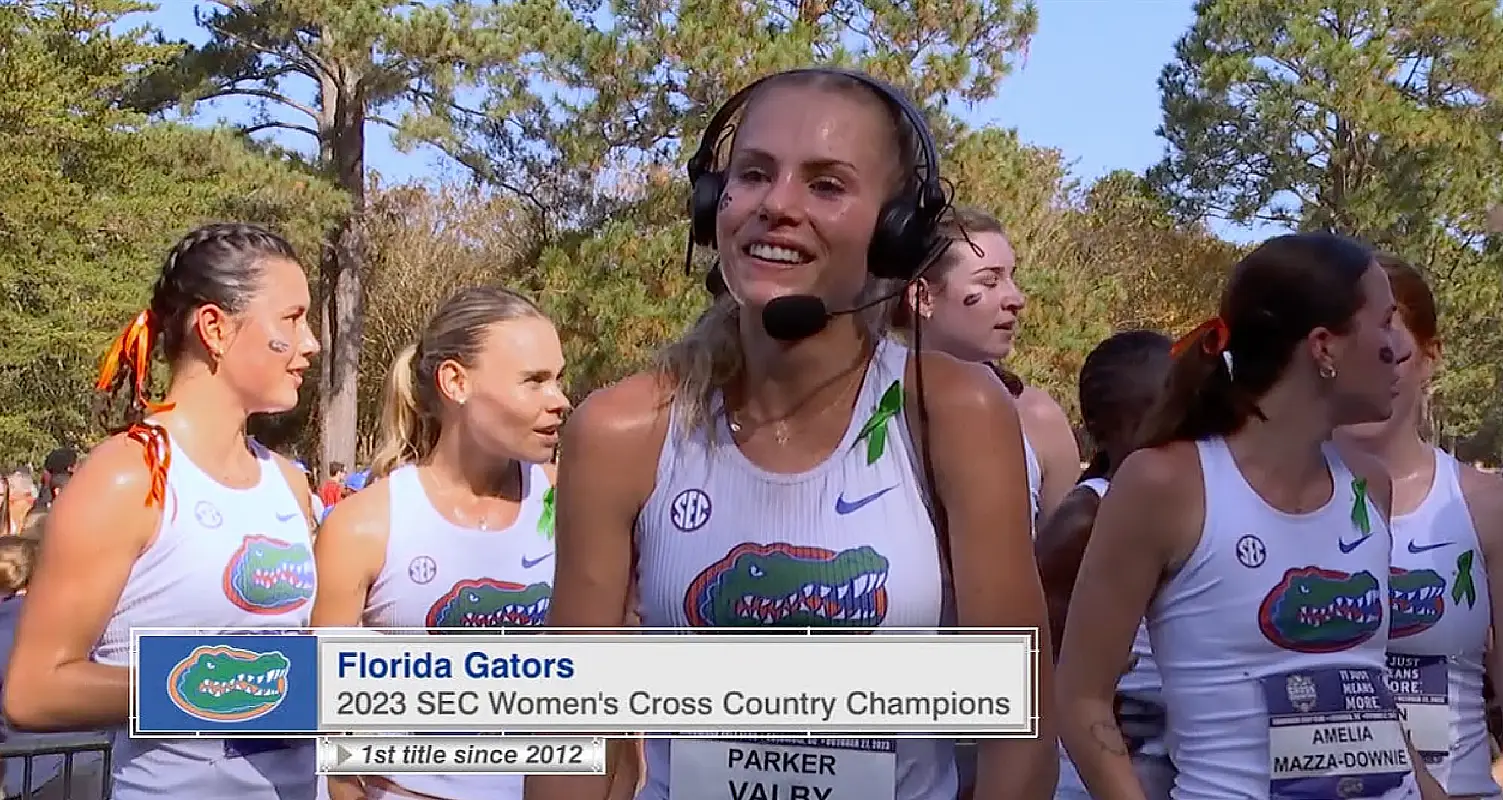 (Oct. 27) — The final SEC Cross Country Championships team scores and top results on Friday, as Arkansas men and Florida women secured respective conference titles at the Charwood Golf Club. The championship was hosted at the University of South Carolina.
No. 8 ranked Arkansas men scored 38 points to return to the summit, while No. 7 Florida scored 49 points to take first place in the women's team score.
Read more: How to watch the Big Sky Conference Cross Country Championships 2023?
Completing the top five men's team scoring were No. 22 Alabama in second place with 57 points, followed by No. 13 Tennessee with 59 points, Texas A&M (140), and Auburn (148).
On the women's side, the Gators were followed home in second-place by No. 11 Arkansas with 59 points, No. 23 Tennessee with 80 points was third, No. 13 Alabama was next with 84 points and No. 18 Ole Miss (107).
Parker Valby of Florida won the women's SEC Cross Country Championships, recording a time of 18:37.5. Doris Lemngole of Alabama clocked 19:11.2 for second place with Hilda Olemomoi of Alabama taking third-place with 19:23.5.
The men's 8k race went to Alabama's Victor Kiprop, posting a time of 22:23.4, with Arkansas'Patrick Kiprop clocked 22:31.6 for second place, with third going to Alabama's Hillary Cheruiyot with a time of 22:39.4.
SEC Cross Country Championships Results and Team Scores
| | | | | | |
| --- | --- | --- | --- | --- | --- |
| Men 8k Run CC Individual Results (8k) | | | | | |
| PL | NAME | YEAR | TEAM | Avg. Mile | TIME |
| 1 | Victor Kiprop | JR-3 | Alabama | 04:30.2 | 22:23.4 |
| 2 | Patrick Kiprop | JR-3 | Arkansas | 04:31.9 | 22:31.6 |
| 3 | Hillary Cheruiyot | JR-3 | Alabama | 04:33.5 | 22:39.4 |
| 4 | Yaseen Abdalla | SR-4 | Tennessee | 04:35.1 | 22:47.5 |
| 5 | Ben Shearer | SO-2 | Arkansas | 04:35.6 | 22:50.2 |
| 6 | Kirami Yego | JR-3 | Arkansas | 04:36.5 | 22:54.8 |
| 7 | Eliud Kipsang | JR-3 | Alabama | 04:39.8 | 23:11.0 |
| 8 | Gabriel Sanchez | JR-3 | Tennessee | 04:40.2 | 23:12.9 |
| 9 | Ryan Kinnane | JR-3 | Auburn | 04:40.3 | 23:13.3 |
| 10 | Eric Casarez | SR-4 | Texas A&M | 04:40.6 | 23:14.9 |
| 11 | Dean Casey | FR-1 | Tennessee | 04:40.6 | 23:15.0 |
| 12 | Elias Schreml | JR-3 | Arkansas | 04:42.4 | 23:23.8 |
| 13 | Reuben Reina | SO-2 | Arkansas | 04:43.2 | 23:27.8 |
| 14 | Toby Gillen | JR-3 | Ole Miss | 04:43.3 | 23:28.4 |
| 15 | Jake Allen | JR-3 | Kentucky | 04:43.4 | 23:29.1 |
| 16 | Myles Richter | SR-4 | Arkansas | 04:43.7 | 23:30.2 |
| 17 | Brandon Olden | SR-4 | Tennessee | 04:44.0 | 23:32.0 |
| 18 | Jacob McLeod | SR-4 | Arkansas | 04:44.3 | 23:33.5 |
| 19 | Jacob Lewis | SR-4 | Tennessee | 04:45.7 | 23:40.4 |
| 20 | Cole Bullock | SR-4 | Ole Miss | 04:47.2 | 23:47.8 |
| | | | | | |
| --- | --- | --- | --- | --- | --- |
| Women 6k Run CC Individual Results (6k) | | | | | |
| PL | NAME | YEAR | TEAM | Avg. Mile | TIME |
| 1 | Parker Valby | JR-3 | Florida | 04:59.7 | 18:37.5 |
| 2 | Doris Lemngole | FR-1 | Alabama | 05:08.8 | 19:11.2 |
| 3 | Hilda Olemomoi | SO-2 | Alabama | 05:12.0 | 19:23.5 |
| 4 | Flomena Asekol | SR-4 | Florida | 05:14.3 | 19:31.9 |
| 5 | Paityn Noe | FR-1 | Arkansas | 05:17.5 | 19:43.7 |
| 6 | Sydney Thorvaldson | SO-2 | Arkansas | 05:19.1 | 19:49.8 |
| 7 | Silan Ayyildiz | FR-1 | South Carolina | 05:20.8 | 19:56.2 |
| 8 | Amelia Mazza-Downie | JR-3 | Florida | 05:21.0 | 19:56.7 |
| 9 | Loral Winn | SR-4 | Ole Miss | 05:21.2 | 19:57.6 |
| 10 | Ashley Jones | SO-2 | Tennessee | 05:22.1 | 20:00.9 |
| 11 | Judy Kosgei | FR-1 | South Carolina | 05:22.8 | 20:03.6 |
| 12 | Laura Taborda | SR-4 | Arkansas | 05:23.1 | 20:04.8 |
| 13 | Rachel Sutliff | JR-3 | Tennessee | 05:23.4 | 20:05.7 |
| 14 | Jessie Secor | FR-1 | Tennessee | 05:23.7 | 20:07.0 |
| 15 | Joy Gill | SO-2 | Alabama | 05:24.1 | 20:08.4 |
| 16 | Mia Cochran | SO-2 | Arkansas | 05:25.1 | 20:12.3 |
| 17 | Elise Thorner | JR-3 | Florida | 05:25.5 | 20:13.8 |
| 18 | Ryann Helmers | SR-4 | Ole Miss | 05:26.5 | 20:17.5 |
| 19 | Allison Wilson | JR-3 | Florida | 05:26.8 | 20:18.5 |
| 20 | Mary Ellen Eudaly | SO-2 | Arkansas | 05:29.7 | 20:29.5 |
| | | | | |
| --- | --- | --- | --- | --- |
| Men 8k Run CC Team Results (8k) | | | | |
| PL | Team | Total Time | Avg. Time | Score |
| 1 | Arkansas | 1:55:07 | 23:01 | 38 |
| 2 | Alabama | 1:56:16 | 23:15 | 57 |
| 3 | Tennessee | 1:56:27 | 23:17 | 59 |
| 4 | Texas A&M | 2:00:41 | 24:08:00 | 140 |
| 5 | Auburn | 2:00:57 | 24:11:00 | 148 |
| 6 | Ole Miss | 2:01:39 | 24:19:00 | 169 |
| 7 | Florida | 2:02:58 | 24:35:00 | 194 |
| 8 | Kentucky | 2:02:39 | 24:31:00 | 197 |
| 9 | Missouri | 2:03:54 | 24:46:00 | 232 |
| 10 | Georgia | 2:04:35 | 24:55:00 | 250 |
| 11 | LSU | 2:08:37 | 25:43:00 | 370 |
| 12 | Vanderbilt | 2:08:38 | 25:43:00 | 375 |
| | | | | |
| --- | --- | --- | --- | --- |
| Women 6k Run CC Team Results (6k) | | | | |
| PL | Team | Total Time | Avg. Time | Score |
| 1 | Florida | 1:38:38 | 19:43 | 49 |
| 2 | Arkansas | 1:40:19 | 20:03 | 59 |
| 3 | Tennessee | 1:41:18 | 20:15 | 80 |
| 4 | Alabama | 1:40:38 | 20:07 | 84 |
| 5 | Ole Miss | 1:42:31 | 20:30 | 107 |
| 6 | Texas A&M | 1:45:30 | 21:06 | 181 |
| 7 | Vanderbilt | 1:47:41 | 21:32 | 258 |
| 8 | South Carolina | 1:46:38 | 21:19 | 262 |
| 9 | Missouri | 1:47:49 | 21:33 | 265 |
| 10 | LSU | 1:48:01 | 21:36 | 278 |
| 11 | Auburn | 1:48:05 | 21:37 | 283 |
| 12 | Kentucky | 1:48:23 | 21:40 | 292 |
| 13 | Miss State | 1:49:10 | 21:50 | 329 |
| 14 | Georgia | 1:50:12 | 22:02 | 371 |
Full Results and Team Scores Here