CHICAGO (Oct 07) — Earlier this month at the Faxon Law New Haven Road Race in Connecticut, Conner Mantz and Clayton Young ran stride for stride over the final kilometer to see who would win the USATF 20K title. Will we see something similar at Sunday's 2023 Chicago Marathon?
The two former teammates at Brigham Young University, who train together under BYU coach Ed Eyestone, switched from their usual roles as supportive training partners to competitors. In the end, Young won by less than a second and immediately emphasized Mantz's role in his victory.
"Mantz is an incredible training partner," Young told Race Results Weekly that day. "He is the one leading just about every workout. He's the real workhorse, so I owe a big credit of this race to him."
Read more: Men's start list: 2023 Bank of America Chicago Marathon
Mantz and Young Share Close Connections
Like Formula 1 drivers who are on the same team, Mantz and Young are equal parts training partners and competitors. They see each other nearly every day, attend the same church, push each other in practice, and lift each other up when the miles get tough. But when the gun goes off, they are keen but respectful rivals.
"It's funny, because it's like great when we're training together, but in a race –I don't know– I want to beat him," Mantz told reporters at a press conference here today.
"It was a little weird after the USATF 20-K Championships because he was like, 'oh yeah, let's run it in together.' But then he had to think, this isn't like college where that's the thing. This is pro life."
Managing that competitive tension will come into play here on Sunday. Both athletes aim for the Paris 2024 Olympic qualifying standard of 2:08:10, and by running together, they can help each other achieve that goal.
However, they also want to place as high as possible, so sticking together may or may not be the best move depending on how the race unfolds.
"I can see us maybe looking out for each other maybe the first 20 or so miles or even more for sure, but I think we learned that it will be an all-out kick to the finish at the end of the day," Young told Race Results Weekly in an interview here today.
Mantz sees the situation the same way.
"In training, we're training partners," Mantz observed. "We feed off of each other's energy. But in racing, you've got to race, you know?"
Mantz and Young – A Dream Pair to Work With
Eyestone, a two-time Olympic marathoner who finished 13th in the Barcelona Games in 1992, appreciates how Mantz and Young work together despite being at different life stages. Mantz, 26, is recently married, while Young, 30, already has two daughters.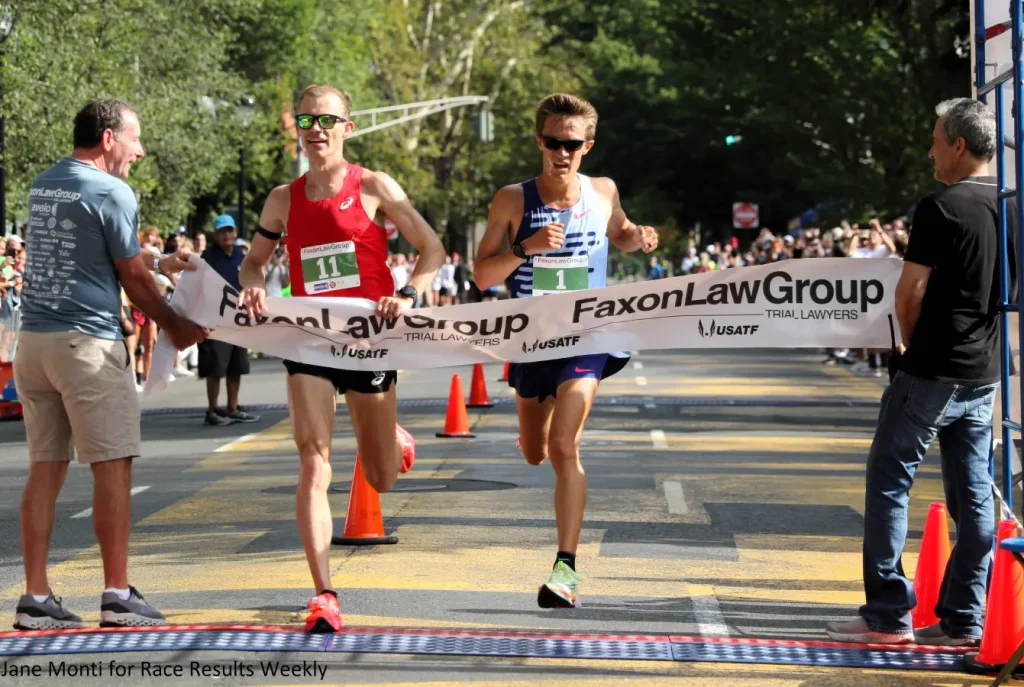 Mantz competed on the track this year, setting a 1500m personal best of 3:37.92, while Young hasn't touched the track since 2021.
Read more: How to watch the 2023 Bank of America Chicago Marathon?
"They've been working really well together," Eyestone told Race Results Weekly. "They're a great combo. Their egos don't really get in the way. They have their different skill sets. Obviously, Clayton, particularly this last year, has been running the American race circuit and whatnot.
"He does very well at that. I think Conner has been able to help out Clayton on the longer stuff, and Clayton has been able to help out Conner in some of the shorter stuff. It's a good symbiotic relationship."
While Mantz had always been pointing to Chicago and was accepted into the elite field quickly (he's sponsored by Nike, which is also a key sponsor of the race), Young (who is sponsored by Asics) didn't get into the elite field until much later (he revealed that he didn't get his actual race contract until last week).
Nonetheless, he put in the work on the eventuality that a Chicago start would work out and was careful in practice to keep their competitive tendencies in check.
"In our training, we sometimes step on each other's toes and have to be careful," Young explained. "But usually by the end of the cool down, we're back at square one again as friends.
"Sometimes we can get a little too competitive in practice or in races as you've seen. But at the end of the day, especially on Sunday, we're going to toe the start line as competitors."
Eyestone said that he expects Mantz to make the Paris 2024 standard, but that it would be more of a stretch for Young. He said that both men had good build-ups for Sunday.
"Well, I think it would be awesome if we came away from this weekend with both of them running the Olympic standard," Eyestone said. "Certainly, that's what I have in mind for Conner.
"Realistically, if Clayton can dip under 2:10, I think that's a good day, or maybe high-2:08 range. That's a phenomenal day for the two of them."
Mantz had an excellent day here last year. In his debut at the distance, the two-time NCAA cross country champion ran a very credible 2:08:16 and finished seventh.
Only a slight improvement would get him under the standard, and after running 5,000 miles between last year's race and this year's event, he's not feeling too much pressure.
"I'm really focusing on my processes," Mantz said. "Trying to focus on my processes and be ready to run fast. I don't know, I think if I run my race plan and pace it out well and make sure I get my bottles, I'm pretty confident I'll be under the time. Maybe that's overconfidence; I don't know. We'll find out on Sunday."
Also thinking about Sunday, Young said that the way he and Mantz prepared together puts him in the best position to run well.
"If I'm the one who's having self-doubt… he's the first one who's talking me out of that," Young said. "We're always really rooting for each other in that way."