By David Monti, @d9monti
(c) 2023 Race Results Weekly, all rights reserved

RIGA (01-Oct) — With a dozen total medals (five gold) Kenya topped the medal table at the inaugural World Athletics Road Running Championships here this afternoon. 
In cool, sunny and breezy conditions, Kenyan athletes swept the podiums of both the men's and women's half-marathons (thus winning the team gold medals), took gold and silver in the women's 5-K, and bronze in the men's 5-K and women's mile.  Peres Jepchirchir won her third world half-marathon title.
Read more: Final medal table: World Athletics Road Running Championships Riga 23 
But, there were some upsets and not all of the glory went to Kenya.  Ethiopia's Hagos Gebrhiwet and Diribe Welteji were gold medalists in the men's 5K and women's mile, respectively, and Americans Hobbs Kessler and Sam Prakel got gold and bronze in the mile. 
In all, five nations –Ethiopia, Great Britain, Kenya, South Africa and the United States– won individual or team medals (only the half-marathon had team scoring).
With separate mass races in both the 5K and half-marathon, Riga's streets teemed with runners today.  The crowds were significant, especially along the finish straight adjacent to the Daugava River.
"Riga was really spectacular," said Italy's Nadia Battocletti who finished fifth in the women's 5-K in a national record 14:45  "Really amazing. 
"You have a super-beautiful city and what I love most was the crowd.  There was a lot of people cheering us.  I really appreciate having a crowd around the course, so I'm really happy."
HOBBS KESSLER AND DIRIBE WELTEJI RUN ALL THE WAY TO THE BANK
The mile was the shortest distance today, but the biggest for cash awards.  World Athletics offered USD 50,000 for any world records here today (pending ratification), and with modest benchmarks of 4:01.21 for men and 4:27.97 for women it seemed a certainty that those records would go.
And they did.
Read more: Road Mile world records for Hobbs Kessler, Diribe Welteji at Riga 23
In the much-anticipated women's race, where Kenya's Faith Kipyegon was heavily favored to win and set her fourth world record of the year, the race began according to form with Kipyegon taking the lead right from the gun. 
But Ethiopia's Diribe Welteji and Freweyni Hailu were not intimidated and went with the two-time Olympic 1500m gold medalist.
At the 1000m mark (2:41.0) Kipyegon still had the lead with Welteji close behind.  Hailu, and Kenya's Nelly Chepchirchir, were battling for the bronze medal just two seconds behind. 
Kipyegon appeared to be in control, but in the final quarter of the race her long season of fast running finally caught up to her.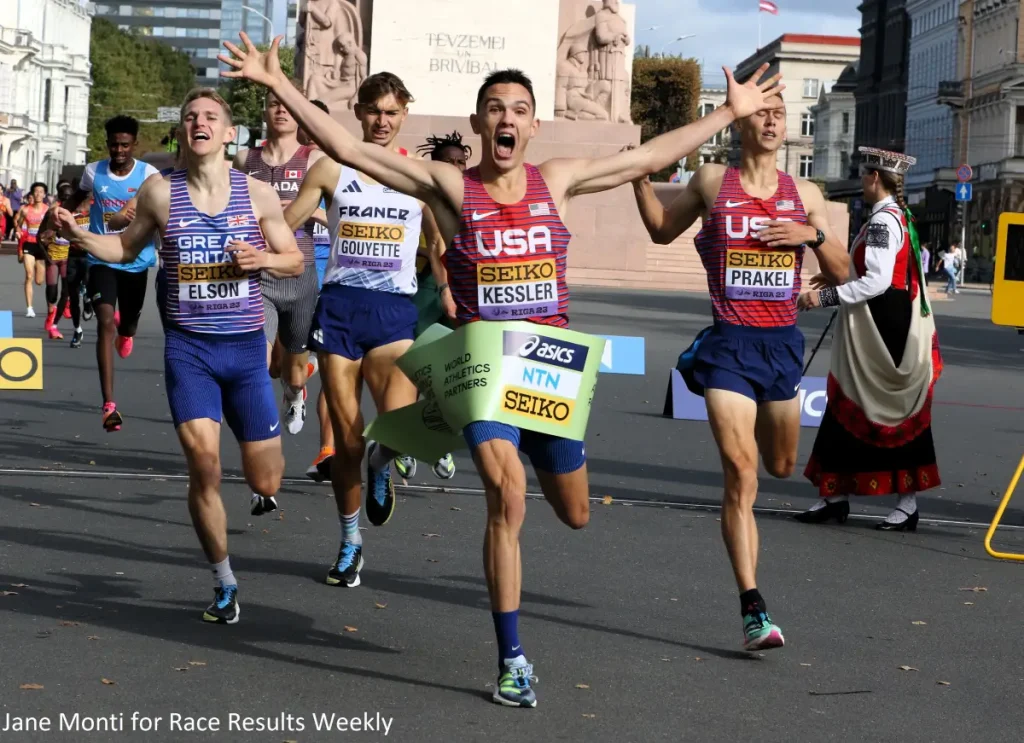 Welteji pulled away to get the win in a world record 4:20.98.  She never expected to beat Kipyegon who suffered her only loss of the year.
"I'm so happy; I'm more than delighted," the 21 year-old Welteji said with help from a translator.  "I didn't expect that, but I'm very happy for today."
In the final 30 meters before the finish near the base of the Freedom Monument, Kipyegon was still in second place. 
But Hailu made one final surge, passed the tiring Kenyan, and got the silver medal in 4:23.06.  Kipyegon had to settle for bronze in 4:24.13.
"After an incredible year with three world records and two world titles on the track, I'm proud to finish the season with another World Championships medal in my first road race, ever," Kipyegon wrote on her Instagram account.  
"2023, you were amazing.  And now holiday and family time.  See you all in 2024."
PRIZE MONEY DIRIBE WELTEJI FOR WORLD RECORD
For her victory, Welteji pocketed USD 60,000, including the USD 10,000 for first place.  She was a little stunned when a reporter mentioned her payday.
"Thanks to God, this is incredible," she said.  "I can change my life."
Chepchirchir finished fourth (4:31.18) and Australia's Jessica Hull got fifth (4:32.45).  The top American was Huntington University star Addy Wiley; she finished ninth in 4:36.03.
Read more: Men's 5k Results: Gebrhiwet wins World Athletics Road Running Championships Riga 23
"The course was good, the competition was great," Wiley told Race Results Weekly.  "It was a good race, not a great one, but it was good.  I'm taking a break now; this is the end of my track season."
The men's race played out differently.  The entire field stayed together right into the final quarter setting up a mass sprint, like a Tour de France stage (the first nine men would finish in a span of 1.91 seconds). 
That was fine with Kessler and Prakel who, unlike most of the field, are both road mile veterans.  They were ready.
"I'd say the road mile is a very, very American event," Kessler told reporters.  "Sam and I in the last year probably ran, combined, close to ten.  So we're quite experienced in them."
Looking around, Kessler had Britain's Callum Elson, France's Mael Gouyette, and Canada's Kieran Lumb to worry about.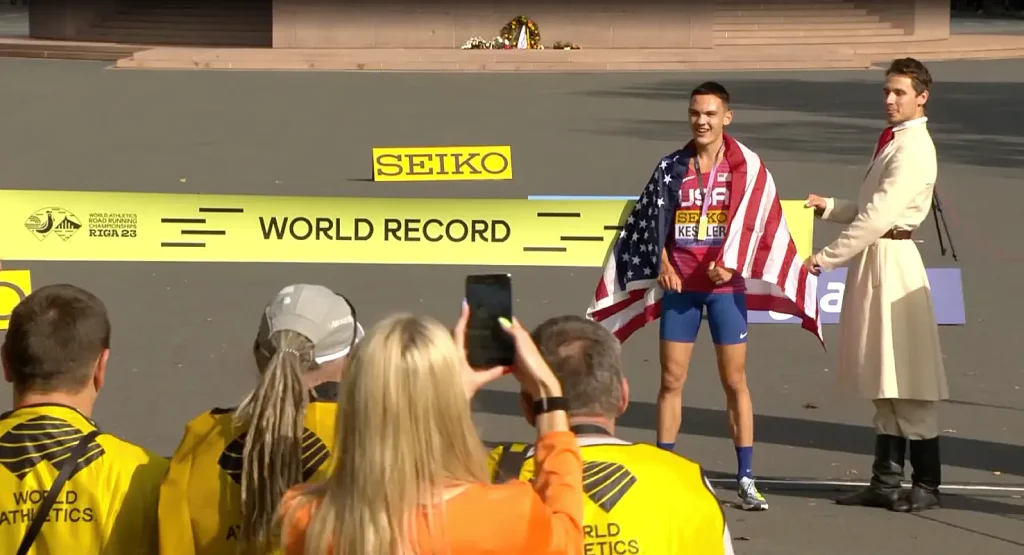 He tried to stay patient, and with about 150 meters to go he decided to make his move.  As soon as he did, he doubted his decision.
"I had a clear path," Kessler explained.  "I was about 150 out.  I was like, might as well strike for home.  And I went and immediately regretted it.  I got hit with a huge blast of wind. 
"I was like, oh, this isn't good.  But as we got closer and closer, nobody was going by me.  I took one glance around.  They were close but I still had them."
Kessler's 3:56.13 was good for a pending world record and, like Welteji, he won USD 60,000.  He said that money would come in very handy right now.
"I just bought a house two weeks ago, so now I have some money for furniture," he said.
Prakel, the most experienced road miler in the field, couldn't get ahead of Britain's Elson, who got silver in 3:56.41, but he held off Gouyette to take the bronze.  The timing team didn't have his result available right away, so he had to wait several minutes to have his place confirmed.
Read more: Kenya's Beatrice Chebet wins world 5km title at Riga 23
"To be honest I was keying off Hobbs," Prakel told Race Results Weekly.  "He was in good shape and ran 1:46 (for 800m) not too long ago. 
"I knew he's good at road miles as well.  Once I found myself a little bit farther in the pack I was like, just find Hobbs and just close hard with him."
Prakel lost his world record in this event (which only lasted a month), but getting a global medal was sweet.
"I always put placing over time," Prakel said.  "The bronze medal is something I can always have forever."
BEATRICE CHEBET GETS SECOND GLOBAL GOLD MEDAL OF THE YEAR
Kenya's Beatrice Chebet started her year with a gold medal at the World Athletics Cross Country Championships in Australia, and she finished with a gold medal here in the 5-K. 
The petite 23-year-old with closely-cropped hair and a killer kick ran a sound tactical race to win by a comfortable four seconds in 14:35, establishing a championships record. 
She was one of a leading pack of eight at 3-K (8:54) which included her teammate Lilian Rengeruk, Uganda's Joy Cheptoyek, Italy's Nadia Battocletti, Ethiopia's Ejgayehu Taye and Medina Eisa, and America's Weini Kelati.
In the fourth kilometer, Cheptoyek and Kelati were dropped (they finished sixth and seventh, respectively).  Battocletti was the next to let go, leaving Chebet, Rengeruk, Taye and Medina to fight for the medals. 
Taye, the world record holder with a 14:19 personal best, looked strong and she and Chebet were side by side with about 500 meters to go.  Meanwhile, Rengeruk was ahead of Eisa and trying to hold on to the bronze medal position.
But when Chebet launched her final sprint, Taye had no answer.  The gold medal was Chebet's.
"It is not easy to win a championship like this, especially with tough competition from Ethiopia," Chebet told reporters.  "I just believed in myself and I say, I can make it, I can deliver."
Behind Chebet, Rengeruk was upgrading her aspirations to silver.  Swinging her arms furiously, she overhauled Taye to finish second in 14:39, one second ahead of the Ethiopian.  Eisa got fourth in 14:41.
"You know I was struggling, but when I see my colleague is in front so I was like, let me keep up my efforts so I can follow my colleague," Rengeruk told Race Results Weekly.  
"I am actually happy, very happy.  This is my final race of the season.  I'm going to stay (home) for some time then start again my training."
The men's 5-K turned into an all-Ethiopian battle between veterans Hagos Gebrhiwet and Yomif Kejelcha.  The versatile Kejelcha, twice the world indoor 3000m champion, did most of the leading after breaking away from the main field in the second kilometer. 
By 3-K (7:58) Kejelcha had succeeded in breaking the race open, but now he was shielding his much smaller teammate Gebrhiwet from the wind. He began to get frustrated.
"It's a wind," said Kejelcha, meaning that it was windy.  He continued: "It was very hard for pushing."
Running the fourth kilometer in 2:32, the Ethiopian pair had a five-second lead over their nearest chaser, Kenya's Nicholas Kipkorir.  One of them would get the gold, but whom?
Eleven minutes and 39 seconds into the race Gebrhiwet answered that question. He surged around Kejelcha like a Formula 1 car using DRS and ran to victory in 12:59, setting a championships record.  Kejelcha got silver in 13:02 while Kipkorir was well back in third (13:16).  
Eritrea's Dawit Seare (13:21) and Kenya's Cornelius Kemboi (13:24) rounded out the top-5.
"I'm very happy because (I am) the first champion," said Gebrhiwet who, like Chebet, won USD 10,000 in prize money.
THIRD WORLD HALF-MARATHON TITLE FOR PERES JEPCHIRCHIR
Reigning Olympic Marathon champion Peres Jepchirchir lived up to her billing as pre-race favorite and scored a solid win in the women's half-marathon in 1:07:25. 
As a result, the 30-year-old joined athletics legends Paula Radcliffe, Tegla Loroupe and Lornah Kiplagat as just the fourth woman to win three World Athletics Half-Marathon (or 20-K) titles.
"I feel grateful; I thank my God," she told reporters in the mixed zone.  She continued: "It means a lot to me.  I'm so grateful and I'm so happy. 
Read more: Full Results of Men's 5km at World Athletics Road Running Championships in Riga
"It was my motivation.  I tell my family, especially my husband, I told him I was going to work extra hard because of him.  I tried my best so I can give my gold to him."
Jepchirchir's mastery of tactics paid off today.  She did not spend any time in the lead, but rather stayed tucked in the pack to shelter from the wind.  In the first half of the race she was content to let Britain's Samantha Harrison and Callie Thackery set the pace, running reasonable splits of 16:26 for 5-K and 32:26 for 10K. 
She was joined by the other three Kenyans on her team –Irine Kimais, Margaret Kipkemboi and Catherine Reline– as well as Ethiopia's Tsigie Gebreselama and Ftaw Zeray.
But in the third 5-kilometer segment, things got faster.  The 16:14 split for that segment was too fast for Harrison, who fell back to finish ninth in 1:09:26 (she later complained of stomach problems).  Thackery was just barely holding on, and was next to fade. 
She finished a solid seventh in 1:08:56, a personal best and the highest finish by a non-African here today.  
The pace got even hotter in the final quarter of the race.  Jepchirchir and Kipkemboi ran the next 5-kilometer segment in 15:47, and that was fast enough to drop both Kimais and Zeray.  That left four women to battle for the three medals.  
In the final kilometer, the Kenyan trio took over the race.  Kipkemboi had her eyes on the gold medal, too, and made her bid for victory in the final push to the line.  But Jepchirchir was just too strong, pulling away in the last 100 meters to get the win.  She pumped her arms enthusiastically as she broke the tape.
"I'm so grateful, I'm so happy for the Team Kenya," Jepchirchir said.  "We helped each other and we make it the way we planned it.  We made it successful."
Kipkemboi got silver in 1:07:26 and Reline bronze in 1:07:34.  Gebreselama (1:07:50) and Kimais (1:08:02) rounded out the top-5.  Molly Grabill was the top American in 13th place in a personal best 1:09:53.
On the men's side, it looked like Ethiopia could possibly get a medal when Jemal Yimer got into the breakaway in the 17th kilometer led by Kenya's Daniel Ebenyo. 
Indeed, he was running second with some daylight between him and Ebenyo's two teammates, Sebastian Sawe and Samwel Mailu.  
But the sector between 15 and 20-K was punishing.  Ebenyo ran a blazing 13:30 and opened up a four-second lead on Sawe and nine seconds on Yimer and Mailu.  It looked like Ebenyo would run away with the win, but Sawe had other ideas. 
With the clock showing 58:30 Sawe began to catch his teammate.  When he passed him Ebenyo who gave him a salute of respect, and Sawe ran unpressed to the tape to win in a championships record 59:10.
"I always have the last kick," said the soft-spoken Sawe.  "I believed that I could do it.  So after I looking in front of me, approaching him, I realize I'd win it."
Ebenyo ran an excellent 59:14 to take second, and Mailu ran a personal best 59:19 to get third.  Yimer –who did not speak to reporters as he walked slowly through the mixed zone– finished fourth in 59:22.  France's Jimmy Gressier ran a personal best 59:46 in fifth.
"I am very, very happy because during the race I felt good," said Gressier in English.  "It is my new PB, so I'm very, very excited."
Biya Simbassa was the top American in 1:01:28, good for 25th place.  His teammate Futsum Zienasellassie finished 33rd in 1:01:49 despite being tripped from behind and falling at around the 3-K mark.
"I just knew someone was going to trip me," Zienasellassie told Race Results Weekly, explaining that the early pace was slow.  "A runner from New Zealand hit me; went face down.  How crazy is that."
– – – – – – 
The next edition of the World Athletics Road Running Championships will be held in San Diego, California, in 2025.