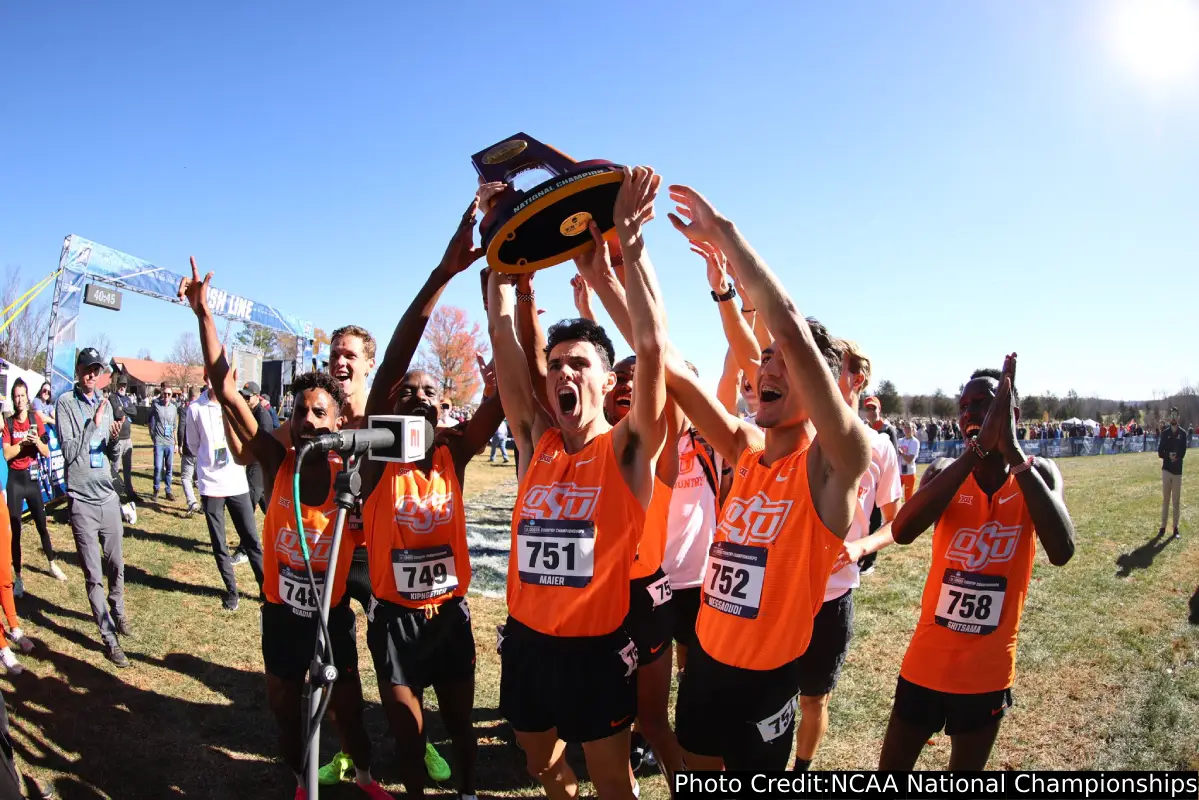 By David Monti, @d9monti
(c) 2023 Race Results Weekly, all rights reserved

Overcoming the loss of a key athlete and strong competition the women of North Carolina State and the men of Oklahoma State won the team titles at Saturday's NCAA Division I Cross Country Championships at Panorama Farms in Earlysville, Virginia, just outside of Charlottesville. 
The Wolfpack women, the two-time defending champions, eked out a one-point win over Northern Arizona, 123 to 124, despite losing the services of one of their best athletes, Kelsey Chmiel, to a leg injury.  The Oklahoma State Cowboys upset the Northern Arizona Lumberjacks, 49, to 71, placing five athletes in the top-15.
More: No. 2 NC State 123pts; No. 1 NAU 124pts: NCAA DI Cross Country Championships
In the competition for individual honors, Florida's Parker Valby literally ran away from the field, covering the 6-kilometer course in 18:55.2 and winning by a comfortable 10 seconds.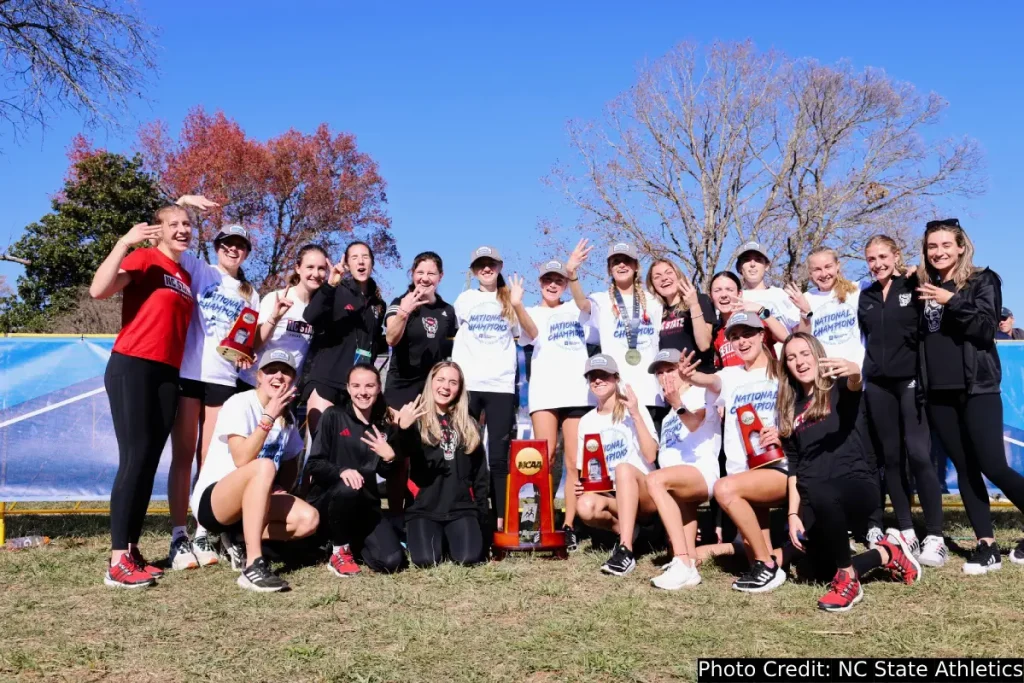 Harvard's Graham Blanks became the first Ivy League man in the 86-year history of these championships to claim an individual title, breaking away from his last opponent, New Mexico's Habtam Samuel, in the final kilometer.  Blanks clocked 28:37.7.
Parker Valby In a Hurry Again
At last year's championships Valby tried to run away from the field but was eventually reeled in by NC State's Katelyn Tuohy and had to settle for second.  But not this year.  After a fast (downhill) first kilometer in 2:54.1, Valby showed her cards and surged into the lead. 
She built a nine-second lead by 2-K, and that mushroomed to 18 seconds by 3-K (9:14.9).  She was just running on feel, she said.
"I had no idea," Valby said during her post-race interview on ESPN when asked if she was aware of how big her lead was.  
"My coach (Will Palmer) told me to trust my instincts, trust my gut, and don't look back.  I mean, once you go for it, there's no looking back."
More: No. 4 BYU edges No. 6 Oklahoma State to win Big 12 Cross Country Championship 2023
Behind her a chase pack of eight had formed: Alabama's Hilda Olemomoi and Doris Lemngole, Arkansas's Sydney Thorvaldson, NC State's Tuohy, Notre Dame's Olivia Markezich, Oklahoma State's Billah Jepkirui, Texas Tech's Juliet Cherubet, and Harvard's Maia Ramsden. 
Northern Arizona's Elise Stearns was just slightly farther back.  By 5-K (15:44.7) that group had done nothing to gain ground on Valby who was starting to feel a little uncomfortable.  She began rubbing her right side.
"I've never gotten a side stitch in a race before," Valby said.  "But, I guess maybe I didn't hydrate enough, or not enough electrolytes?  I don't know."
Facing the final climb to the finish, Valby did not falter.  Lemngole was able to make up about ten seconds, but the two-time SEC cross country champion had a big enough cushion to relax a little and enjoy her victory.
"It did end a little better this year," Valby joked when reminded of how she got caught in the final kilometer last year.  "You are so correct."
Lemngole, a freshman from Kenya, got second in 19:05.7 and her teammate, Olemomoi (another Kenyan) took fourth in 19:22.1.
Markezich, the reigning NCAA steeplechase champion, finished between the two Alabama athletes in 19:10.0, and Tuohy got fifth in 19:23.0.
In the team battle, Northern Arizona had the edge through their third finisher (15th vs. 21st for NC State), but NC State's fourth finisher, freshman Leah Stephens, enjoyed a 10-point margin on NAU's fourth-place athlete, Ruby Smee, and that was enough to get the win.
"I told them don't change anything without Kelsey, right?  We're not going to change the way we run, and they didn't," NC State head coach Laurie Henes said in her post-race broadcast interview.
"They stuck to, every one of them, stuck to their race plan. We just said you're going to fight like hell at the end and stay tough, and every one of them did that."
Samantha Bush, NC State's third finisher, was particularly important in the Wolfpack victory.  She made up 14 places in the last kilometer to finish 28th overall (21st among scoring athletes).
"Just like last year I heard that I was in, like, 40th, just out of All-American," Bush recounted.  "I was like, I have to go!  I can't get 40th if we're going to win."
Oklahoma State took third with 156 points, Notre Dame was fourth (237) and Florida was fifth with 268.  Florida didn't even make these championships last year.
Graham Blanks Pulls Away At Final Kilometer
The men also went out fast, sizzling through the first (downhill) kilometer in 2:29.0.  Northern Arizona's Drew Bosley was on the front, joined by teammate Nico Young, last year's runner up. 
Over the next two kilometers a lead pack of 12 developed with different athletes taking turns at the front.  Blanks was in the group, but he was struggling to find the best plan of attack.
"To be honest, I ran like a dumb-ass, pardon my French," Blanks quipped in his post race broadcast interview.  "I covered a lot of stupid moves, wasted a lot of energy.  So, you just watched me run 10-K with my heart."
The 12 became 10 by halfway: Blanks, New Mexico's Samuel, Oklahoma State's Brian Musau and Denis Kipngetich, NAU's Bosley and Young, Arkansas's Patrick Kiprop and Kirami Yego, North Carolina's Parker Wolfe, and Stanford's Ky Robinson. 
They stayed together into the seventh kilometer when Musau and Kipngetich put in a surge and Blanks joined them.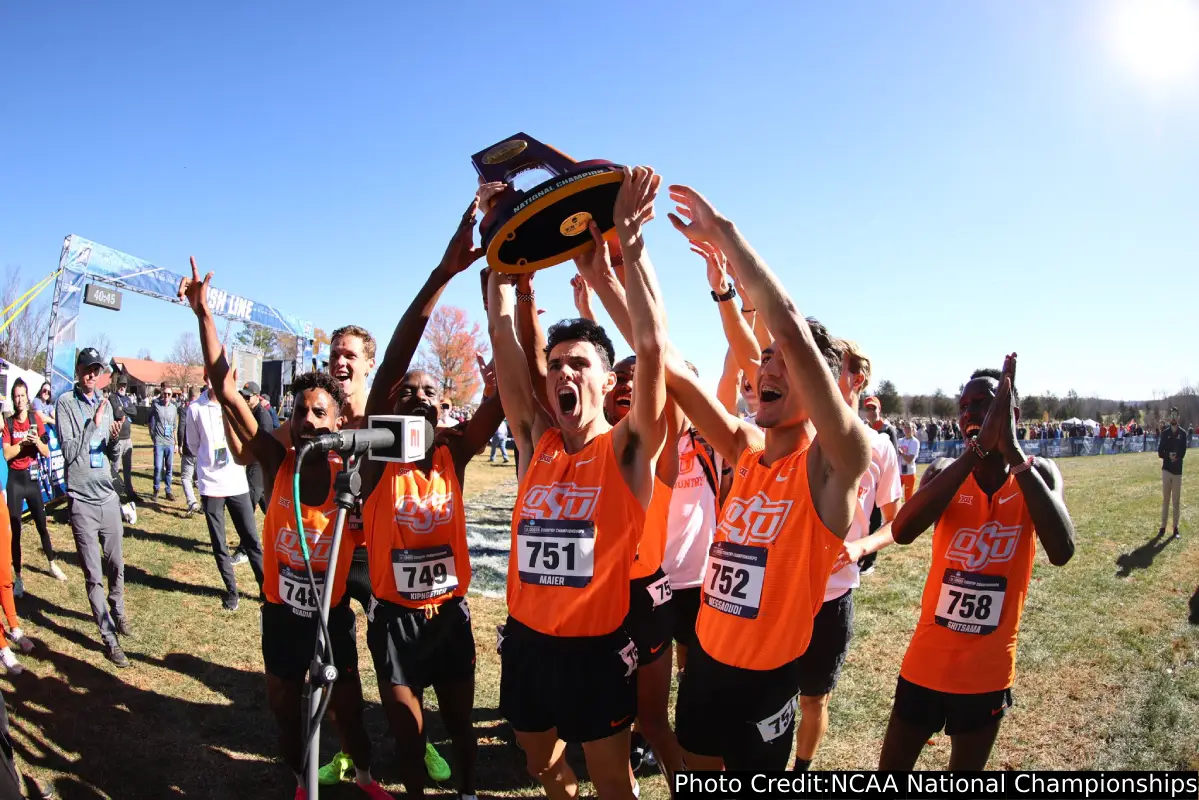 Robinson also caught up, and it looked like that group of four would determine the podium.  Blanks took stock of the situation and was fighting to stay confident.
"It's always a battle against those voices on the inside," Blanks admitted.  "Just telling them to shut up and believing in yourself."
In the penultimate kilometer, Musau fell back and out of contention (he would finish eighth), and Robinson and Kipngetich followed.  That left Samuel and Blanks to fight for the win.  Blanks knew what to do.
"That move from 1-K, you can ask any of my teammates, I've been planning that out since I saw the course map a couple of weeks ago."
Blanks gained ground on the final downhill, and when he started the ascent for the finish line Samuel was too far back to catch up.  Victory was his.
"Far and away, that was the hardest race I've ever run," said Blanks, who described winning as "surreal."  
Samuel got second in 28:40.7, Robinson third in 28:55.7, and Kipngetich fourth in 28:59.7.  
The focus turned quickly to the team competition, and coach Dave Smith's Cowboys really delivered.  In the scoring positions they nabbed 4th (Kipngetich), 8th (Musau), 10th Fouad Messaoudi), 12th (Victor Shitsama), and 15th (Alex Maier).  That easily put them ahead of NAU.
"A lot of things went right, a lot of hard work by these guys," Oklahoma State coach David Smith told ESPN when asked about the team's success. 
He continued: "To beat a team like that (NAU), one of the legendary teams in NCAA history in any sport, is an incredible honor."
Brigham Young took third with 196 points, Arkansas fourth (211) and Iowa State fifth (230).  
– – – – – –
The 2024 NCAA Division I Cross Country Championships will take place in Madison, Wisconsin, on November 23