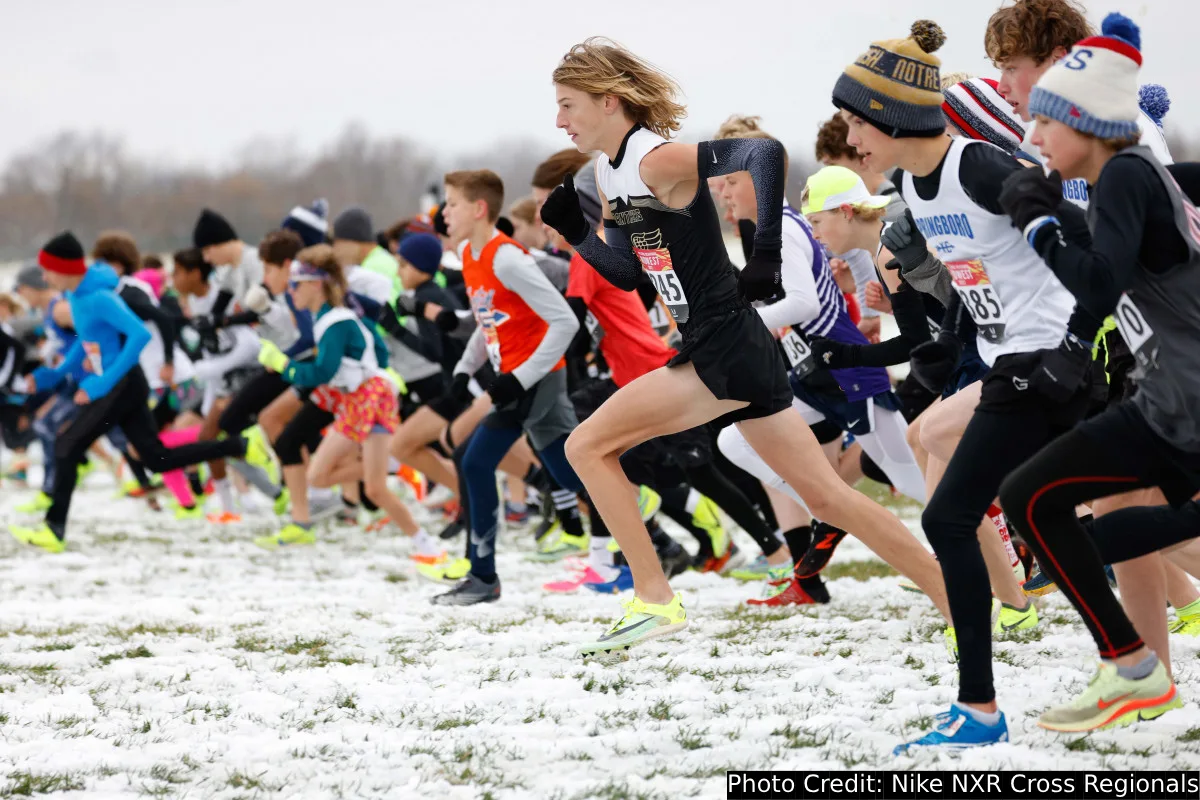 The 2023 Nike Cross NXN Regionals Midwest is broadcasting live from the LaVern Gibson Championship Cross Country Course in Terre Haute, IN, on Sunday, Nov. 12, on Runnerspace.com.
For the fans who are unable to travel to watch the competition live in person, you can stream the NXN Regionals Midwest broadcast online, which will start at 9:20 a.m. ET. You will need an active RunnerSpace +PLUS subscription to watch the webcast on Sunday.
The live webcast and on-demand videos for the entirety of the event will only be available with a RunnerSpace +PLUS subscription. – Live Results | Videos | Photos
Read more: How to watch the 2023 NXR Heartland Regional?
Meanwhile, if you miss the live stream, don't worry, NikeCrossNationals.com will be the exclusive location to watch the full replay of the races. Broadcast replays will be available shortly after the conclusion of the event. 
A Community 5k Race will kick-start the schedule on Sunday morning, followed by the Boys Rising Stars 1 and 2 races for freshmen and sophomores.
The schedule will close out with a pair of Championship races, starting with the boys' event at 3:05 p.m., followed by the girls' competition at 3:35 p.m.
| | |
| --- | --- |
| 8::00 AM | Facility & Course Opens For Athletes / Coaches / Parents |
| 8:00 AM – 2:00 PM | Late Packet Pick-Up In Community Room Of the Wabash Valley Family Sports Center |
| 9:30 AM | Community 5k Race |
| 9:50 AM | National Anthem |
| 10:00 AM | Boys Rising Stars 1 (FR/SO Race) |
| 10:30 AM | Boys Rising Stars 2 (FR/SO Race) |
| 11:00 AM | Girls Rising Stars (FR/SO Race) |
| 11:30 AM | Girls Open Invitational 1 |
| 11:45 PM | Awards For Boys & Girls Rising Stars (FR/SO) |
| Noon | Girls Open Invitational 2 |
| 12:30 PM | Girls Open Invitational 3 |
| 1:00 PM | Boys Open Invitational 1 |
| 1:15 PM | Awards For Girls Open Invitational |
| 1:30 PM | Boys Open Invitational 2 |
| 2:00 PM | Boys Open Invitational 3 |
| 2:30 PM | Boys Open Invitational 4 |
| 3:05 PM | Boys Championship Race |
| 3:35 PM | Girls Championship Race |
| 4:15 PM | Awards For Boys Open Invitational, Boys Championship & Girls Championship |
AWARDS
Middle School: Medals for top 3 finishers, Plaques for top 3 teams
Rising Stars (Fr/So): Medals for top 3 finishers, Plaques for top 3 teams
Open Invitational: Medals for top 3 finishers, Plaques for top 3 teams, Tees for top 21 finishers
Championship Race: Medals for top 3 finishers, plaques for top 5 teams, Tees for top 21 finishers