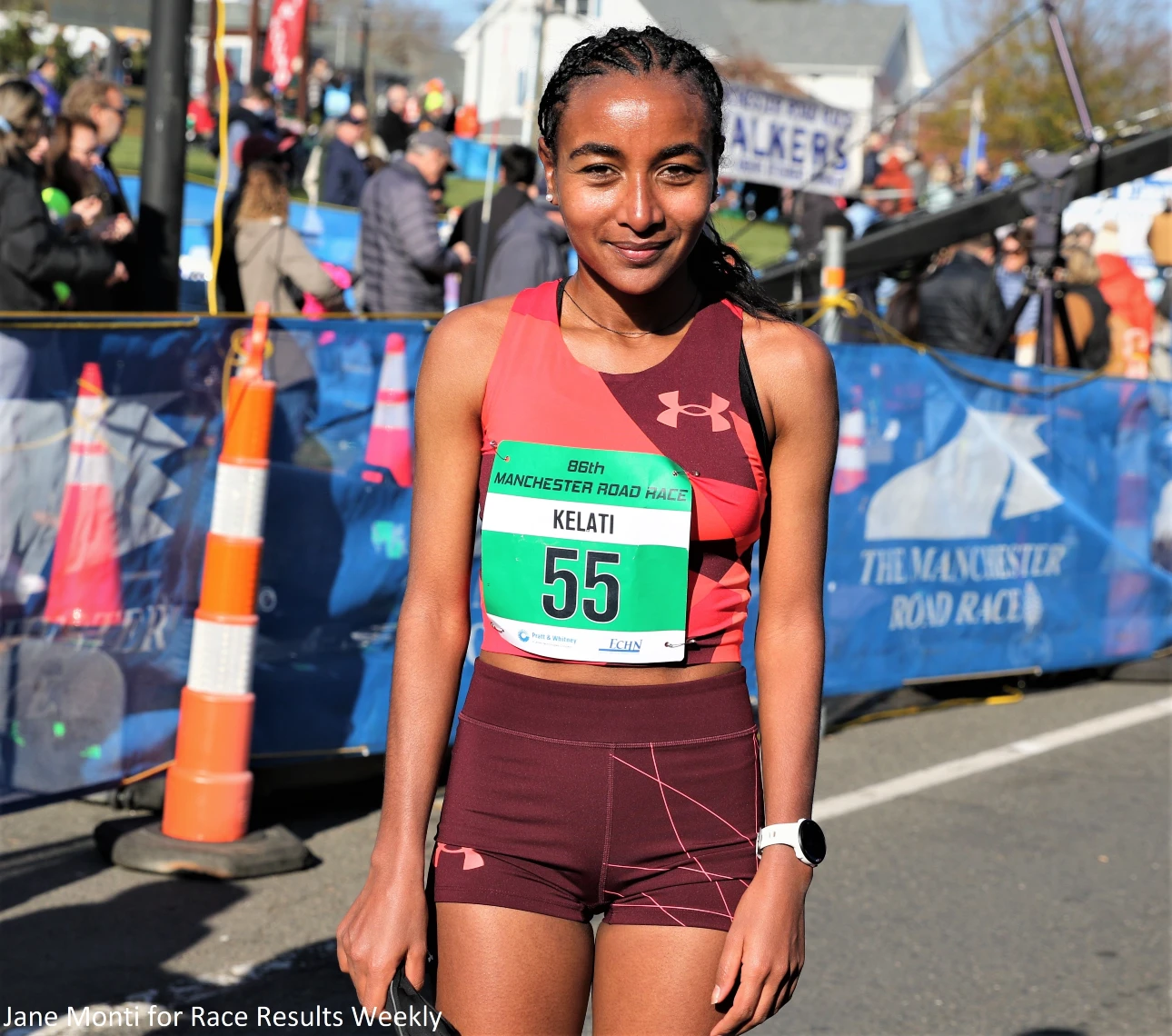 Here are the 2022 Manchester Road Race results from the event that took place on Thanksgiving Day in Manchester, CT, on Thursday, November 24. A total of 8,271 participants finished the race on the day, which is an increase from 7,420 in 2021.
Weini Kelati and Conner Mantz secured the women's and men's Manchester Road Race titles in what was the 86th edition overall and 85th as an in-person race. The Manchester Road Race is known as New England's largest "turkey trot." Read more: Kelati, Mantz win 2022 Manchester Road Race titles
The day saw Kelati successfully defend her 2021 title in 23:39, while Mantz captured the men's title in 21:04 and smashed tape some 12 seconds under Edward Cheserek's previous course record set in 2018.  Both race winners won $7000 in prize money in addition to various bonuses.
2022 Manchester Road Race results
WOMEN Results – 
 1. Weini Kelati, Flagstaff, AZ         23:39
 2. Jessa Hanson, 23, Flagstaff, AZ     24:2
 3. Taylor Werner, 24, Chapel Hill, NC  24:27  
 4. Anna Dibaba, 23, ETH                24:29  
 5. Calli Thackery, 29, GBR             24:37  
 6. Allie Schadler, 23, Chapel HIll, NC 24:43  
 7. Alli Cash, 28, Mercer Island, WA    25:00  
 8. Mary Munanu, 27, KEN                25:07  
 9. Cynthia Limo, 32, KEN               25:08  
10. Angie Rafter, 23, Glastonbury, CT   25:29  
MEN Results – 
 1. Conner Mantz, 25, Provo, UT         21:04 CR
 2. Morgan Beadlescomb, 24, Boston, MA  21:05      
 3. Wesley Kiptoo, 23, Flagstaff, AZ    21:06  
 4. Andrew Colley, 31, Blowing Rock, NC 21:07      
 5. Hillary Bor, 33, Colo Springs, CO   21:15      
 6. Kirubel Erassa, 29, Colo Spngs, CO  21:17      
 7. Andy Butchart, 31, GBR              21:21      
 8. Amon Kemboi, 26, KEN                21:23      
 9. Alex Osterberg, 25, Chapel Hill, NC 21:24      
10. Tai Dinger, 27, Cambridge, MA       21:27